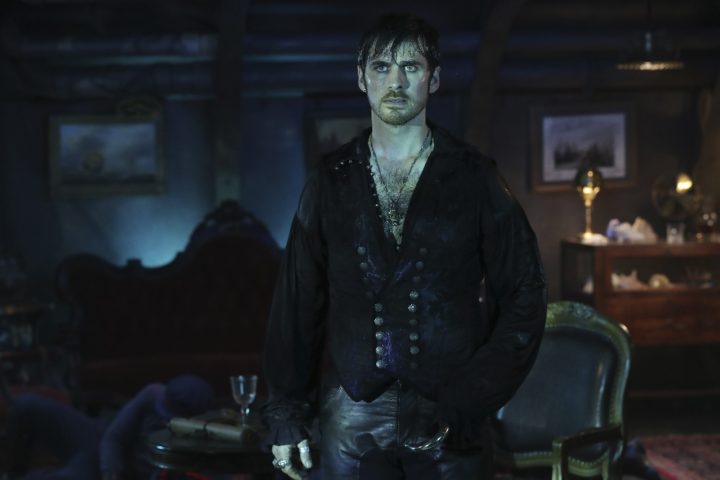 We have just watched the episode "Dark Waters" and these are our initial reactions and thoughts so we're going to be all over the place, but we do want your feedback for our full discussion this coming Wednesday. How are the shears going to be used? What is the Evil Queen planning? All these and more including Nemo (not the fish), and Evil Queen's very, VERY interesting relationship with Rumplestiltskin, to name a few!
Podcast: Play in new window | Download | Embed
Emma tries to convince Aladdin to work with Jasmine to help Agrabah, while Regina teams up with Snow and David to free Archie from Zelena. The Evil Queen sows suspicion between Henry and Hook, even as Mr. Gold reminds her of his most important lesson. Meanwhile, in the past, Hook finds himself kidnapped by the mysterious Captain Nemo and held captive inside his legendary submarine, the Nautilus.
These are our first thoughts about this Once Upon a Time episode. We'll share more about "Dark Waters" in our upcoming full discussion (usually live on Wednesdays at 7:00 p.m., USA Eastern Time).
Initial Reactions
Remember, these are only our initial reactions regarding tonight's episode so please bear with us if we're a bit all over the place. If you have your own thoughts, feedbacks, or theories regarding tonight's episode, however, send them over to us and join our upcoming full discussion!
When we saw the episode title, we thought it would be something completely different. Based on Twenty Thousand Leagues Under the Sea, a classic steampunk Sci-Fi storyline by Jules Verne, "Dark Waters" looks a lot like the movie version by Disney. With this being Disney, it's a little funny that they call the Captain simply "Nemo." Not Captain Nemo, but Nemo. Is there some double meaning to Nemo of Finding Nemo when they started calling Captain Nemo just "Nemo?" It was nice that they gave us the point of reference to this, which was the  time of the Dark Curse, which made us think that they are in Neverland when this episode starts, because Hook went to Neverland before the curse hit and Smee had once said that they were in  Neverland when the curse hit. However, wasn't Hook with Cora when the curse hit?
The Evil Queen's relationship with Rumple is very, very interesting. When she was kissing Rumplestiltskin at the end, we thought it was all a ploy so Belle could see them kissing when she was shown walking in, but Belle didn't see it and didn't even walk in, so it's not for that reason. While watching this, a couple of people in the chatroom thought that maybe the Evil Queen was going to take Rumple's heart, but she didn't. Lana Parrilla is killing it this season. Every single week, she's getting to play the opposite extremes, sometimes even in the same scenes; it's very fun to watch. But it seems that the Evil Queen is offering the shears to Rumple as a payment so that he can pull out Snow White's heart. Why does the Evil Queen just poof out on someone and rip out Snow's heart? Maybe she can't do that herself? Is she using the shears as her bargaining chip?
It's interesting that now, the shears doesn't just cut the Savior's destiny, which was something that we theorized a couple of podcasts ago that maybe, Rumple would want to cleave himself off the power of the dagger. It also seems from this episode that he wants to change the destiny of being hated by his son, or maybe the destiny of his son being who he's been reveal to be when he grows up. It certainly seems that Belle has hope that Rumple and their son will be able to reconcile their relationship, even though she almost had no hope for reconciling with her own relationship with her husband. However, it's pretty noble of her at that point that she still want her child to have a positive and loving relationship with his father even though she doesn't have one.
This whole thing with Nemo and the Land of the Untold Stories or as they seem to call it, the mysterious island, seems interesting that the Nautilus was kind of like a miniature Land of the Untold Stories. At least, that's how Captain Nemo saw himself, rescuing people from letting their horrible stories in life play out. He said that his harpoon tip helps him find wayward souls, but how did he get that enchanted? Squid ink?
The more that we see Aladdin, the less we think about our theory that he's Jafar posing as Aladdin is true. After this episode, it was hard to see it that way because Aladdin was going to run away from Jasmine and it took Emma convincing him. That heart to heart with Emma, though, was really good. It reminded us of Neal and Will with Emma. It also makes sense that they're bonding and they're going to have a connection just based on that. Harkening back to the Pilot episode in season with Emma crashing into the sign was great, even though the sign didn't look exactly the same. Still, it was great to see them put that together.
Everything that the Evil Queen is doing to disrupt tear themselves apart that she's getting the opposite results. All of these things that she's doing result in these people having stronger and repairing their relationships. Is this a sort of a game plan of Regina's alternate self that is not necessarily Evil Queen, but a side that, when everything is done and the Evil Queen is defeated, Regina will realize that this is part of her that even though she didn't like it, it helped her use that to help other people? Although we've seen the Evil Queen in pure darkness, maybe it's all accident in her part that what she does result in good things. We can always see how the Evil Queen's actions have actually perpetuated the characters into positive things. If the Evil Queen never tried to kill Snow White, she never would have met Prince Charming and the whole story would never be told. She's trying for evil but it's really resulting in characters making their choices, meeting people that are going to help them, and being in struggle which keeps them in love. The same thing also seems to happen with the people that Hyde brought over from the Land of Untold Stories. Nemo, for example, who was found in the woods; Liam, who get to reconciled with Hook; good things have come over even though Hyde brought them to Storybrooke to let their stories play out; for most of them, they are getting some happy endings.
Emma wearing a dress, however, for the entire episode is very out of character. We know that what they wear and the colors are very iconic to not only their characters, but their emotions at that moment. They stayed true with Emma wearing red, but it's an interesting choice to see her in a dress.
What did you think of this episode? What are your theories about these things going forward? How are the shears going to be used? What is the Evil Queen planning? What is Rumplestiltskin going to do? What's going to happen to Belle and her baby? What about Aladdin? Where in the world is Agrabah, since it seems to have disappeared? We want to hear your thoughts! Share them all to us by sending it over to us, or simply by using the comment section below and heading over the forum, where you can read and share theories and spoilers about the upcoming episodes, and remember to join us this coming Wednesday for our full discussion of "Dark Waters."
What did you think?
Email Feedback@ONCEpodcast.com (audio files welcome)
Call (903) 231-2221
Comment on the shownotes
Visit any page on ONCEpodcast.com and click the "Send a voice message" link to record and send a message right from your computer.
Help us out!
Share this post in your social networks
Follow us
On Facebook:
On Twitter:  echo do_shortcode('[twitter follow="ONCEpodcast"]'); ?>
Daniel J. Lewis:  echo do_shortcode('[twitter follow="theDanielJLewis"]'); ?>
Jeremy Laughlin:  echo do_shortcode('[twitter follow="phlegon"]'); ?>
ErinJ:  echo do_shortcode('[twitter follow="erinjcruz"]'); ?>
Hunter Hathaway:  echo do_shortcode('[twitter follow="travelingpixie"]'); ?>
Jacquelyn / RumplesGirl:  echo do_shortcode('[twitter follow="punk_bunny_87"]'); ?>