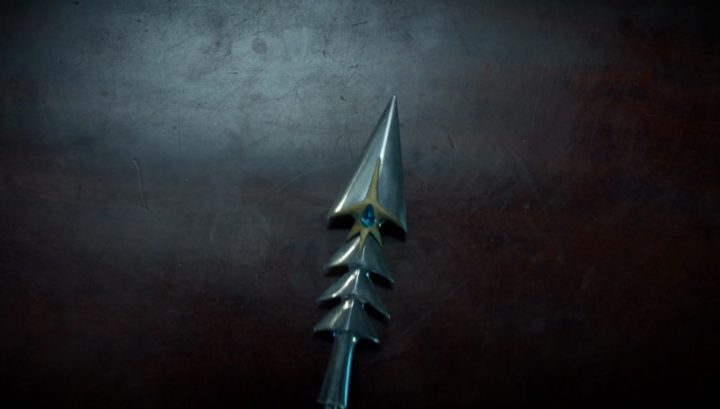 Listen as we discuss "Dark Waters" in detail, talking about Captain Nemo and the time of the Dark Curse, shipping Henry with food, Hook's motivation in keeping the Shears, Southern Belle Evil Queen, and more! Plus, the Evil Queen hitting on Rumplestiltskin, and is Jasmine being controlled somehow by Jafar? If not, then why did Jasmine's story not aligned with what she initially told Snow White?
Podcast: Play in new window | Download | Embed
The Time of the Dark Curse (Past)
This episode doesn't make sense timeline wise. The story seems to be a continuation of episode 5×11 Swan Song where Hook kills his father, but according to the events of 2×09 Queen of Hearts, the events of 5×11 wouldn't have nor couldn't have happened, and even if they could have, there's no way Liam would have been fully grown as he was a child and would be no older than Henry during the present day timeline and since the flashback took place during the original dark curse that would have made Liam around the same age as when Hook killed their father since he went straight to Wonderland to "kill" Cora but couldn't because of her heart not being in her chest, partnered with her and then the curse was immediately cast leaving time frozen and them under a magical dome for 28 years, which would put this event during the present day events of season one after Emma chose to stay in Storybrooke causing time to resume for about seven months, from October of 2011 until the curse is broken, about May of 2012. So unless Liam ate some Dark One Onion Rings that accelerated his aging, there's no reason for him to be an adult, but then again, according to the timeline as a whole, this plot point of Hook killing their father and leaving little Liam an orphan shouldn't even exist.

— DeAndre
Remember, Hook is from hundreds of years ago, just like Rumplestiltskin. Rumple became the Dark One whereas Hook went to Neverland. So, what happens then is when the Evil Queen hired Hook to kill his father, Brennan Jones was put under a sleeping curse, which could explain how he was still alive just before the Dark Curse. These all lines up so far except for Liam's age. In the episode Swan Song, Liam was 5 or 6 years old, while in this episode, he looked like he's closer to 18-20 yeas old. How can this all coincide with the Dark Curse? In 2×09, Queen of Hearts, Hook did not kill Cora and was with her when Cora cast the dome so they wouldn't be swept away by the curse. The purpose of the dome was so they wouldn't be swept away by the curse, but they can still move while being frozen in time.
Andrew Chambliss, one of the writers of the episode, addressed the Timeline questions and said that Hook stayed in the Enchanted Forest, while Liam and Nemo were outside the bounds. If Liam was outside the bounds, that could explain his aging. But if he was outside the bounds of the dome, he could've been swept up by the curse. Remember, it didn't bring everyone to Storybrooke but seemed to affect all realms. It pulled some people from Wonderland; maybe some people from Neverland like Smee; Dr. Frankenstein from the Land without Color. Still confused about the timeline in this episode? Check out our Timeline page where Keb makes an excellent job managing the timeline!
One thing that makes this all relevant to who is where, is when Hook said, "Mr. Smee wouldn't have stood for this" but he isn't there; he got swept by the Dark Curse and brought to Storybrooke. It was cool, though, to see the Nautilus approached like that of its Disney movie version, where they thought that it was a sea monster. They also said that Nemo was a stowaway, which means "no one" in Latin. We theorized that we would see Captain Nemo because we saw the story of Twenty Thousand Leagues Under the Sea on one of the pages in the story book when Henry and Violet were in the library in New York.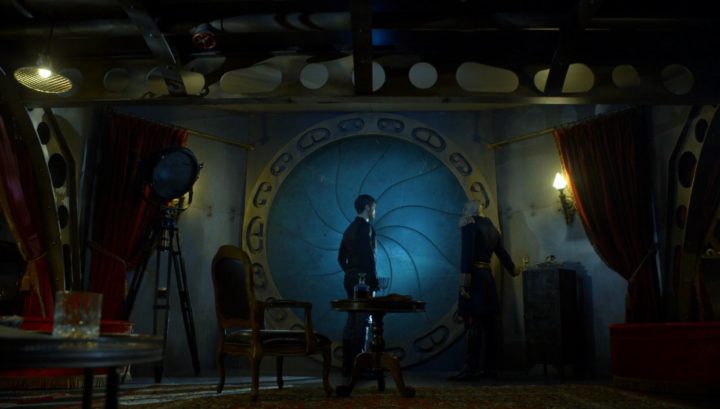 When Hook was brought aboard the Nautilus, Captain Nemo said, "Call me… Nemo" which reminds us of "Call me Ishmael." We've seen enchanted objects before—the enchanted gauntlet to help you find what you seek most; enchanted compasses; enchanted hooks, and this time it's the enchanted harpoon, that points to wayward souls. But where is it now? Will it come back later in the season? Will we even see Captain Nemo again since he is alive in the hospital?
Moving on to when they reached the treasure chest, it was interesting when Nemo said, "Believe it or not, you're part of this family," which is very similar to the classic Captain Nemo who seemed to force people to be part of his family. However, he's definitely way nicer here than how he is in the book. After fending off the Kraken, they opened the chest and referred to the Land of Untold Stories as "The Mysterious Island." Apparently, the key that they found inside the treasure chest makes more sense than the Land of the Untold Stories but there was no direct connection between the Land of Untold Stories and The Mysterious Island except the treasures and Captain Nemo himself.
On the other hand, the whole motivation for getting the key is questionable; Nemo is on a noble life quest to rescue wayward souls, helping them heal, but his ultimate goal is to take them somewhere that will pause their stories and where they can never grow or progress through their lives? He describes it as a place where they'll never lose anyone again; this is not dealing with their issues, and it also indicates that he must know how it works.
Moreover, the knife that was shown was supposed to make it look like the same knife that Captain Hook used to kill his father, but it wasn't. We went back and watched that part of the episode in Swan Song and it wasn't the same knife that Hook used. The one that Captain Hook used was smaller and double-sided; the one that was shown in this episode was a one-sided knife.
Storybrooke (Present)
Starting out present day Storybrooke with Hook hiding the shears in the tool box, it was so frustrating how Hook simply not bury the shears instead of hiding it in the tool box. Doesn't pirate bury things? Plus, how come Emma didn't realize that he lied to her when he told her that he was out gardening? Though she did have a look that maybe she suspected something, maybe she would've been more upset later in the episode when he told her about hiding the shears if she suspected that he was lying.
How did the Evil Queen know where to find the shears?
When Regina then goes to huff and puff and blow the house down to rescue Jiminy Cricket, the Evil Queen said that exposing Emma's secret was only the beginning of how she could get the Charmings to tear themselves apart. The Evil Queen then later on gave the shears to Rumplestiltskin so he can take Snow White's heart after realizing that her Hook plan was misguided. What if the Evil Queen wants Snow's heart not so she can crush it, but to control Snow White and have her tear her family apart herself? Anyway, Snow White emphasized Regina as part of their family when they come face to face with the Evil Queen.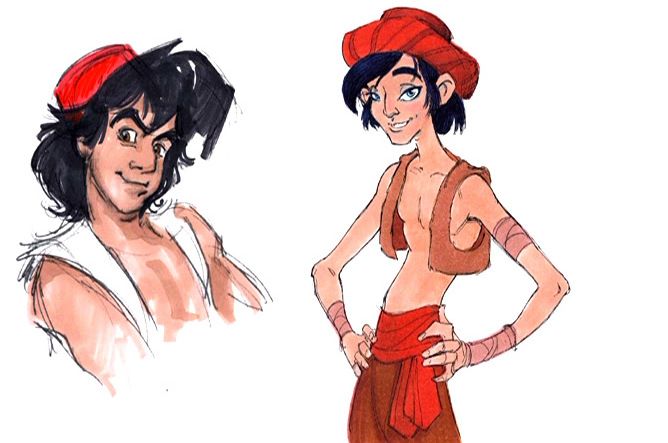 Meanwhile, Jasmine and Aladdin are in the diner sitting, seeing Aladdin in Storybrooke reminded us a lot of one of the original inspiration for the design for Aladdin. But Aladdin is a hero, so when he goes and steals a wallet from the car, does that mean that shears turned him back into a street rat? Emma stopped stealing and doing those things after she became a bailbond's person. Aladdin, however, went back to being a thief. Perhaps, since using the shears, the only thing he has left is thievery?
Meanwhile, Hook and Henry are on the dock with Henry trying to throw the shears back into the sea, and unleashed his first profanity.
I'm not at all ecstatic about Henry using profane language. Yes, I am aware that Jared S. Gilmore is 16, but he's still a child by law and he should be honored as such. I don't believe they're honoring his innocence and purity as a child or have been especially with the whole Violet plot-line. Again, I am aware that the actor is 16 and they're trying to portray their lives as closely as they can to be relatable to our lives, but at what cost?  Mind you, Henry's supposed to be 13, so are you saying it's acceptable for a 13 year old to use profanity freely without rebuke, discipline or being reprimanded?  I believe they have a responsibility to the viewers, especially the younger viewers, to portray these characters in a way that is relatable, but also for these characters to be moral examples because our children are watching these events and situations unfold and these stories, they are taking to heart and whatever is portrayed as okay or acceptable, they will deem as okay and acceptable and it is not okay for Henry to be romantically involved with Violet. He is too young. It is not ok for Henry to be using profanity. He is a child and should be honored as such. If they continue on this path, it will not be good for our children to partake in this. As adults, we must set a higher moral standard for our children to obtain and what's currently being shown with Henry's storylines and with Emma and Hook shacking up, it is inappropriate no matter how you spin it. It's morally wrong and unacceptable and should be seen as anything other than that, in my opinion. Everyone has the right to their own opinions and life choices, but for a show to be classified as a family show, to have glimpses of moral values and what is right and wrong and then portray other circumstances that are clearly wrong and immoral as right or acceptable is not okay, especially when it comes to children being raised up in this show. There should be a higher standard for morality in this show, and in my opinion, it seems that it's declining by the season, by the episode, even. I hope they become more conscious of their audience and change things for the better. Thank you for your podcast and for all that you do.

— DeAndre
This, more than anything else, is something that is most frustrating about the show. There are plenty of things through the seasons to get frustrated with—immorality, murder, curses, genocide, abuse—all of these stuff that, in some way, you could say that it's part of the story.  What is upsetting the most is to see a show that's especially being pitched as a family show make the heroes anti-hero and make outright bad moral decisions.
On the other hand, it was nice to see the Nautilus pop in Storybrooke. Plus, their costumes very nicely matched the uniforms from the ones in the Disney counterpart. As for Hook's motivation in keeping the shears, it seems that he learned his lessons from Emma very well. He was preparing to do something very similar; changing her essential nature against her will to save her life. Plus, he is looking to taking something away from her. This also rings some similarities to The Golden Compass; separating you from your essence that's something you don't want to be taken away from.
Back at the hospital while Belle was waiting for her first appointment with the doctor, the one thing that she seems to be completely open to is Rumple being part of their baby's life, that she hopes that he gets to have some kind of reconciliation and involvement in their baby's life. But just before this conversation happened, David was seen bringing a patient in, who turned out to be Nemo, and when you re-watched the episode, you can see someone with his skin color, even though you can't really see his face.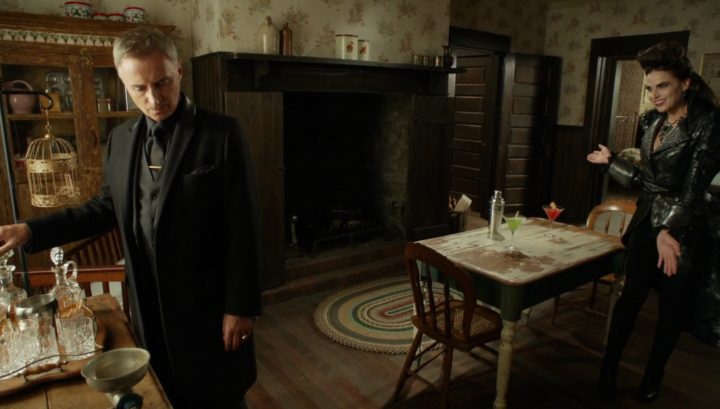 Is the Evil Queen being seductive because of what she wants, or because she is trying to entrap Rumple? How did Rumplestiltskin know were the shears were? Rumple also said that the shears doesn't just work on the Savior, so how does it actually even work?
In Street Rats the shears were called the shears of Destiny which I theorized meant that they could be used to change destinies other than the Savior's; what we heard in this episode seems to confirm that. I think Rumple is planning to use them on Belle or the baby, but I don't think they will end up being used that way. Perhaps they will end up being used on Rumple himself to change his destiny. I don't think they will be used to separate him from the dagger as that is a story they have already told. However, perhaps they could go another way and somehow disconnect his destiny from being a coward or being the Dark One. Perhaps this will be a step down the path of Rumple redeeming Dark magic. I have predicted before and continue to hope that Rumple will restore dark magic to its original form before Nimue tainted it. I think this will require his death as well, but perhaps the shears are a necessary part of the process.

— Gareth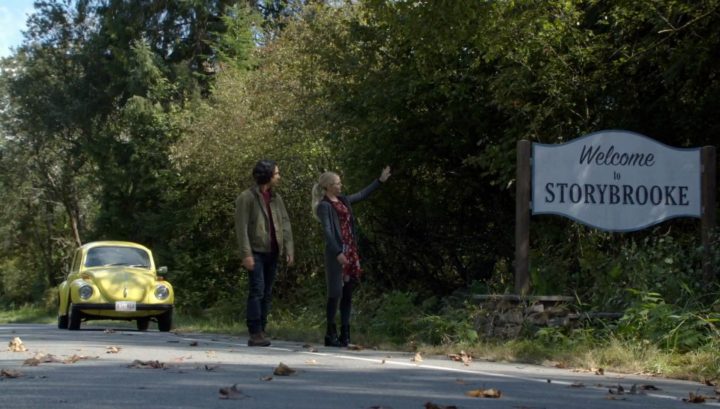 On to when Emma and Aladdin are in the town line is the scene that convinced us that this is really Aladdin and not Jafar posing as Aladdin. It doesn't mean that Jafar is not in Storybrooke, it's possible that he is, but this whole conversation between Aladdin and Emma seems too real. If Jafar was Aladdin, he would have tried to convince Emma to use the Shears. Instead, Aladdin seems completely willing to see Emma maintain her hero and Savior status. We were also glad that  they mentioned that Aladdin didn't know what happened to Agrabah because he didn't actually let Jasmine explain, which was kind of strange. That being said, it seems as if he doesn't really care about Agrabah, only Jasmine. It was also nice to have Emma getting to just be Emma again although, interestingly, without her armor.
Down inside the Nautilus, Hook gets the chance to tell Henry the truth that he killed his father. But this really seemed like, despite the Evil Queen trying to get them to tear themselves apart, everything turns out the opposite. She tried to put Hook a wedge between the Charming family and what did it do? It made Hook and Henry bond more.
While Henry is gone, Liam attacks Hook and seemed pretty upset that Nemo would've definitely died as soon as he got back to Storybrooke since he had been bleeding for days in the woods. Nonetheless, it was nice to see Henry come back and save Hook and dunk the shears again at the bottom of the ocean, only for the Evil Queen to have found it later on.
Back to Aladdin and Jasmine, the story that Jasmine said doesn't quite align with what she told Snow White previously. Is Jasmine being controlled somehow by Jafar? Maybe Jafar is not shapeshifting, but more like taking over people. What if Jafar, in personality, is jumping on people and he had been inside with the Oracle, let her die, and shifted over Jasmine who was running from the scene when the Oracle died? Otherwise, why did Jasmine's story not align with what she initially told Snow White? In what she told Snow White, she said the princess could have saved Agrabah, but fled. In this version that she told Aladdin, she said that Aladdin fled and she was merely on a journey and Agrabah disappeared. So either Jasmine is lying or that's not Jasmine.
Jasmine said it [Agrabah] was gone in a sandstorm or something of the like. What if this happened at the time of the dark curse? A sandstorm could have been caused by the after effects of the giant magic cloud.

— Jessica Frey
What happened to Agrabah? Did anything really happen to it?

[Option 1] Perhaps it is still there under some kind of cloaking spell. Jasmine couldn't see it or enter it but that doesn't necessarily mean it was gone.

Option 2: A Dark Curse transported it to the South West united States and people stumble into it when they drive across the desert.

[Option 3]: It got sucked in its entirety into the Land of Untold Stories where it could easily be as Daniel suggested the Lost City of Atlantis.

[Option 4]: It was put inside a bottle and is now a bottle city. Regardless of where it is I think we can assume that Jafar put it there and did so before he went off to Wonderland. A Dark Curse being involved would connect back to season 1, would harken back to one of the iconic things Emma did as the Savior, and might explain why they are waiting on an Aladdin and Jasmine kiss. The curse might also only be on Jasmine. We know that Jafar's motivation for doing most things is revenge; he would likely want revenge on Aladdin and Jasmine. He persuaded Aladdin to defeat himself by using the shears, but he might have defeated Jasmine by cursing her to think that Agrabah was lost and allowing that guilt to torture her. We know from Camelot that people can be cursed to see things in ways that do not match reality. Sending Jasmine on a seemingly pointless quest to find a man who is no longer the Savior might have been part of the torment.

— Gareth
Could Jafar even possibly be in Storybrooke? What if he's been possessing people, possessing someone who's been taken to the Land of Untold Stories, then taken to Storybrooke? It could be Jasmine, since she couldn't get her story straight.
in the previous episode, Jasmine tells Aladdin that Agrabah is in danger, but he mentions that it has fallen because of him, but in this episode, she says that it's gone, so there are some inconsistencies with what's coming out of her mouth.  Is Agrabah in danger or is it gone, Jasmine? Cue Rumple's, "Your questions are pointless."

— DeAndre
Back to Belle after the ultrasound, she's not completely dismissing the idea of repairing with Rumple, but she did say that she has hope that relationship between baby and Rumple will be fixed. It was funny that in the hospital when Hook and Liam made up to not say, "they found Nemo," because "finding Nemo" would be a little too much.
It was really cool to see Hook being honest with Emma. Can we now say they no longer have secrets at all between the two of them?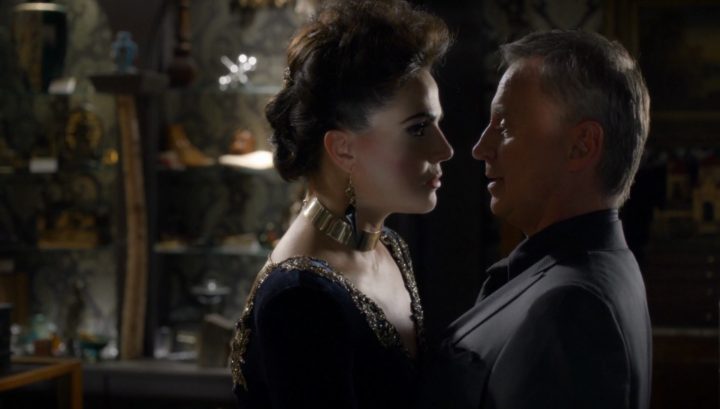 To Rumple's credit, he's not kissing back when the Evil Queen hits on him. He's not pushing her away, tolerated her at best, but at least he's not kissing her back. Plus, the Evil Queen seems less aggressive despite the creepy open-eyed kissing. Thankfully, they didn't do the cliché of-course-that's-when-Belle-walks-in thing, even though it looks like they set it up that way.
Just like with the Evil Queen. I've never believed that Regina had the hots' for Rumple?  I think she just wants Belle and Rumple to stay broken up. She's continuing to tear up what might be mended.  Not that I think they can be.

— Meredith
The Evil Queen may have intended for Belle to see her kiss Rumple. Perhaps she expected Belle to come in rather than pass by. Given the history of Rumple and Belle's relationship this would not be an unreasonable thing to expect. I don't think the Evil Queen was actually thinking about sewing discord between Rumple and Belle but the mere fact that it didn't work out doesn't mean that it wasn't her intention. I think the Evil Queen just always had a latent attraction to Rumple and the split is merely allowing her to act on it.

— Gareth
Whatever the case, it seems that the Evil Queen wants two things: Rumplestiltskin's heart, and Snow White's heart. But why does the Evil Queen not just take it herself? Maybe this is something that she doesn't have the ability to do, that's why she needs Rumple to do it for her?
Thank you for the podcast reviews!
porkch0p31 said "I came late to the OUAT fandom. I circled back to season 1 and listened along and now skipped to the newest episodes to follow along with the newest season. I enjoy the analysis and predictions, …"
Halvor311 said, "… the podcast goes deeply into the show and is definitely worth your time. I just wish they'd stop focusing so much on rules of magic and other things with continuity and just enjoy the show and talk about the themes of each episode. I go to a catholic school and this show practically resembles my fundamentals of theology class discussions about good and evil."
Buffnic said, "Seriously the best podcast out there for any show. I actually enjoy listening to this group of friends discuss Once Upon A Time more than I like watching the show. They help me keep the timeline straight (the writers of the show may want to listen to this podcast for that reason alone!). I personally appreciate the family friendliness of the podcast and Daniel's Christian beliefs and morals. Thank you for putting out a podcast that isn't full of swearing and questionable content. It's a pleasure to listen to!!"
Your reviews encourage us and help others find the podcast!
Please rate and especially write a review for us on Apple Podcasts.
What did you think?
Help us out!
Follow us
Spoilers