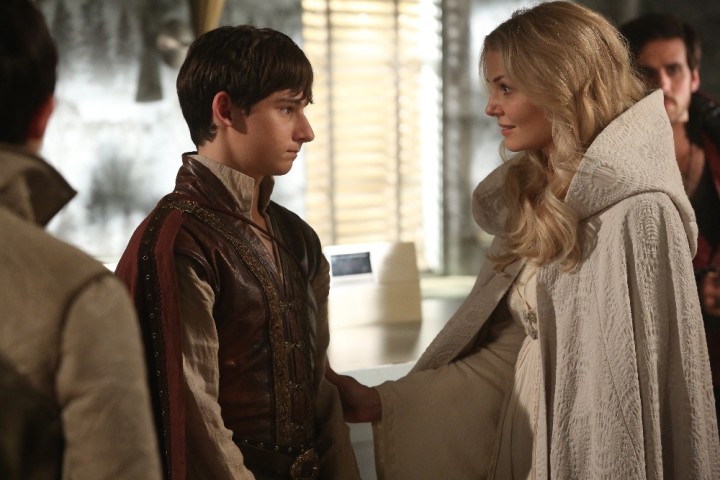 With the support of his mothers, Henry prepares for his first date in the hopes of trying to impress the girl he likes, while Emma and Regina works on freeing Merlin. Meanwhile, back in Storybrooke, Operation Cobra is back on track when Henry asked Emma to help him return her friend's happy ending, as Regina, Hook, Belle and Robin Hood slipped into Emma's home where they found the very thing that can catch something more just than dreams.
Podcast: Play in new window | Download | Embed
This is probably one of our favorite episodes on Once Upon a Time of all time. It was so good, we would love going back and watching it again. There are certain scenes that were just perfect for the show; definitely our favorite this year, and one of our favorites in a long time. It has so many feels, it rips your heart out and putting it back in, rubbed it nicely, only to have it ripped out again.
In Camelot, as Mary Margaret and David attempt to retrieve the Dark One dagger, Emma uses a dreamcatcher to look into the past to see how Merlin was transformed into a tree. Together, Emma and Regina figure out the critical ingredient they must acquire to free Merlin, but it's a race against Arthur, who does not want Merlin released. Meanwhile, with encouragement from his moms, Henry musters up the courage to ask Violet on a date. Back in Storybrooke, the heroes break into Emma's house hoping to locate Gold, but what they find will give them a glimpse of Emma's end game. Far from prying eyes, Merida sets about the mission Emma has tasked her with and begins molding Gold into the hero they need to draw Excalibur.
These are our first thoughts about this Once Upon a Time episode. We'll share more about "Dreamcatcher" in our upcoming full discussion (usually live on Wednesdays at 7:00 p.m., USA Eastern Time).
Initial Reactions
Now, we know there was a purpose for Emma making a dreamcatcher and it makes us wonder, was Emma making the dreamcatchers in Camelot, knowing that she would use them for this? Does Emma have a dreamcatcher for each person? Why did she keep Violet's memories in a box, away from her shed-full of dreamcatchers? Did Emma keep it to remind herself of who she is, why she's doing it and what all of those is all about? Violet, on the other hand, is a such a nice girl. Apparently, she was not Arthur's daughter, and not Merlin's daughter either, but Sir Morgan's. Is she secretly Morgana since she is Sir Morgan's daughter or is she completely innocent? Then again, if Violet was secretly Morgana, Emma wouldn't have been able to rip her heart out.
Emma purposely breaking Henry's heart gave us so many feels, but Henry's reaction was slightly disproportionately strong. It was totally out of context. However, it all seems undone now since he can text Violet, so perhaps it didn't have lasting consequences. Although what Emma did was manipulative, she did have a good reason for breaking his son's heart. Was Henry devastated that Emma ripped the heart of the girl he liked?
It seemed Emma slipped when she told Regina that she freed Merlin back in Camelot, like she didn't want her to know. Now knows a little bit more of what's happened, and Emma clearly knows everything. Speaking of Merlin, which Dark One turned Merlin into a tree? It definitely was Merlin in the tree, and the same man that young Emma saw in the theater back in the episode, The Dark Swan.
Can Sir Morgan be Morgana, since Morgana is also known as Morgan le Fay?
Seeing Merida at Mr. Gold's shop had us thinking that perhaps she was going to do something to Belle and use her to make Rumple a hero. How did she open the door with an arrow? Did anyone notice that Cruella's car was on sale? Who's selling it?
Merlin lose his love, making him susceptible to the Dark One. Is the woman he love anything special to the story? Is she Morgana? How did the Dark One manage to get the dagger after Merlin commanded the Dark One with the dagger? Who is the Dark One that turned Merlin into the tree?
We loved seeing the team work between Emma and Regina, and a lot of those cool stuff was happening back in Camelot. Emma's voice, especially when she was with Henry, is very different. She was speaking differently now but it was really pronounced when she was driving her bug and talking with Henry, and it was starting to change in the flashbacks, using those inflections more and more, the more magic she use. That being said, the scene with the dreamcatcher with Regina and Emma is one of our favorite scenes of the episode, because it just feels natural and actual pay-off for the things that we've seen over the years.
Back in Storybrooke, Emma reminded Regina that she needed to trust her. Emma asking for trust a lot makes us wonder, is there something that is going on that we can't know yet? Something that Emma is hiding, but all along she is doing things, trying to do the right thing but trying to manipulate things, tricking someone else into doing something? Is Emma trying to get her heart ready to let go? Has Emma become attached to the dark magic too much to be separated from the darkness now? And if Emma freed Merlin back in Camelot, where is Merlin now?
So there was a kiss between Henry and Violet, but it didn't break the curse. And Emma having all of these dreamcatchers had us thinking that maybe, it wasn't so much a curse on everyone, but that they simply have their memories removed temporarily. Besides, Storybrooke was already there so it's not like a curse had to be cast. Do the size of dreamcatchers vary from person to person?
It was nice to get plenty of Neal remembering in this episode. It was also a nice throwback to season one upon seeing Cora again. We like how they tie in the history of Once Upon a Time into each episode, instead of making each episode a stand-alone from its history but reminding us of where the show was four years ago. It's connected, not like marching us into something that we've never seen before, as well as connecting us with it on an emotional level, and plot-wise.
How is this going to turn out? Is Merida actually prepping Rumple to battle Emma? What is Emma's plan there? How can Rumple battle Emma? Is Emma's secret plan involve reuniting the dagger with the Excalibur and destroy the darkness from inside herself?
It was kind of weird but we liked seeing Emma wield both light and dark magic to free Merlin. Is that actually what's necessary to free Merlin—someone who could wield both light and dark magic?
What do you think is going on? Where do you think this will go? Did you see any Easter eggs that we miss? Share them all by sending us your feedback via email or using the comment section below!
Remember, these are only our initial reactions regarding tonight's episode so please bear with us if we're a bit all over the place. If you have your own thoughts, feedbacks, or theories regarding tonight's episode, however, send them over to us and join our upcoming full discussion!
What did you think?
Email Feedback@ONCEpodcast.com (audio files welcome)
Call (903) 231-2221
Comment on the shownotes
Visit any page on ONCEpodcast.com and click the "Send a voice message" link to record and send a message right from your computer.
Help us out!
Share this post in your social networks
Follow us
On Facebook:
On Twitter:  echo do_shortcode('[twitter follow="ONCEpodcast"]'); ?>
Daniel J. Lewis:  echo do_shortcode('[twitter follow="theDanielJLewis"]'); ?>
Jeremy Laughlin:  echo do_shortcode('[twitter follow="phlegon"]'); ?>
ErinJ:  echo do_shortcode('[twitter follow="erinjcruz"]'); ?>
Hunter Hathaway:  echo do_shortcode('[twitter follow="travelingpixie"]'); ?>
Jacquelyn / RumplesGirl:  echo do_shortcode('[twitter follow="punk_bunny_87"]'); ?>