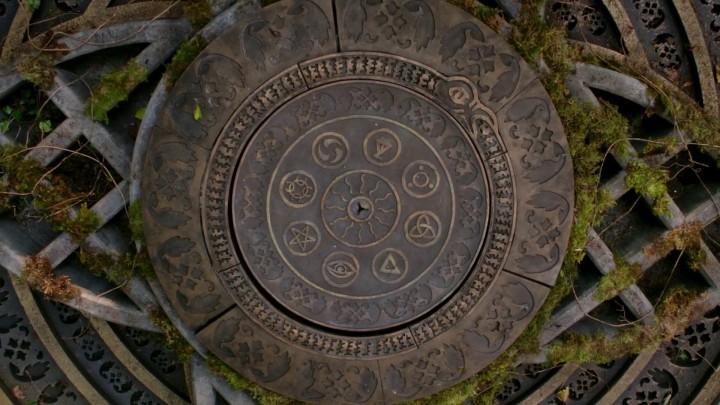 On our in-depth discussion of The Broken Kingdom, we shed light on the confusing timeline, as well as talk about Arthur's obsession, Guinevere's own quest, Emma's secret weapon, and more! Where did Lancelot come from? How did he come to follow King Arthur? Is Guinevere, inside her mind, resisting? What is Emma's plan about tasking Merida to make Rumplestiltskin brave? Filling in for Erin this week is Jacquelyn.
Podcast: Play in new window | Download | Embed
During our initial reactions of The Broken Kingdom, there were some confusion with the timeline so we asked Keb, who manages the timeline over the forum, to confirm about the confusing timeline of the episode.
I know many people found the "5 years ago" confusing in Ep 504, but actually it fits pretty well into the timeline I've got, if you make the following assumptions: 1) Camelot was frozen but not swept away by the curse (like Arendelle) during the 28 years of the curse; 2) Time started moving again in Camelot when Emma decided to stay in Storybrooke, as it apparently did in other affected realms; 3) they're counting about 3 years before the curse + the 1.5 approximately since the curse as 5 years; from a Camelot perspective, it would feel like a seamless 4.5 years, which rounds to 5. I already have the date for Rumple's return with the Gauntlet as Feb 1st, 1981 and while I might move it earlier by a few weeks I don't see much need to–this actually confirms that I had my dates pretty close to theirs. (Yes, I'm pleased.)

— Keb
Would it have made the episode less confusing if they simply didn't  label in all the timelines? Or will it be just as confusing? Check out our Timeline page if you are still wondering.
Camelot (Past)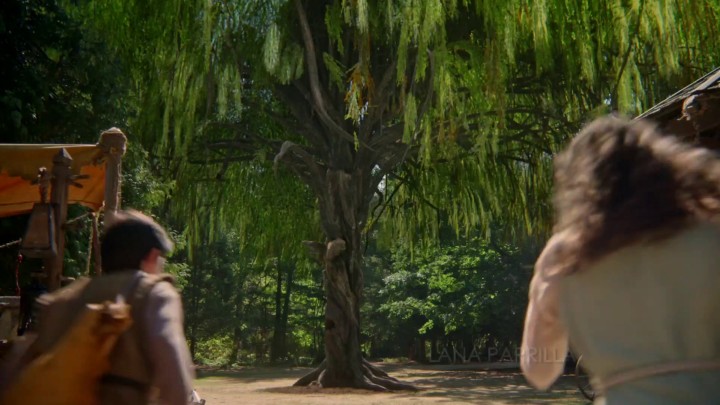 One thing that we know based on young Arthur and young Guinevere's conversation was that it wasn't Arthur who trapped Merlin into the tree. If it wasn't Arthur, then who put him inside it? Did Arthur saw Merlin the same way Emma is seeing Dark One Rumplestiltskin now? Is it really even Merlin that was in the tree? What if Merlin's prophecy wasn't actually from Merlin, but it's Morgana in the tree? There was something that Rumple said later on about Merlin being in the tree, so it would probably be best if we believe it, too.
Did anyone notice that the bully kid was Kay, the man who tried to take the sword in the first episode of the season, The Dark Swan?
It was neat that they used a flower such as the Middlemist's Red, which is one of (if not the) rarest flowers, now only in the New Zealand Garden and Green House Garden of United Kingdom.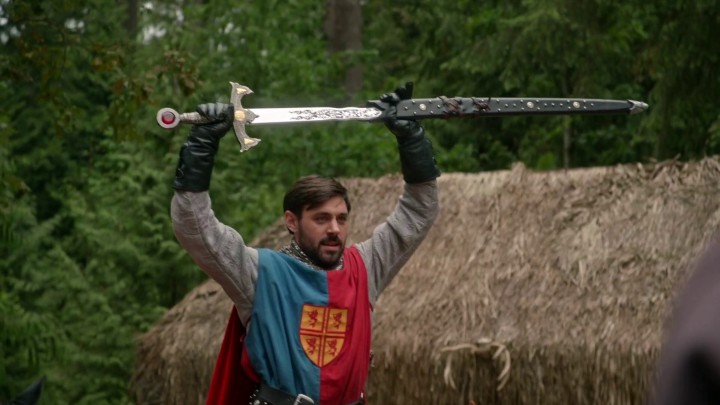 Eventually, Camelot gets its new King with Arthur, after pulling half of the Excalibur from the stone.  Why didn't he simply admit the truth about the Excalibur to the people? Will they even be concerned about half of the Excalibur being missing?
Where did Lancelot come from? He wasn't there when Arthur and Guinevere were kids. How did he come to follow King Arthur? What was Camelot pre-Arthur? They call it Camelot, but who was ruling it before him? How did it come to be poor? Who was its king? Did it have a king? Does it need a king? Why does Camelot exist when Arthur is a kid?! Was Merlin ruling Camelot before he was put into the tree?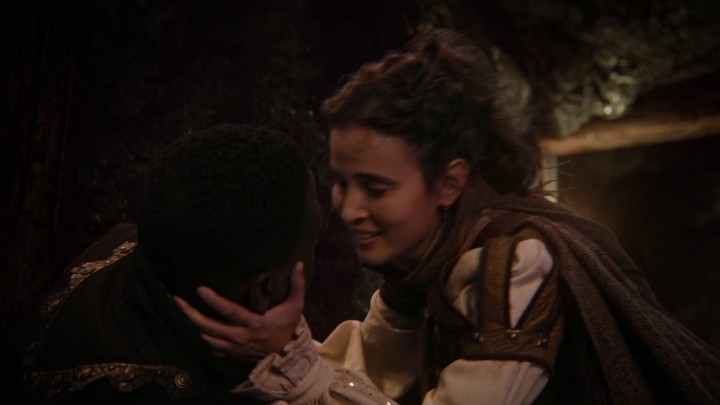 Arthur is not being a supportive husband, even expecting his wife of way too much. With Guinevere coming in to beg her husband to come dance with her was just painful to watch. Arthur's obsession over the dagger takes up so much of his attention that it has kept him not from properly building the kingdom, as well. On the other hand, when did Guinevere come to love Lancelot? Guinevere seemed very much in love with Arthur, although frustrated by his obsession. Has the attention that Lancelot gave Guinevere made her felt something towards him? How did Guinevere figure out that the flowers was from Lancelot?
It was exciting seeing Lancelot and Guinevere go on a quest into the Dark One's vault, but it was a little disappointing that there wasn't more to it. The encounter with dark something like Regina and Emma in Storybrooke was odd, since that effect had never been seen other than while the darkness was untethered.  It was shot similarly to how the darkness surrounded Regina, but how could Guinevere saved Lancelot just like that? Maybe Rumple can untether the darkness himself?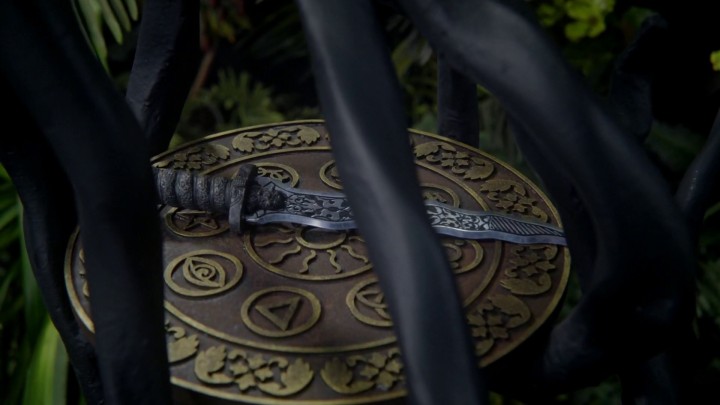 We do like that there's a place where Rumple can hide the Dark One dagger; a space that you can't simply go through. Did Rumple create the Dark One's vault himself? Or someone before him made it?
Avalon is a legendary island featured in the Arthurian legend. It first appears in Geoffrey of Monmouth's 1136 pseudohistorical account Historia Regum Britanniae ("The History of the Kings of Britain") as the place where King Arthur's sword Excalibur was forged and later where Arthur was taken to recover from his wounds after the Battle of Camlann. Avalon was associated from an early date with mystical practices and people such as Morgan le Fay."

— @HeartofDarkness
Has Morgan le Fay anything to do with Sands of Avalon?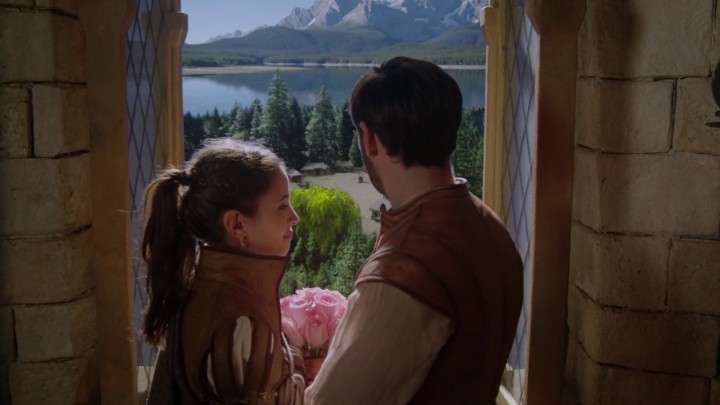 Why does Arthur need to prove Merlin wrong? It sounds like Arthur doesn't actually want to be king, or at least not the king of this kingdom. If it was truly Merlin that told him the prophecy, why couldn't he have just done the work instead of trying to find a magical solution? Arthur is willing to do anything to fix things, but not the actual thing he should have done. What is Merlin going to say once he come face to face with Arthur? Guinevere, on the other hand, sounded far more reasonable after Arthur hit her with the sand.
The way Arthur magicked Guinevere is a little disturbing. The mystical sand of Avalon is a roofie, making Guinevere more pliable, more willing, and unable to leave her captor. Did Guinevere meant to leave her husband if Arthur didn't stop his obsession to his quest? Is Guinevere, inside her mind, resisting? Is her response only outwardly, but on the inside knows that she doesn't want to do it?
Camelot (Six Weeks Ago)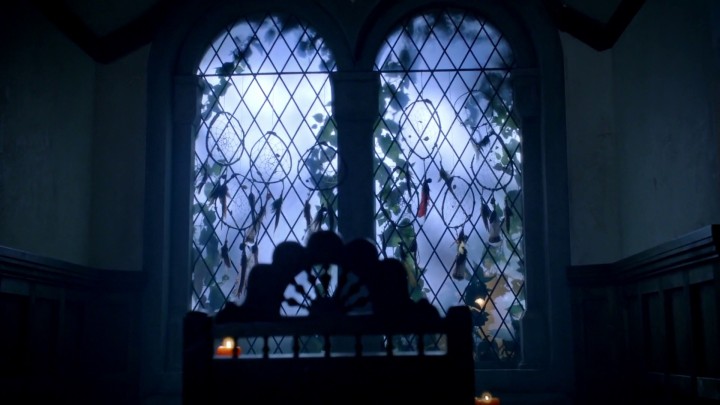 Back to six weeks ago in Camelot, we see in her room making a wall of dreamcatchers on the window.
I'm part Native American (Tribe:Pima) and my cousin makes dreamcatchers for our family, friends and as part of her living as an artist. And depending on the size of the dreamcatcher it takes anywhere from 2-3 hours to make each one. The bigger it is, the longer it takes.

First, after gathering the supplies, you need to take the twig/wood(willow preferred) and submerge it into water in order to make the wood pliable to shape it into a hoop. Then, after securing the wood together to form the hoop, you get leather/suede to wrap it around the hoop so the hoop will be smooth , then you begin the weaving of the web. That is the longest part of the process, depending on the design of the web, type of string etc. Then, lastly, you add on the adornments, like feathers or beads.

And since it seemed like there were at least a dozen or so dreamcatchers in the scene, Emma must have been at this for hours, maybe a day.

— Andrea
The dreamcatcher is what Baelfire used to block the nightmares of Rumple abandoning him after his dad became the dark one. Emma is using the "flypaper for nightmares" to block out the nightmare she's currently living.

— @Slurpeez
Is Emma making the dreamcatchers to use as flypaper for nightmares, or is she thinking of Neal? Why is Emma making dreamcatchers? If the dreamcatchers are holding memories of past Dark Ones that are now inside Emma's head, is she basically infusing the dreamcatchers with various Dark One memories to try and get them out of her head?
Rumple told Emma that it was calling to its other half, could Emma hear it because of that? What does the other half meant? Was it the Excalibur or the darkness inside of her? Did Rumplestiltskin and Zoso also suffer from it?
It was nice seeing David and Mary Margaret fight, it adds a level of realness to their relationship. It was also cool to see that they laid a trap for Arthur.
One of the things that Guinevere said is that Lancelot coveted more than just a kiss from the Queen. How much of that is the sands of Avalon speaking?
It was nice to see Snow's vision from the episode Best Laid Plans come again, when we saw a flashback of young Emma ripping out Snow White's and crushing it. Will we going to see that exchange still happen or something similar to it?
It is also during this scene where we learned that Arthur wants to prove Merlin wrong, as well as kill him. Can he not cut the tree where Merlin is trapped in?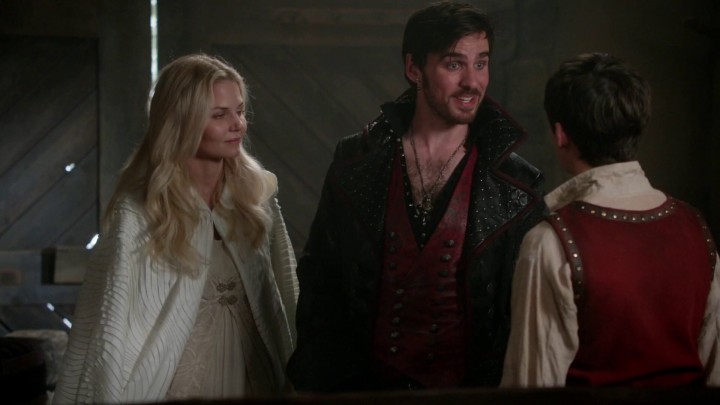 Emma's reaction to Henry having his first crush was nice, but when Hook and Emma went horse riding, Dark One Rumple had a smirk on his face, as if he knows that that won't actually work? Does he know that this was just a temporary cure?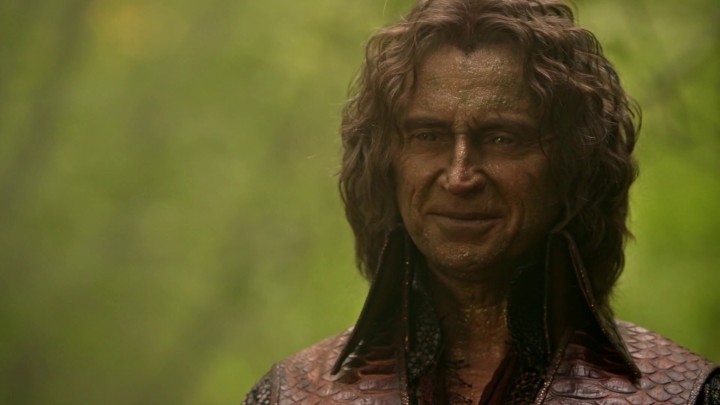 In the end of the episode Emma and Hook kissed in a field full of flowers and it was very romantic, but the flowers were the ones that Arthur gave Guinevere, the ones that symbolize their crumbling relationship. Are the writers stupid? Or what? What is going on? What game are they playing? (Also, the roses were in the room and very clearly in shot for Robin and Regina)

— @TheSwanPrincess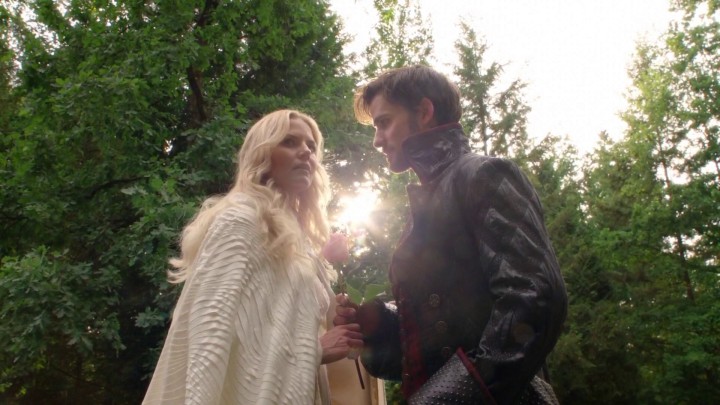 Are Hook and Emma's relationship in the brink of crumbling?
At Granny's, it was obvious that Lancelot still loves Guinevere. He even said that Guinevere is the rightful ruler of Camelot. What makes her its rightful leader? Was it because unlike Arthur, she wouldn't be as obsessive as her husband, and will actually be able to fix the broken kingdom?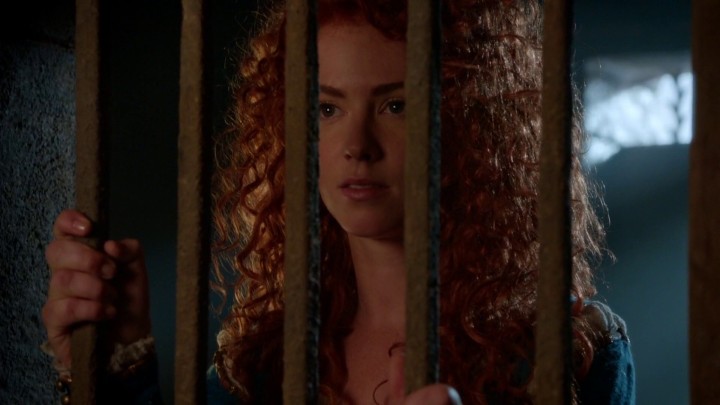 We didn't expect to see Merida to be thrown in the dungeon when they throw Lancelot in the next-door cell. How did Merida end up in jail? What is she in for? Did the wisp lead her to Camelot? Are her brothers in Camelot?
Now, David and Mary Margaret can't be trusted after Guinevere "fixed" them. What would have happened if a lot of people will be infected with the sand? Can True Love's Kiss break the spell? Is that spell still in effect in Storybrooke? Guinevere still looked supportive of her husband in Storybrooke, what about David and Mary Margaret? What if someone's use of the sand made them all think that they are back in Storybrooke?
Regina spent all day hiding the dagger, where is the real dagger now?
Storybrooke (Present)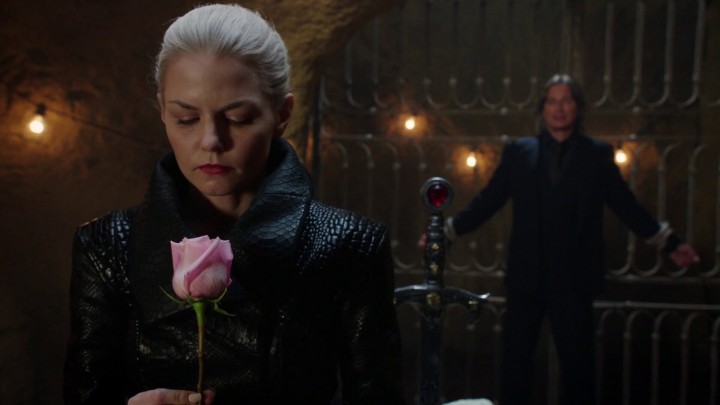 Back in Storybrooke, Emma's secret weapon to make Rumple brave is Merida. Is this the only reason why they brought Merida in? To help Rumple be brave? How will she teach him to be brave? Will Merida take Rumple on a supposed-mission to take Emma out?
Now I can't help but picture a training montage between Rumple and Merida, with the Sara Bareilles song "Brave" playing in the background. "Honestly, I wanna see you be BRAVE!"

— @MatthewPaul
Is there anything that missed from the episode, The Broken Kingdom? Share them all at the comment section below! Do you have any theories about the upcoming episodes? Head over the forum and share your thoughts and theories there!
What did you think?
Help us out!
Follow us
Spoilers