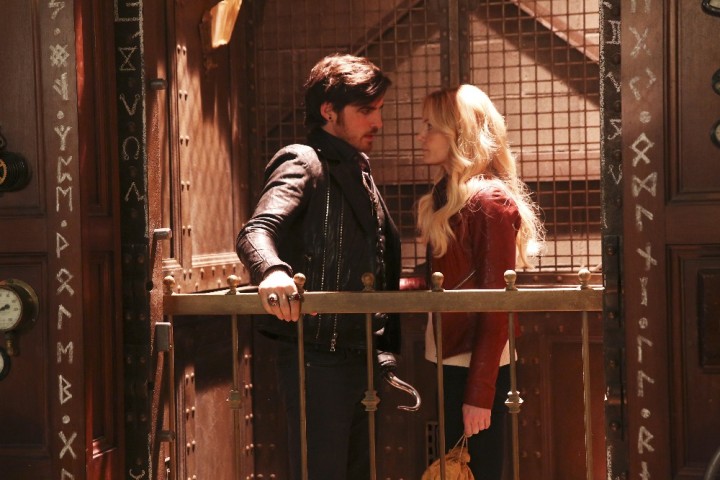 We just finished watching this episode, Firebird, and we really liked it, especially all the flashback parts. Initially, we don't know if we liked this episode so much; the flashback seemed kind of random, but then by the end of the episode it just kept getting better and better toward the end of the episode. All the emotional feels in this episode clearly shows that this was an "Espensode" (what we call an episode written by Jane Espenson); there's happiness and sadness, and we also got to see some people we haven't seen in such a long time.
Podcast: Play in new window | Download | Embed
Hades turns to the heroes to ask for help with getting Zelena back from Rumplestiltskin and Peter Pan. In return, he offers to take all their names off their tombstones. However, when Hook is still unable to leave, he and Emma must journey into the depths of the Underworld. Meanwhile, Cruella De Vil is determined to keep the heroes trapped in the Underworld. In flashbacks, Emma searches for answers about her family and makes an unexpected friendship.
These are our first thoughts about this Once Upon a Time episode. We'll share more about "Firebird" in our upcoming full discussion (usually live on Wednesdays at 7:00 p.m., USA Eastern Time).
Initial Reactions
Remember, these are only our initial reactions regarding tonight's episode so please bear with us if we're a bit all over the place. If you have your own thoughts, feedbacks, or theories regarding tonight's episode, however, send them over to us and join our upcoming full discussion!
The flashbacks were again, answering a question that we didn't know we had and forgot about it, which was how Emma became a bail bonds woman? We loved the fact that we got to see how she took over Cleo's personality. We loved how Cleo sat down with her at the table in the beginning and then Emma runs to her car and there's a boot on the car, which was probably where she got these tricks from and a lot like the Pilot episode. This is also kind of like the episode Tallahassee, where we got the origin story for the yellow bug, this was the origin story for the red jacket. We loved when Emma was in the clothing store and Emma saw something, we knew it was going to be the red jacket and seeing her put the red jacket on has us got excited!
We're very torn about what they're doing now with Hook and Emma. It was really beautiful, really painful, and we don't know which way we want them to go. But why couldn't he take the elevator up with her? They could've had their last minute or two together. A lot of fans of the shows are probably going to be upset about that but it don't feel like it's necessarily final. Is he going to make it back? Is it even possible anymore? The way that Emma is looking back, the way that Emma was talking, it's not like she's just going to take off the red jacket and move on.
The way the episode ended was a bit different from what we were expecting with the way the episode was going. We thought Zades are going to take over. Meanwhile, the heroes are stuck in the Underworld trying to figure out how to get out, but no, everyone but Hook got out. We even thought Emma was going to stay, all the way up until she ran through the portal, we thought she was going to stay in the Underworld. We could almost imagine them doing something next week where she wakes up and this was just another one of those predictive dreams. We don't want to see them do that, but we wouldn't be surprised if it actually happened.
We liked the similarity with Rumplestiltskin and Pan in this episode as well as going back to the mid-season finale of season 3. There, when Rumple killed Pan with the dagger going through them both, Pan said something about a happy ending and Rumple telling his Papa that villains don't get happy endings, and that's essentially the same thing as they said here. We loved the twist on this. We did not see that coming. The whole heart filled with water from River of Souls was awesome, which means that Pan is completely gone. Where is Rumple in all of these? Is he even siding with anyone or is Rumple his own side? Is he staying out of this? It seems that his sole concern is his waking up Belle.
It was great to see Stealthy. Getting to see some of these side characters even for just a brief moment like that was fun. Now that they're all back in Storybrooke, are we going to see any more of them? Will this be the goodbye to Hook? If they wanted to have a goodbye to Hook, the mid-season finale would've been that perfect, beautiful goodbye. Then they kind of cheapened it by bringing him back and if they bring Hook back again after a goodbye like this, this entire half of the season would've been unnecessary, since it didn't bring them anywhere, just introduce some new villains and allow us to see some old villains. And while we thought the goodbye between Emma and Hook was very heartfelt, we just don't see that as the end all, be all.
It turns out that True Love's Kiss with Hades does work, which was interesting. It looks like a whole spell that went to the Underworld, which is probably what happens when there's True Love's Kiss. We saw it between Snow White and Charming in the Pilot; we saw it when Emma kissed Henry in the season 1 finale. We've seen it whenever True Love's Kiss is the key when breaking a spell; even with Dorothy and Ruby, the same kind of rainbow prism sort of come out, except for when Belle kissed Rumple back in the episode Skin Deep, although there was some other change that was taking place at that time.
In this case, the spell kind of seem to be two-fold; it made Hades' heart starts beating again, the clock starts spinning, and something starting to happen with the Underworld; it's starting to crumble in some way. If stuff starts to grow again, might the Ambrosia tree be able to grow again, enabling Hook to come back?
We're glad Rumple, at the very least, tried to give Belle True Love's Kiss. In previous podcasts, we've talked about why couldn't the True Love's Kiss be between Belle and Rumple, so someone doesn't truly love the other and we're not exactly sure which one that is. Belle clearly loves Rumple but it might not be true love anymore because he's just destroyed that with all of his lying lately, although she does want to try. For Belle, she made that choice, while for Rumple, perhaps he is falling back to those nasty habits of loving his magic more than loving Belle. After all, he did give up everything to become the Dark One again.
What do you think about tonight's episode? Send us all of your feedbacks and theories for our full discussion of "Firebird" this coming Wednesday. Our resident Greek Mythology expert, Jacqueline, will surely have more stuff for us about Orpheus, Eurydice and Ambrosia, as well as some great Greek Mythology during this episode. Plus, Cleo Fox. We didn't recognize the name Cleo Fox and she's not probably a fairy tale character, but we would like to dig deep into her name as her name could still have some significance to the show. If you know of something or have some research, please share your feedback by sending us an email, giving us a call, filling in the comment section below, or heading straight over the forum!
What did you think?
Email Feedback@ONCEpodcast.com (audio files welcome)
Call (903) 231-2221
Comment on the shownotes
Visit any page on ONCEpodcast.com and click the "Send a voice message" link to record and send a message right from your computer.
Help us out!
Share this post in your social networks
Follow us
On Facebook:
On Twitter:  echo do_shortcode('[twitter follow="ONCEpodcast"]'); ?>
Daniel J. Lewis:  echo do_shortcode('[twitter follow="theDanielJLewis"]'); ?>
Jeremy Laughlin:  echo do_shortcode('[twitter follow="phlegon"]'); ?>
ErinJ:  echo do_shortcode('[twitter follow="erinjcruz"]'); ?>
Hunter Hathaway:  echo do_shortcode('[twitter follow="travelingpixie"]'); ?>
Jacquelyn / RumplesGirl:  echo do_shortcode('[twitter follow="punk_bunny_87"]'); ?>