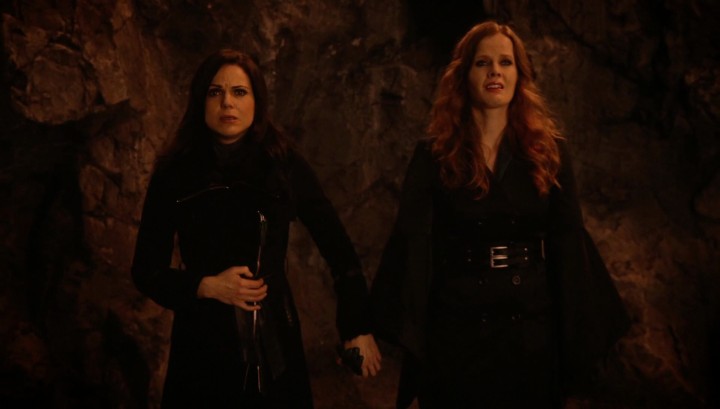 Did Cora deserve to move on to a better place? Can Zelena really change Hades? Was Regina right to be as judgmental as she's being with Zelena? Is restoring Zelena and Regina's memories enough to forgive and forget everything that Zelena did? All these plus Emma's conveniently tampered superpower, Zelena's date with the devil, Hades' endgame, a little Greek mythology tale and more on our in-depth discussion of 5×18, "Sisters."
Podcast: Play in new window | Download | Embed
Jeremy is travelling out West again so he's unable to join us for this episode but we have some good stuff to talk about this episode.
Past (Oz and the Enchanted Forest)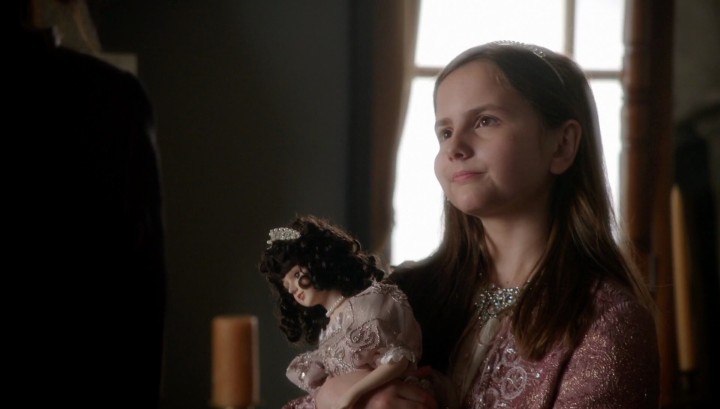 The more we watch this episode, the flashbacks felt like could've been done without. A lot of them felt contrived and convoluted in the end, but what would the show be without its flashback? We understand that they wanted to show us Regina and Zelena bonding as sisters, which was the only purpose of the flashbacks, but a lot of the stuff about this was just about the nature of those being something that happened. It was a bit of retroactive continuity and squeezing something in, although not necessarily changing the continuity of the story, but squeezing in something more in order to support the storyline. It felt a little bit forced, but we are hopeful for a nice pick up after this since we only have a few episodes before the season 5 finale.
So Regina's doll is named Isabella. There's nothing really anything significant about the meaning of the name Isabella, other than that it is a Spanish name, as are several of the other names related to Regina's family. Regina's name itself even means Queen. But have we ever seen Cora use a wand before? She was a lot like Regina and Rumplestiltskin who uses magic by their hands most of the time. Plus, when Rumple taught her magic, he never told her about using a wand or that it channels her magic, after all.
When Regina was knocked off by the wand, Cora said that her magic won't work so she can't heal her but someone related to young Regina can, which was a contrived setup just so Regina and Zelena could meet up as youngsters. Furthermore, there have been plenty of significant wands on the show and they've been fairly consistent with which wands belong to whom. So who did it belong to? Is there another dead fairy somewhere and Cora stole her wand?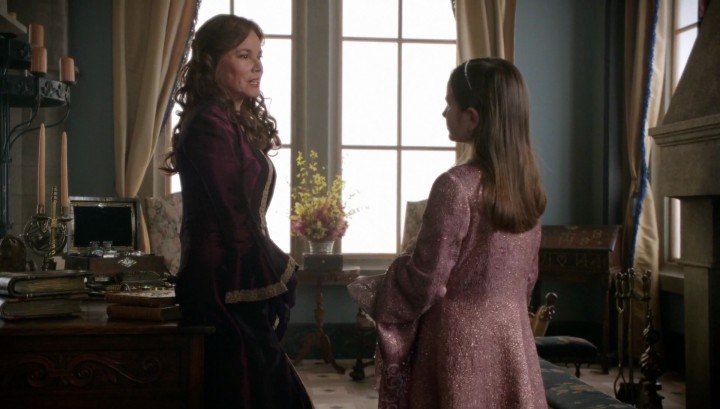 Also, if you look at the desk, there's a little lion sitting at a desk when Regina was playing with the wand, which could be a foreshadowing of the whole OutlawQueen because Regina's soul mate turns out to be the man with the lion tattoo.
How did Cora know to find Zelena? How does she know that she was even in Oz? How does Cora know that Zelena has magic? Both Cora and Regina had to learn magic from Rumple, but Zelena was born with magic. Even as a baby, she was able to use her magic and she, besides a fairy, seems to have the potential to being the most powerful wielder of magic since she was born with magic, and she was not the product of true love, either.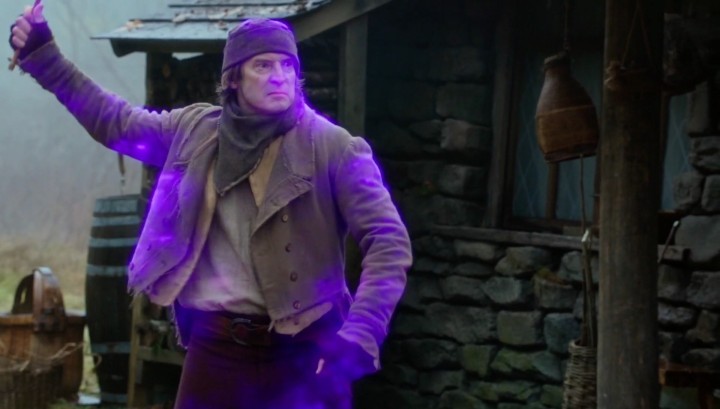 Seeing Zelena using her magic reminded us of The Jungle Book, because one of the things that it brought out is to embrace your unique skills and not try to do things as anyone else. And for Zelena, it's better for her to embrace it. If she was raised by a different family, how would she be today and how she could be using her magic for good? With Once Upon a Time, a lot of times, one of the driving themes is that the people around you—your family, community—help shape you as individuals. Had Zelena had a loving family, someone who encouraged her gifts, perhaps she might be completely different than what she had become.
We hated the child abuse act when Zelena's adopted father was about to beat her for no reason. It was unjustified, and besides the horrible aspect of it, he wanted to stifle Zelena's gifts instead of teaching her how to use it for good. Even if he didn't strike her on-screen, he did abuse her verbally.
Back in the Enchanted Forest as Cora brings Zelena to heal Regina, it was clear that Zelena wanted to use her magic to help someone for a long time, but her father, again, really stifled that chance. Because she was born with magic, Zelena could've had the potential to do some amazingly good things in the world. It would really be interesting to see what kind of character she would have become and maybe we would see that next season. And if the end of this episode is any kind of indication, we could be looking at a new Zelena going forward and get a glimpse as to how she would have developed if she had been loved. Imagine what our trio of women would do if Zelena turned around for good; they would be quite a force.
Regina wakes up after Zelena heals her, and Cora acts incredibly happy as if she has her heart. She seems a little too joyful at Regina's waking up. But perhaps, the way removing someone's heart works is that although you still feel certain emotions, you can't have long term emotional feelings. We've seen people without hearts expressed certain emotions but they were all short termed. In this episode, for example, Cora expressed a little bit of happiness but not long term joy, then later disappointment. We've seen other characters show emotions as well even without their hearts on, like Graham, who felt something toward Emma, however short termed. In a way, perhaps the emotions still can occur but couldn't stick because it doesn't have anywhere to stick to.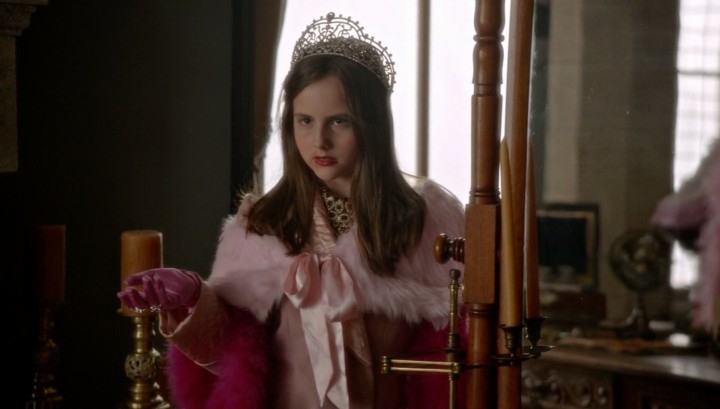 While Regina and Zelena were playing, it was nice to see young Regina pretending to use fireballs, which could be the origin of Regina's trademark fireballs, except that these memories were erased. However, it was odd that Cora didn't Zelena send back to Oz right away. Does she have post-it notes emotion with Zelena by then? She's her daughter, after all.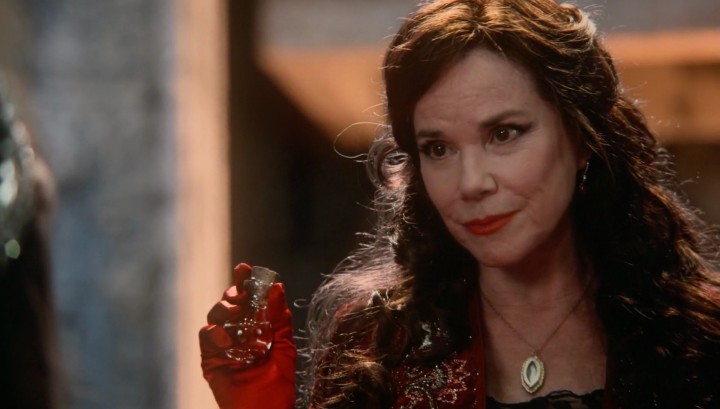 When Cora separates Zelena and Regina, how did Cora get Regina and Zelena to drink the water? Did the guards just drags Zelena back to Oz? Why didn't young Zelena even try to use her magic on the guards?
Present (Underworld)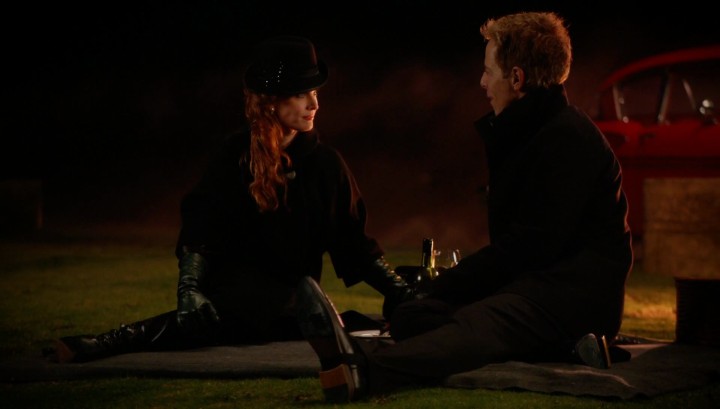 Zelena's date with the devil is adorable. A bit ironic, since when you first saw them driving there was a shovel at the backseat, which made us wonder who got or if someone is going to be murdered. But while the song "I don't want to set the world on fire" was playing in the background, it made us think, does he want to set the world on fire? What does he get out of it?
I don't ever care to rise to power
I would rather be with you an hour
For the things that one can buy
Are not worth a lover's sigh

I don't want to set the world on fire
I just want to start a flame in your heart
In my heart I have but one desire
And that one is you, no other will do

I've lost all ambition for worldly acclaim
I just want to be the one you love
And with your admission that you feel the same
I'll have reached the goal I'm dreaming of, believe me

I don't want to set the world on fire
I just want to start a flame in your heart
If this is what he actually is thinking, it's awesome. Here he is, the Lord of the Underworld, has all of the power, setting the world on fire in the Underworld, has worldly acclaim, but is Zelena really what he wants and can that really change him? When you look into the lyrics of the song, it fits perfectly with Hades if he means it. Or is the opposite actually what really Hades feels and wants? If that is so, what is Hades' real plans? He seems bent on going after his brother, Zeus, what is his endgame? Does he really want Zelena? Why does he want to go with Storybrooke? How much power does he have outside of the Underworld? If he goes to Storybrooke and into our realm, will he be capable of what he can do now in the Underworld? If Hades has his heart beating again, what else can he do? Wouldn't it alter his persona and change him altogether if Zelena give him a True Love's Kiss? Zades is beautiful but creepy in many ways, but can we trust Hades?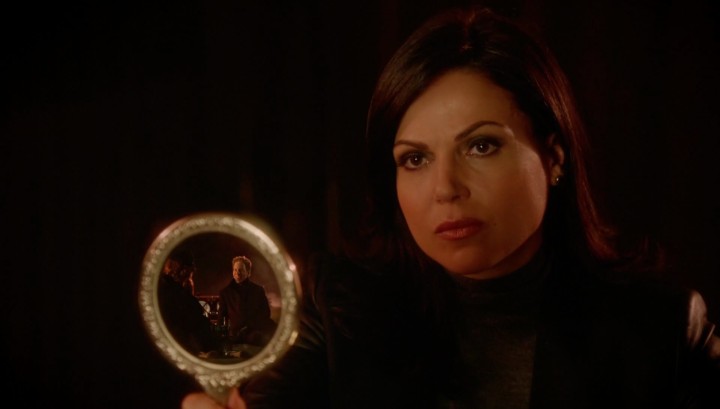 Back at Zelena's house, we finally got a confirmation that Regina can spy through any reflective surface, including chrome on a car. Back in season 1 where we were wondering how Regina could possibly see Snow White and the Seven Dwarves in different context, it's because Regina could see through any reflective surface. But was Regina right to be as judgmental as she's being with Zelena? She does have a point that Zelena lost the right to privacy and trust after everything she's done.
Regina doesn't and shouldn't get to decide what Zelena does and doesn't do. At worst, Regina should be prepared just in case Zelena does do something but trying to dictate what Zelena can and can't do and take away Zelena's choice is only going to make things worse and send Zelena off the deep end. We all saw what happened when Regina lost Daniel, imagine how Zelena would react when she found out that Regina had denied her a chance at love.

— PriceofMagic
At the very least, Regina should've tried giving her some guidance instead of being too controlling. After all, Zelena does have a point herself when she pointed out that Regina was once a villain and has been redeemed, so why can't it work for everybody else?
While Zelena hasn't earned anybody's trust or forgiveness yet, when you look at the pairings having the conversation about her feelings for Hades and what they should do with it, you have Regina who was a walking testament that love can change people; Emma and Hook, and he's killed lots of people but his stands on everything is that Emma is his happy ending and that  he's a better man because of his love for her. It's understandable to be cautious and prepared, but they're coming across as just really judgmental and interfering that perhaps they need to reflect on their own personal history. However, it's still better than just outright killing Zelena, which is what Hook wanted to do.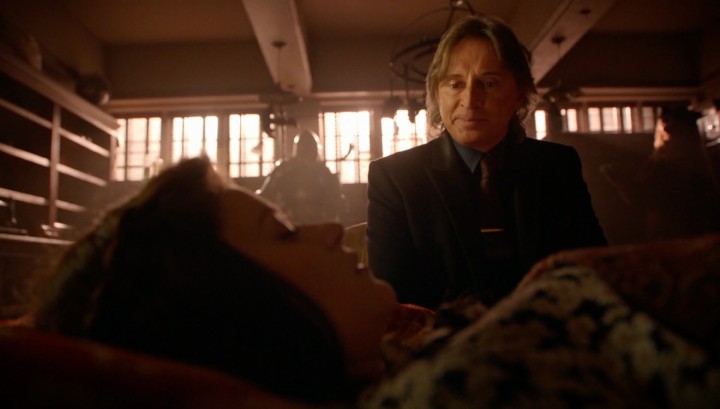 It seems Rumplestiltskin have not chosen a better way, though, as he says that there's only one way to save their child, which is to do things his way. Haven't we been doing things his way all along? Will he even try to give Belle a True Love's Kiss? He may be the Dark One, but they shared True Love's Kiss before. Didn't he need to at least try?
I've noticed in Season 5B that the idea of Rumple being the one who could turn dark magic to light, i.e the Light One has been suggested with an obvious foreshadowing occurring in this episode 5×19.

In the scene at the shop with Sleepytime Belle, Rumple kneels at the cot and you can see two things that suggest to me he might be the Light One. One is Rumple is being filmed in the light which is not new since it occurred in 5×16 in the Rumbelle library scene as well as in 5×17 in the Rumbelle locker scene but in this scene the light is brighter than it has been before.

Two, if you notice, behind Rumple's shoulder, (Robert Carlyle's right, viewer's left) you see a suit of armor in the back of the shop. That is the same suit of armor that Rumple wore as the Light One in the Season 4 finale, Operation Mongoose Part 1/2. That could be a subtle hint that Rumple may be the one Merlin suggested who could wield dark/light magic properly.

— Andrea
Is Rumplestiltskin finally the one person that Merlin has been talking about all along about the one who can finally wield both dark and light magic properly? If he is, he is not in the right path to wield both light and dark magic after he and Peter Pan kidnaps Zelena by the end of the episode.
When Cora was doing what millers do, the windmill looks very similar from the one in 2×16 The Miller's Daughter, but not exactly the same. Did Hades create a random mill specifically for this punishment? Furthermore, this little interlude reminded us of a famous Greek mythology tale of Sisyphus and futile eternal punishment.
Sisyphus and Zeus had a long standing dislike of one another. Sisyphus betrayed Zeus' secrets and also had a tendency to violet xenia (guest right or hospitality). For these crimes, Zeus had Thanatos (sometimes Hades in other versions) take Sisyphus and chain him up in Tartarus and punished to roll a huge boulder up a steep hill every day. It would then roll back down and Sisyphus had to start all over. We get our adjective Sisyphean from this.
How did Hook's hook remove Cora's bracelets!

— @Cas_33 (via Twitter)
In the episode 5×08 Birth, Hook previously used his hook to take out Zelena's cuff. The reason that Hook's hook having the ability to remove the cuff was because Regina previously enchanted Hook's hook with magic, Perhaps some of that enchantment remains?
It was interesting when James and David met that they switched wardrobes here. In this scene, James is wearing red and David is wearing gray. But at the docks, James is wearing gray and David is wearing red. But are they sure that it was really James that David pushed down the river and not the other way around?
Why couldn't Emma tell that that wasn't her father? Whatever happened to her superpower to tell when someone is lying? As a Sheriff and a former bail bonds person, shouldn't she be able to tell that who she was with was not her father? It seems that her superpower is conveniently tampered with. Furthermore, Emma said that it was a half day's walk to Robin. How big is the Underworld?
Cora and Regina are in the vault and Cora said that Hades can't be changed by something as simple as love, so maybe Zelena can't change Hades after all. However, Cora associates that love as weakness. Love is anything but simple, but people could be changed by love or do something like that.
So they go outside to get water from the River of Lethe/River of Forgetfulness, which happens to just flow by the Mills' estate in the Enchanted Forest. Previously, we've seen people make forgetting potions out of things without referencing a specific river that comes from the Underworld. Back in the episode Save Henry, Regina made an ancient potion of forgetting to erase her memories of the Savior. She didn't just have the water from the River of Forgetfulness. Does it even flow in Storybrooke? August did say there are magical waters below the lands that connect all the magical realms to each other. Is the water below some sort of mix of the River Lethe and a bunch of other stuff?
I felt this episode fell flat in terms of the flashbacks and that it was just a convenient way to move along the story in present day Underworld.  Though it was enjoyable, it was rather lack-luster and for them to pull the same story trope of taking away the characters memories, oh so conveniently, to line up with all we've seen in previous seasons since season 3B was rather lazy and was something we've already beaten over the head over and over and over again, and when was there a river or water that could remove your memories.  It's always been a memory potion or forgetting potion.  This Magical McGuffin has never been a thing until now, so was this Underworld's Squid Ink or what?  Cue in Rumple's "Your questions are pointless."

— DeAndre Williams
This flowing stream of forgetfulness confirms something.  The big reason it was such a shock in the episode "Bleeding Through" was because Snow White's father Leopold would never have married Regina knowing his previous history with Cora.  So when King Leopold started traveling through Cora's land, she slipped the water into their saddle bags so that Leopold would have no qualms about becoming in-laws with her.

— Meredith Pechta
So Emma and James-as-David find Robin Hood in the woods but in the Enchanted Forest, Robin Hood finds you, you don't find him. But seeing him carry around baby Pistachio in the woods made us wonder if we will get to see a redo of the very iconic scene from season 1 where Charming sword-fights while holding baby Emma with Robin Hood while holding his baby and shooting arrows.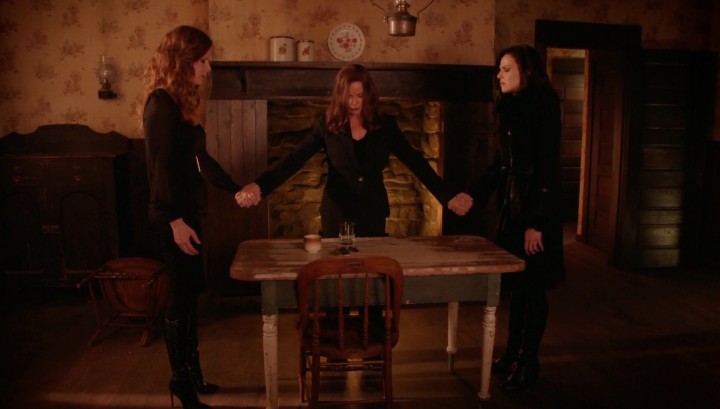 Meanwhile, Cora and Zelena are talking and even though this was all a trick on Cora and Regina's part, it does all seem genuine, too. It was a beautiful apology, even though it was motivated by another agenda. But even if that was the case, it was motivated by the need to protect Zelena. It was also nice when Cora admitted to Zelena that what she did left a wound that's been festering for decades, because that's what happens when you're abandoned or mistreated; it damages you from the inside. It was nice seeing her being honest about why she gave up Zelena, which was all about doing it for her. Plus, when she admitted that she was a fool for thinking that love is weakness was a complete reversal of everything that she did, even though it took her a long time to realize that.
But are Zelena and Regina really sisters now after Cora removed their memory block?
And as far as trust goes… I think being reunited with the love they had with one another in the past, instantly changed Regina and Zelena's relationship… so I guess newfound, or rather old trust is what they are giving one another.

— WickedRegal
Perhaps it's not just the memory was restored, but the feeling, trust, and the excitement of being sisters, as well? But with everything that Zelena did to Regina, is it really enough to forgive everything that Zelena did to Regina right away?
I found it pretty implausible that once Zelena and Regina got their memories back everyone seemed to be ok with everyone else. From what we've seen of Zelena's character so far, she is a livewire, and acts on impulse and emotion. She is a super insecure person, who is prone to jealusy and paranoia at the slightest provocation. She's been resentful of Regina and Cora her entire life, and now she's just been shown a memory that clearly shows that Cora willingly got rid of her because she was a threat to Regina and the family's status and reputation.

— Stargate_Once
Shouldn't the memory anger Zelena more, since it clearly showed that, yet again, Cora chose Regina over her, which is what she said in 5×16 Our Decay. Does that heal all the internal conflict?
It took Rumple many episodes to make it up for Neal and his forgiveness, but it took one episode for Cora to make it up for Zelena.

— WWO
So we go back to the all popular docks and the whole thing about Hook saying to Cruella that he would take the gun, Cruella can't hurt anyone because of what Isaac wrote about her. Nice consistency there, but how did Charming break out of the jail?
It was really beautiful to see the goodbye and see Cora go to the better place, which sends very final feeling that we will never see Cora ever again. Theoretically they could bring her back into the flashback, but you get diminishing returns every time they showed the flashback. This goodbye is very beautiful so let's just hope they keep it that way.
But what about all of Cora's unfinished business and the things she did? Matthew Paul pointed out Jane Espenson's tweet: 'Not everything you've ever done wrong is included in the Underworld's "unfinished biz" file.'
Who decides what your unfinished business is and that it's been fulfilled? Is there a God, Diety or a thing who decides where should they go or that Cora is okay to move on now? How does the fire know where to send Cora? Does Cora deserve to go to the better place?
The more I think about their mythology of the UW, the more I think they are actually modeling a lot of it on the Buddhist concept of bardo where the person's experience after death and before the next rebirth is often negative, and is the fruition of one's karma (past actions). The Western interpretation of this concept, which is I think what they're going with, is that "hell" is really the process of battling one own's "demons"  (some horror movies from the late 80s and early 90s used this as their core premise. Like, if anyone has ever seen Jacob's Ladder). So "unfinished business" seems to go along this type of logic. Which of course also allows the show runners to skirt around moral absolutes. (A quick note that in Buddhism, karma isn't morally relative, it has everything to do with how one's actions have impacted other beings, but OUAT is kind of psychologizing it by suggesting that it's all about the individual, and how they feel relative to their actions.)

— Nevermore
Do people in the Underworld have to cross over? Do they have to move on? Why couldn't Cora, who has magic in the Underworld, stick around and help defeat Hades?
After Cora moved on to the better place, Regina gave her blessing to Zelena to go after Hades and try to change him. What with Cora said about Hades that he couldn't be swayed with something as simple as love, can we trust Zelena that she could actually change Hades?
Did Zelena take advantage of an opportunity to hurt Rumple? She seems unconcerned about Rumple, is Rumple just using that as an excuse? On the other hand, it was really cute seeing Hades practicing his dance moves like a little boy.
Thank you for the podcast reviews!
In iTunes USA, Xandythegymast said, "My new favorite podcast! I am a huge fan of the OUAT and of this podcast!!! The hosts always have good points that make me want to join the discussion. There also constantly making me laugh. I listen to this podcast all the time and always look forward to a new episode!! keep up the good work!!!"
Your reviews encourage us and help others find the podcast!
Please rate and especially write a review for us on Apple Podcasts.
Do you have information about the upcoming episodes? What do you think about Sisters? Anything that we missed? Share them all using the comment section below or directly head over the forum to share your theories and thoughts about this episode, as well as the last couple of episodes leading up to the season finale!
What did you think?
Help us out!
Follow us
Spoilers