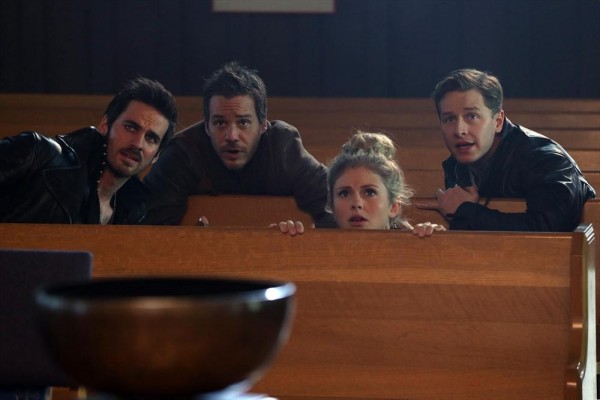 Podcast: Play in new window | Download | Embed
The race is on to stop Pan's curse but just like what The Dark One always says, all magic comes with a price. And for Peter Pan, Rumpelstiltskin, Regina, Emma, Henry, Tinkerbell, and the rest of the residents of Storybrooke, the price is something that will change their life forever. The question is, will it be for the better or worse?
What an amazing Winter Finale! That was bigger than last year's season finale; it could even be a great series, a sad series finale, but WOW!
In the Winter Finale episode, the race is on to stop Pan from enacting another curse on the residents of Storybrooke, which could kill every living soul in town.
These are just our first thoughts about this Once Upon a Time episode. We'll share more about "Going Home" in our upcoming full discussion live on Wednesday December 18, 2013, at 8:00 p.m. (EST/GMT-5).
Thank You for Supporting Us!
Steve Johnson (subscriber)
David Neuland (subscriber)
Lisa Slack (subscriber)
Amanda Robar
You can sponsor an episode or more of ONCE podcast, too! Email Daniel@ONCEpodcast.com if you would like to arrange a corporate sponsorship of our podcast for the upcoming third season.
Initial Reactions
Regina was able to stop Pan's curse and was able to bring everyone back in the Enchanted Forest. However, did they retain their memory or not? Also, why can't Neal cross the town line? Is it because he was born from the Enchanted Forest?
So Emma and Henry now have an alternate past, with no memory of Storybrooke and everything that happens in the past year.
A year later, Hook came knocking on Emma's door to tell her that something bad happens in her family. What could it be? However, that last scene didn't really make it a great cliffhanger; it wasn't a great dramatic ending than it should have been.
It was great that they gave us pieces of flashbacks, important ones, including the book. Speaking of the book, was the book destroyed along with the town? Or will Emma find it one way or another?
What about Rumpelstiltskin? Is he really dead?
Does that mean that Storybrooke will be gone for good? Are we still going to see more of Storybrooke? Or will it be going to be more about Boston or New York City (wherever Emma, Henry, and Hook is now) and the Enchanted Forest? What is the 'bad thing' that Hook was referring to?
Again, is Rumpelstiltskin really gone? Whether he is or not, this made it the second character to die in a season.
If the Blue Fairy can come back with her shadow, does that mean that Greg and the other people that the Shadow ripped shadows from came back? Or was it just because the Blue Fairy is a magical being that's why she can be revived?
It seems like Tinkerbell has earned her wings back. However, it's still not clear as to why the Shadow ripped the Blue Fairy's shadow last week. And who owned the black fairy wand? Was it Maleficent's or another fairy that the Blue Fairy made dealings with once? Is she the one who created the black fairy wand?
It was nice to see how Henry got the book, which happened in October 2011, making it before Henry went to find Emma in Boston.
Emma and Henry seem to be having a good life now wherever they are. How and who will make them believe now?
Once Upon a Time won't be on until March 9th. This is a great first half of the season. It was so well-planned, written, acted. Despite a few let downs, this season has been, by far, the best season yet. Let's just hope they will have the same (or better) level of planning moving forward.
How did Hook get to Emma? How did he find her, anyway?
With the exception of Neal, everyone fits right in despite going back to the Enchanted Forest. Will they remember who they are and what happened? There are so many ways that the show will turn monotonous so the creators should be very careful what things they introduce in the new episodes to follow, especially if they will make Regina go back in her old evil ways again.
Does anyone else thought that Regina was going to die as well in the end? If they did kill both Rumpelstiltskin and Regina in a single episode, it would probably make a lot of Evil Regals and RumBelles livid.
With Hook with Emma now, and Neal stuck in the Enchanted Forest, can he win Emma's heart this time?
Now that they are back in the Enchanted Forest, can Regina and Robin Hood finally meet and fall in love?
This Winter Finale can go either way. Just like Lost, the story telling dynamic can change in a way we didn't expect; one that would stir questions and interests.
Remember, these are just our initial reactions regarding tonight's episode so please bear with us if we're a bit all over the place. If you have your own thoughts, feedbacks, or theories regarding tonight's episode, however, send them over to us and join our full discussion this Wednesday!
Thank You for the iTunes Reviews!
Your reviews encourage us and help others find the podcast!
Please rate and especially write a review for us on Apple Podcasts.
What did you think?
Email Feedback@ONCEpodcast.com (audio files welcome)
Call (903) 231-2221
Comment on the shownotes
Visit any page on ONCEpodcast.com and click the "Send a voice message" link to record and send a message right from your computer.
Help us out!
Share this post in your social networks
Follow us
On Facebook:
On Twitter:  echo do_shortcode('[twitter follow="ONCEpodcast"]'); ?>
Daniel J. Lewis:  echo do_shortcode('[twitter follow="theDanielJLewis"]'); ?>
Jeremy Laughlin:  echo do_shortcode('[twitter follow="phlegon"]'); ?>
ErinJ:  echo do_shortcode('[twitter follow="erinjcruz"]'); ?>
Hunter Hathaway:  echo do_shortcode('[twitter follow="travelingpixie"]'); ?>
Jacquelyn / RumplesGirl:  echo do_shortcode('[twitter follow="punk_bunny_87"]'); ?>