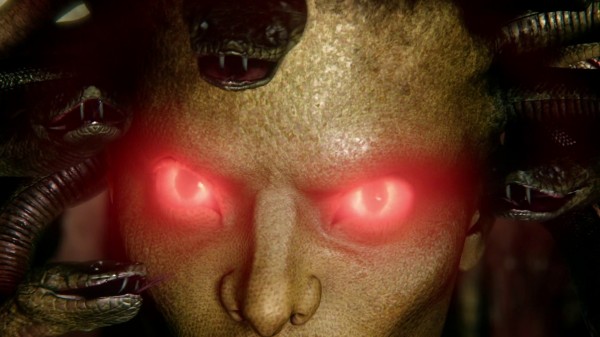 Podcast: Play in new window | Download | Embed
As the residents of Storybrooke celebrate the return of our heroes, Peter Pan secretly continues to enact his evil plans, which are far from over. Meanwhile, in the Enchanted Forest, Snow White and Prince Charming went in search of a mythical creature that could hopefully defeat the Evil Queen once and for all.
The New Neverland is the penultimate episode before the show's big break and next week's winter finale.
Enchanted Forest
This episode brings us a lot of what happened in the first episode, such as Snow and Charming's wedding. We've initially wondered how old Emma really was when the curse hit. The whole thing with Medusa, seems a bit unnecessary; it looks like it was stuck in the storyline. However, it was kinda true to life, imparting us that life is filled with moments, good and bad.
Charming told Snow that "For all we know, that was just blustering" and it was at that moment, since Regina didn't have the curse yet.
The Summer Palace looks a lot like Regina's old home. Back in, "Heart of Darkness," Snow was angry that Regina would be visiting the summer palace because it was for Snow's mother. Is it the same or not?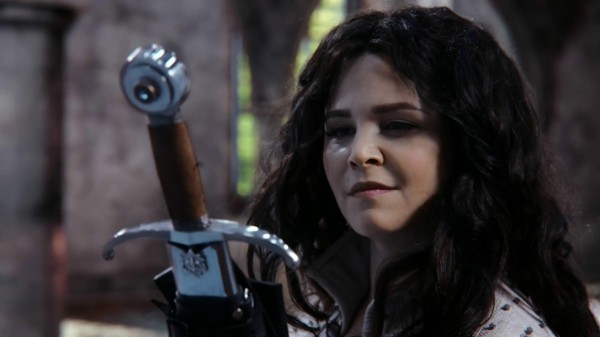 Before Snow left, she pulled a sword. However, it was not Charming's gold-handed sword.
Together with Charming, Snow went to find Medusa, a a fearsome, immortal creature that live in a nearby cave that will turn you into stone if you look into her eyes.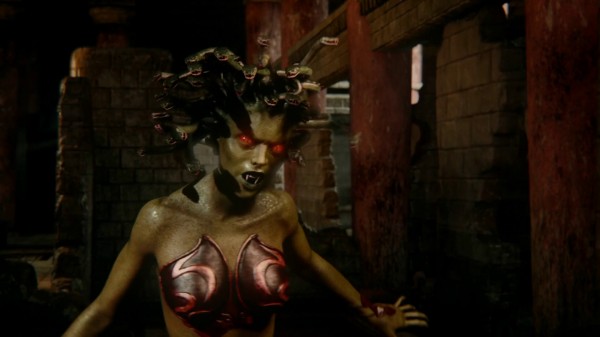 In Greek mythology Medusa (Greek: Μέδουσα (Médousa), "guardian, protectress") was a monster, a Gorgon, generally described as having the face of a hideous human female with living venomous snakes in place of hair. Gazing directly upon her would turn onlookers to stone. Most sources describe her as the daughter of Phorcys andCeto, though the author Hyginus (Fabulae, 151) interposes a generation and gives Medusa another chthonic pair as parents.

Medusa was beheaded by the hero Perseus, who thereafter used her head as a weapon until he gave it to the goddess Athena to place on her shield. In classical antiquity the image of the head of Medusa appeared in the evil-averting device known as the Gorgoneion.
Apparently, beheading Medusa is also in the Greek mythology. Are we going to see any more Greek mythology characters in the show? Which would fit the storyline?
Snow said that the only way to free Medusa's victims is to kill Medusa. When Charming turned back into human, who else was turned back?
It was good to see Snow and Charming's character development when they journey to Medusa's cave; seeing their struggles as a newlywed.
Back in the Summer Palace, Snow told David, "We have to find the good moments in between all the bad ones." In the present, David also told pretty much the same thing to his daughter. Perhaps Henry should say and believe in this, too?
Thank You for Supporting Us!
Steve Johnson (subscriber)
David Neuland (subscriber)
Lisa Slack (subscriber)
Amanda Robar
You can sponsor an episode or more of ONCE podcast, too! Email Daniel@ONCEpodcast.com if you would like to arrange a corporate sponsorship of our podcast for the upcoming third season.
Storybrooke
It was nice to see Ariel and Prince Eric reunited! However, it was a bit awkward to see Eric cutting fish when they met. But, will this be the last time that we are going to see of them, just like what we have seen of Ashley and Sean?
This episode told us why Mr. Gold kept his cane all these time — to remind him to the man he was, and shall no longer be. Hopefully, it will really change him this time.
Is there a hole in the top of Storybrooke's cloaking spell now?
Hey guys, so I was wondering, why was it so easy for the ship to just find storybrooke again, let alone just go through the protection spell? Didn't Bell say Rumple wouldn't be able to find his way back to her and she agreed? Any answer to this you saw, or maybe just a plot hole. Thanks

— Chris
Rumple said that it would make the town impossible for anyone to find, and Belle asked about how he would make his way back. But he never said he or the others couldn't get back.
It was nice to see Regina's continued change when Snow told everyone that she helped save everyone.
Jared S. Gilmore looks better as Henry in this episode, although the sinister look in his face is really good.
Rumple was finally happy to have a possibility of a happy ending with Belle. However, if the curse works, Rumple and Belle's happy ending, along with everyone else's, will be torn apart.
Pan-as-Henry barely recognized his book when Emma handed the book. Does that mean that Pan is completely unaware of Henry's storybook?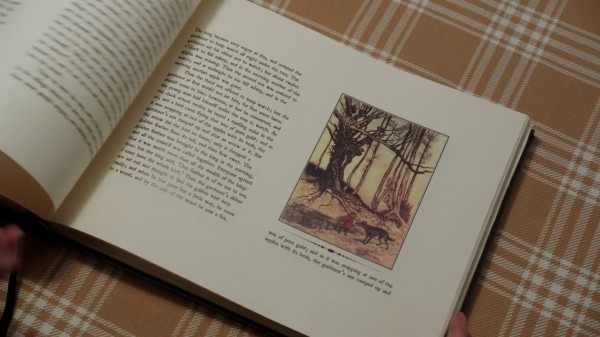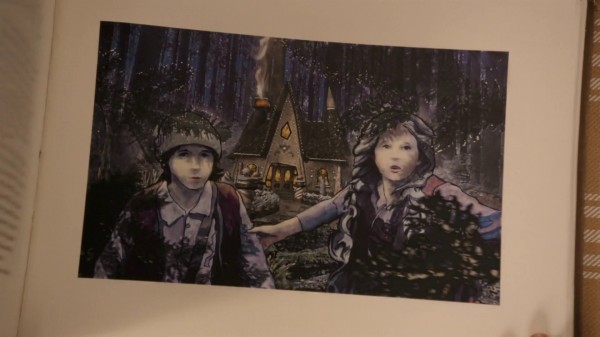 Moreover, Henry's book showed a few stories, including the story of The Golden Bird, as well as Hansel and Gretel, which is a nice reminder of the first season.
The Blue Fairy asked Tinkerbell how could she believe in her if Tink herself doesn't believe in herself. Now that the Blue Fairy is gone, can Tink redeem and believe in herself?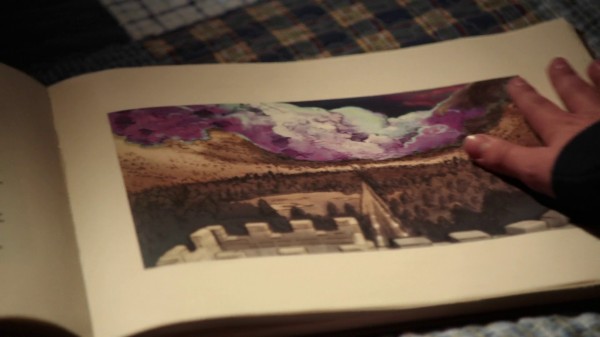 Inside Henry's room, Pan-as-Henry was seen reading to the page where the curse is about to hit. Could Pan got the idea to re-use the curse from the book, or was it his plan all along?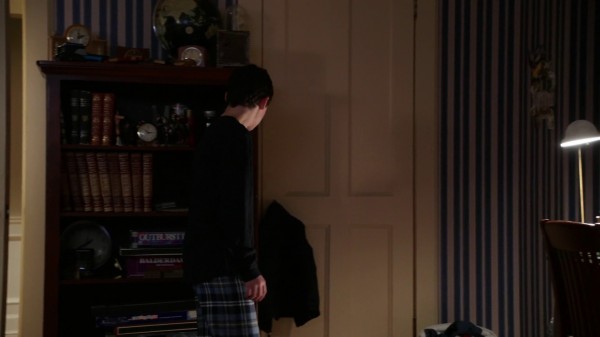 There were also a lot of clocks that can be seen inside Henry's room. Moreover, the Shadow was also freed at almost midnight.
Back in the diner, Rumple, for the first time, handed Charming the potion that could heal him of the Dreamshade potion. However, he also said that since they were family now, he might be expecting the Charming's to be more than receptive.
David and Emma having a father-daughter talk is a great moment. Josh Dallas and Jennifer Morrison are both doing a great job acting as father-daughter. However, when David took Emma by the arm, it somehow looks like a wedding processional as he leads Emma to Neal.
Am I the only one who noticed Emma's slight moment of jealousy when she saw Tink and Hook? What's that about? I'm totally against that storyline and would much rather see Hook and Tink attempt a relationship than this silly Hook and Emma hoopla. But it does make you wonder what Emma is finding to be so appealing in Hook? Perhaps it's his nod towards the "dark side" every so often. She seems to have a thing for the bad boy type… and Neal is too busy trying to play the "good father" to capture her attention.

— Dawn
Hook told Neal that he would stop pursuing Emma, but goes to woo Tink the next day. Are they going to Hook up? Is Emma feeling a bit jealous when they saw them together? Is Hook making Tink the rebound?
Before the Shadow ripped Blue Fairy's shadow, Blue was heard screaming five times. Is there a significance to it? Why did the Shadow chose Blue's shadow? Why didn't Blue attempted to fight back?

I don't think the Blue Fairy is completely out of the picture. Yes shadow stealing kills, but aren't we all forgetting that Rumple is breathing just fine without his shadow? Plus this would add to the notion that the Blue Fairy is one of the most powerful (not sure if she's good or bad just yet) magic-wielding characters in Storybrooke.

And thanks for having such as wonderful (and clean) podcast! I love it!

— Dawn
Is the Blue Fairy really dead? Or are there still some way to rescue her?
The first shocker had to be Blue Fairy's death.  I still felt there was more story to be told with her (especially with a backstory and flushing out the "fairy rules" a little bit more).  The death felt a little be unsatisfactory. The thought that I am still clinging to is that a shadow can be reattached to its body.  There's an interview where Adam and Eddy say a shadow can be reattached to its body, so maybe that will be part of the storyline this season.

— OnceWizard
Can Blue's shadow still be reattached?
Maybe Pan killed Blue because she could stop him, and her sister was a dark fairy?

— Aleana
Is Blue actually one of the beings that can actually stop Pan? Was she the one who wrote the book? If the Blue Fairy wrote the book and Pan realized it's what led Henry to Emma, maybe this is an action to prevent another book from being written before Pan's new curse.
Firstly, I was incredibly disappointed with the MOTHER SUPERIOR in this episode.  I mean, seriously?  She is the "most powerful ish" person in Storybrooke and she is running around screaming from a shadow?

But I was also disappointed she died.  I wonder if people really die when their shadows are taken.  I HOPE she is not dead (or not dead yet)…. perhaps there is a time period after your shadow has been taken that it can be reattached to revive you.

If this is the case, I think that Tink is going to be key in saving BLUE.  I would hate to see Blue be gone forever the way she left things with Tinkerbelle.

I reckon Tinkerbelle will have to "believe" in herself enough to make the pixie dust work to reattach Mother Sup's shadow.  At least, I hope this is what happens!

— ErinJ
Can Tink make the pixie dust work to save Blue? If Tink believed enough in herself, can she revive Blue and earn her wings back?
It was nice to see Belle keep Mr. Gold in check. Even if it seemed like he doesn't want anything to do with whatever the Charming's want, Belle is there to make him do the right thing. When they went to the town line to test whether the one in the box is Henry or Pan, Mr. Gold was seen with his shawl to retain his memories.
Down in Regina's vault, it's sad to see her get disappointed when she realized that she was tricked by Pan. On the other hand, how did Pan know which bottle to use against Regina and what was in it? Did Pan learn magic in preparation for enacting his plans?
As the rest are trying to get in, it seemed that Emma is taking her being a savior a bit too far and what it means for her life. Unfortunately, for Emma, the price of being a savior is she doesn't get a day off.
Thank You for the iTunes Reviews!
Fairydust787 from the USA
glenn san judas from Philippines
Keybear of Flame from the USA
Miss Tee Teefuny from the USA
Your reviews encourage us and help others find the podcast!
Please rate and especially write a review for us in iTunes.
The curse
Pan-as-Henry told Felix that with the curse re-casted, time will stand still and everyone will forget who they are. But without Snow and Charming's true love woven in, even Emma (and Henry) will be powerless to break it. Once re-casted, Pan and Felix will be in charge, making Storybrooke the new Neverland. But what else will the curse really do?
How is Peter Pan going to cast the curse? Don't you have to kill the thing you love the most? We see he doesn't love anyone but himself. I hate that we have to wait 12 weeks for the second half of the season, but I look forward to listening to your podcast.

— Aleana
Who does Pan love that would suffice for him to enact the curse? Even if he keeps saying that he does not regret abandoning his son, Rumpelstiltskin, he is still his son. Will he take his son's heart, then?
In order to enact the curse Pan must sacrifice the thing he loves most. I wonder if it has to be the thing Pan loves the most or if it might be the thing Henry loves the most since Pan has Henry's heart. Those possibilities are much more alarming.

— Gareth
Whom does Henry love most? If it was Emma, Regina, Neal, or his grandparents, the risks would certainly be more dangerous.
I think that Pan switched bodies not only to stay out of the box, but because it was a last ditch effort for him to obtain the heart of the truest believer. I think it's still up in the air as to whether or not he has Henry's heart so my theory here is that Pan now has it because he is in Henry's body. Up until this episode, we thought he wanted it so he could be immortal and that might have been true, but now I think he needs it because it is the thing he loves the most. It is his prized possession and he needs it in order to use the curse. I love the podcast and I know it takes a lot of work. Your fans appreciate it. Thanks!

— Sara
If having a dark can enact a powerful curse, does one with a pure heart such as Henry makes it even more powerful?
I hope they will maintain or enhance the consistency of stories especially in the back stories…I can only imagine how can i survive without once upon a time after next sunday. may be when Pan enacts the curse, then all the fairy tale characters will be shuffled.haha example: Snow white will be one of the dwarfs.. haha or Rumplestiltskin will become the giant.. haha then that would be annoying.. and comedic.

— Gembil
Although they may not go that far, the character shuffle would definitely be interesting. But is the show going to stay this way? Knowing the creators, anything is definitely possible.
As far as the curse, I pray we do not have to revisit the idea of Emma being the savior and waking everyone up yet again. That would be too much to endure. However, if the real Henry wakes everyone up, then that would definitely help his desire to want to be a hero just like the rest of his family.

Ducking from the curse cloud,

— Dawn
Since Henry is connected, is it possible that Henry would be the only one to retain his memories?
What if Emma has to make a huge sacrifice such as almost dying in order to stop the curse from affecting the ones she loves and the town itself. She is constantly saying she is "The Savior" but isn't doing much saving. My thoughts are that as long as Emma is in the town the curse will not effect the memories of all the residents, however Emma will be in a delicate state and Regina and Rumple will be called upon to assist their 'Step-Grand-Daughter / Henry's mom' & 'Unofficial Daughter-in-law / Bae's love.'  Let me know what you think. As always loving your amazing crazy podcasts!

— Amanda
Being a savior definitely have some sacrifices to make and Emma is not immune to them.
If the curse is cast:

a) I wonder if some people might be able to escape it, perhaps Ariel could swim back to Neverland, perhaps they could take a portal to another world. Neal mentioned ruby slippers when he was searching his father's palace in 3×01. Perhaps some of them will escape to Oz.

B) I wonder if the curse might actually send them to another world. I'm convinced that the series will eventually go to Oz, so I keep working it in, but the curse cloud could be like a cyclone.

C) Perhaps the curse will not actually remove memories, people will just end up being scattered to different worlds, the enchanted forest, neverland, the colorless world, etc.

D) Perhaps the curse will not affect people in other worlds, in which case Aurora, Mulan, and others would know who people really are.

— Gareth
Can anyone escape this new curse? Where else would they go?
I think the curse will send them all to the Enchanted Forrest, where they don't remember their Storybrooke selves. (This one stretches perhaps to the season finale.) In the Enchanted Forrest, Regina will find Robin Hood, and they will finally share true love's kiss which will break the curse. This will restore everybody's memories, and they will have thwarted Peter Pan's last attempt at succeeding.

— OnceWizard
After Tinkerbell has hinted Regina's soulmate, can the curse be broken once Regina and Robin Hood shared a true love's kiss?
I don't think that the initial prophecy of "the boy being his undoing" is completely finished, as Belle suggested to Rumple. What if "Henry" is still his undoing, but just while Pan has possession of his form? Just makes sense since all of the other prophecies the Seer made did come true… regardless of how they exactly played out (I.e. soldier's riding on cows really meant riding on cowhide saddles) .

— Dawn
Is the prophecy about Rumple and the boy being his undoing far from over? Can Henry still be Rumple's undoing? What would the curse do to anyone? Will another beloved character die? Tell us your feedback regarding "The New Neverland" by sending us an email or using the comment section below. You can also join us in the forum, where you can share your thoughts and theories with other Oncers regarding the episode, "The New Neverland."
[ndlmx_special]
What did you think?
Email Feedback@ONCEpodcast.com (audio files welcome)
Call (903) 231-2221
Comment on the shownotes
Visit any page on ONCEpodcast.com and click the "Send a voice message" link to record and send a message right from your computer.
Help us out!
Share this post in your social networks
Follow us
On Facebook:
On Twitter:  echo do_shortcode('[twitter follow="ONCEpodcast"]'); ?>
Daniel J. Lewis:  echo do_shortcode('[twitter follow="theDanielJLewis"]'); ?>
Jeremy Laughlin:  echo do_shortcode('[twitter follow="phlegon"]'); ?>
ErinJ:  echo do_shortcode('[twitter follow="erinjcruz"]'); ?>
Hunter Hathaway:  echo do_shortcode('[twitter follow="travelingpixie"]'); ?>
Jacquelyn / RumplesGirl:  echo do_shortcode('[twitter follow="punk_bunny_87"]'); ?>
echo do_shortcode('[ndlmx_shows]');
Spoilers
Episode 11 synopsis
Guest stars
Promo breakdown
Casting news
Rumors/episode spoilers