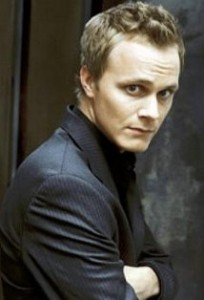 UPDATE: due to David Anders' busy schedule, we have to move this interview from Wednesday to Thursday, at the same time, 4pm (EST/GMT-5).
Here's your chance to ask David Anders questions about Once Upon a Time!
ONCE podcast is honored to host an exclusive interview with David Anders (Dr. Whale/Dr. Victor Frankenstein) on Thursday, February 7, at 4pm (EST/GMT-5). Watch it live at ONCEpodcast.com/live!
Send your questions for Mr. Anders before the night of February 5! Email feedback@ONCEpodcast.com with subject line "Question Anders" or use the form below.
The exclusive interview will be recorded and published on the ONCE podcast website and available in the podcast through iTunes and other popular podcast apps.
---
ONCE podcast is the #1 unofficial podcast for ABC's TV show Once Upon a Time. The podcast is hosted by Daniel J. Lewis, his wife Jenny, and Jeremy Laughlin. ONCE podcast was a finalist for best TV/Film podcast in 2012.
For more in-depth reviews, theories, easter eggs, and talk about Once Upon a Time, subscribe to ONCE podcast for free in iTunes or your favorite podcast directory; visit the ONCE podcast website for screenshots, shownotes, and blog posts; and join the Once Upon a Time forums to talk with other fans.