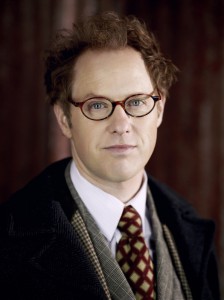 Podcast: Play in new window | Download | Embed
Hear the actor behind Jiminy Cricket and Dr. Archie Hopper talk about his experience on Once Upon a Time, his background, and answer fan questions!
Thanks for supporting us!
David Neuland
Nasser from Qatar
You can sponsor ONCE podcast, too!
Hear @RaphaelSbarge answer #OnceUponaTime fan questions in this exclusive podcast interview! http://t.co/V42ObFAn

— ONCE podcast (@ONCEpodcast) January 28, 2013
Questions for Raphael
These were the questions we asked Raphael, but you'll hear that he answered many more, too!
What is it like filming Once Upon a Time and working with the other cast?
Katie: Were you skeptical about the premise of the show, or did you feel confident that it would be awesome?
Katie: What made you want to take the role of Jiminy Cricket/Archie Hopper?
Bryant: What made you decide to become an actor? Who was your inspiration?
Oncer: What was your favorite episode and scene so far?
Dena: If you could choose any other OUAT character to play, who would it be and why?
What was your initial reaction when you were told that Archie was going to "die"?
In which ways has it affected you to play Archie?
NikSN: In "Skin Deep" and "What happened to Frederick," Archie had a bunch of deleted scenes that seemed to involve Archie and Ruby, and Archie and David. Can you tell us anything about those scenes?
Who is your favorite person to work with on set?
Tim aka AugustWBooth: What performance are you most proud of?
Tim aka AugustWBooth: Would you want Archie to get a love interest? If so, one of the existing characters or another fairy tale character?
Do you do any impressions of any other characters on the show?
Bryant: While not filming Once Upon a Time, what do you usually do with your free time? !!! Talk about Green Wish and On Begley Street
We wished we could have more time with Raphael, but we're so grateful for the time he gave us (even some extra!).
More about Raphael Sbarge
Raphael Sbarge counts being a father as his best job ever. Outside of that, Raphael has an extensive filmography record, including the Mass Effect videogame series. We're biased in saying that we love his role as Dr. Archie Hopper and Jiminy Cricket in Once Upon a Time the best!
Please connect with Raphael and follow his other work!
|
Facebook fan page
Check out Raphael's charity Green Wish: "helps local, green, organizations fund projects for their communities through donations at retailers and from concerned neighbors like you."
Learn about On Begley Street (also on Facebook), the web series and initiative led by Ed Begley Jr.
What did you think?
Email Feedback@ONCEpodcast.com (audio files welcome)
Call (903) 231-2221
Comment on the shownotes
Visit any page on ONCEpodcast.com and click the "Send a voice message" link to record and send a message right from your computer.
Help us out!
Share this post in your social networks
Follow us
On Facebook:
On Twitter:  echo do_shortcode('[twitter follow="ONCEpodcast"]'); ?>
Daniel J. Lewis:  echo do_shortcode('[twitter follow="theDanielJLewis"]'); ?>
Jeremy Laughlin:  echo do_shortcode('[twitter follow="phlegon"]'); ?>
ErinJ:  echo do_shortcode('[twitter follow="erinjcruz"]'); ?>
Hunter Hathaway:  echo do_shortcode('[twitter follow="travelingpixie"]'); ?>
Jacquelyn / RumplesGirl:  echo do_shortcode('[twitter follow="punk_bunny_87"]'); ?>