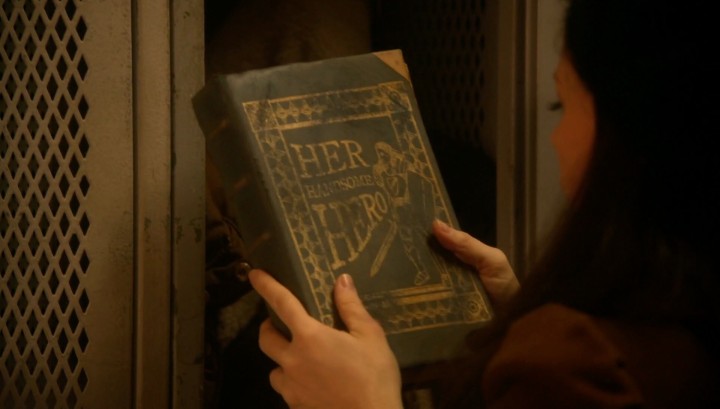 On our in-depth discussion of the episode, "Her Handsome Hero", we talked about Belle and the vainest man in all the land, the eldest son of Lord LeGume and found some interesting tidbits that connects the episode all the way back to season one. In regards with the present day, listen as we share our thoughts about Belle out-Rumpling Rumple, Emma "walls" Swan, the issue on morality and points of view, and Hades wooing Zelena. We also managed to decode some of those squiggly lines, and have a couple of Greek Mythology lessons, among with the many questions and theories you also probably have in mind!
Podcast: Play in new window | Download | Embed
We've watched and re-watched Her Handsome Hero and we've got some great stuff to share with you; some things that were hidden in the episode that we probably should not talk about.
Enchanted Forest (Past)
When Belle gets to meet Gaston, we learned that he is the son of Lord LeGume. For one thing, LeGume means "vegetable" in French, which could be interested and appropriate because in a way he acted because it refers to a seed or a nut, and Gaston, for one, is a nut.
Gaston's surname was LeGume in the original screenplay for Beauty and the Beast. I have to admit that's quite a clever thing for the writers to actually research and use. Legume is also the French word for vegetable. You can hear it here in this clip from the DVD special features, about 4:42 in https://youtu.be/heAlxJsjAgI

— @MatthewPaul
The main thing that we took from the show is that love that form in stables is not a good thing, plus, the new Gaston fits and looks the part better than the old Gaston who slurred his words back in 1×12 Skin Deep. Back in the episode Skin Deep, we also wondered what happened to him and apparently, turning into a rose apparently killed him and sent him to the Underworld.
We also re-watched other Belle-centric episodes and found out that this episode must have happened before the episode 4×06 "Family Business", where Belle's mother was killed by an ogre. Furthermore, it was also nice to hear LeFou being mentioned in this episode. Is LeFou in the Underworld? Did Gaston get him killed?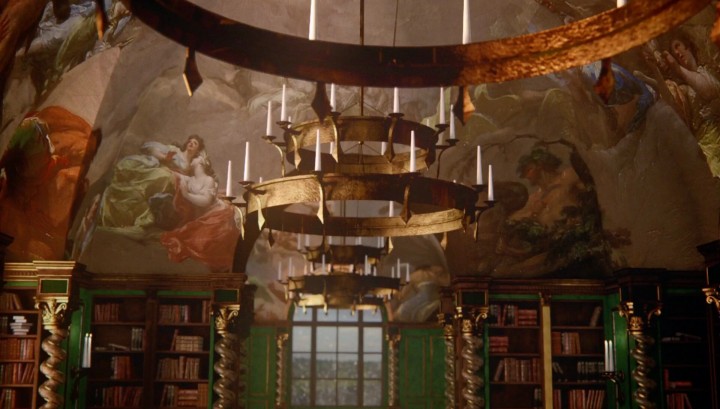 After they see the ogre they go in Belle's library and this is the first time that we got to see the murals and we just thought that there would be some Greek mythology to these murals. Turns out, on the right hand side is a guy that wears a laurel wreath leaning upon a tree, which reminds us of the story of Apollo and Daphne. It also reminds us of Merlin and Nimue. One of the first times that we saw Nimue, she was wearing a laurel wreath and Merlin, on the other hand, was turned into a tree.
We also got to see a book that Belle loves, Her Handsome Hero, which made her fall in love with books according to "Family Business." It was also not the first time that we got to see this book, but in Skin Deep, where she, her father, Gaston and the others were looking at the map and Belle was seen holding it:
I find it neat that the book "Her Handsome Hero" appeared way back in Skin Deep (Season 1). It is also the book Belle's holding when she and her mom were preparing to escape from the ogres in Family Business (Season 4).

— Rain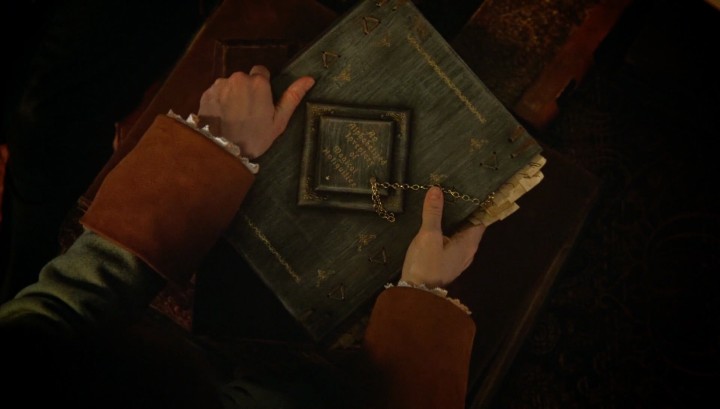 There was another nice book that was shown in this episode, which is An Alphabetized Inventory of Magical Antiquities, where they got the information about the Mirror of Souls. This is a useful thing, why wouldn't any kind use it often for negotiating? Where is this mirror being kept?
It's interesting that Sir Maurice, Belle's father, thought that Belle gets her idealism from her mother, because it seems that she got her idealism and heroism from the books more than her mother.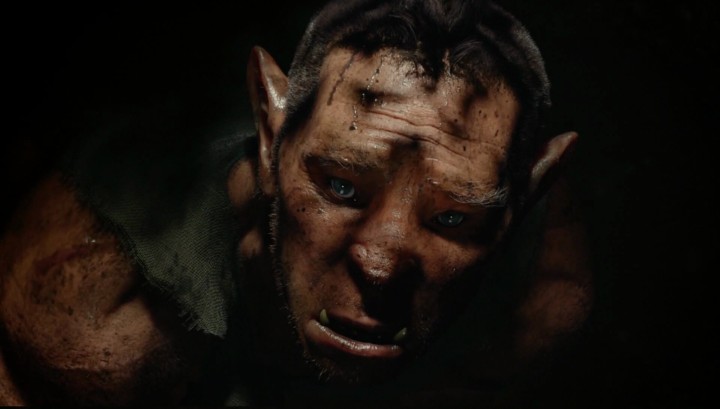 When they started chasing the ogre, we wondered whether this little incident is what led to the Ogres attacking Belle's kingdom in Skin Deep.
As the flashback events take place prior to the start of the ogre wars, could we now have an explanation as to why Belle was the sole survivor of the ogre attack we saw in the Frozen arc? Her kindness was repaid.

— Leslie
How young was the Ogre that they saw?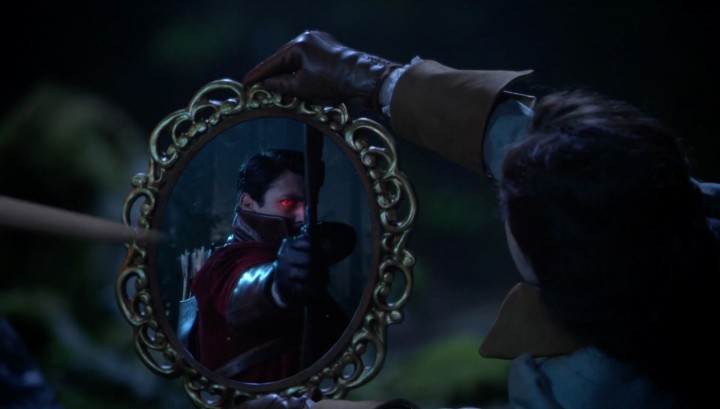 One of the most astounding scenes in the flashback was that Gaston's red eyes were visible even before the mirror shattered.
When they go back to the barn, it sounds like it was this incident that caused the war. Did Belle cause the Ogre's war because she let this young ogre go back who was mistreated? It was said that if Belle got through with marrying Gaston, Belle would be over sovereign over a land far greater than has ever existed, which somehow doesn't make sense because neither of them are prince and princess. He's the song of a lord while she's the daughter of SIR Maurice. However, Belle has often been willing to sacrifice her own wishes for the greater good, which was seen first and foremost in the episode "Skin Deep."
Thank you for supporting us!
Lisa Slack
David Neuland
Aimee Catalier
Rose Mason (new hero)
Megan Martin (promoted hero)
Talia Roth (new hero)
30 heroes on Patreon
You can sponsor an episode or more of ONCE podcast, too! Email Daniel@ONCEpodcast.com if you would like to arrange a corporate sponsorship of our podcast for the upcoming third season.
Underworld (Present)
Back at present in the Underworld, it starts out with Belle visiting Rumple in his shop and they referenced the idea of Rumple possibly being the one to wield the power of the dagger for good. In the episode 5×07 "Nimue", they didn't necessarily mentioned wielding the power of the dagger for good, but someone able to wield both sides of magic. Are they setting up Rumple to be the one to wield both sides of magic? Is magic just a force and depends on the person wielding it, or do they actually have to have light and dark magic? Besides, later on in one scene, it was even said that using magic "depends on your point of view."
Emma said she was cursed with dark magic, so it's the magic that has the good/bad element not the person.

— Suri
Although Emma was using dark magic, it was Emma's light magic that is coming out of her hands, and not dark magic. Plus, Nimue and Merlin's powers came from the same source, only Nimue decides to use it for darkness whereas Merlin used it for good intentions. Regina is also another good example of someone capable of using dark magic for good purpose, even though she had a hard time balancing the two out. Is morality relative? In Belle and Rumple's discussion about all these, is there an actual winner and is one of them right? Should Belle simply learn accept and see Rumple's gray area?
If Rumplestiltskin stays the Dark One for the rest of the series and uses the darkness for good, is his heart still going to be turning black like we saw at the end of season 4? What does it mean going forward for him? Can he learn from his mistakes? Would he be willing to give up his Dark One powers in order to save his unborn sign from Hades?
Emma, on the other hand, have some ability with her dreams by seeing the future, which wasn't necessarily a Dark One ability. Is someone sending her a message? Can they burn the names off the grave?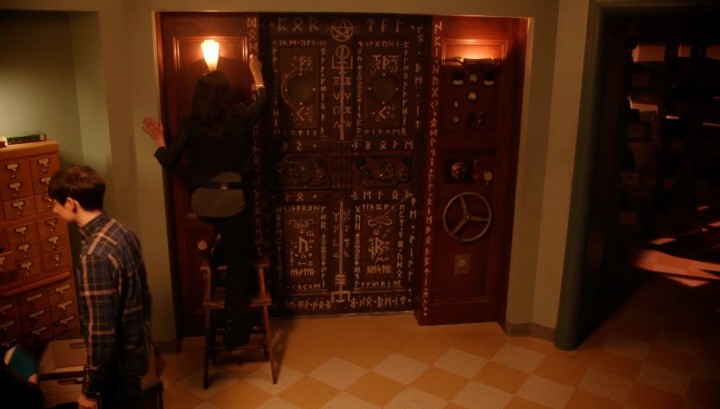 So then they went down in the library after Emma wakes up, and Hook was kind of being a jerk again by pointing out that Regina was just drawing squiggly lines all day.
1. The top part with the pentagram directly translates "Portal"
2. The middle part, that one says "As Above, So Below", which is attributed to the Emerald Tablets of Hermes Trismegistus, "That which is Below corresponds to that which is Above, and that which is Above corresponds to that which is Below, to accomplish the miracle of the One Thing." Thus, whatever happens on any level of reality (physical, emotional, or mental) also happens on every other level. There is also a Wiccan meaning to this, which is that the physical reflects the spiritual, and vice versa.
(Maybe whatever happens in the Underworld will affect Storybrooke?)
3. The other thing I got is "So Be It", and that the first line where Regina was seen writing is "Domus" which is a Latin word for "Home".

The other thing I want to share is the meaning behind the runes at the center of each panel
Fehu ("Fay-Who" phonetically; upper left side that looks like an F) – The rune of wealth, Fehu is associated with the element of fire and the zodiac signs Aries and Taurus. Fehu usually represents fulfillment – something strived for is within grasp, but there may be opposing forces, which can be overcome with diligence. (Who is wealthy of fire power and an Aries? Zelena)

Kenaz (the one below it, which is the same as the one on the upper right side) – the Fire rune, meaning torch (When you search for the meaning of torch, one of them is Firebug-a person who starts destructive fires), Kenaz helps us see with true discernment. This rune is also known as "Kaunan", which means ulcer, which represents a doorway or portal leading from darkness to light. It's also a warning to beware of sources of heat or light.

Thurisaz ("Thor-is-as" phonetically; upper right side that looks like letter P) – Associated with the god Thor, one of this rune's key concept is someone with an aggressive male sexuality. Thurisaz also signifies chaos, conflict, and someone that can bring destructive storms. Furthermore, Thurisaz is also described as a thorn that is most sharp, a grim and evil thing to take grip on or touch. When this rune is drawn, it is wise to never start a fight, but if one has started, be sure to finish it. (Hades?)
Notice that Thurisaz and Fehu are aligned side by side. When pieced together, Fehu and Thurisaz are violently destructive because of too much power. The appearance of the rune Kenaz. Where Thurisaz is the tool, Kenaz signifies the mystery of transformation and our power to create as nature does.

Uruz (bottom left that looks like an N) – The rune of health and strength, Uruz is best known for the saying "Mind over matter-Matter over mind" and literally means Aurochs, which is a long-horned wild Ox. Uruz is also known for its raw primal power and courage, strength and tenacity, and persistence against all odds, Uruz governs rites of passage. While it is known as the rune of health and strength, Uruz is also the rune of the inner King and inner Queen.
Note that there is a phrase below this, which translates to "SISTER". At first I thought this refers to Henry, as Uruz also represents young warriors, but that diner scene made me think that this might actually refer to Regina, since she tried to bond with Zelena. Perhaps Zelena will ease up on Regina and might actually second-guess her decision for accepting Hades's offer and instead consider helping her sister and the Charmings. (I also thought this could be Regina because of Lana's Evil Regal sign.

Raidho (pronounced "Rye-though"; right side that looks like an R) – the rune of ride and journey, Raidho represents a journey-arrival or departure-means or method of transportation. It is a rune of leading by examples and of actions that speak louder than words.
Nauthiz ("Now-these"; the one beside it that kinda looks like an X or cross) – This is one beside Raidho – this is a rune of need for change and is associated with Winter. With a literal meaning "Need-fire", Nauthiz represents doing what needs to be done and hard work, with its governing trait, love magic. Being a rune of change, we must be careful not to go against fate and to just be patient.
Since these two are together, I wonder if Emma's "dreams" will play a role in them getting out of the Underworld. Raidho, which is the rune of ride and journey, exposes hidden dangers along the path.

Another thing I noticed about these runes is that Fehu and Thurisaz are placed in the upper part, while Uruz and Raidho were below them. This made me think whether it's going to be Hades and Zelena vs Regina and Emma battling it out in the end, since Regina can take her sister with her light magic, while Emma, being the Savior, could possibly defeat the Lord of the Underworld.

There's also one last thing I wanted to share is the Wolfsangel, which a Norse rune symbol and a device to trap wolves. This symbol have the magical power to ward off werewolves. While it does not belong to any runic tradition, Wolfsangel's symbol is similar to the rune Eihwaz (Eye-wawz), meaning "Archer's bow" and possesses the power of both death and regeneration.
This had me thinking if Ruby's return will lead either to her or someone else's death.

— Jhack
Will anything that happens in the Underworld happens in Storybrooke? Does this mean that Regina accidentally pulled Ruby into the Underworld? While they didn't manage to open the door to Hades' home, did they open another portal? Is "As above, so below" how Hades made the Underworld look like Storybrooke? Because the Underworld is so  below and Storybrooke is as above, and that when he created the Underworld he had what he had in mind is that the Underworld would start looking like Storybrooke?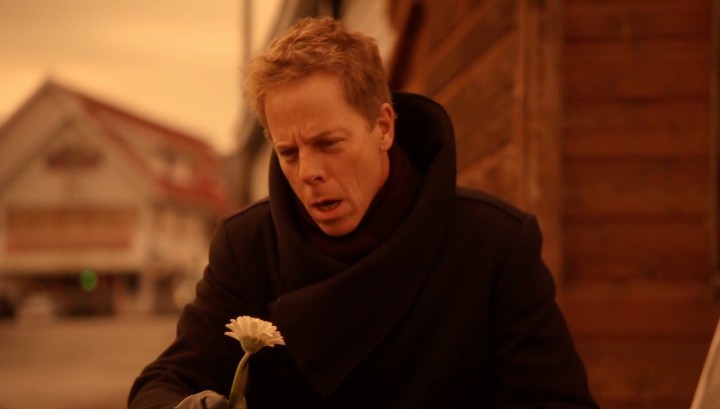 Hades finding a flower seems like him losing some kind of power because it's a sign of hope. Is it okay for him to have hope since he's not spreading it around? Furthermore, the flower that he plucked, Daisy, is associated with the Roman myth Vertumnus and Belides, which sounds a lot like the Daphne and Apollo story.
Vertumnus was a god heavily associated with gardens, trees, and plant transformation, particularly from seed to fruit (ie: growth). Fell in love with the nymph Belides. In order to escape Vertumnus, Belides turned herself into a daisy.
Also, a twist on the original Hades/Persephone story in which the world above dies and decays while Persephone is with Hades in the Underworld.
Hades then goes on to visit Gaston and what a twist to be looking after animals and not allowed to hunt them. And Hades is a bit afraid of losing this wonderful world that he has built and according to him, hope has taken root in the Underworld. Why did he have to tell all that to Gaston instead of threatening Gaston and make him hunt Rumple because he said so? How exactly does having hope help defeat the Lord of the Underworld? Can the arrow that he made and gave to Gaston send Hades to the same River of Souls as well just like in the movie?
It was nice that Belle never knew that Rumple killed Gaston, when she was arguing with her husband and nearly shot by an arrow. From the episode Skin Deep from all the way to the curse, Belle was in Rumple's castle, save for a few instances when she was allowed to go out by Rumple himself, so it's understandable that she doesn't know everything that's going on.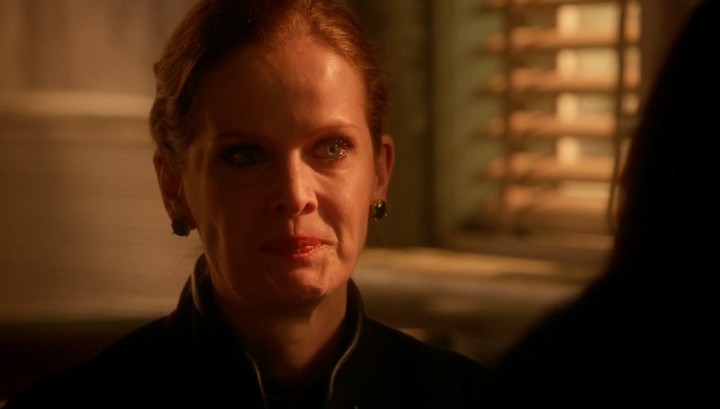 Meanwhile, Regina was having a sisterly bonding with Zelena and said something about hiding baby Pistachio into the woods. Can they really hide her from Hades? Hades have eyes everywhere and seems to quickly discovered everyone's secret, so how can he not know where Robin was hiding baby Pistachio?
Does Zelena love Hades back, since she didn't answer Regina when she asked her if she loves him back? How is she even Hades' weakness and how can they use it against him? What's more important to Hades—keeping his powers or Zelena even if it meant losing all the souls in the Underworld? Can you send a live soul to the worst place? What is the worst place—Mount Doom or the River of Souls?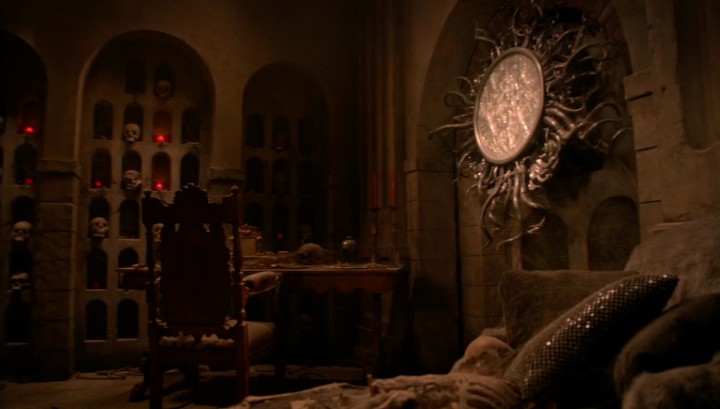 One of the interesting things to see in the Underworld is seeing Regina's vault, which looks very different from the ones in Storybrooke. You can even see that the mirror was shattered.
When Hades visits Belle in the pet shelter, he offered her a deal that she refuses and what bugs us a little bit is when Belle said to Hades that the contract broke out, because Belle never agreed to the contract. Hades could've pointed that out, not the technicality.
Back in Regina's vault, everyone loves Emma's line "I don't have any issues." Is this an ability she can use again in the future? Where did Merlin get her ability? The Seer gave hers to Rumple, did Emma inherit the ability to see the future from Rumple? But while she was feeling guilty about the fact that she dragged everyone in the Underworld to save her boyfriend, it was a bad plan and nobody even bothered actually telling her that it was, indeed, a bad plan. Did the vault still have all the hearts? There was a certain red glow and skulls all over the place in the shelves where the heart boxes and magical things are used to be.
Up top, Belle and Rumple have this conversation that probably frustrates everyone, which was about Rumple telling her that she can trust her, and then poofing out to go after Gaston. Plus, Rumple's the only one who can understand a deal? Why do they set up these constructs?
Rumplestiltskin then proves that he can't be trusted and Gaston was seen dangling by the edge of the docks, and we had some conflicting feelings about this. Belle goes up to Rumple and said that she loves him because she has always known who he really is. Is she being genuine? Probably not because her next step was to steal the dagger so that she can command him, which would make a one big deception on Belle's part. This also proves Rumple's point from the beginning of the episode, which is that in the heat of the moment, the only thing that matters is protecting those you care about. Thus, pushing Gaston off the edge so she can protect her husband from blackening his heart again. On the other hand, why didn't they take the opportunity to push Hades into the water?
I think that the flower decayed at the docks wasn't because of the hopelessness of Belle doing a dark deed (pushing Gaston into the sea), but it was the hopelessness of both Belle and Rumple together over the fact that Hades still had their child that caused the decay. Notice how both Rumple and Belle had their arms around each other as the flower turned black. It was to show their combined sorrow/hopelessness that they both felt.

— Andrea
Does every flower represents every person's hope or hopelessness?
Although Rumple seems pleased that Belle is seeing things his way, he doesn't want her to be like him. I think things are going to start happening where Rumple will see that Belle is being corrupted by the darkness. He'll have to make a decision whether to stay as he is and let Belle be dragged down to his level or whether to pull himself up and become good.

— Priceofmagic
Meanwhile, Hades is back to wooing Zelena by sending her a dried flower, which normally this kind of a gift would be an insult to someone, and even borderline sadistic, but Zelena seemed to even like this gesture.
Thank you for the podcast reviews!
Joshleyson from Philippines wrote , "Detailed analysis! This is my go-to podcast after watching every episode because I prefer their objective approach in discussing the show."
Your reviews encourage us and help others find the podcast!
Please rate and especially write a review for us on Apple Podcasts.
Finally, Ruby who conveniently have her red coat nearby, got dragged into the Underworld. Is her ability to transform into a wolf form also unpredictable in the Underworld? Where did her red cloak come from? Why is she even in the Underworld? And how did she get there? Was she taken to the Underworld from Oz? What is her purpose of being in the Underworld? Why do they need Ruby and/or the wolf?
Have you got anything else to share from "Her Handsome Hero?" Share them all via the comment section below! Plus, if you've got theories or other things to share about the upcoming episodes, then head on over the forums and talk about it in there!
What did you think?
Help us out!
Follow us
Spoilers