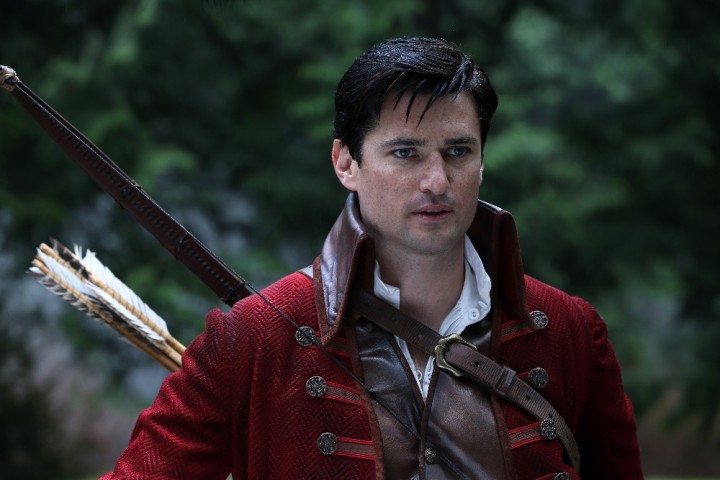 Is Ruby really dead? Is Belle's portrayal of darkness in life starting to show? Can Emma see the future now as well? Listen as we share our thoughts about Emma's dream, hope in the Underbrooke, Belle, and the hunter whose love life has been tragically empty. Did Belle really let her optimism cloud her judgment? All these plus a couple more on our initial reaction of Her Handsome Hero!
Podcast: Play in new window | Download | Embed
Belle turns to Rumplestiltskin with hope of finding a way to protect their child from Hades. However, they disagree over whether to use dark magic, as Belle forbids Rumplestiltskin from using his powers for evil. Meanwhile, Hades secretly meets with Gaston in the Underworld and encourages him to seek revenge on Rumplestiltskin. As the heroes try to find a way to defeat Hades, Emma has a terrifying nightmare that she realizes is beginning to come true. And in flashbacks, Belle and Gaston meet for the first time, but their blossoming romance comes to a halt on the eve of the Ogre wars.
These are our first thoughts about this Once Upon a Time episode. We'll share more about "Her Handsome Hero" in our upcoming full discussion (usually live on Wednesdays at 7:00 p.m., USA Eastern Time).
Initial Reactions
Remember, these are only our initial reactions regarding tonight's episode so please bear with us if we're a bit all over the place. If you have your own thoughts, feedbacks, or theories regarding tonight's episode, however, send them over to us and join our upcoming full discussion!
This is the first time they've ever replaced the flashbacks, specifically the "Previously on Once Upon a Time" part because the scenes they showed were of the new Gaston, not the old one. Back in the episode "Skin Deep", we talked about the actor slurring but for this flashback, but in here he has clear enunciation and diction, it's definitely a different actor that they've cast for Gaston. Belle's dad even looked different that we wondered for a short while whether they've recast him as well or not.
Gaston, while we didn't exactly like him that much, played his cards right for a while. He's almost tricking Belle and she was falling for it but thankfully for magic, she found out what he was really up to. And after all that, she's still decided to make the diplomatic course, proceeding with marrying him to save her kingdom, although that never happened because Rumplestiltskin took her. That's what she even did when she pushed Gaston into the River of Souls. Was it accidental that she pushed him off the river, or was it on purpose?
We are liking this version of Belle in this episode, especially when she was being all snarky with Rumplestiltskin in a way that we haven't really seen very much from her. However, it seems that she's the one who can't seem to walk away from her relationship with Rumple, despite knowing where it's going to lead her because by the end of the episode she was all the way back to being crying in his arms. It's also a little odd and a little inconsistent with Belle's character to be okay with all of what happened; for her to say Rumple was right in saying that she's loved the beast, too. Is her portrayal of darkness in life starting to show?
So, hope is growing in the Underbrooke, even some of the signs now actually says 'Storybrooke.' We were a little conflicted though with some of the stuff that we saw with Hades in this episode. In the last episode, we learned that he created Underbrooke to look like Storybrooke so that Zelena could have her own version of the curse. However, in this episode, we got to see something growing and Hades despised that, that he even wanted to snuff out the light out of it, and delighted when he saw the symbol of hope decayed in front of him when Gaston died. If the presence of our heroes being there is truly offering them help to move on and that hope is taking root, are there still hope around the Underworld?
The white flower, as well as Hades' speech about hope reminded us a lot of The Hunger Games, because President Snow is obsessed with white roses and leaves them often as little symbols of silent threat. He also often speaks about giving hope to people but still make them abide by his rules but giving them too much of hope will make them rebelled against him.
What is Ruby doing in the Underbrooke? Is she dead? Did the twister bring her to the Underworld? It would be kind of sad if she is really dead and needs to move on because she has been such a great character on the show. A recurring role but she was such an important character in season 1 and season 2A until she was sent to the Forgotten Character Island for a while. However, we would rather that they wrapped up her storyline in a way that she is ending up dead, than to just put her up to the Forgotten Character Island if the actress really is unavailable.
Is Red actually pivotal to helping defeat Hades or did she just got to the Underworld by accident? Is she there alone? Is Mulan also there? Why is Ruby here for the story?
Emma's dream complicates things, like Ruby's arrival but also Emma. She saw the future, not the complete future because she only saw that the animal seemed to attack Snow, but everything she dreamed did come to pass in the same way. Is she able to see the future in some way, or is there something else bigger that gave her the vision? After all, everything in the dream, until she changed it, was exactly how she dreamed it and not because she had mommy issues like they told her.
What do you think about tonight's episode? Share with us your theories, thoughts, Easter Eggs you've found and other feedbacks, and join us for our full discussion of "Her Handsome Hero" this coming Wednesday!
What did you think?
Email Feedback@ONCEpodcast.com (audio files welcome)
Call (903) 231-2221
Comment on the shownotes
Visit any page on ONCEpodcast.com and click the "Send a voice message" link to record and send a message right from your computer.
Help us out!
Share this post in your social networks
Follow us
On Facebook:
On Twitter:  echo do_shortcode('[twitter follow="ONCEpodcast"]'); ?>
Daniel J. Lewis:  echo do_shortcode('[twitter follow="theDanielJLewis"]'); ?>
Jeremy Laughlin:  echo do_shortcode('[twitter follow="phlegon"]'); ?>
ErinJ:  echo do_shortcode('[twitter follow="erinjcruz"]'); ?>
Hunter Hathaway:  echo do_shortcode('[twitter follow="travelingpixie"]'); ?>
Jacquelyn / RumplesGirl:  echo do_shortcode('[twitter follow="punk_bunny_87"]'); ?>