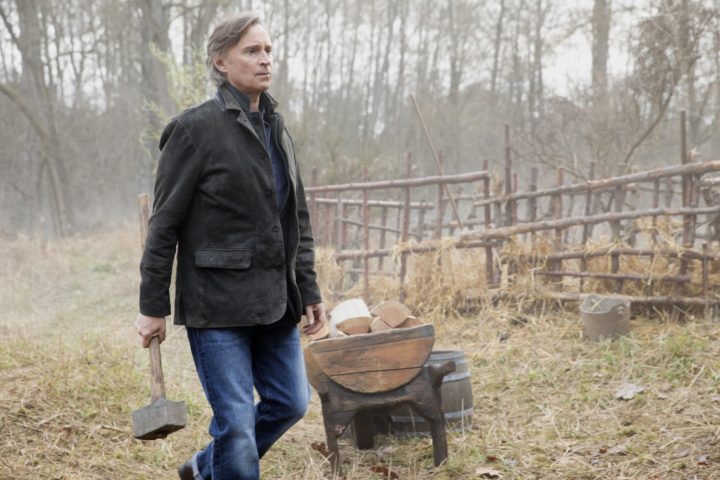 Some rants, a few raves, and a crackpot theory on what may happen that may resolve all complaints in the series finale. Did anyone really make a homecoming? Does Henry really deserve all the power of the Author? All these and more as we dig into the first part of the series finale, "Homecoming"!
Podcast: Play in new window | Download | Embed
As a whole, we hated a lot of more from "Homecoming" than we loved. It's improved upon the rewatched, but it's a little bit boring and just quite not getting there. They brought up multiple things, including some of the things that are in our list of least favorite things. Then again, the penultimate episode to the series finale would've been more enjoyable had they not split the series finale into two parts.
Happily… for four minutes
Wish Realm Henry opening the episode with him riding a horse like his Grandfather Prince Charming is a nice throwback. On the other hand, Wish Rumple definitely looks worst than our version of Rumplestiltskin. In the past, he made deals. Henry did not make a deal with him. He said "no" when he confronted him outside the cave, so this is all a stupid loophole and not even Henry's fault. It's not seeing into the future if he just made it happen. Why is our Henry paying the price if he didn't make a deal?
The scene in the beginning could have been chronological, because all our present day Hyperion Heights characters have been taken to the past. The problem is, unless Wumple is doing some time travel, it seems wrong because he's here in present day talking to Henry about having had a conversation in the past, and yet young Henry was in Storybrooke a day ago. He couldn't also be in another realm riding a horse already been acquainted with a princess who's under a sleeping curse.
One thing that we liked though was the fact that everybody was happy in about 4 minutes back in the Hyperion Heights. It was so happy except for Alice and Nook, whose poisoned heart curse is also back. However, with Gothel gone, shouldn't it be gone as well?
On the other hand, we liked a couple of things from the episode, some of which were in the happy beginning of the episode, such as Regina making a drink called "The Weed Killer", and the reappearance of hot cocoa with cinnamon. Beignets is also pretty prominent in this episode, but why does it seem like beignets have magic? Did Drew went around telling people that Dr. Facilier sprinkled trust dust into them?
A lot of people in this episode looks like they are still struggling with being we are both, including Regina who, bless her heart, have been through so many realms and names. In one scene, she even called Dr. Facilier both Samdi AND Facilier. How is Wumple stronger than Rumple? Wumple, apparently, is in the "Love is weakness" mode, which was a good old school reference. Why does he care? Who says that their powers are linked and how did he find out that Rumple is planning to give up his powers to the Guardian?
Rumple's Issues
How can Wish Rumple just poof people in and out of the Wish Realm, including himself? Blowing out the cupcakes is cool, as it was original to Once Upon a Time theme, with Henry very overtly explaining the reference before they blew out the candles. They've said that the Wish Realm, which was made through a wish, is very real so we are not sure if we're happy or upset that the natural consequence of that decision is happening. One of which is the fact that Regina killed the Wish Realm versions of Snow White and Prince Charming, which they finally acknowledged in this episode. Although we weren't thrilled to see Wis Henry as a villain, it was interesting to see his dark side. The implications for Regina should be so deep that it seems like it will be difficult to resolve in the final hour, unless someone uses the quill to undo everything, including bringing back Wish Snow White and Prince Charming.
One inconsistency about this episode is that the looking glass can take you to another realm, whether in this series or in its spinoff—Once Upon a Time in Wonderland. In Alice in Wonderland, the end of the looking glass always takes you to Wonderland and nowhere else. That was how Alice got to Wonderland in the spinoff, it was also how both Cora and Regina got to Wonderland, however in this episode, it can also take you to Wish Realm.
On the other hand, it was nice to see some of our favorite villains return for one last time, like Peter Pan and Cruella De Vil, and in their rightful place as well!
So did they end up in the Wish Realm or wish realm of the past because Cruella was still the same age as she was in season 4b as was Ariel and not only that Cruella wasn't even there as she ended up in our world in episode 4×16 Best Laid Plans but she and Ursula 2.0 did use Lily's dragon egg to stay young and Wumple could have retrieved her as he did Pan who should be dead since he never acquired the heart of the truest believer and Wumple could have found a way to keep him alive and a teen to torture him.

— DeAndre
We sure liked seeing all these people we've seen before aside from our villains, such as Ariel. Is this our Ariel or Wish Realm's version of Ariel? After all, she can swim realm to realm like she did in season 3 when Regina and Rumplestiltskin asked her to go from Neverland to Storybrooke to retrieve Pandora's Box. On the other hand, it made no sense that Regina and others would suddenly just expound all these knowledge that they suddenly have of the situation and magic. Where did they learn that? Maybe they were all just assumptions.
Do we really need to sacrifice Jacinda and Lucy for Rumplestiltskin to get a happy ending? Does he really deserve that? It's not like he's made up for his sins, he's just trying not to do bad things now so that he can get to Belle. Has he really undone or even apologized for any of the bad things he's done in the past? It does seem like, given the storylines that have come through the show and the way that things tend to be set up, that he would maybe need some kind of self-sacrifice to get to Belle and, yet, that rings a little hollow because he's done that before. But what if being a Hero isn't about that big, huge, flashy sacrifice, but about these little things that he never seems to get. He got it with Alice and he did not burden her the way that he felt burdened. It was one of the choices he made that was for the greater good of one person, not of the whole world. Now, it's like he's back again to square one just because he's not willing to do it for Jacinda and Lucy. But perhaps he is because he wants to stop Wumple to get the power of the Dark One all to himself.
Did they need him to get Lucy and Jacinda out? Why couldn't our Rumple just be the one to do the magic? He has the same magic as Wumple, after all, so he should be able to undo what Wish Rumple did. After all, he was willing to do that for Alice before the curse so why won't he do it for his own grandson and great granddaughter?
We laughed out loud rewatching this episode more than some other episodes in the past. There were things that made us laugh, as well as hilarious lines said in this episode, some of which was said by Cruella. Apparently, it is hard cleaning out after dalmatians. It was also quite funny when Cruella told Henry wouldn't hurt an unarmed woman. Well, his mother did!
How will Henry free Ella and Lucy inside the globe? Could they use blood magic to get them out of the snow globe? If Wumple is the only one who can get them out, perhaps it was because blood magic. Maybe using some of Rumple's blood to can get them out? On the bright side, one of our favorite moments from the episode was when Rumple was about to stab Wumple and the air around is very dark, it seemed light just hit Rumple when Regina suddenly walked inside his old home. It was so well done and poetic!
If Alice and Robin are going to Storybrooke in what is current to them now and will meet Henry who hasn't left [Storybrooke], maybe they could get him and take him to the Wish Realm and rewrite everything Wenry did? Or, they could just grab Emma so she can save every body. After all, she is the Savior.
They are Both
Will we see two young Henry's in the series finale? If Alice and Robin did, indeed, take young Henry in Storybrooke to the Wish Realm, will we see two Jared S. Gilmore's then playing two versions of Young Henry—Young Henry from Storybrooke and Wish Realm Young Henry?
If they had gotten another season, would they have done more with Tiana and Naveen? She was certainly another new favorite this season, so it was nice seeing her struggling with being both [Sabine and Tiana]. Will we see them again in the finale or are they staying in Hyperion Heights for good?
If magic beans are hard to come by, why did Alice and Robin feel the need to make a quick stop to Storybrooke? And while Tiana had some really good suggestions for what magical items people might have found, there really isn't time for anything more complicated than a bean. Will Alice and Tiana go undercover in Storybrooke? If Alice and Robin are going to Storybrooke, will we see baby Robin again? Who else will we see back in Storybrooke?
A highlight of this whole episode was Rumple's character development. That's been a pain point for fans for years. He's been going back and forth and on the brink of redemption, only to be brought back to his old ways simply because the show was renewed. This season, however, it was nice seeing him live a simple life and not giving into the darkness. Except for the one instance when he took Roni's tiny bottle of magic, Rumple has shown some character development not just in this episode, but also the entire season.
Rumpelstiltskin's character has truly come full circle in terms of his character development. He is realizing just how far he has come from his coward days. Our Mr. Gold looks genuinely freeked out by it. I loved this part of the episode. He almost went coward again, but stop short of it.
Our Mr Gold has wisdom that other does not. Let's hope he can use it to rid himself of that dagger without killing the peasants to do it.

I am still hoping our Mr. Gold will find his third way of dropping the dagger in Storybook's wishing well.
He had tried it in the Edge of Realms waters, and it didn't work. He may have been in the wrong place.

— Keeper of Squid Ink
Is Wish Henry writing in a Wish Realm book with a Wish realm pen can really take away non-Wish Realm power? Alice sure felt it, but did Alice really just lost her Guardianship? That's what she was born to do, can Alice no longer fulfill her destiny?
One piece that is set up for the next episode is them bringing up the prophecy about the boy who will be Rumplestiltskin's undoing. Were we not done with that? Might there be a FINAL final battle while we're at it?
By the end of the episode, it was nice to see the Space Needle as Alice and Robin leaves Hyperion Heights, as well as seeing the familiar town line of Storybrooke as the pair drives into the portal. We liked the possibilities that it opened possibilities for the finale.
What is going to happen in the series finale? Where are we going from here? Will everything make sense in the end? Do you think Alice and Robin brought beignet magic to Storybrooke? What did you think about "Homecoming"? Share them with us by writing in the comment section below, or simply by heading over the forum where you can not only share your Favorite and Least Favorite Moments from "Homecoming", but also some more information, theories and more spoilers about the final episode!
What did you think?
Email Feedback@ONCEpodcast.com (audio files welcome)
Call (903) 231-2221
Comment on the shownotes
Visit any page on ONCEpodcast.com and click the "Send a voice message" link to record and send a message right from your computer.
Help us out!
Share this post in your social networks
Follow us
On Facebook:
On Twitter:  echo do_shortcode('[twitter follow="ONCEpodcast"]'); ?>
Daniel J. Lewis:  echo do_shortcode('[twitter follow="theDanielJLewis"]'); ?>
Jeremy Laughlin:  echo do_shortcode('[twitter follow="phlegon"]'); ?>
ErinJ:  echo do_shortcode('[twitter follow="erinjcruz"]'); ?>
Hunter Hathaway:  echo do_shortcode('[twitter follow="travelingpixie"]'); ?>
Jacquelyn / RumplesGirl:  echo do_shortcode('[twitter follow="punk_bunny_87"]'); ?>