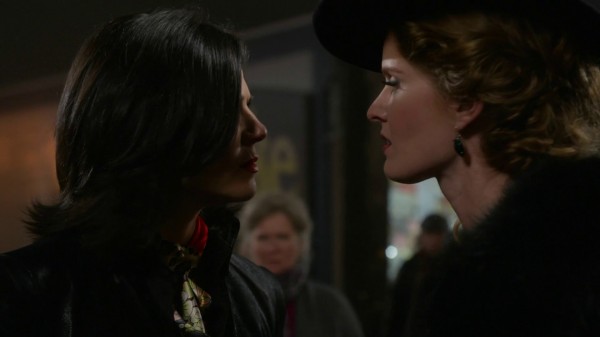 Following Neal's passing, the Wicked Witch sends her condolences by paying a visit to her little sister, then later challenges her on a fight to death. Is Zelena going to get what she wanted, or will the Evil Queen melt her down despite having the Dark One on her side? Meanwhile in Oz, Zelena seeks the one person that can help her find something she knows nothing about, thus turning her green with envy—literally.
Podcast: Play in new window | Download | Embed
Past Oz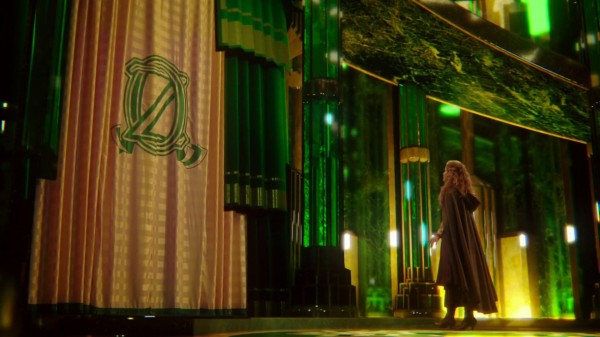 Starting with the past, there's a tornado that comes out of nowhere and a baby came out of the cyclone. Where did the baby have come from and who left the baby there? Could cyclones also take something or someone out of Oz? This proved one of our theories that Zelena was Dorothy.
As Zelena grows up, what her father told her about, "no matter what you feel on the insides, always put on a good face" reminded us of Frozen when Queen Elsa sang, "conceal, don't feel, put on a show." The term "Wicked" was also used. Perhaps a nod to the musical, Wicked?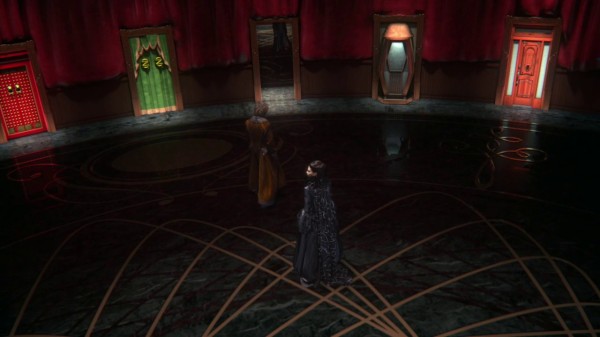 We also learned in Zelena's past that her mother is gone for some reason. Was she responsible for her mother's death? Did her father hate her because of her having natural magical abilities? As Zelena goes to visit the Wizard, the OZ symbol seemed  similar to the yellow symbols on the green-curtained door in Jefferson's hat in 1×17 "Hat Trick." It doesn't look exactly the same, but there was a green door with a letter "Z" in it.
How did Walsh, the Wizard knew Zelena's past? He seemed to be a good Con Man, so how reliable is he? He also said that he need something of the Dark One, calling Rumplestiltskin "a very powerful wizard, the most powerful in all the realms." If Zelena was already powerful when Rumple taught her, imagine how would she be if she turned to be the next Dark One.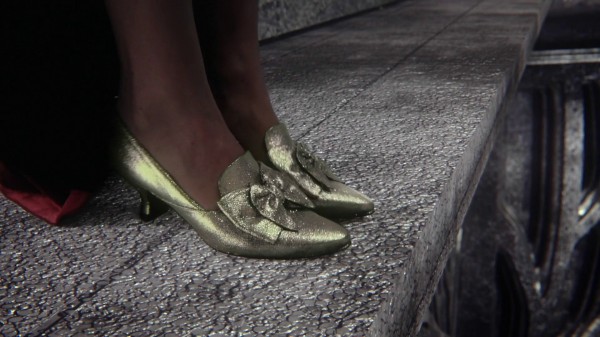 On the other hand, it was cool to see her in silver slippers, just like the ones in the original story. These slippers, apparently, can take her wherever she desires with three simple clicks. If Rumple had his hand on the slippers, could it have taken him to the land without magic to find Baelfire and not lose his memory, without having the need to cast the dark curse?
Who is Zelena's real father? Some forum members think it was either Rumple, which wouldn't fit the timeline, or King Leopold. But if the baby is Leo's did he make her abandon the child? Zelena would not have been able to rule, and if Leo is worried for his kingdom, Cora is not a wise match in marriage. Some also still hopes for a nobody. A stable boy perhaps to parallel what happens with Regina?
Moreover, it was said in this episode that magic is a gift. Why are some babies more magical than others? Is it genetics?
Is Zelena also Dorothy or is it a "green" herring? There are some parallels with Zelena and Dorothy, after all, including the following:
Both are orphan
Both goes to see Wizard (down the yellow brick road)
Both were given shoes (but by Wizard in OUAT) — clicks heels
Both were in search of family and home
Up to this point we have been told that she is Cora's daughter and Regina's sister. And in last nights episode we saw a woman that we were told was Cora setting baby Zelena down and apparently abandoning her. But we now know that Zelena plans to go back in time and change things, which may change everything.

Thanks to time travel things don't have to happen in the order we'd expect. Instead of cause preceding effect, effect could preceded cause. So my crazy theory is; that was not Cora, that was not Fairy Tale Land, and the baby was not abandoned.

Instead, I think that was Snow in Storybrooke attempting to keep her baby from Zelena, who's time curse ends up sending the child back in time to Oz. I think Zelena is actually Emma's little sister.

There is one little issue, Rumple's magical DNA test, which we don't know exactly what it did. All it did was turn Zelena's hair into green smoke. So it is possible that he simply let her believe she was Cora's daughter, figuring that Zelena was much more powerful than Regina as she is a product of true love.

— Roger
Was Regina being Zelena's sister all just a ruse? We didn't see the face of the supposed Cora, after all. Where did the Wizard get Cora's name if Cora wasn't really Zelena's birth mother?
Moving on as Zelena poofs her way to the Enchanted Forest in Regina's room, it seemed a bit surprising how Rumple wasn't so observant like he always was. When they were talking in the woods when Rumple started teaching magic to Zelena, Rumple taught "happiness" with magic, which seemed to be the first time he ever taught about it, besides how he later taught Emma.
If Regina means "Queen" and Zelena means "Green" and she's Cora's daughter, is it possible that Zelena has another name in the Enchanted Forest?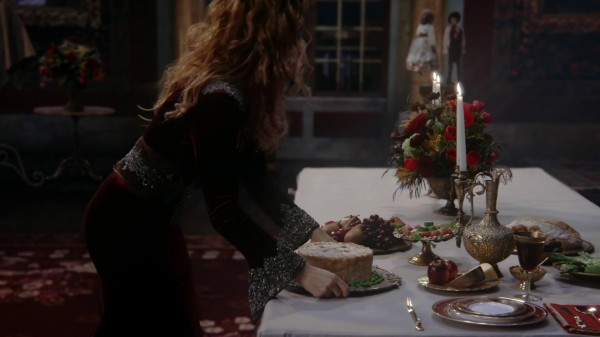 Inside Rumple's castle, Zelena makes a meat pie for Rumple after one of their training sessions. Rumple then told her that her insides are starting to show, thus green started coming off. But why is she turning green with envy? Regina didn't turn red with wrath.
Why is Zelena so jealous of Regina? Does she have mental issues? Is she that envious of her sister that she would try to kill Regina?
This was also the first time that Rumple knew about the silver slippers having the ability to take him wherever he wants. Joel shared a screenshot of the Wizard having the crystal ball that Jefferson brought Rumple in "The Doctor."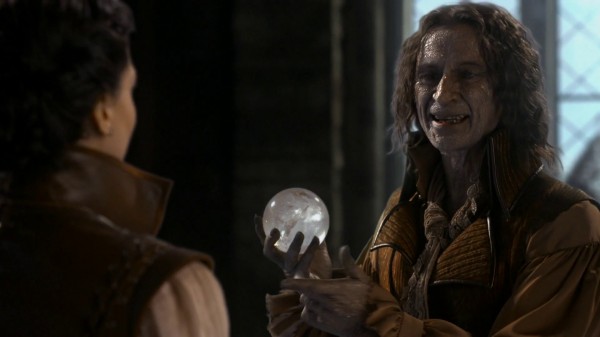 Enraged because Rumple picked Regina to cast his dark curse, Zelena goes back to Oz and asked the Wizard to take her back so she can change her past. The Wizard, however, told her that it was impossible.
Regina was called Evil while Zelena was referred to as Wicked. Was there really a difference between Evil and Wicked? We researched what these two meant and got the following:
Wicked – mischievous or playfully malicious; unjustifiable; dreadful; beastly
Evil – misfortune or suffering; due to actual or imputed bad conduct or character
Turns out, Walsh is the Wizard. Great job on Hunter and Jacquelyn for predicting that Walsh could be the Wizard.
Zelena wants to get a second chance, by collecting all these traits of the classic wizard of oz, while listening to your initial reactions, the theory popped in my head… Spoiler free, I assume the wicked witch will die or be banished some sort of end… So who then might get a second chance…. Neal… Why I say this, he is still in the credits in the beginning, and it could give reason why his life and purpose was cut short, clearly the fans don't want Neal gone… Maybe he is not.

— Kevin (onceabeliever)
Can Neal come back with Zelena's spell? If Zelena succeeded, will it resurrect Neal as well? Michael Raymond James, the actor that plays Neal is still in the credits, after all.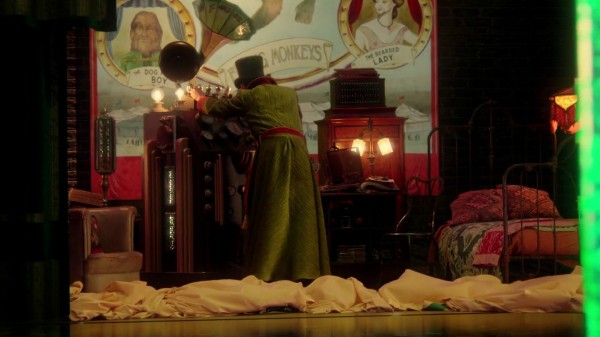 The elements of the poster on the wall caught my attention. The poster said "The Omaha Circus and Freak Show" which clearly is a reference to the original Wizard of Oz story. Under that heading it says "The Conjurer's Black Tent". I could find much as to what this could mean. There was a 1950s war movie called the Black Tent but I didn't see any comparisons.   Next on the poster's four corners are four different "freak show" acts: The FeeJee Mermaid, The Dog Faced Boy, The Bearded Lady, and The Bottle Imp. The first three listed were all common acts in P.T. Barnams traveling freak shows. If there is one real person that can be associated with the Wizard it would be P.T. Barnam. Prior to making a name for himself with animal circuses, Barnham made a name for himself with his traveling museum of freaks. He was a known fraud and con artist. (The FeeJee mermaid was a monkey torso sewed to a fish tail).

Anyway, the interesting one to me is The Bottle Imp or the living man's head in a glass container. This could possibly be a reference to one of two things. The first being a simple comparison to Rumple currently being in a cage, Imp in a bottle. The second and much more intriguing option is a possible reference to a short story by the name of "The Bottle Imp" written in 1891 by Robert Louis Stephenson (who also wrote Treasure Island, Strange Case of Dr Jekyll and Mr Hyde). This short story was a modern spin on a classic Brothers Grimm tale about a protagonist who buys a bottle with an imp inside that grants wishes. However, the bottle is cursed; if the holder dies bearing it, their soul is forfeit to hell. The story has an overall theme about wanting what you can't have and the price one must pay to get it. Sound familiar?

— Joel
After seeing this episode and finding out Zelena's plan for some reason I can't help but shake off the feeling that the Writers by bringing in time travel might be planning on doing what I like to call a "Semi" reboot within the series. Sort of a way to start a fresh but not really start over, I know this sounds weird and doesn't make sense but another show Doctor Who did this as well, where the Doctor Who universe was destroyed and then re-created. The Timeline remained intact but certain things were rebooted. I can't help but feel the writers might go in this direction. But I could be wrong, but I still can't have this feeling in my gut . Thanks for reading.

— darkones1fan
Is there going to be a timeline reboot so they can start fresh?
Thank You for Supporting Us!
Steve Johnson (subscriber)
David Neuland (subscriber)
Lisa Slack (subscriber)
DJ Firewolf (subscriber)
You can sponsor an episode or more of ONCE podcast, too! Email Daniel@ONCEpodcast.com if you would like to arrange a corporate sponsorship of our podcast for the upcoming third season.
Present-day Storybrooke
The present time starts with Neal's burial, where a few familiar and new faces were seen — Tinkerbell, the Blue Fairy, and some Lost Boys. Also love seeing Henry looking up as if he is worried about Emma since it is impacting her more than him. Seeing this scene, however, seemed to tell that Neal really is gone.
At the same time, Zelena talks to Rumple back in his cage. And while Zelena summed everything wrong with Neal's fate and the overall plot line, Rumple still insisted that every bit of the things he did was well worth it. Even if it cost his son's life, at least they parted in a good way; they got reconciled and were together until the end.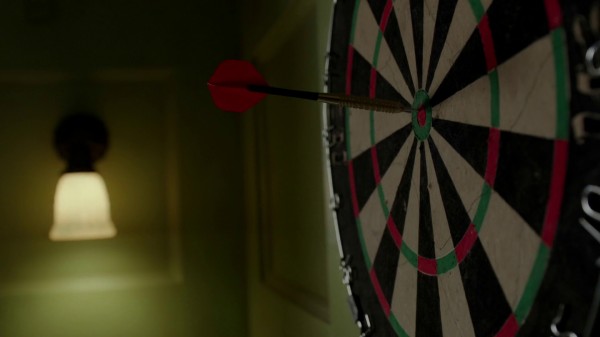 After Neal's burial, everyone got back at Granny's Diner. It was great seeing Emma playing darts again. The last time we saw her play with it was with Graham back in the first season. It was also nice seeing more interaction between Robin Hood and Regina. Despite everyone still mourning Neal's death, Zelena barges in at Granny's Diner to see her little sister. Apparently, seems like Zelena echoes what Regina used to say back in the Pilot episode. Zelena also promised to destroy Regina, in the pilot, Regina promised to destroy everyone's happiness.
Hook then volunteered to take Henry to take his mind off things and share stories about Neal. However, he took Henry to another boat. There's a popular theory from the CaptainSwan 'ship that Hook traded the Jolly Roger for a way to get back to our world and find Emma. Is that why the Jolly Roger was never seen in Storybrooke yet?
Down in Regina's vault, Snow and Emma helped her find something that could prove Zelena's claim, where Regina found Rumple's letter to Cora. When did Rumple wrote the letter? Regina didn't start training with Rumple until Cora was pushed off to Wonderland.
I think it was a training tool that he used to help boost Regina. Regina read what she wanted to read into the letter

— KPercyman
After finding out the letter, Regina meets with Robin Hood in the woods and have him read the letter; one she used to read when she needs comfort, solace, a boost when she needed it because she always thought it was about her. It was also cool to hear Regina referred to the Charmings as the Charmings. We also loved all the blue in Regina's new wardrobe.  Blue has kind of been the color of the savior since the beginning (promo posters), so it is nice to see her in brighter colors.
As Belle tries to free Rumple down in Zelena's storm cellar, it was nice hearing the  familiar weeping song from "Skin Deep" play when Belle came. It was also great seeing Belle's vulnerability. We know how fierce and tough she is, but she has such vulnerability in her demeanor and emotions.
When Hook and Henry was on the beach, it was seen that the boat was named, "Barbara J." Was it a nod to the actress that plays Cora, Barbara Hershey, somehow?
Zelena then dressed up to get ready for a witch fight with Regina and there's that amulet again, which was focused twice. Does it have its own magical powers?
Down in the city square, we initially thought the clock would show 8:15. Instead, it started at 7:25, five minutes and then 7:30. Regina then gets knocked through the clock at 7:40.
I hate to sound like I'm gloating, but I called that Zelena was after Regina's heart. I was a little hurt by the way you guys replied to my last feedback, but when Zelena made it plain in "Being Green" that she wanted Regina's heart, I laughed very, very hard!

I am almost certain that Zelena's father was Cora's true love. Zelena was born with magic which *may* mean that she is a product of true love, but turn wicked due to her abandonment and upbringing.  And if that is true, then it means that Daniel's death at Cora's hands is tragically ironic.

— Phyre Light
It was also great seeing Regina learn something from her mother; "Our mother taught me one thing.  Never bring your heart to a witch fight." But why didn't she take Zelena's heart instead?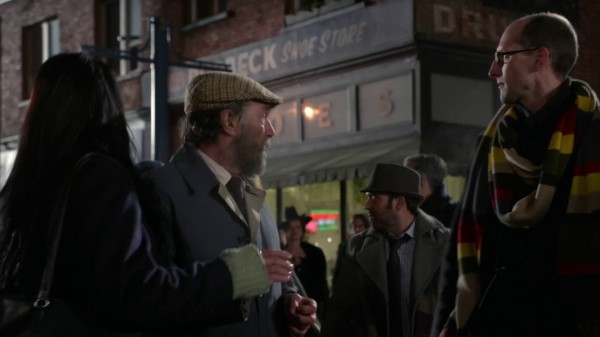 Keren, on the other hand, pointed out the Doctor Who scarf from the 4th Doctor.
As Regina goes back to the tree with Robin, Regina realized that the one thing Regina had that Zelena didn't was her heartless mother. How did she know it was Cora Zelena wants?
After Hook and Henry's day out, Hook told her that "there's more Bae in your boy than you realize."
Thank You for the iTunes Reviews!
PhyreLight83
Andrew1515
pono12
Pmadrock from Australia: "I wasn't allowed to talk to my husband about it (as he hasn't watched it yet) so it was wonderful to have someone to "talk to" about it. You guys rock!"
Your reviews encourage us and help others find the podcast!
Please rate and especially write a review for us in iTunes.
When Zelena puts Rumple back in his cage, the Wicked Witch told him that what she's casting isn't a curse, but a second chance. She also told him that THEY are doing it all over again. Does this really mean going into the past and changing it? Or does she simply wants to prevent Regina from being born and not being abandoned by Cora? Without Regina, Snow would not have gone on the run and robbed Charming. Charming would have married Kathryn and Snow would have been betrothed over to some random stranger. No Emma meeting Neal, which is then no Henry.
What does she wants to do with Snow and Charming's baby? Could it be possible that Zelena was actually Snow and Charming's baby and that it was that time when Snow abandoned her baby for another reason?
What does Zelena's second chance mean? Let us know your thoughts and theories by sending us an email or commenting below. Join us over the forum to discuss your theories with fellow forum members. Also, join us this coming Saturday, April 12 at 8:30pm for a Wonderland Wrap-Up Live Google Hangout. Visit Bit.ly/wonderlandhangout to sign up as guest.
[ndlmx_special]
What did you think?
Email Feedback@ONCEpodcast.com (audio files welcome)
Call (903) 231-2221
Comment on the shownotes
Visit any page on ONCEpodcast.com and click the "Send a voice message" link to record and send a message right from your computer.
Help us out!
Share this post in your social networks
Follow us
On Facebook:
On Twitter:  echo do_shortcode('[twitter follow="ONCEpodcast"]'); ?>
Daniel J. Lewis:  echo do_shortcode('[twitter follow="theDanielJLewis"]'); ?>
Jeremy Laughlin:  echo do_shortcode('[twitter follow="phlegon"]'); ?>
ErinJ:  echo do_shortcode('[twitter follow="erinjcruz"]'); ?>
Hunter Hathaway:  echo do_shortcode('[twitter follow="travelingpixie"]'); ?>
Jacquelyn / RumplesGirl:  echo do_shortcode('[twitter follow="punk_bunny_87"]'); ?>
echo do_shortcode('[ndlmx_shows]');
Spoilers
Episode 17 "The Jolly Roger" was written by David H. Goodman and directed by Ernest Dickerson.
Seems like we're going to get a break from all the drama and will be seeing two pirates fighting, instead.
Guest stars include Christopher Gauthier as Smee, JoAnna Garcia Swisher as Ariel, Gil McKinney as Prince Eric, Charles Mesure as Black Beard, JC Williams as lead guard and Jessa Danielson as wench.
3×17 seems to be a Hook-centric episode; probably a lot of pirate shenanigans
A lot of Hook and Emma in this episode.
1st Sneak Peek for next week episode shows Emma and Hook in the dock.
It looks like Hook is legitimately spying on Emma.
Lots of flashbacks with the ship.
Ariel is back and is threatening someone. Is it Hook?
Promo shows Ariel pinning Hook to the floor.
Looks like Hook is going to get attacked. Is it going to be in the flashback or the present day?
Hook dressed up as a knight in shining armor. Probably a dream sequence?
Black Beard dresses almost identical as Hook in Peter Pan and seems to be a dead-ringer to Jack Sparrow.
TVLine tells episode 18, Bleeding Through, will most likely reveal the identity of Zelena's father.
Kitsis and Horrowitz said there would be another death this season and a new villain is more likely to appear.
Zelena needs to give up the thing she love most, too, in order to cast her new curse. Whose heart will she take?
It will take more than a bucket of water to kill Zelena.
No confirmation yet whether Zelena will be killed.
The Black Fairy is more likely to be introduced in future episodes.