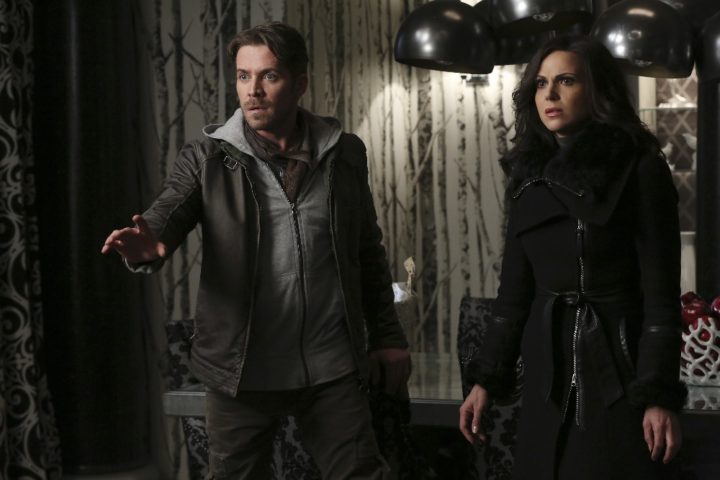 We have just finished watching the episode Last Rites and are ready to share some major feels on this episode, Last Rites, talking about Robin Hood's future, King Arthur ruling a broken kingdom, Rumplestiltskin's own kingdom, and more!
Podcast: Play in new window | Download | Embed
Emma, David, Regina, Robin and Henry are finally back home in Storybrooke and reunited with Snow, but, unfortunately, they still have to contend with Hades, who continues to deceive Zelena as he lays out his plan to use the all-powerful Olympian Crystal to take over the town. The heroes desperately search for a way to defeat Hades while Hook does the same in the Underworld, looking for those missing storybook pages. Regina and Robin take a more direct approach, which culminates in an epic showdown that will leave our heroes forever changed.
These are our first thoughts about this Once Upon a Time episode. We'll share more about "Last Rites" in our upcoming full discussion (usually live on Wednesdays at 7:00 p.m., USA Eastern Time).
Initial Reactions
Remember, these are only our initial reactions regarding tonight's episode so please bear with us if we're a bit all over the place. If you have your own thoughts, feedbacks, or theories regarding tonight's episode, however, send them over to us and join our upcoming full discussion!
From the beginning, when they were focusing on Robin and certain things that he was saying like when he told Regina "you are my future", we knew right away that Robin's dead. We didn't think Hook would stay dead and that the Ambrosia was still testing him, but as it turns out, Zeus did and eventually brought him back. Even at the end, we thought that it would have made more sense even with the laws of magic to bring Robin Hook back instead because we didn't really know what happened and the crystal could have been misconstrued. It would have been easy to just pop right away than bring him back. But he's the one who's really dead and Hook was the one who came back. Will it cause any resentment between Emma and Regina?
Several moments in this episode, the goodbyes, the emotions; the sister moment between Regina and Zelena was endearing after when they were both grieving together and the funeral scene was very emotional; the arrows was very appropriate and felt bad seeing little Roland. And naming the baby Robin was very fitting. We thought they would go for the spelling R-O-B-Y-N but in the subtitles it was the same as how Robin Hood's name was spelled.
We were a little annoyed when Arthur was back so soon, even though he did serve a purpose for this episode. That being said, we liked how they potentially redeemed his character in the Underworld. Did they have that planned from the beginning? If they didn't plan that from the beginning, it was a clever way to bring him in and bring some resolution into his character. It was also great to see Merida in this episode. It's been a while since we last saw her, helping Rumplestiltskin get his courage back and now, thanks to her, he's an evil Dark One now with half of the Olympian Crystal and his courage.
So Rumple is clearly the bad guy, and even setting up to be the bad guy for season 6, and we're okay with that because we always thought he's a cool, mysterious, dark, cunning villain. He's a great villain but at the same time a part of us wanted to see him have his happy ending. But with him even saying Storybrooke is his kingdom now is a little scary. Without Belle to reign in the darkness, he might be a very scary villain. He' always had that humanity side to him when we've seen him in the past as a villain but without Belle to neutralize his evil side, and with him saying that he's not going to change for her would be a scary shift for him. He could be a much much more powerful villain. Could the final battle be between the Savior and himself?
We cringed seeing Rumple bang his cane down on the table in front of Moe. Even years later, we don't know how to describe that scene of Rumple beating the life out of Moe French back in the episode Skin Deep. And hen he pounded that down in this episode, that's the moment we realized that Rumple is not coming back; there is no hero left in him; no pure heart. He's totally villain and reminding Moe of that. Even in Manhattan, when he grabbed his cane in such a way, we were cringing then just thinking if he was going to beat up Emma. He's cunning, dark, selfish, and all these characteristics do make a good villain but we've seen that villain go from seemingly redeemed back to being a villain even deeper than before.
We're curious to see a couple of things from the episode like what were the words on the pages that told of Hades' weakness. We would also like to see because, for a moment, we thought we saw someone's face in that spirit that came out of the River of Lost Souls. Is that a face we could recognize?
It was also cool that Hook was able to communicate like that to Emma. Hook passing the message through the book through the realms reminded us of the Charmed phenomenon.
With only the two-part season finale next week, it seems that they wrapped up a lot of stories and plot lines in this episode already so, perhaps, the next episodes will not really be about wrapping up stories but giving us a cliffhanger for season 6. This is a pattern they have been using for the last couple of seasons now, making the season finale a story in and of itself that gets us looking forward to the next season. What do you think will happen for the last two episodes? What did you think of tonight's episode? Send us your feedback, theories, and other thoughts by emailing us or giving us a call, filling in the comment section below or head over to the forums and share all your feels, and don't forget to join us for our full discussion of Last Rites this coming Wednesday!
What did you think?
Email Feedback@ONCEpodcast.com (audio files welcome)
Call (903) 231-2221
Comment on the shownotes
Visit any page on ONCEpodcast.com and click the "Send a voice message" link to record and send a message right from your computer.
Help us out!
Share this post in your social networks
Follow us
On Facebook:
On Twitter:  echo do_shortcode('[twitter follow="ONCEpodcast"]'); ?>
Daniel J. Lewis:  echo do_shortcode('[twitter follow="theDanielJLewis"]'); ?>
Jeremy Laughlin:  echo do_shortcode('[twitter follow="phlegon"]'); ?>
ErinJ:  echo do_shortcode('[twitter follow="erinjcruz"]'); ?>
Hunter Hathaway:  echo do_shortcode('[twitter follow="travelingpixie"]'); ?>
Jacquelyn / RumplesGirl:  echo do_shortcode('[twitter follow="punk_bunny_87"]'); ?>