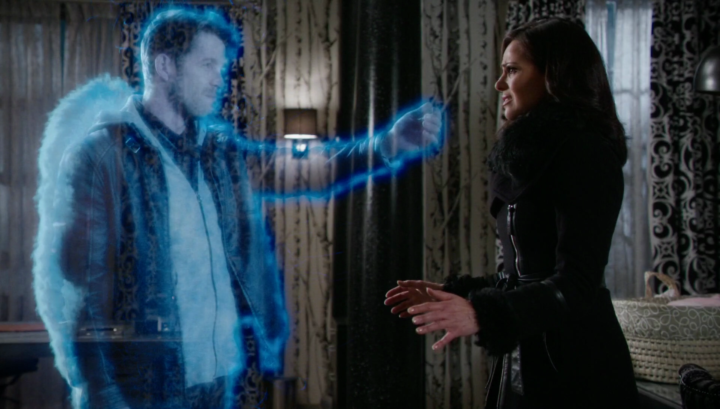 Listen to our in-depth discussion of the episode "Last Rites" where we talked about Hades in the land of the living, and Hook and Arthur teaming up to find Hook's holy grail. Plus! A lengthy conversation about Robin Hood's final moment and Hook's return to Storybrooke. Does he really deserve to come back to life? Is this really the last time we will see Robin Hood? When did Storybrooke became Rumple's "kingdom?" Did they really save the Underworld? All these and more on our full-discussion of one of the most talked about episodes of the season that had everyone in tears!
Podcast: Play in new window | Download | Embed
We are ready to dig into the penultimate episode to the two-hour season finale next week and speaking of the penultimate episode, Last Rites is one of the few episodes that doesn't have flashbacks. Although, this was not the first episode without a flashback, 2×08 "Into the Deep" is the first episode without any flashbacks. 2×01 "Broken" is another episode that focuses more on the present day, but it might actually be a small flash forward, depending on how fast the pigeons fly after August sent them out to deliver Neal the post card after Emma broke the curse in season 1.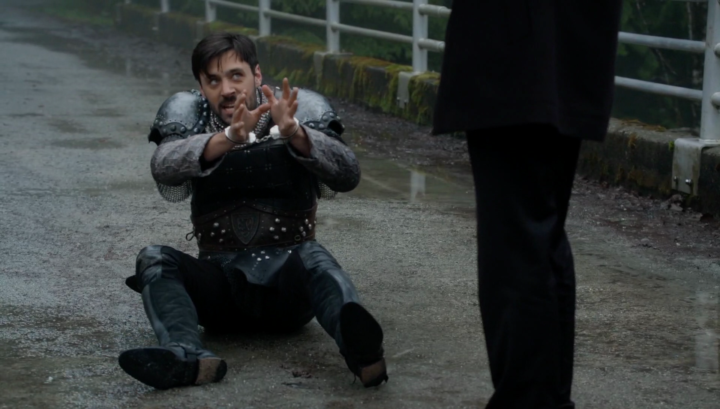 Starting out the episode in the Toll Bridge back in Storybrooke, it was nice to see Arthur again and know that he hasn't been moved to the Forgotten Character Island as so many others have been. And while it wasn't the main focus of the episode, we do get to see his resolution by the end of the episode. During this scene, Hades referred to himself yet again as the God of Death, when he's actually the Lord of the Underworld.
Although Hades killing Arthur quite quickly doesn't make much of a sense, this was also the action that puts Emma on the trail that leads back to Hades. Perhaps when Hades said that he needs Arthur's help, he was thinking that he needs to set a path in motion what would get Zelena on his side and bring the heroes to come attacking Hades so he could demonstrate his power, like he had no choice but to fight back.
I felt cheated by his death. We spent all of 5A running around with Arthur, hating Arthur, wanting Merida to punch Arthur right in his smug face. After all of that, there no moment of satisfaction. His demise was lightning quick, came at another villain's hands, and he actually seemed content down in the underworld. A lot of set up, no payoff. So pointless.

— @sciencevsmagic
Although there were a lot of scenes that felt like they had to squeeze in, Last Rites was actually one of  the really good episodes of the season, written by Jerome Schwartz who has done a lot of good episodes in the past, too.
When everyone comes back to the Charmings', we were wrong about David dying because he eventually made it back home to Snow White. It was good to see Walter again, even though he didn't get to say anything and everyone blames him for Arthur's escape. Why would anyone put Sleepy on guard duty?
We were glad that Emma admitted something but, at the same time, everyone around her kind of keeps trying to take that away from her. It was a big character moment for Emma to admit that she went straight to the Underworld without any sensible plan without thinking through all the dangers it would involve and it's understandable that she's emotional and just lost somebody she loves. However, we were glad that she owned up to the fact that she made very questionable choices. But although they helped a bunch of people move on from the Underworld, did they really save the Underworld?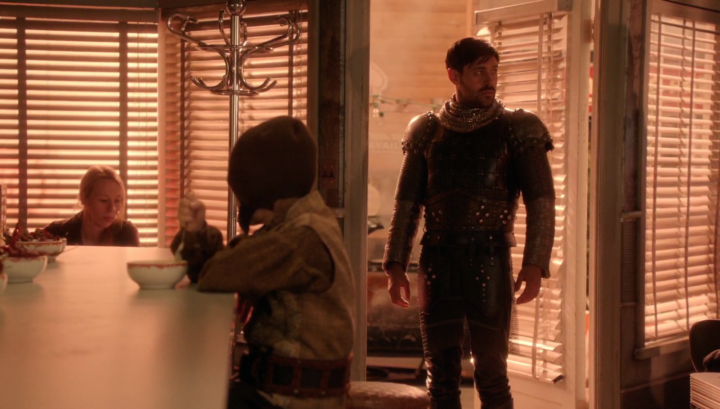 One thing that's consistent about Arthur, at the very least, as he arrived in the Underworld is that he's always demanding to know where he is. It was also interesting how the red peppers are drying up now that Hades isn't in the Underworld anymore.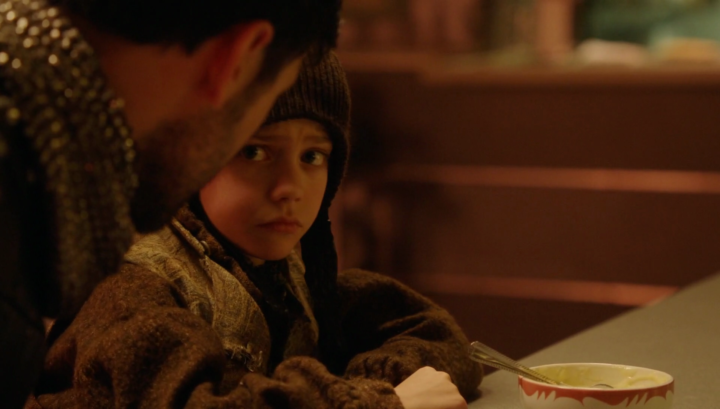 And who was the Sad Eyed Boy sitting in front of the Blind Witch?
Furthermore, the souls are still trapped in there because the Blind Witch and Cruella are preventing them from doing so, so did they actually save the Underworld at all? How can Arthur, someone who doesn't have magic, rule the Underworld against Cruella and the Blind Witch, both of whom have magic? Are all their stories still in the story book?
Arthur and Hook then decides to go on a quest for some seriously good deeds to make up for the bad ones. However, the question is do good deeds wipe out the bad ones? Who decides? How many good deeds equal one bad deed? Who decides what deed is good and doesn't punish any kind of wickedness?
Meanwhile, back in the Overworld, when Emma and the others find Arthur's dead body, Emma acts like a 14-year-old. She's been through so much growth, but she sounds beyond impulsive. The heart-split thing didn't work, so why should charging after Hades without a plan work? It was great that David told her to start seeing clearly. It's also nice to see him get to have a fatherly moment, telling Emma to slow down and think about things without flying off the handle.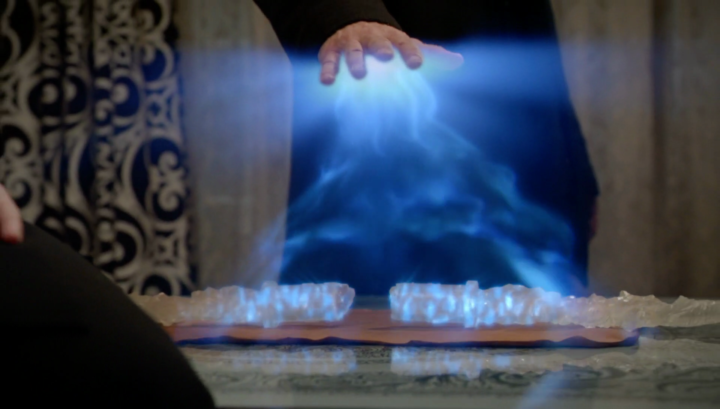 Meanwhile, at the Mayor's office with Zelena and Hades is when we were introduced to the Olympian Crystal, which is a very powerful and very dangerous family heirloom that belonged to Hades' brother Zeus. However, Hades' weapon of choice wasn't really a real thing in Greek Mythology, although there's something close enough. In Greek mythology, Zeus' weapon of choice was the thunderbolt. One of his various titles was Κεραυνιος (meaning 'of the thunderbolt') and it looks a lot like the Olympian Crystal.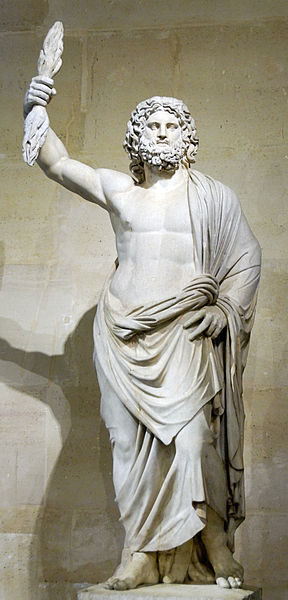 Outside of the Olympian Crystal is a nice Zades moment when he told her that for her, he would give up everything. What can we say about true love if Zelena and Hades has it, and True Love's Kiss works, but Hades really just wants to watch the world burn. Can the two co-exist? What really involves true love? Did Hades really sacrifice anything for Zelena? How do we deal with Brennan Jones and the nurse, who fell in love with him while he was under a sleeping curse?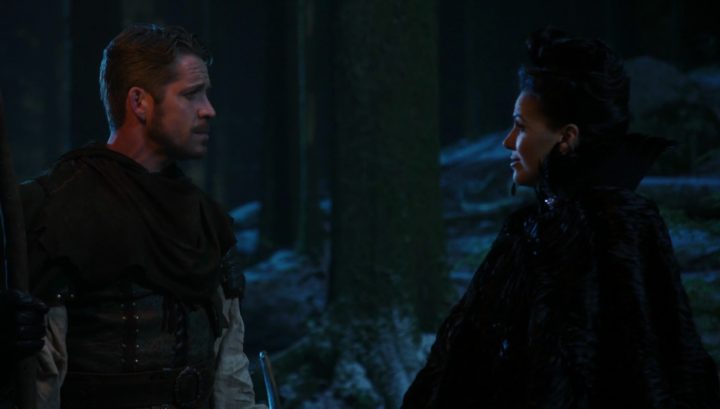 Who knew that the town hall has a secret tunnel? What was it for exactly? For this episode, it served as a way to get them to the Mayor's office, as well as giving us a throwback to 3×13 Witch Hunt, which was Regina and Robin Hood's first real moment, as well as the OutlawQueen's first adventure together when they tried to break into the Evil Queen's castle in the Enchanted Forest. We were happy that Robin called on Regina on her justification of entrusting his daughter to Zelena. It was questionable to start with, because Regina did not respond in a good way. But was the baby really ever in danger? Zelena surely wouldn't harm and wouldn't want her daughter harmed but what about Hades?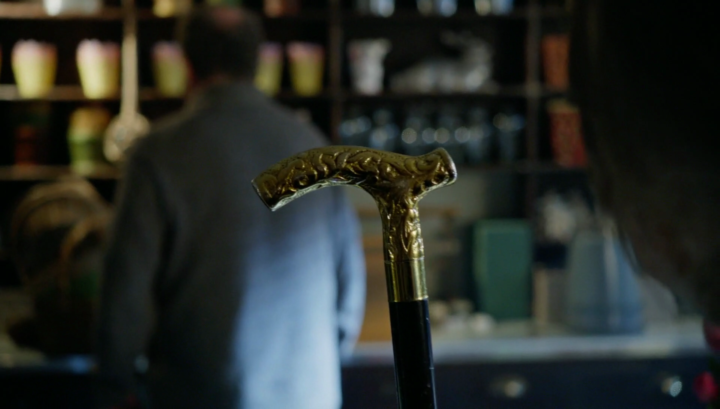 Down at Moe French's flower shop are two incredibly resentful men behaving horribly. Although, the banging of the cane is really over-the-top and unnecessary for a character like Rumplestiltskin, played by an actor who can act. With people not wanting to work with him and Belle out of the picture, Rumple has become vindictive. That being said, it was horrible that Moe refused to wake Belle up from the death-like sleep that his daughter is currently under. Maybe he doesn't like Belle's husband, but he doesn't get to decide if she should try to work on her marriage or not.
I profoundly disagree with Daniel about Rumple being selfish in last Sunday's episode. There were 2 people in the florist scene who were selfish and not one was Rumple. As a father of two, I see Rumple as a man desperate to do anything to save his child just like I would with my 2 kids. He knows there is an answer out there to save his wife and child and that the one person who could is refusing to help.

If that weren't bad enough, the person who could save them is the father & grandfather of his wife and child and that has to be appalling to Rumple that a father wouldn't help his own daughter no matter what. A parent's love is unconditional and Moe French in that scene shows his love for Belle is conditional. Only if she acts the way he wants her to act, only if she loves who he wants her to love, then he'll help her. Since she loves someone her father hates, he rather she be in a horrible curse along with his grandchild instead of setting her free. That is selfish. If it were me, and my 2 daughters were in Belle's position, before Rumple even finished talking, I would be kissing my 2 girls awake without reservations. I would never want to see my daughters in pain and since we know from past episodes what being under a sleeping curse is like (Red room, anyone?), Belle is in a horrific place.

The second person who was selfish in that scene was Emma. She barges in, not caring about Belle or caring enough to ask Rumple why he was there, before she burst out with her demand for him to help her with no thought of others. Why do you think he was there, Emma? Belle, duh. Her actions since the start of 5B have become less savior like as the half season has progressed.

I think in this episode Rumple was doing everything he could to save Belle. First, by getting Moe to kiss her awake, per Belle's instructions, then by making the deal with Hades for the magic crystal, which he probably wanted to use to magically wake Belle up in lieu of her father's failure to kiss her.

— Theo
Was Rumple right when he said that Emma was the one who got them into the mess that they were in? In some way, this particular scene is like a twisted way of the episode Skin Deep, but in this episode, Emma comes in but isn't concerned with the actual scene; she isn't concerned with any sort of justice or locking up Rumple, who is clearly threatening Moe. She just wants what she wants.
In the last episode, the one character that gave the biggest truth was Rumple. And it was in the flower shop scene with Emma, when he told her that it was her fault that they were in this mess in the first place. Yes! It's her fault! Thank God the writers had the guts to have a character say what the audience had been thinking the entire time.

Emma's inability to let go of Hook, even though he begged numerous times to let him go, led to this mess. By her blackmailing Rumple to open the portal, it gave Hades what he wanted which was to get Zelena, restart his heart, then go to the land of the living in Storybrooke. And unfortunately, causing Robin's death. She may not have started the proverbial fire but she certainly dowsed it with gasoline.

— Andrea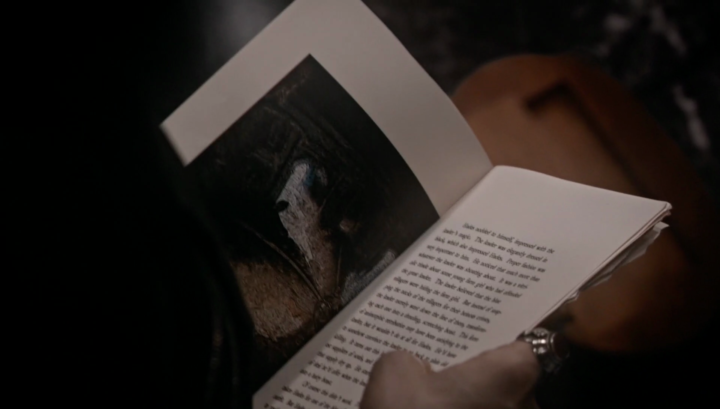 Back in the Underworld, as Hook and Arthur searches Hades' throne room, we got to see some pages from the story book, which tells a tale about Hades being impressed with a leader's magic.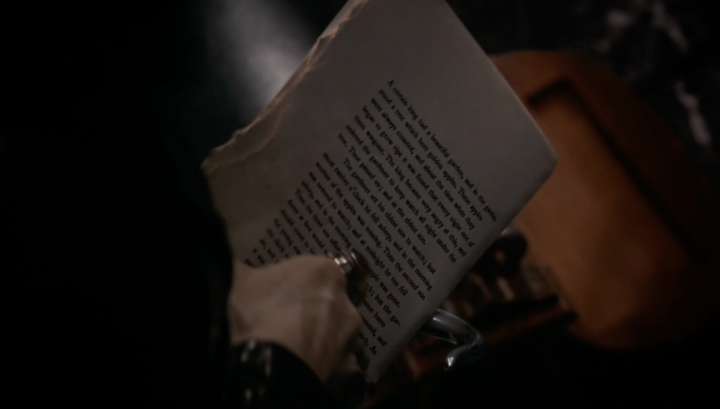 There was also a page about The Golden Bird on the next page.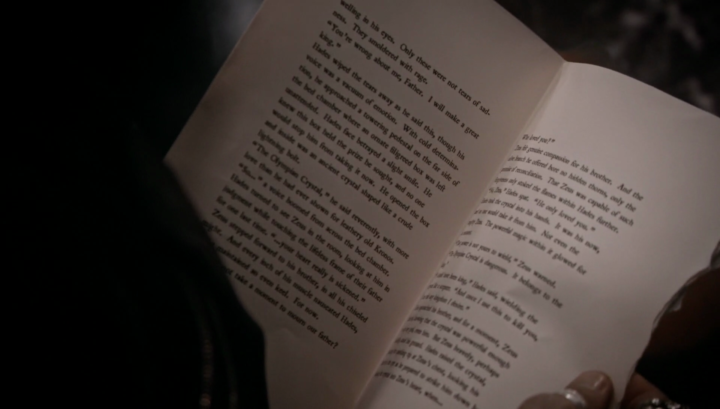 The third page, on the other hand, tells us more about Hades, his father, Zeus, and the Olympian Crystal. In short, this was the flashback that we were supposed to see instead. This also sounds a lot like Marvel's Thor and Loki.
Hook and Arthur then goes back in the diner, where Cruella seems to finally get her happy ending when she got her gin. However, Cruella said that she threw the book in the River of Lost Souls, so how did it end up where it was? Cruella is also just a lot like Hades, preventing everyone from leaving the Underworld, so again, did they really save the Underworld? Does that mean that Operation Firebird was all for nothing?
Back in Storybrooke, Hades continues to repair the crystal and surprisingly, Zelena just wants the simple things, whereas Hades, wants to rule. During this phone call is also when Rumple said that he wants a piece of the Olympian Crystal. What does he want to do with it? Was it because it possess raw power? How did he even know that Hades is repairing the Olympian Crystal? Can he feel it when magical items enter Storybrooke? Rumple also said that Storybrooke is his kingdom. He never had any ambition to rule a kingdom, so what does he mean when he told Hades that the town is his kingdom? Although he may have control of the entire land and with collecting the rent, Rumplestitlskin never regarded himself as the king.
Back down in the secret tunnel to the town hall, we had no idea Robin would die until this tunnel scene, which basically gave the idea away. What with him saying that Regina was his future and that she's with him always was an indication that one of them is going to die. However, when Regina said that she felt horrible that Zelena has his daughter, it looks like she still can't admit that she was wrong. Maybe she'll say it in his grave on the next episode? Why won't they even give Hades a chance to change? It feels a little ironic given everyone also doubted that Regina could change back in season 2.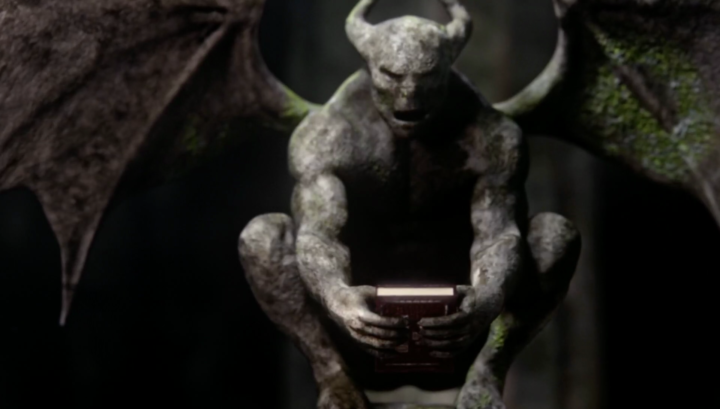 During the Last Rites initial reaction, we said that we thought the demon had a face, but it turns out that it was just a skull. Why did the demons want the book? Could it save them? Maybe Cruella did throw the book into the River of Lost Souls and there was something in the book that could save them from the Underworld? Did the monsters in the river put it up there in the gargoyle themselves?
So the lost souls turn into pure rage demons? Even nice old ladies? But why did they even attack? Did Cruella enchant them? Why does fire hurt them? How can souls grab anything? If this is your soul then shouldn't it have some of your characteristics? Is there really no way to save the souls in the River? Does that mean that Auntie Em and even Milah are just doomed? Again, did they really save the Underworld?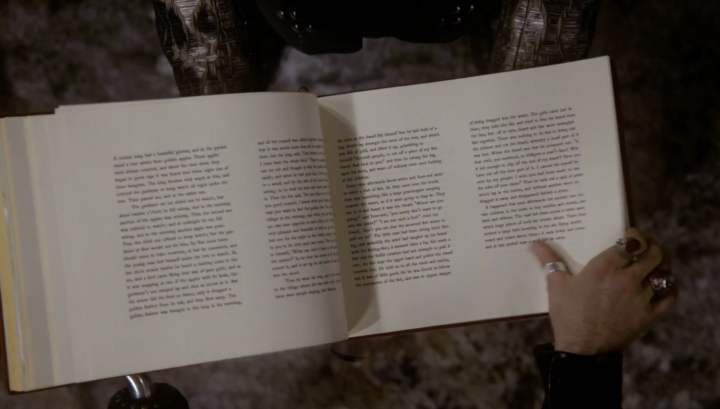 The book can, apparently transfer pages between realms. How? Hook doesn't have magic, how did he do it then? We also got a little bit more and two of the pages showed The Golden Bird and Snow White and the Rose Red.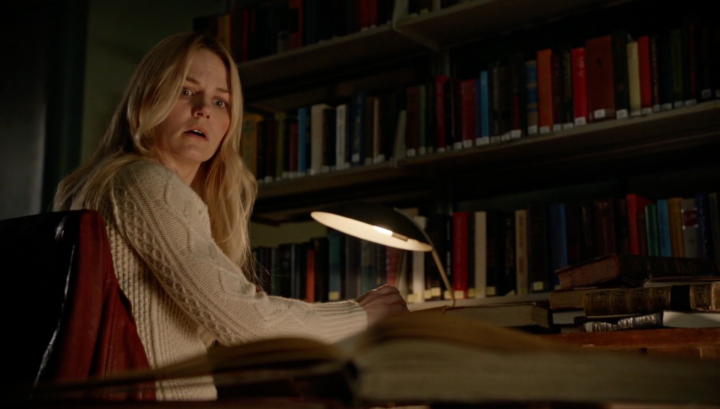 As Emma is searching pages in the book, she was looking at the pages from Snow Drifts. However, the pages turning itself seemed a little bit of a stretch, maybe even as much a stretch like the Page XXIII that Robin Hood found in his satchel.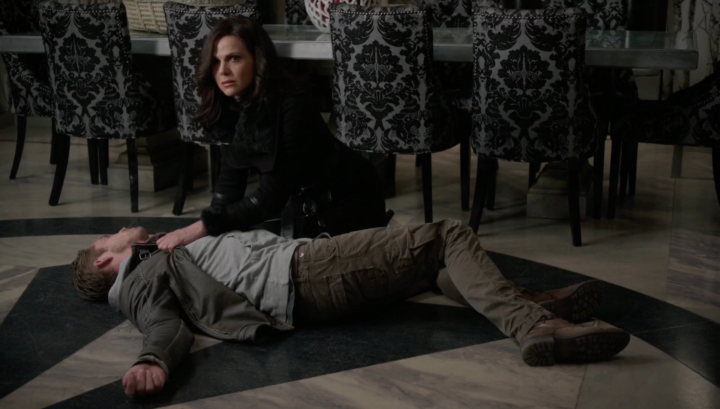 Back in Regina's office, Hades said that the Olympian Crystal won't just kill you, it will end you. No Underworld, no moving on, there's nothing. It sounds as if even the Gods can't bring you back. It's not fair that they spent an entire arc rescuing one guy but they won't spend an episode or two rescuing another. That being said, going to the Underworld didn't help in any way because it Zeus who ends up sending Hook back to life.
Robin Hood's death and the device that used to kill him was unnecessarily cruel. It's fine if they want to kill Robin for whatever reason, but they didn't just kill him, they obliterated him. He doesn't get to move on even if he was a hero. Granted, Robin was not the most dynamic character; he's been really underdeveloped and doesn't get to do a whole lot, but he's a good father, a hero, has never killed anyone nor did anything bad that the more prominent villains have done on the show, yet he doesn't even get a chance to move on.
Yet, at the beginning of season 5, Robin Hood was actually supposed to die earlier, but Emma used her dark magic to save him, so the Fury could come back at any time. Still, his death doesn't have anything to do with the price of magic in the episode "The Price," but was simply the work of a villain of the arc.
It's especially sad because Regina will NEVER get that type of unconditional love again. Cora wanted Regina to be queen, Henry Sr. wanted Regina to not end up like her mother, Rumple wanted Regina to be a monster, Henry wanted Regina to be a hero….but Robin, all Robin Hood wanted was for Regina to just be Regina! He not once judged her for her past, he instantly saw the woman under the Evil Queen mask, he never threw her sins in her face, he never pressured her into giving up her magic or pressured her into staying a saintly hero, he loved and accepted her for who she was and wanted her to just be herself! Robin Hood was Regina's soul mate, in every sense of the word!

— @WickedRegal
Was this foreshadowed earlier in the season? Perhaps, but in the days since Robin Hood's death in "Last Rites", Sean Maguire had numerous exit interviews and turns out, he didn't even know about Robin Hood's fate until January, which is sad because he just moved his family and bought a house in Vancouver because he thought he had a full-time job.
One of the things that was also said during this scene is that the power in the crystal can be used to "create a new kingdom, our kingdom." Maybe that's why Rumple wants it?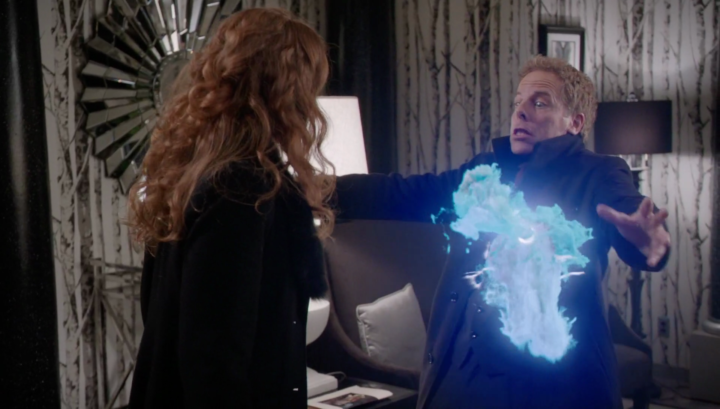 Can Zelena be considered a Hero now after killing Hades? Not only did she kill the bad guy, she also comforted her sister.
I am starting to think that Hades was not included to be real character in the series but as a catalyst for Zelena to redeem herself and turn to the side of light. His death is basically done as a way for her to show that she is willing to forsake what could be her own happiness to do what is right and save Regina in the process. Before this episode he showed that she believes in the redeeming power of love which is a huge step for her. While she has being claiming all season that baby Robin will be someone who can love her Zelena has had less focus on her loving in return, make a it selfish claim on her end. By showing what she is willing to do in the name of loving Hades has shown her development as a character. Was this a waste of what could have been done with the Lord of the Underworld as a character, yes it was but it was an interesting urn of events at least.

— @Amdillae
For being the Lord of the Underworld, Hades' story in the end feels a bit lackluster; there's so much more they could have done with him that needs even an entire season to really flesh him out. Besides, he is the only character we haven't seen a backstory so far.
Is Robin really gone for good? Where does Regina go from here, because Robin Hood was supposed his soul mate? Will she go back full-on Evil Queen again? Robin Hood was set up to be her soul mate and now he's gone, will they pair her up again with someone else eventually? Will she even raise Roland?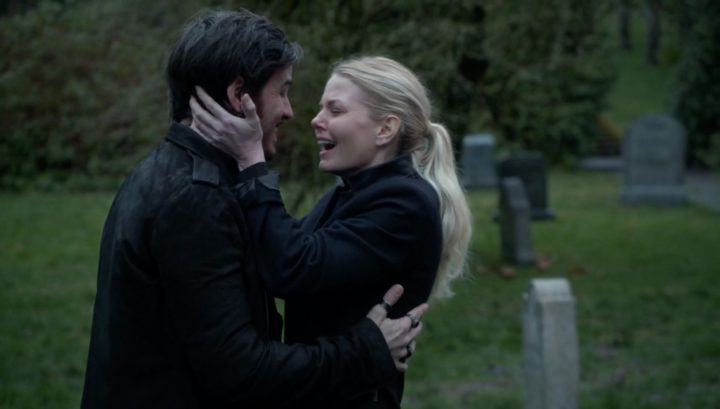 Does Hook really deserve to come back alive again? Hook did a good thing, it was noble, sacrificial and heroic, however, how does this one action enough for Zeus to consider that he deserves a second chance? Did this one good deed really override all of the bad ones he has done in the past?
Hook is no more deserving than a lot of other characters. And the problem for me this episode was that if we were to put Robin and Hook on a scale next to each other, Robin would win – never really the villain, always putting others first, the father of two young children one of whom is now an orphan. I have nothing against Hook, but bringing him back and obliterating Robin is somewhat of a mockery, in my opinion.

— @Nordica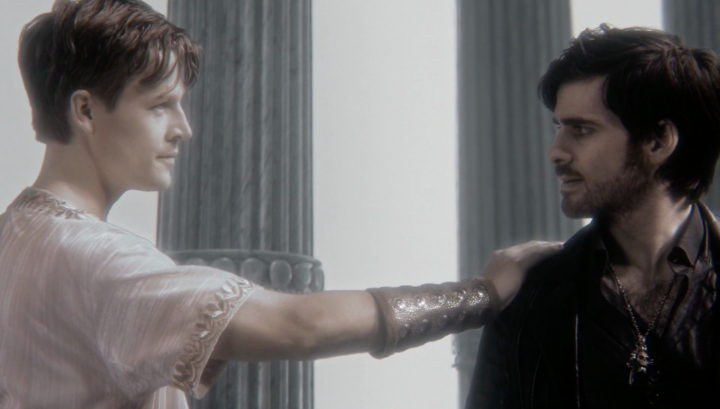 If anyone can bring someone from the dead, a Deity like Zeus can. However, if Zeus has the power over life and death then can't he reverse the affects on Robin? What about Neal? Or Graham? All the innocent children that have died? What is Zeus' motivation for bringing Hook back to life? Because Hook helped defeat Hades?
As far as Hook getting resurrected, I am very torn. We all knew he was going to come back. Honestly, a God like Zeus pardoning him and bringing him back is waaaaaaaayy better than some magic macguffin he could have found in Hades' lair. However, the reasoning behind Zeus' decision is questionable. And this is where I really wish we got a backstory of him and Hades. If we saw how much he loathed Hades, or how horrible Hades was to Zeus, it would make a little more sense why Hook helping the others kill him would rank high in his books. Maybe Zeus is a little corrupt with his power?  Maybe Robin should be brought back to life, but maybe Zeus is corrupt and doesn't really care. Maybe he hated Hades so much that the small thing Hook did was worth saving him in his eyes? But again, we won't understand Zeus' motivation or behavior because we didn't see him and Hades interact at all in a flashback. I think a flashback would have helped this scene immensely. I don't care if Hades told Zelena about the crystal. It was Hook's intentions that in Zeus' mind, made him worth saving. But I think this episode showed how far Hook has come, and despite the many flaws he has, like we all do, there is no denying his undying love for Emma and now he's started to save others too.  He could have let Arthur die. He chose not to. That's a big step for the character, I thought.

— @thedarkonedearie
Between Robin Hood's death and Hook's resurrection, for a show that was supposed to be about hope, what kind of message does the show want to send by bringing Hook back to life? Robin Hood was a good guy and was a father of two, and they literally obliterated him.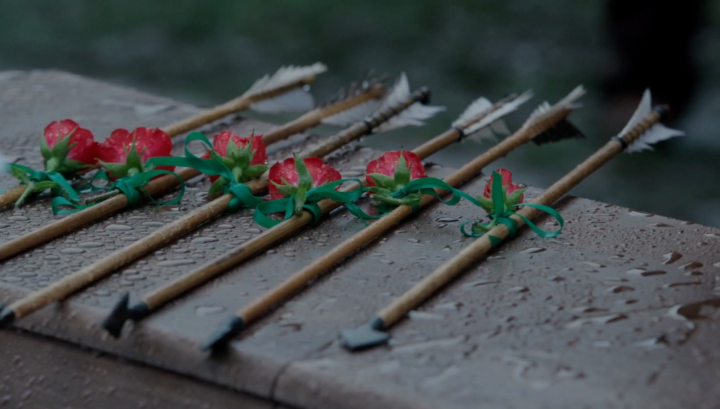 The roses in the arrow was a nice touch and turns out, Baby Pistachio was named Robin. So who's got to die so Belle can name her unborn baby?
Rumple now has the combined power of all the dark ones, was at one point a hero, a pure white heart, and the raw power of the Olympian Crystal. What does he need the piece of the Olympian Crystal for? Is the Olympian Crystal like a wand, which can be used to wield in any direction?
Thank you for the podcast reviews!
Marie Panchot in iTunes USA, "Witty, educational, squid ink. … I started listening to this podcast at the beginning of season 5 and I am currently watching the series from start to finish for the third time. Now that I know about the once pod. I've been listening to old episodes. It's fun to hear y'alls predictions and how it's turned out. …"
John Bukenas in iTunes USA, "This podcast is a labor of love, Daniel, Jeremy, Erin, Jacquelyn, Hunter and Jenny pour their heart into this show and this podcast. It's well produced and is a fantastic podcast about the TV show Once Upon a Time. …"
Also thanks for the honest (albeit negative) reviews from others
Your reviews encourage us and help others find the podcast!
Please rate and especially write a review for us on Apple Podcasts.
How could everything that happened from this episode play out in the finale? Do you have any theories? Did we miss anything from "Last Rites?" Share them all with us using the comment section below or simply head over the forum and continue talking about the episode with the other ONCErs. Please also keep in mind that the two-hour season 5B finale will start an hour earlier.
What did you think?
Help us out!
Follow us
Spoilers