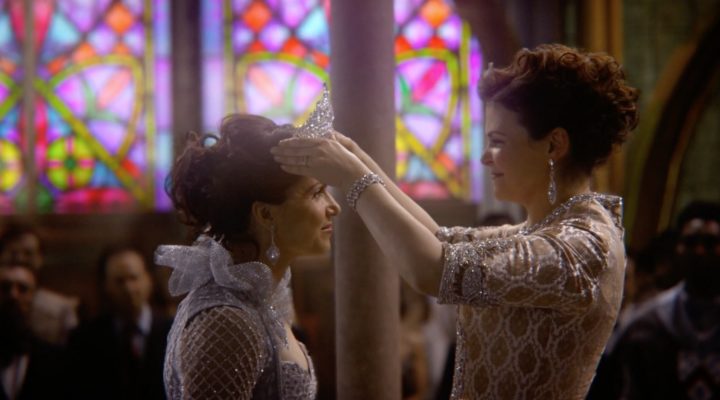 What stood out? Where did they fall short? All these plus some timeline issues, parallels, and Once Upon a Time's biggest success story in this full-discussion of "Leaving Storybrooke"!
Podcast: Play in new window | Download | Embed
Timeline Issues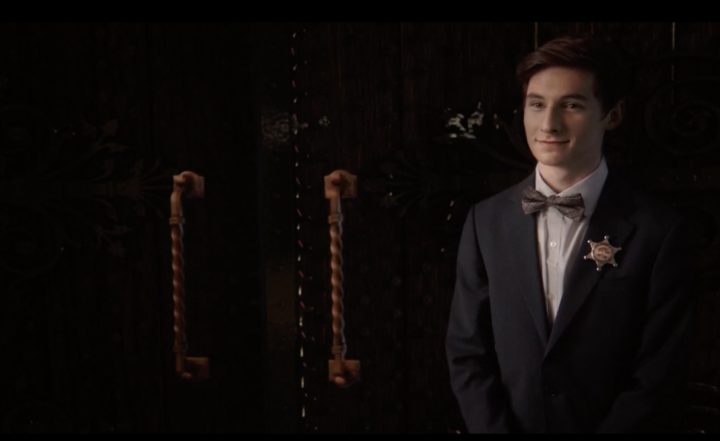 We've already said a lot during our "Leaving Storybrooke" initial reactions, but there are so much more to say about the series finale. There's clearly not enough magic in Rumplestiltskin's castle to fix the timeline, but did the finale broke the time loop when Regina united the realms? What about the other Zelena in San Francisco? Is she not going to see her daughter and family ever again?
Young Henry is seen wearing a Sheriff badge by the end of the episode, but which Henry is it? Wish Henry or the Young Henry in Storybrooke? Did Wish Henry find a place in Storybrooke, after all? Why didn't Regina just have them all go back in their appropriate times before uniting the realms? Then we wouldn't have a problem seeing multiple versions of the characters.
Where are the duplicates? Which Regina is Queen? If all the realms were brought back together, shouldn't it include Anastasia and Drizella? Storybrooke is not that big, where are they all going to live in now? DeAndre shared a long post at the forum about the final timeline and ages of our beloved characters.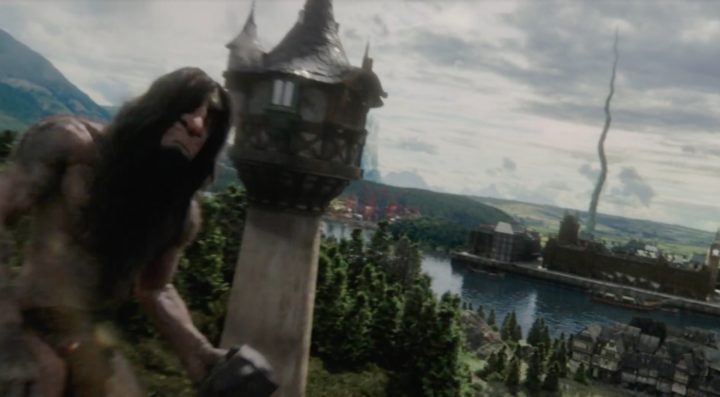 If the troll is there, does that mean that Hyperion Heights is also in Storybrooke? The troll is certainly there, as well as the tower, did Regina bring it to Storybrooke, as well?
This finale should not been so rushed. The show really should have given us a 2 hr episode. In the end we should be lucky to get an end, unlike other shows. Everyone did get their happy ending. Wow. Just wow. Seven years gone so fast. We got lots of story. We fell in love with our heroes. I will treasure this show in my heart. I will rewatch many times over. Thank you Once Podcast for the amazing dedication to the podcast. I will also re listen to the podcast. This show had such an impact in my life and heart I did the front of my house in an Enchanted Forest fairytale design. Check out my wishing well directly inspired from the show. Thank you all for your hard work. I wish everyone the best and for God to bless you all.

— Annamaria
We wish "Leaving Storybrooke" could've been extended so they could've done more justice to the story if the network gave the show another hour. Once Upon a Time may not have the same ratings as the Shonda Rhimes' shows, but they could've given it one more hour to fix everything up.
Operation: We Are Both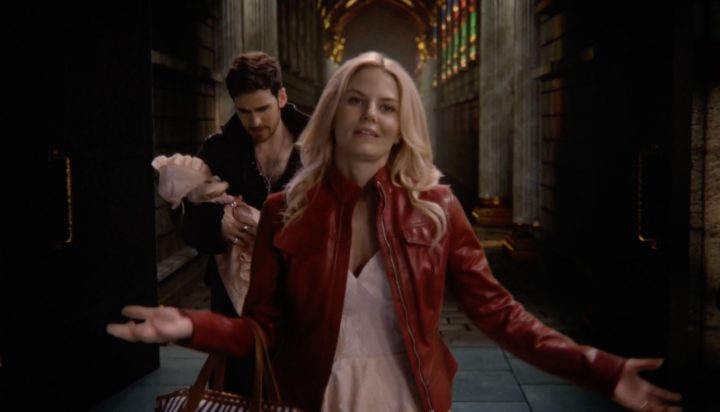 Seeing Alice and Robin in Storybrooke feels like visiting both a flashback and a present-day story all in one. It was nice seeing Granny and a few of the dwarfs including Grumpy, Sleepy and Sneezy, but when did the Storybrooke residents get so murdery? That being said, it was nice to see a montage of the seven dwarfs, as well as people that they couldn't include in the episode in the montage.
We loved that Zelena had gone Hollywood when Alice and Robin walked up to her. It was cute for Robin to talk to her and making her believe that she was indeed her daughter while young Robin was sitting in the car and sticking out her tongue at present day Robin. And, in an attempt to fix the timeline, they said that Emma and Regina went on a graduation trip with Henry with Henry, which was fine, but it would still be nice to have the Savior join the gang in their final adventure.
However, it was disappointing how we saw Emma in only one scene. It would've been nice to see her saving people, rather than just stand in the background during the coronation; they could've done so much with her even with filming for just one day. On the other hand, we loved that Emma burst into the door during the coronation, Hook and baby Hope in tow. Also, they could've dressed Emma and Regina's better than what they were sporting
Did anyone find it funny that England's Prince Henry is going to be married tomorrow and this episode sort of captured some of that at the end?

My questions are pointless. We are at the end of this story.

— Keeper of Squid Ink
It was nice to see the united realms in Storybrooke with all the different castles from all the realms, including the troll and the tower from a couple of episdes ago this season, as well as the Skull Rock from Neverland, Agrabah, The Land of Untold Stories' blimp, and a lot of other castles, including Regina's castle. We also liked the Disney nod when they had Tinkerbell flying around. There's also now a living Peter Pan and Cruella De Vil, and probably Graham, too!
The scenes from the coronation went so fast; there were so many people in that room to recognize everyone in the room.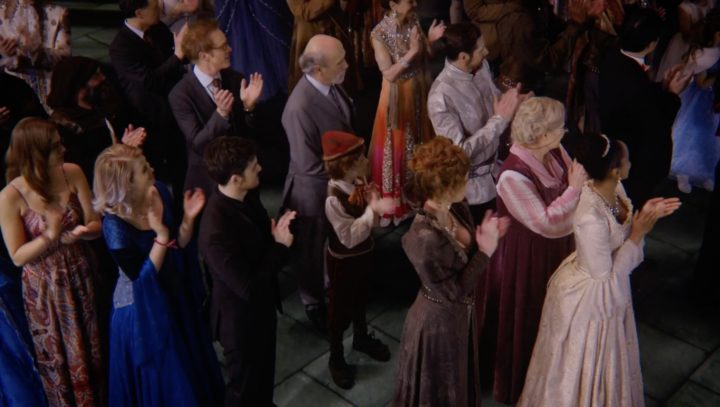 Hey, I spotted Tweedle Dum and Tweedle Dee from the Wonderland spin-off in the coronation scene at the end of 7×22. Possibly not intended to be them and just re-use of costumes but I thought it was interesting that they're standing near each other and didn't really do much to change them up. How did we leave Wonderland with them? Didn't one die?

— RegalHufflepuff
Did anyone see Tweedle Dee and Tweedle Dum in the coronation? Aside from the Tweedles, Grumpy and another dwarf, Pinocchio, Geppetto, Blue Fairy, Archie, Granny, Tiana, Alice, Robin, Nook, and Smee were also present during the coronation. Why is Pinocchio still a little boy in this timeline? If 10 years has passed, shouldn't he have grown a bit, at least?
Only thing I wish they did was introduce Cinderella and Lucy to Emma and the Charmings I would have loved to see Lucy call Emma Grandma.

— Aleana
Although it would have been nice to see Emma and the Charmings meet Lucy and Cinderella, they have probably met by the time of the coronation.
Did Regina not say that she was going to have everyone she loves and everyone who loves her give a small piece of their hearts? How did that work logistically? Did she mean it metaphorically or literally? Did she line up everybody, ripped out their hearts and sliced a little bit with a butter knife, then put it back into their bodies one by one? Perhaps she enchanted some people's hands so they could help her out!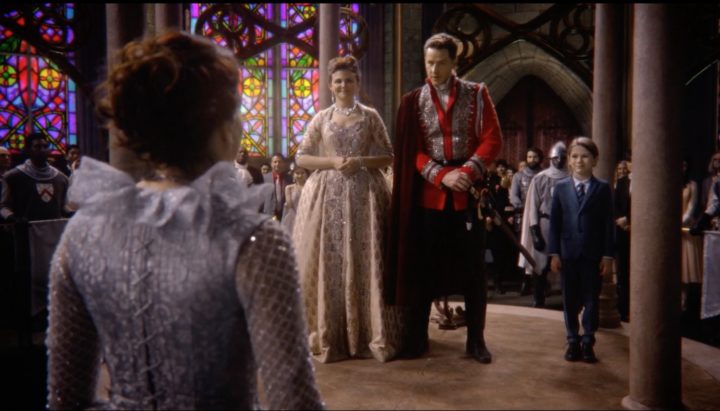 The aspect of the end was pretty fantastic; Regina is Once Upon a Time's biggest success story. To go from the vengeful Evil Queen and interrupting Snow White and Prince Charming's wedding, and coming all this way through everything they've been through and ending up with everybody applauding, wanting her to actually be their Queen is fantastic. They must have intentionally mimicked some of the staging so we would think of that. Even with Emma bursting through and saying, "Sorry, I'm late", which is Regina's first line of the series, shows how far Regina has come. Her story is definitely the one that ranked the most true and stayed the most consistent. We also liked how Regina was crowned The Good Queen without having the need to have a romantic partner in the end. It was unconventional, but it was great to see her get a second chance without needing a man.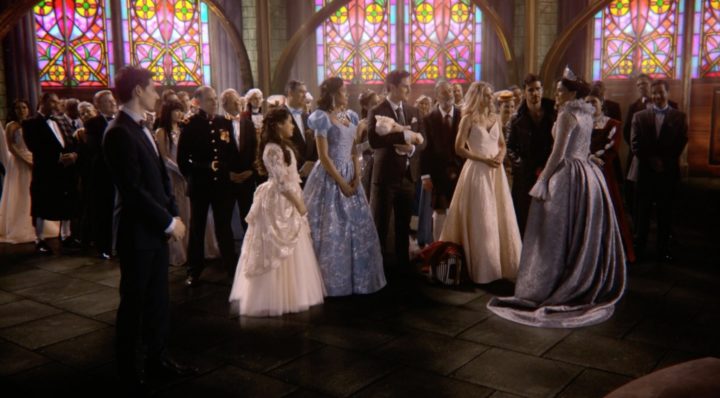 When Regina went to meet Emma after the coronation, Emma mentioned that it was Regina's happy beginning, to which Regina said that it was more like a second chance. All throughout the series, 'Happy Beginning' and 'Second Chance' have been associated with Emma and Regina. The idea of getting a second chance has been Regina's storyline from mid-season 2, whereas Emma isn't getting a second chance, but more like first beginning of a chance.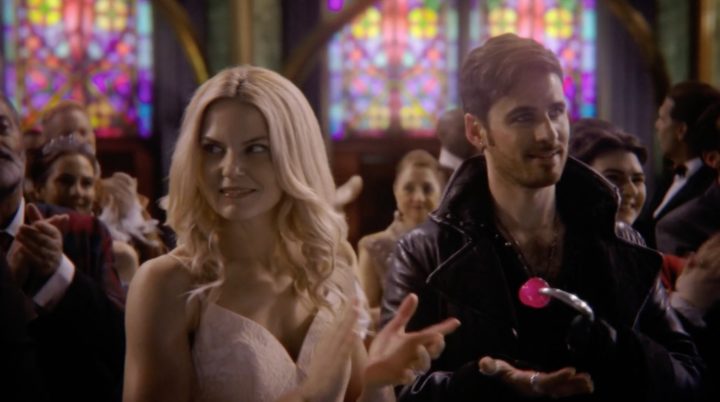 Regina's speech at the end was great, and it was interesting that the very last word of her speech was 'hope', spoken by the former Evil Queen. Apparently, Hope is also Emma and Hook's daughter's name. We liked seeing Hook with a tiny pink pacifier on his hook.
There was a poignant thing Daniel mentioned in that first episode, which is that Snow White's first line as Mary Margaret was: "As we build our birdhouses, remember: you're making a home. Not a cage." Daniel very adamantly repeated that maybe the series would end with them deciding to make Storybrooke their home. So in a sense, Daniel was right! They turned what was, essentially, their cage and turned it into their home.

The following is not feedback for the episode, but more like a grateful comment to the podcast hosts: Guys, the last 5-ish years I've listened and have had amazing moments just reacting to your reactions. I don't know a lot of people in person who enjoy this show and picks it apart quite like I do, which is why you all were amazing companions for me throughout my watching experience. Both in the positive and negative… (I found myself constantly agreeing with Jacquelyn and Jeremy's isolated rants.)

Well, all there is to say is: thank you so much! I can't wait to see what else is in store for all of you and the Noodle.mx Network. I hope I get to keep listening to y'all all the way from south of the border. I'm sure we will always find each other online.

— GEOVANNY
It was interesting how, during the coronation, Alice is wearing a very Enchanted Forest gown, while Robin's donning a modern-looking dress, just like Henry is wearing a suit while everyone else is in their Enchanted Forest garb.
Rumple's Endgame
It was nice to see Rumplestiltskin to finally be reunited with Belle in the end as he died, but it was quite disappointing how they didn't even acknowledge Baelfire as someone who is also waiting for Rumple in the after life. It was also quite interesting to see the darkness left Rumple's heart when he pulled it out and to see it glow brightly, which is similar to Henry's heart of the truest believer. If Rumple's heart is inside Nook's, does that mean that he has a dead heart in there, too?
Regina's speech was touching, but perhaps a little bit too long. It was fitting, and they didn't even give them an actual memorial service for Rumplestiltskin.
Hi, Once Podcast Crew,

Just wanted to feedback some thoughts and feelings about the finale, Leaving Storybrooke. Lana Parrilla and Jared Gilmore were on top form but the balance of the episode as a whole was off. The episode spent too long in the Wish Realm and not with the people we've been invested in for all these years – or at least over the past year with regards to the Season 7 cast. And despite spending too much time in the Wish Realm, Wish Henry's switcheroo back to the good side seemed rushed. Lucy and Elle got very short shrift – a great shame given Season 7 was largely their story – and I felt Rumpel's death played out with the wrong people. Regina should have been the one to speak with him in his dying moments not coming in afterwards to thank his corpse.

Now, this may be controversial – and I must admit "The Good Queen" was a nice touch – but I felt Regina got too happy an ending. Once Upon A Time has been a redemption story for her but I never felt she got the comeuppance she deserved for, you know, being a serial killer… And how selfish to drag all the realms into Storybrooke without their consent? And what's to say this hasn't been her plan all along, to seize control of all the realms united in one place? I joke, of course, but she got almost everything she ever wanted, never mind those she killed…

As for Rumbelle? Just no. Belle should never have taken back her serial abuser.

Overall, it was great to see an array of old faces back – it seemed like the cast felt valued and enjoyed returning for cameos. Could have used more Emma though.

I listened back to the podcast version of the Initial Reactions and came up with a theory as to why they had to stay back in time. Perhaps Alice and Robin meeting the folk in Storybrooke created a paradox whereby if they left that timeline they would change the future and erase the not-yet-born Lucy from existence and so they realised to preserve the timelines, the realms had to be brought back to one particular point. Yeah, that makes no sense… Agh, timelines. It's enough to make one's head spin!

So, Season 7 overall? I thought it was stronger than Season 6 in terms of its story arcs – it felt fresher and I would have followed the new characters for another season. They could even make a spin off revolving around Alice. They could call it Once Upon A Time In Wonderland or something. Nudge, nudge, wink, wink. In all seriousness, Season 7 brought some incredible actors to the show – I did not anticipate becoming so invested in the new cast when we learnt who would be leaving after Season 6. But seven years is strong and everything has its time. Once Upon A Time, it was a pleasure and Once Podcast, thanks for all the fun and insight along the way!

— Matthew Rimmer
While the ending coronation was great, Cora is probably up there feeling really happy and proud that she finally got what she wanted for her daughter; become a Queen. But what if this is exactly what Regina's plan all along? Regina said that she was going to use a piece of everyone's heart to bring them in Storybrooke? What is left in these realms if Regina has brought them to Storybrooke?
Rumplestiltskin said that Nook was the closest thing he has for a friend, but is he really? They were enemies since the beginning, and it was nice to see Nook and Rumple become friends. Maybe they should've cut out some episodes in season 7 and, instead, show a couple more scenes with Nook and Rumple's growing friendship as they watch and protect Alice.
Did Alice conjure Maui's hook inside the snow globe? Is it because she was born in the Wish Realm, that's why she can wish it inside the snow globe? Or did she bring it from Storybrooke or Hyperion Heights? Perhaps it just happened to appear inside her backpack magically.
Do we understand what is going on in Wish Rumple's endgame plan? Since he didn't seem to employ Wish Henry into writing them, how does his rage somehow trigger Rumple's dark story books? Did Blue Fairy get out of the book? Which Blue Fairy was in the coronation?
Thank you for supporting us!
Lisa Robison
Lisa Slack
James M Kinslow III
Maryann Livoti
Heather Peckfelder
Jill Sherrod
Greg Shope
And our 18 heroes on Patreon
You can sponsor an episode or more of ONCE podcast, too! Email Daniel@ONCEpodcast.com if you would like to arrange a corporate sponsorship of our podcast for the upcoming third season.
Regina's Worthy End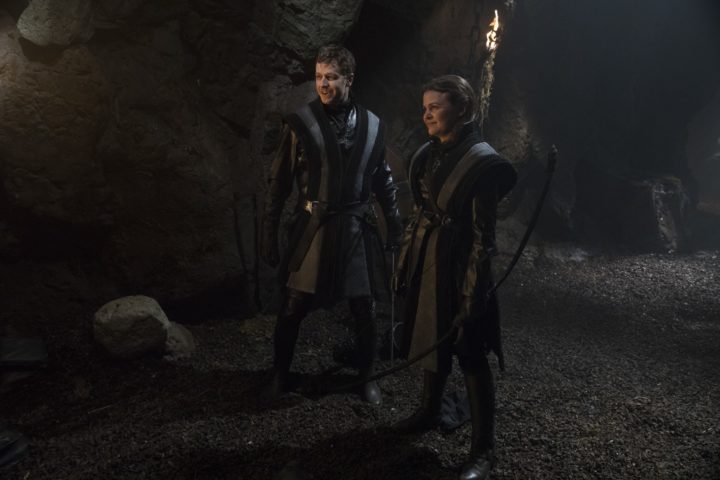 We really liked Wish Henry and Regina's epic scene. Jared S. Gilmore acted it really well, and it was cringe worthy when he just slashed her hand intensely, who was looking at him with a loving smile as he stabbed her. Also, at this point, it seems that all of the main cast had a chance to play the villain now. Aside from Regina, Rumplestiltskin, and Zelena, Snow White played Evil Snow, Prince Charming as James, Emma as the Dark Swan, Hook, Belle (sort of as Lacey), and now Henry. The only one who probably never got the chance to portray a darker side of themselves was Baelfire/Neal.
It was nice Snow White and Prince Charming's reveal posing as Black Knights. It was great seeing them again, as well as seeing Regina's delight as seeing them. Comparing to how they all started as enemies, it was amazing how far they have come.
Regina's speech to Wish Henry was touching, but how did Wish Henry turned as fast as Rhonda (Evil Queen) did? Then again, it was admirable of Regina to accept defeat and be killed by her son due to all the things she did in the past.
The last shot being the Leaving Storybrooke sign was great, as was the soundtrack for the finale alone, thanks to Mark Isham.
I don't normally send feedback, but for the last episode, I might as well.
I thought it would be good to point out the music choices for this episode.
Most of these come from the end of the episode.

First, the music they used when showing all of the realms together in Storybrooke was the same as in last season finale when they showed all of the realms in their seemingly "happy endings." It's cool to note that last season we saw all of the realms, happy and separate, and now we see all of the realms, happy and together.

Second, a cool way the music connects the series as a whole in this episode was when Regina is first told she is elected as the ruler of the United Realms. The theme is a major (more happy) version of the classic Evil Queen theme, but this time fitting for the Good Queen.

Lastly, the best music of the episode, in my opinion, was the very very last music of the episode (and series). When the montage of Storybrooke and the "Leaving Storybrooke" sign is shown, the music playing is a somewhat remixed version of the music that played shortly after Emma broke the curse in season one. This was a cool nod that brought the series in full circle.

— Gatorkid
What did you think about "Leaving Storybrooke"? How did the show play a role in your life? Share your thoughts with us by leaving a comment below or by heading over to the forum to discuss the episode and the series further. Also, please do send us your favorite and least favorite Once Upon a Time moments with us, as well as your favorite character and how the show has impacted you, and join us in our upcoming special podcast next week, tentatively on June 12, 7:00 or 7:30pm EST.
What did you think?
Email Feedback@ONCEpodcast.com (audio files welcome)
Call (903) 231-2221
Comment on the shownotes
Visit any page on ONCEpodcast.com and click the "Send a voice message" link to record and send a message right from your computer.
Help us out!
Share this post in your social networks
Follow us
On Facebook:
On Twitter:  echo do_shortcode('[twitter follow="ONCEpodcast"]'); ?>
Daniel J. Lewis:  echo do_shortcode('[twitter follow="theDanielJLewis"]'); ?>
Jeremy Laughlin:  echo do_shortcode('[twitter follow="phlegon"]'); ?>
ErinJ:  echo do_shortcode('[twitter follow="erinjcruz"]'); ?>
Hunter Hathaway:  echo do_shortcode('[twitter follow="travelingpixie"]'); ?>
Jacquelyn / RumplesGirl:  echo do_shortcode('[twitter follow="punk_bunny_87"]'); ?>