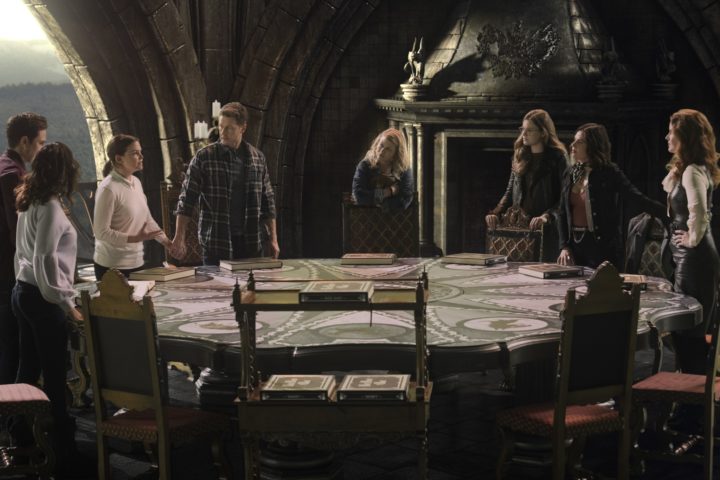 Join Hunter and Jacquelyn in their final podcast together as they share their initial reactions about the series finale, "Leaving Storybrooke", talking about one last magical mcguffin to solve the problem, some timeline confusion, and their favorite and least moments of the episode. Plus, some insights as they look back at the series as a whole!
Podcast: Play in new window | Download | Embed
These are our first thoughts about this Once Upon a Time episode. We'll share more about "Leaving Storybrooke" in our upcoming full discussion (usually live on Wednesdays at 7:00 p.m., USA Eastern Time).
Initial Reactions
On a scale of 1 to 10, 10 being 'Oh my God, best episode ever!', "Leaving Storybrooke" is probably a 6 or 7, but that doesn't mean we didn't like it. There are some things we liked and loved, but it's not the best episode of the series. That being said, it's definitely better than other episodes in the past. Plot-wise, it's all nonsense. It's the typical Once Upon a Time 'let's throw spaghetti on the wall and see what sticks', which is not great but one we've gotten used to. The emotional stuff particularly the endings for two characters that we have watched since the very first moment of the show, however, just hit out of the park; we loved Regina and Rumplestiltskin's wedding! It was so sweet, especially Regina's line, "the darkness can always find the light."
The final episode definitely had a lot of nostalgia, and complicated feelings wrapped up in the series finale and as long as we don't get our heads around the plot, it was a solid 8.
Favorite and Least Favorite Moments
It was nice seeing the dwarfs in the beginning of the episode whistling as they go to work, but where are the other 4 dwarfs? Perhaps the other actors weren't available for filming during this time or there just aren't enough budget to bring them all in for the final episode? That said, it was great to see Storybrooke for one last time. The fact that the opening shot was the clock tower and that it was on 8:15, which is a number that's been around the show and was carried over from Lost was so great. Hyperion Heights never really felt like a real place and lived in; it didn't quite have the same nostalgia of Storybrooke. It was great to open inside Storybrooke, and that the final shots of the entire show were these beautiful camera pans down the streets of Storybrooke. As much as we loved the characters, and we've always loved the characters, that small, quaint town has been as much of a character in Once Upon a Time as Emma or Regina. Opening up in this city that we all loved and seen familiar shots was a nice homecoming.
Another favorite moments from the series was seeing Granny with her crossbow; it was funny how she was just carrying it around. Plus, how very Once Upon a Time to have Leroy give some sort of big shout and causing panic and alarm. It was also hilarious seeing Robin and Alice running for the hills; very good pitch perfect opening scene.
On the other hand, as we moved to the Wish Realm where majority of the plot happens, we know in the previous episode "Homecoming" that Wish Henry wrote the Guardian out of the existence and everything that he did. How did everything he did made Rumplestiltskin mortal? We've watched Rumplestiltskin really struggle with the idea of being immortal, and for him to face the consequences of what that really means. He even kept his immortality to prevent Alice having to be the next victim of this curse. The fact that it was just hand-waved away in an instant with this throw-away line deserves an eyeroll. It felt cheap, in a way. It wasn't even a reward for the fact that he was trying to help his family.
Regina and Robin Hood's reunion, however, was a beautiful scene. It was nice that it was our Robin Hood and not Wish Realm Robin Hood, which a lot of fans speculated. It was also a great send-off for their love story, and we definitely felt all the emotions that came with that scene. So much of Once Upon a Time has been Regina's story. Everyone says it's Emma's, but a lot of it is Regina's story, too, and a lot of the things Robin was saying to her as things that all of the 7 seasons combined say a lot about Regina as well. Despite starting out as a villain, she's done so much good and come from these terrible things that she's done, she's bolted herself up, be hero and save people. It was also beautiful that they brought back the feather, and how she woke up from her dream and find it in her hand.
Another least favorite moment from the series finale is how Rumplestiltskin said that Nook is the closest thing to a friend he's ever had, which was fine, but throwing away Maui's hook to help them get out of the snow globe? At least we've seen the hook earlier this season, but how did it appeared in there? Did Alice and Robin go to Tiny to get a bean, or did Alice conjure Maui's hook inside the globe using her powers? It was definitely one those moments where they just need to get the heroes out of that predicament and use this random hook from a couple of episodes ago.
We've seen a lot dreamcatchers on the show and it was linked to the story of Emma and Neal. One thing that has constantly bothered us this season is how Rumple constantly talks about getting back to Belle, but Neal needed to be in that conversation as well and one other person Rumple is trying to get back to. After all, before Skin Deep, we saw in the episode Desperate Souls, which was how we got to know Rumple's story; a father searching for his child. Bringing out the dreamcatcher that was so linked to Neal and SwanFire shippers and not have Rumplestiltskin acknowledge that he is also trying to get back to the son that he lost so many times is quite disappointing.
However, it was nice of Robin to ask Nook's permission to marry Alice, as well as Nook calling her his future daughter-in-law. Alice and Robin are probably going to go down as one of our favorite things about season 7. As much criticism as came out about the episode Ruby Slippers and how very rushed and disingenuous the relationship between Dorothy and Red was, the one thing the show got right was Alice and Robin's love story. Furthermore, Robin asking for Nook's daughter hand in marriage felt natural and real. It was nice that they didn't make a big deal of the fact that Robin and Alice are two women, but simply two women who love each other. We also loved how Robin supported Nook, assuring him that he's going to be at their wedding, walking his daughter down the aisle.
Snow White and Charming's reveal posing as knights was definitely our first big cry of the night. It was nice seeing them again, and although the pair surely had better scenes, it was them taking off their helmets and seeing them after 21 episodes of completely devoid of Snow White and Charming was lovely, despite knowing that they are coming in for the final episode. Charming's speech at the war table as also charming, talking about old and new generations, but Snow's was quite cringey. Charming's speech felt a little more natural and was tied together with the entire series, whereas Snow White's speech is so incredibly Snow White but, at the same time, it was one of those cringe-worthy speeches where her speeches about hope gets tiring. That being said, it was great seeing them all together in that table.
Speaking of everyone in the table, it was quite disappointing not to see Emma join them. Although they gave an explanation as to why Emma couldn't join them, she should still be there. Even though we knew head-on that Jennifer Morrison is only going to be in one scene, Emma's lack of presence in the episode was felt. They could've persuaded her to extend her one-day shoot to film more scenes. That being said, it was great to see everybody sitting in that table.
One of the biggest surprises of season 7 is how actively we are rooting for Nook, and a round of applause to Colin O'Donoghue who has always done a great job differentiating Hook and Nook. His scenes as Nook with Rose Reynolds' Alice were definitely top notch. Nook's heart giving out and Rumple ripping his own heart out to give out to Nook was very sweet. We loved that, in that scene, right before Rumple takes out his own heart, Nook sort of moved down the table and hold on to Alice as she's being almost got sucked into a portal. Almost instantly, it was like getting a Rumplestiltskin-Baelfire flashback, and the fact that even though they didn't show it, we'd like to think that Rumple saw that. Moreover, even though we are not fully satisfied with his story because they tossed him around so much, have him do things that we don't always support, his last few moments when he pulled out his heart and it goes to red and he realizes that you do the right thing not for a reward but because it's the right thing to do, it was when it felt like they finally get it. Rumple's final moment was beautiful and all props to Robert Carlyle for delivering an exceptional performance. It was gorgeous seeing him finally reunited with Belle, as well as Regina's final moment with him as she's telling him to go find his happy ending, as well as thanking him for one final lesson. That felt right that it was her saying this because they've always this mentor-mentee pseudo father-daughter relationship, and it was great that it was her holding him saying that he's done well.
Meanwhile, while we do love Regina, we are not a fan of Wish Henry and how he changed too fast when they were sword-fighting. How could he hate her and change his mind in a flash like that? What with all his anger towards the woman who killed his grandparents, and using Regina as a template that even after she stopped actively trying to kill Snow White in Storybrooke, she still had a lot of anger and resentment towards Snow White for a very long time, so how did he change so fast? Shout out to Jared S. Gilmore who was tasked to play the same character he's always tasked to play but in evil version of that, but Regina spent 7 years to get to who she is now, but it takes Henry a second? It was definitely too fast where one might wish the finally could've been 2 hours long, just so you could take more time with some of these scenes that we are complaining out.
Creating what seems like Disneyland in the end was okay from a meta perspective as it is fitting in the Once Upon a Time sense, plus the fact that Regina was going to unite all the realms when the series starts with her separating all of them. However, the problem with this is the world-building perspective. Did they consult all the realms? Did they just poof them to Storybrooke and ask for forgiveness later?
Timeline Confusion
Before Regina casts the curse, she says, "everyone has to go home", but where is home? Enchanted Forest 2.0 or Hyperion Heights? If they go back to Hyperion Heights, then they're in the past, which means Henry never got to go to the Enchanted Forest to meet Cinderella and have Lucy. It seemed they are trying to imply that Regina ends the loop, but when? Did we end with two versions of themselves? Does that mean there is now two of everybody?
The timeline, when thinking about it, deserves the shrug emoji at this point because nobody understands it. At least they went out with feelings instead of logic. Plus, at least they tied up one more story: who Lily's father is. Zorro? How did he turn into a dragon? What a cop out but, at the same time, shout out to the writers for being gutsy.
How exactly do you plan a secret vote and a coronation without the Mayor of Storybrooke figuring it out? Is she not Mayor anymore? Did they just go from castle to castle to make the people vote? The actual coronation and what it mean, however, was very nicely done. It was a really good end to Regina's overall story, to go from the Evil Queen to the Good Queen tracked nicely with what we've seen from her. We loved that it was Snow White and Prince Charming who presented the crown to her and crowned her. After all the misery and heartache that they have endured together because of each other, it was really nice. But does Snow White and Prince Charming remain King and Queen of their land, and Regina is just in charge of everyone?
Speaking of the coronation, we do finally see Emma in her red leather jacket wearing a dress that looked better in pictures than it did on TV. Jennifer Morrison looked amazing in pictures that she took and shared on her social media accounts but on actual TV, the dress doesn't look too fit on her. That said, it was nice seeing Emma and Hook again with baby Hope. We loved the fact that he's still in his all-black pirate outfit, with full on guy-liner and a little pink rubber in his hook so he wouldn't hurt his baby. The only thing we could've wished for is a Hook-Nook scene, an acknowledgement that there were two of them.
In our "Leaving Storybrooke" spoiler podcast, we mentioned a few guest stars that we didn't see in the series finale. Although we did see a few of them in the background like Geppetto, it would have been nice to actually see and feel their presence. Where is Dr. Whale?
One of the final moments we loved was Emma and Regina's reunion, talking and hugging each other. A lot of people have been wanting an Emma-Regina hug for a really long time so we loved the fact that they acknowledged each other as Madam Mayor and Miss Swan, which is a nice nod to season 1. It was nice that they got to interact because, in the end, Once Upon a Time is really the story of those two women so it was nice to see them together again.
Regina's speech was really nice. It was a really nice acting moment for Lana Parrilla, who sells the heck out of everything she does. It was a nice way to end any dialogue, and how they brought you back to all the familiar places one last time with Granny's and Mr. Gold's Shop, as well as driving out of Storybrooke and the sign at the end that says "Leaving Storybrooke", which they can now leave and go back to whenever they want. Everyone said that the final should've been a family shot but we were glad that they didn't because we've already seen that at the end of season 6. It felt right that, this time, the final shot was the town and us leaving it because that's where it all started and that's where it needed to end.
In 7 years of watching and podcasting about the show, Once Upon a Time isn't just a show that we turned on once a week and turned off and forgot about. This is a show that has occupied some part of our lives for 7 years, including sitting down and watching it, to staying up so late and talking to people on the forums. To have it not there anymore is a very strange feeling. And while there are some seasons that are much better than the others, as a whole this show is really good. We liked how it ended. Do we think it could've ended last season? Probably, but then we wouldn't have gotten to meet Nook, Alice and Robin. There are really some things from this season that we absolutely loved and overall, this is one of our top shows. Even with the show being gone, it will still be a part of our lives. No matter how critical we've been of the show at times, it's going to go down as one of our all-time favorite shows. Even though it wasn't perfect from start to finish, it was one of those shows that we are so heavily in trenched with and will hold a special place in our hearts. Will we recommend it to people? It definitely has some diminishing returns, but it's still a show we'd watch not because we felt like we had to, but ultimately because we loved it and wanted to.
What did you think about the series finale? Share your thoughts with us using the comment section below or head over the forum where you can share your own favorite and least favorite moments from "Leaving Storybrooke", and join us this coming Wednesday, May 30 for our full-discussion!
Remember, these are only our initial reactions regarding tonight's episode so please bear with us if we're a bit all over the place. If you have your own thoughts, feedbacks, or theories regarding tonight's episode, however, send them over to us and join our upcoming full discussion!
What did you think?
Email Feedback@ONCEpodcast.com (audio files welcome)
Call (903) 231-2221
Comment on the shownotes
Visit any page on ONCEpodcast.com and click the "Send a voice message" link to record and send a message right from your computer.
Help us out!
Share this post in your social networks
Follow us
On Facebook:
On Twitter:  echo do_shortcode('[twitter follow="ONCEpodcast"]'); ?>
Daniel J. Lewis:  echo do_shortcode('[twitter follow="theDanielJLewis"]'); ?>
Jeremy Laughlin:  echo do_shortcode('[twitter follow="phlegon"]'); ?>
ErinJ:  echo do_shortcode('[twitter follow="erinjcruz"]'); ?>
Hunter Hathaway:  echo do_shortcode('[twitter follow="travelingpixie"]'); ?>
Jacquelyn / RumplesGirl:  echo do_shortcode('[twitter follow="punk_bunny_87"]'); ?>