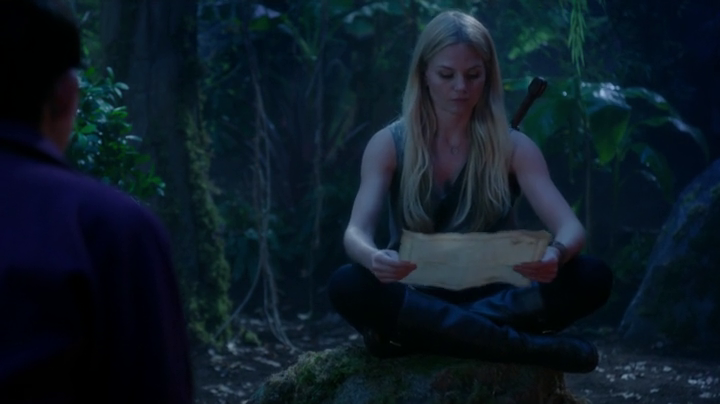 Podcast: Play in new window | Download | Embed
Emma, Hook, Regina, Mary Margaret and David struggle to find Henry with a magical map.  Meanwhile, Rumplestiltskin gets help from an unexpected source.  In pre-curse Enchanted Forest, Regina makes a deal with Snow White.
While Emma, Mary Margaret, David, Regina and Hook continue their search for Henry in Neverland,  Peter Pan appears before a startled Emma and offers her a map that will reveal her son's whereabouts. But the only way to make the map appear is for Emma to stop denying who she really is and come to grips with her true feelings about her identity – and Mr. Gold receives some unexpected advice from a friend that could lead him to understand his life's journey while in Neverland. Meanwhile, in the Fairy Tale Land that was, when the Evil Queen presents Snow White with an offer to live her life with Charming in peace – with the caveat that she give up her claim to the throne – Charming makes it his mission to ensure that Snow doesn't take the offer.
These are just our first thoughts about this Once Upon a Time episode. We'll share more about "Lost Girl" in our upcoming full discussion live on Wednesday October 9, at 8:00 p.m. (EDT/GMT-4).
Thank You for Supporting Us!
Dena81 (subscriber)
David Neuland (subscriber)
Lisa Slack (subscriber)
LaurieAnne (subscriber)
You can sponsor an episode or more of ONCE podcast, too! Email Daniel@ONCEpodcast.com if you would like to arrange a corporate sponsorship of our podcast for the upcoming third season.
Initial Reactions
Some points from our discussion, in no particular order:
Jenny is going to be saving her discussion points for the full discussion of Once Podcast on Wednesday nights.
Loved seeing Snow finding out who she was in the past.  That wasn't something we had thought about.
The "seven brothers" thing and having he dwarfs back was good – it is a good way to pull people from Storybrook into the episode
What part of "true loves kiss" did the dwarfs not understand when they were giving Charming a hard time in the flashback
There were lots of interesting visions in this episode – like when Rumplestiltskin saw Belle
Rumpikstiltskin cut off his own shadow.  His shadow from on the rock, although we thought it was a secret passage way.
He said to hide the dagger somewhere where "even he can't find it"
Is Charming's wound poisoned?
Charming is kind of a "lying liar pants who lies" – lies about the cut in Neverland, lies about the sword.
What is going on between Pan and Emma?  It is almost as if he wants to hurt her in a bad way.  Like a revenge way
It is similar to the movie "Hook" when Hook takes Pan's son and tries to brainwash him
Maybe Emma and Henry are too linked for Henry's heart to be useful right now.
There was a Rufio reference in tonight's episode, when Hook was fighting with Felix, he talked about what he did to Rufio
We got confirmation of the doll, that Rumplestiltskin was given the doll by his dad.  It was the last thing his dad gave him before he left.
Is Pan controlling the doll in some way?  Or just the Island?  Is he just trying to rub his face in it?
Maybe Pan can cause the Island to conjure things from people's minds.   Or the Shadow can pull it out of your mind – like maybe the doll isn't really there, so how can you destroy it.
The Magic Mirror made a come back in tonight's episode.  It was so great to see the Genie again.  We had heard we would see him again, so it was nice to see him again.
What is going on with Hook and Emma this time?  Does he like her?  He seems to be different with her this episode.
There is no Neal in the picture at the moment.  Are they setting this up to be some kind of conflict.
There was no Neal, no present day Enchanted Forest, and still no Storybrooke in this episode.
They are moving the story along nicely.  This episode didn't feel like a filler.  It carried the story nicely.
The only thing that gave Jeremy pause was the map.  Of course they will have many obstacles, etc.  Hopefully the story will be moved along and they will reach Henry within 2-3 episodes.
We are getting to see Pan's mischievous side now.  He is doing a great job.
Going back to the past was great, it was great seeing all the old characters, like Regina.
Will we ever see the retaking of the Kingdom?
Please send us your feedback if you have some on this episode!  If you email feedback, please put "Lost Girl" somewhere in the subject.
Thank you to Slurpez108 for helping with feedback and Erin J for writing show notes 🙂
The battle with the Lost Boys was good.  It was quick, except for Charming, he might die.
Daniel thinks that a main character will die before the 11 episode arc is finished.
Once Wonderland podcast is going to be launching soon.  Please subscribe and review in iTunes as soon as it is launched 🙂
There are over 100 people chatting and listening live to the podcast – please join us for our next live podcast!
Thank You for the iTunes Reviews!
Amaugh from the United Kingdom
Your reviews encourage us and help others find the podcast!
Please rate and especially write a review for us on Apple Podcasts.
What did you think?
Email Feedback@ONCEpodcast.com (audio files welcome)
Call (903) 231-2221
Comment on the shownotes
Visit any page on ONCEpodcast.com and click the "Send a voice message" link to record and send a message right from your computer.
Help us out!
Share this post in your social networks
Follow us
On Facebook:
On Twitter:  echo do_shortcode('[twitter follow="ONCEpodcast"]'); ?>
Daniel J. Lewis:  echo do_shortcode('[twitter follow="theDanielJLewis"]'); ?>
Jeremy Laughlin:  echo do_shortcode('[twitter follow="phlegon"]'); ?>
ErinJ:  echo do_shortcode('[twitter follow="erinjcruz"]'); ?>
Hunter Hathaway:  echo do_shortcode('[twitter follow="travelingpixie"]'); ?>
Jacquelyn / RumplesGirl:  echo do_shortcode('[twitter follow="punk_bunny_87"]'); ?>