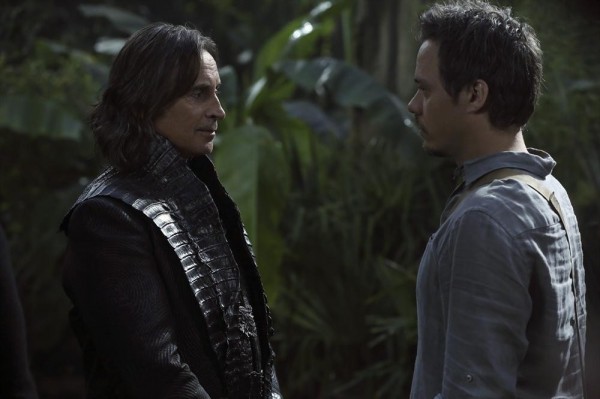 Podcast: Play in new window | Download | Embed
Together again, Emma, Regina, Neal, Hook, Rumple, Mary Margaret, David, and Tinkerbell band together to try to save Henry and defeat Pan. But the closer they get to finding Henry, every heroes, villains included, get tested. Will they be able to save Henry or are they going to be too late?
Pan leads Henry to a secret cave, where he has convinced the boy that he alone can save magic and Neverland itself. But a showdown between good and evil is about to go down as Emma, Mary Margaret, David, Regina, Mr. Gold and Hook find themselves directly on a path to Pan in an effort to save Henry. Meanwhile, back in the Fairy Tale Land that was, young Rumplestiltskin is given a magical item that could help him make a fresh start with his father — who has been anything but a good dad.
These are just our first thoughts about this Once Upon a Time episode. We'll share more about "Think Lovely Thoughts" in our upcoming full discussion live on Wednesday November 20, at 8:00 p.m. (EST/GMT-5).
Daniel and Jenny experienced a power outage last night just as they were recording Wonderland podcast, preventing them to record the initial reaction as well as finishing the Wonderland podcast.
Thank You for Supporting Us!
You can sponsor an episode or more of ONCE podcast, too! Email Daniel@ONCEpodcast.com if you would like to arrange a corporate sponsorship of our podcast for the upcoming third season.
Initial Reactions
This is probably one of the best episodes so far this season; better than any episodes from the past two seasons, especially season two. This could even be a winter finale episode, although we still have a few episodes. By the way, Once Upon a Time is on a two-week hiatus and won't be back until the first of December. That's right, December 1, 2013.
Remember, this is just our initial reactions so hold your horses and save all your thoughts for our full discussion on Wednesday because we're going to be all over the place for now.
We've finally learned about Rumple's father and it didn't disappoint. So the doll was in Neverland the whole time, making it kinda the backstory of the doll as well. When Rumple and his father made it to Neverland, the shadow was already seen looming around. Did the shadow, somehow, destroyed Henry's father and absorbed the power? Did the Shadow wanted to be human after all?
Rumpelstiltskin has been saying how his father abandoned him ever since. Great acting, by the way, on young Rumple and his father; the accent is very much the same. Anyway, when Rumple and his father was in Neverland, the Shadow said that it is the island's sole inhabitant. Does that mean that the Shadow is merely just a part of Pan's or is it a completely different entity?
Neverland was just a place for kids to visit and not stay but Rumple's father wanted otherwise. The odd thing is when they made it to Neverland, Rumple's father seem to be acting much like a boy.
Henry sacrificed himself. Is he dead yet? Somebody has to be able to somehow overcome Peter Pan. Maybe it takes all of them to restore him. Will the Shadow come into play? The implications on what just happened really is a one big family tree, and a scary thing at that.
Kudos to those who theorized that Pan is Rumple's father, by the way.
So Rumple was sucked in to Pandora's Box. How did Pan created a fake box? Does Rumple have the fake Pandora's Box in his shop all this time?
Emma and Regina doing magic together is so cool but at the same time, scary, covering the moon. They didn't show how they did it, but somehow, Regina and Emma, plus Neal was able to get pass through the protection barrier.
The Skull Rock looks really big but the place where Rumple and Pan talked and where Pan told Henry to stand seemd to be in the same place but still kinda confusing.
Pan can fly without pixie dust now. Too much power? Does that mean that our pixie dust theory is off for them getting home? Can no one except Pan use magic now that he is immortal? How are they going  to contain what's already in the box?
The magic bean also plays in Rumple as a young boy. But judging from what his father did to him and what Rumple did to Bae, making it worse than him leaving Baelfire to fall through the portal alone. However, where did the spinsters get the bean? How did they know all about it? Are they fairies?
Does all pixie dust come from Neverland, then? Is that why Tinkerbell has to steal, because there is a limited supply of it? If the Shadow was the sole inhabitant of Neverland, does that mean that there are no pixies or fairies in it? Are they just travelling back and forth to get pixie dusts?
Thank You for the iTunes Reviews!
Your reviews encourage us and help others find the podcast!
Please rate and especially write a review for us on Apple Podcasts.
Wendy got to learn a bit about her brothers; they also clarified her motives as to why she's doing what she is doing. She also seem to know about Pan keeping John and Michael alive. She also tells that Pan himself is dying and needs Henry to trade himself so that Pan can live and be an immortal.
We're liking the fundamental change in Neverland; no one's supposed to live there. The Shadow said that Pan is allowed to live a hundred years. Does that mean that there is a way for David to leave the island without dying? If no one is supposed to stay in Neverland, can the Shadow let him go back home and live? If the water that cured him is connected to Neverland and Pan just absorbed all its magic, will David die?
How are they going to get Rumple out of Pandora's Box? If they found his shadow, who knows where his dagger is, can they conjure him and rescue Rumple? Is the Shadow evil? Did the Shadow belong to somebody significant? Whose shadow is it? Someone related to Rumple, the original Dark One, perhaps?
The flashback with Rumple and his father also took place in daylight. When did it stopped happening? This episode really raised a lot of questions. What do you think about this episode? Send us your theories and feedback by sending it to us. We'd love to include your thoughts on our full discussion, so send them over to us and join our full discussion this Wednesday!
What did you think?
Email Feedback@ONCEpodcast.com (audio files welcome)
Call (903) 231-2221
Comment on the shownotes
Visit any page on ONCEpodcast.com and click the "Send a voice message" link to record and send a message right from your computer.
Help us out!
Share this post in your social networks
Follow us
On Facebook:
On Twitter:  echo do_shortcode('[twitter follow="ONCEpodcast"]'); ?>
Daniel J. Lewis:  echo do_shortcode('[twitter follow="theDanielJLewis"]'); ?>
Jeremy Laughlin:  echo do_shortcode('[twitter follow="phlegon"]'); ?>
ErinJ:  echo do_shortcode('[twitter follow="erinjcruz"]'); ?>
Hunter Hathaway:  echo do_shortcode('[twitter follow="travelingpixie"]'); ?>
Jacquelyn / RumplesGirl:  echo do_shortcode('[twitter follow="punk_bunny_87"]'); ?>