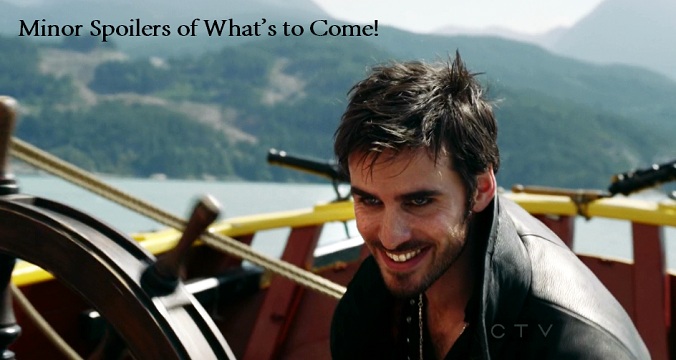 As Once Upon a Time's season two comes to an end the excitement just continues to grow with the episode countdown to the season finale. Just three more episodes till then end, even with all the breaks ABC has taken the finale has come fast. As the enthusiasm grows amongst fans, so do the theories, speculations and spoilers.
Rose McGowan, who plays young Cora on the show, recently visited Melbourne for the Supanova Pop Culture Expo on April 13 and 14.  When I got the honour to talk to her, she told me that she would be returning on Once, just not yet. She said they wanted her on the show more; however, Rose is currently busy directing.
Behind-the-scenes hotos
In some recent behind-the-scenes (BTS) photos, some uploaded from Vancity Filming and other sources, it has been seen that Dylan Ray Schmid, actor of young Baelfire, has been on the set of Once. In the pictures it shows him with a group of young boys in messy attire, kind of like rags. Maybe the lost boys or maybe other kids he met somewhere else?
Another BTS photo that was quite interesting was with Prince Philip, Aurora and Mulan. This picture was very interesting because in episode 'Broken' Philip's soul got taken by the wraith. This image could be the past; however, Mulan and Aurora did not know each other before Philip got marked from the wraith. Maybe they find a way to save his soul? And plus Neal (Michael Raymond James) is also scene in the series of photos, but that could be just him walking on set.
Adam Horowitz mild spoiler tweets
Adam has a knack for giving away minor and sometimes big spoilers for upcoming episodes. Adam recently tweeted that we will be getting Hook's back story by the end of this season. So when Eddy and Adam said at Paley Fest that we will be visiting another land at the end of this season did they mean past or present?
Adam also mention that Mr. Gold realized that Lacey likes his dark side and he will tried to get her to like, maybe love, him that way to get Belle back. But will Mr. Gold be able to control his actions or will he get sucked in his dark ways.
Horowitz teased his fans by saying they can look forward to an Emma and Tamara show down and that there will be more 'Swanfire' moments to come. One of the most recent tease he gave his fans was that the season finale will be a cliff-hanger. So as Hook would say, "get ready to set sail, mates, there's bumpy seas ahead."
Season 3?

As fans have been dying to know whether or not Once will get to have a season three, ABC is scheduled to announce their fall schedule on May 14, fingers crossed and wish for the best and let's hope ABC hears us.
Adam, Eddy and most of the cast have said that we have a lot to look forward to in the upcoming episodes and the season finale, so as Adam and Eddy have repeatedly put it "keep watching!"
---
ONCE podcast is the #1 unofficial podcast for ABC's TV show Once Upon a Time. The podcast is hosted by Daniel J. Lewis, his wife Jenny, and Jeremy Laughlin. ONCE podcast was a finalist for best TV/Film podcast in 2012.
For more in-depth reviews, theories, easter eggs, and talk about Once Upon a Time, subscribe to ONCE podcast for free in iTunes or your favorite podcast directory; visit the ONCE podcast website for screenshots, shownotes, and blog posts; and join the Once Upon a Time forums to talk with other fans.