Podcast: Play in new window | Download | Embed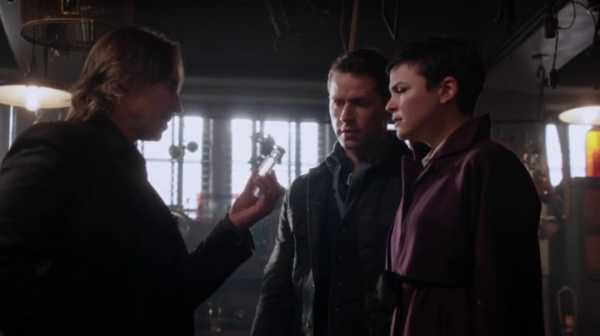 With the threat to Storybrooke looming, we get to see why some people are afraid of the shadows.
Emma, Mary Margaret and David go in search of Regina when they discover that she—along with some magic beans—have gone missing. But against Neal's protests, Emma still believes that Tamara had something to do with Regina's disappearance; and Mr. Gold contemplates telling Lacey the truth about his ability to conjure magic. Meanwhile, after Rumplestiltskin abandons his son and lets him travel alone through a portal, young Bae finds himself back in 19th century London and is taken in by the Darling family—befriending their daughter Wendy.
These are just our first thoughts about this Once Upon a Time episode. We'll share more about "Second Star to the Right" in our upcoming full discussion live on Wednesday, May 8, at 8:30 p.m. (EDT/GMT-4).
Thanks for supporting us!
LaurieAnne (subscriber)
David Neuland (subscriber)
You can sponsor ONCE podcast, too!
Initial Reactions
Some of our interesting discussion points (in no particular order)
Daniel had to drink coffee tonight, because we found out that Bae went to Neverland (though he is not Peter Pan)

Recap: Daniel was against the idea of Neal being Peter Pan or having gone to Neverland… so he bet us that he would drink coffee if this was true (and Daniel hates coffee!)
The shadow that took the children to Neverland was scary.
We saw a form of the Peter Pan story without Peter Pan in it.
Jenny still thinks Bae could be Peter Pan to rescue all the crying children.
Why is a shadow scared of fire and water? (Maybe because it is light?)
Obviously, Bae gets back into our world somehow.
The podcasters thought this was an amazing episode.
How does Bae leave Neverland, what happens to all the kids?  We know Hook left to go to the Enchanted Forest.
Slight confirmation of our theories of why Bae could not go to Neverland.  We got confirmation that time in Neverland flows differently than time in our land.
We think time may be parallel to our land, but this episode doesn't make that clear.  We may have to re-evaluate our timeline.
Awesome shot of the London clock tower.  The clock was at 8:15
Maybe the shadow is Peter Pan's evil shadow.  Maybe he is being held captive by his own shadow.  Maybe he was the first person to "be afraid of his own shadow"
Listeners – Please send us your feedback!
A lot of other stuff happened in this episode.  What is the finale going to be like?  There are major things happening here.
Greg and Tamara have the trigger.  Are they going to destroy Storybrooke.  Daniel thinks they are going to succeed!
Did anyone catch the awesome Disney world commercial with Lana Parrilla?
Will there be a slight character reset?  (Spoiler Alert) This happened in Lost and could happen in Once as well so the core characters can be focused on.
Daniel thinks this *could* help the show to focus on central characters.
We do not have confirmation of a season 3, but all the cast and crew are acting like they are starting filming on July 12.
Greg and Tamara have a big organization behind them.
Dena81 in the chatroom put out the theory that Wendy founded the organization because of what happened in this episode.
Daniel thought the shadow may have been destroyed in London.
The organization knows what the trigger does.  How did they find this out?
Will we see this organization?  Maybe season 3 will have this organization trying to find our core characters and try to find them.
Jenny wonders why Tamara revealed herself to Neal?  He could have ran away.  She shot Neal!
Our chatroom was crying when Neal let go of Emma and went into the portal.
Would Tamara have chosen where the portal went to?
When Blue Fairy opened the original portal for Bae, he went exactly where she said he would.
Emma and Neal love each other!  Swanfire! YES!
Emma's relationship is turning out to be a lot like her mother's – "I will always find you!"
Emma and Neal have a theme song score in the background – it was played in the background of the beach scene.
Greg explained why he was on this quest to destroy magic and said his organization had been doing this for a long time, with just science destroying it.
"High voltage will torture anybody."
Kurt Flynn is dead.  Regina is very evil to have waited til the last minute to tell him and then watch his face!  She's done that before, in "The Cricket Game"
Emma is actually good at finding people.
This time, Bae let go willingly and went into the portal.
Jeremy doesn't think Neal is dead.  But if he is going to die, that would be a good way to go.
Daniel thinks we might see Aurora, Mulan and present day Fairy Tale Land in the finale.
This is going to be an epic season finale.
If you are having a finale party, we want to see pictures!  If you make themed food, etc
Did Tamara have some technology to detect that Neal and Emma were on the beach?  Or did she just do surveillance.
How long can Tamara be running for?
Gold and Lacey – Lacey is not a good influence on Gold.  She wants to live forever.  Jenny can't wait til she is Belle again.
There are many things that need to be wrapped up in the 43 minutes of next season: Sleepy's memory, Neal, Aurora, Mulan, Lacey's memory, the beans, Storybrooke, etc.
We have another roundtable coming up – oncepodcast.com/roundtable for more information!
Please review us on Apple Podcasts
We can't wait for part 2 of the finale!
We're very happy that Emma and Neal love each other!
Talk about "Second Star to the Right" in our Once Upon a Time forums
Thank you for the Apple Podcasts reviews!
spot1701 from United Kingdom

Fairytalemom from Canada
Your reviews encourage us and help others find the podcast!
Please rate and especially write a review for us on Apple Podcasts.
Preorder season-two DVD/Blu-ray set!
You can now preorder the complete second season of Once Upon a Time on Amazon.com! For a limited time, save $10 off the DVD set and $15 off the Blu-ray set!
Preorder the second season today!
Special announcements
Send us your second-season finale party photos!

Watch the Once Upon a Time Roundtable on Wednesday, May 22 at 9 p.m. (EDT/GMT-4) on Google+!
Join us for the LIVE podcast!
Finale initial reactions on Sunday, May 12 at 9:15 p.m. (EDT/GMT-4)—right after the Eastern and Central episode airing.
Full discussion, feedback, and live calls on Wednesdays at 8:30 p.m. (EDT/GMT-4).
On these days, visit ONCEpodcast.com/live to watch and chat live.
What did you think?
Email Feedback@ONCEpodcast.com (audio files welcome)
Call (903) 231-2221
Comment on the shownotes
Visit any page on ONCEpodcast.com and click the "Send a voice message" link to record and send a message right from your computer.
Help us out!
Share this post in your social networks
Follow us
On Facebook:
On Twitter:  echo do_shortcode('[twitter follow="ONCEpodcast"]'); ?>
Daniel J. Lewis:  echo do_shortcode('[twitter follow="theDanielJLewis"]'); ?>
Jeremy Laughlin:  echo do_shortcode('[twitter follow="phlegon"]'); ?>
ErinJ:  echo do_shortcode('[twitter follow="erinjcruz"]'); ?>
Hunter Hathaway:  echo do_shortcode('[twitter follow="travelingpixie"]'); ?>
Jacquelyn / RumplesGirl:  echo do_shortcode('[twitter follow="punk_bunny_87"]'); ?>