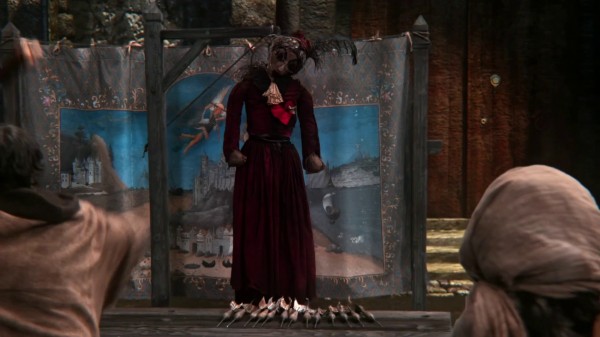 Podcast: Play in new window | Download | Embed
Greg and Tamara, the Evil Queen, and the magic beans. We learn more about all of these things in the first of the last three episodes of the season!
Today's show is brought to you in part by Audible. Sign up for a free 30-day trial and get an free audiobook to keep!
Check out MatthewPaul's great mashup of Taylor Swift's "I Knew You Were Trouble" and the undead Maleficent:
This week's episode was cowritten by Christine Boylen & Jane Espenson!
Correction: Daniel thought in the full discussion of "Lacey" that the bow and arrows that Snow uses in present-day EF was Robin Hood's. It was actually from a a weapons pile from the refuge.
Enchanted Forest
Daniel thinks that the Queen's guards might have been loyal to Snow White, based on their faces while entering the cottage.
Rumple's warning about shapeshifting could be a real rule of magic.
We have some timeline placement in this episode, with Rumple requesting that King George's kingdom go bankrupt (setting up the future meeting of Snow White and Prince Charming, giving Regina motivation for the curse).
Winnie says that there might have been a not to Beauty and the Beast, with Rumple playing with the mirror.
Daniel suggests that Rumple didn't appear to Regina because the "deed wasn't done", his condition for her calling him to change her back.
The Evil Regals make a cameo!
We learn quick backstories on the two guards Rivers and Berkley.
Snow might've learned her hunting skills from either Robin Hood (based on Snow's comments about someone from "another forest" teaching her) or Red.
Snow could've killed Regina in the EF, but chose not too.
Rumple mentions a maid, saying she's a "promising girl". We think he was referring to Belle.
Regina says a very powerful quote, "The Queen is dead. Long live the Evil Queen."
Thanks for supporting us!
David Neuland (subscriber)
Callie Foster (subscriber)
Michael Maitzen: "For Ann on her birthday because she likes to listen to the podcast so much."
You can sponsor an episode or more of ONCE podcast, too!
Storybrooke
Hook seems to be very confident about his revenge plot succeeding.
Hook is placed third on the list of oldest characters, behind Rumple and the Blue Fairy.
Greg wants to align with Hook, but is it just about getting Regina?
Everyone is set on going back, but Regina would like to come as a free person, not as a prisoner.
Could Rumple have put in the failsafe in the curse, or was it planted by Regina?
In That Still Small Voice, we see Snow's coffin. Regina might've thought about the failsafe at that moment.
Bryan wonders about the Wraith:
If Regina goes back to the EF, won't the Wraith find her and take her soul away? If I'm not mistaken, that is where the Wraith was sent when it went through Jefferson's hat in "Broken."
While Isabelle wonders about the failsafe:
Now that the failsafe has been introduced, do you think there's a real possibility that SB will cease to exist on the show? Completely? Would that make you all as sad as it would make me?
Daniel mentions that he would like to see Storybrooke destroyed in the finale. He also points out that the spellbook Regina uses in the beginning is Cora's former one and that there were three beans in Regina's office.
Hook mentions that Cora brought Anton the Giant to grow the beans so that Regina and Cora could start over in the EF.
Hook talks about revenge with Regina while going to the failsafe. Was Hook testing Regina to see if there was hope for her before he went through with his betrayal?
Maleficent comes back again as a undead hag guarding the trigger. Regina describes her forms as, "There's a powerful spell here that sustains her in whatever form she's in."
Hook recognizes Maleficent in the cave. Could Hook have been the one Maleficant says she loved once?
Snow sounds very motherly when she's trying to convince Emma not to jump to conclusions on Tamara.
Henry mentions that he would like to have adventures in the EF.  "Riding horses, shooting bow and arrows."
Could Henry possibly be get his memory of his conversation with Regina back?
We all like the scene between Emma, Neal, and Henry in Neal's apartment.
Neal lied about believing Emma's "superpower" with lies, but she knew that he was lying.
Daniel thinks that something might have been under the loose floorboard in Neal's room.
Neal mentions helping Tamara make her list of fairytale characters.
Phoenix815 says that maybe the cuff blocked Regina's magic because of frequencies.
My theory is that the anti-magic bracelet blocks certain frequencies. I think that magic has its own frequency. Somehow Tamara and Greg could've figured out how to create a device that gives off its own frequency that negates magic's frequency. So that could be the reason why Regina couldn't use her magic; the device embedded in the bracelet was preventing her from using her magic.
Could Greg and Tamara have done something to Hook's hook?
Greg says that what's blocking Regina's powers isn't magic, but science. We get some great feedback on this by OnceWizard, Aleana Harris, and Aysha.
OnceWizard says:
"Science" is in the mix again! I find it surprising that any sort of science could block magic. I wonder if the science Greg mentioned towards the end might be based on something magical. Maybe whoever they are working for is secretly a magical being or has access to magical powers.

Also, when Greg mentioned science, I instantly thought of Dr. Whale/Frankenstein. I wonder if they are from "the world without color." Maybe Dr. Whale knows of them? I think he has to be involved somehow, just because Dr. Whale himself proposed a magic vs. science challenge in "The Doctor", and he lost. Maybe there will be a snafu with the "science" they are using to block magic, and they will need magic. Finally, not too long ago Henry wanted to destroy magic. Will he join Tamara and Greg, or at least help them?
Aleana says:
What if Rumple foresaw that science could defeat magic and that why he wanted to know everything Dr. Whale knows–so he could protect himself?
Finally, Aysha says:
Greg said that science is much better than magic. Could Greg be doing some type of science experiment on the fairytale characters that he and Tamara are hoping to hunt down? Could he possibly be testing them to see how magic is inherited or acquired, if it is? Do you need to have a genetic predisposition in order to learn magic?
Could Dr. Whale possibly come and help Greg and Tamara?
Greg has a mission beyond finding his father. Hook looks surprised, possibly frightened by this statement.
Daniel thinks that Greg and Tamara could possibly be working for a larger organization.
Greg and Tamara now have the failsafe. What could they possibly do with it?
Talk about "The Evil Queen" in our Once Upon a Time forums
Thank you for the Apple Podcasts reviews!
Your reviews encourage us and help others find the podcast!
Please rate and especially write a review for us on Apple Podcasts.
Preorder season-two DVD/Blu-ray set!
You can now preorder the complete second season of Once Upon a Time on Amazon.com! For a limited time, save $10 off the DVD set and $15 off the Blu-ray set!
Preorder the second season today!
Join us for the LIVE podcast!
Initial reactions on Sundays at 9:15 p.m. (EDT/GMT-4)—right after the Eastern and Central episode airing.
Full discussion, feedback, and live calls on Wednesdays at 8:30 p.m. (EDT/GMT-4).
On these days, visit ONCEpodcast.com/live to watch and chat live.
What did you think?
Email Feedback@ONCEpodcast.com (audio files welcome)
Call (903) 231-2221
Comment on the shownotes
Visit any page on ONCEpodcast.com and click the "Send a voice message" link to record and send a message right from your computer.
Help us out!
Share this post in your social networks
Follow us
On Facebook:
On Twitter:  echo do_shortcode('[twitter follow="ONCEpodcast"]'); ?>
Daniel J. Lewis:  echo do_shortcode('[twitter follow="theDanielJLewis"]'); ?>
Jeremy Laughlin:  echo do_shortcode('[twitter follow="phlegon"]'); ?>
ErinJ:  echo do_shortcode('[twitter follow="erinjcruz"]'); ?>
Hunter Hathaway:  echo do_shortcode('[twitter follow="travelingpixie"]'); ?>
Jacquelyn / RumplesGirl:  echo do_shortcode('[twitter follow="punk_bunny_87"]'); ?>
Spoilers
Episode 20 synopsis
Season finale news
WDW Spot