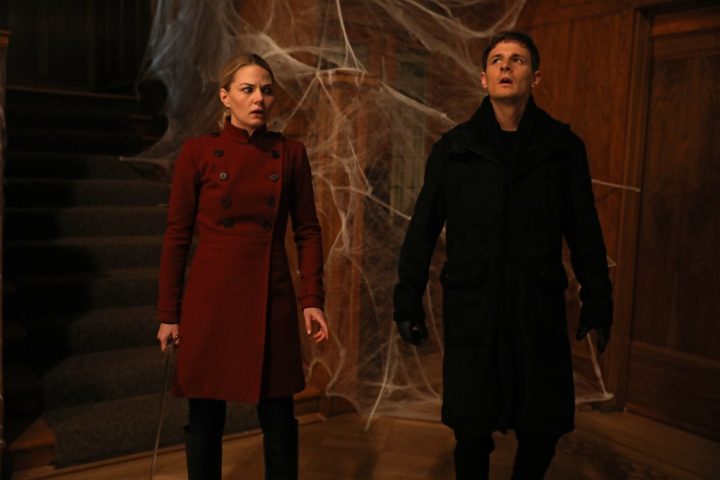 Are we finally wrapping up the series completely? Join us as we share our initial reactions of "Mother's Little Helper" as we talk about Henry's Author Apparitions, Gideon's age, the final battle and more!
Podcast: Play in new window | Download | Embed
Gold and Belle convince Emma to help Gideon, explaining that together they can stop the Black Fairy. Henry experiences a disorienting shift in his powers that forces Regina to seek counsel from the previous Author. Meanwhile, in Fairy Tale Land, Hook attempts to win the assistance of an old adversary by betting his most prized possession on a game of cards. And, in a flashback, the Black Fairy tortures young Gideon in hopes of molding him into the perfect apprentice.
These are our first thoughts about this Once Upon a Time episode. We'll share more about "Mother's Little Helper" in our upcoming full discussion (usually live on Wednesdays at 7:00 p.m., USA Eastern Time).
Initial Reactions
Remember, these are only our initial reactions regarding tonight's episode so please bear with us if we're a bit all over the place. If you have your own thoughts, feedbacks, or theories regarding tonight's episode, however, send them over to us and join our upcoming full discussion!
When they referred to the final chapter as the end of the story, it makes it really sound like this is the series finale coming up as well. There might be some mixed emotions as to whether the show should or shouldn't go on, regardless, it is exciting that they have this planned to end it in a good note with the final battle, just like they said in the Pilot.
Emma had Savior Shakes. Henry, on the other hand, is having Author Apparitions. It was creepy, freaky and awesome. What was he writing? Seeing Isaac again was fantastic, albeit peculiar. Why go to Rumplestiltskin when you could go to the author and see the guy who put everyone on the path that led us to the entire story that is Once Upon a Time?
So much about this episode and seeing things in the beginning as well as the author and Neverland and so much else in this episode already makes it feel like we're headed toward the series finale. Gideon, all these time, has been controlled by the black fairy, which makes him not necessarily a bad guy. It was great that his heart isn't in his chest because it doesn't make him a bad guy now. Also, from what we saw in the flashbacks, he wasn't really bad, ever, despite her every effort to try and make him bad. This same flashback that he described previously about reading the book, the boy being taken and he couldn't or wouldn't even do anything to stop it because he's a coward.
Although there are a lot of things that happened in this episode, it didn't feel rushed and too crammed. They spent enough time in the right places with this episode, one of which was getting to see Neverland and Captain Black Beard, too. It's like they're going to everywhere we've ever been before. How is Hook now going to get off Neverland? The Shadow? Pan's shadow? Will he find things that were left by Neal when Neal was able to escape from Neverland?
Now that the Black Fairy is in town, is there any reason really to keep Hook away from Emma? Unless, during the final battle, we're going to see everyone fighting and Hook just then portals in to Storybrooke just before Emma sacrifices her life? And if we're heading to the final battle, they're so far short of characters. With the exceptions of Emma, Regina and one of the Charmings, they are down with a couple of characters; Rumplestiltskin and Belle is in conflict because of their son, Hook is in Neverland, Snow White and Charming are under the sleeping curse, and Henry has his Author Apparitions. Also, who will be the villains? Rumple simply wanted to protect his son, and Gideon is not actually evil but is just being controlled by the Black Fairy.
If they're trying to destroy the Black Fairy, specifically if she's the origin of all darkness, and Emma is the total opposite of that, what if they end up having to neutralize each other? They could neutralize her power, but that could also potentially cause both their lives or their magic.
An odd thing about this episode is that the Black Fairy refer to eons going on in the Dark Realm which makes us wonder, how old is Gideon really? How long has all of this torture been going on? It has been said that Gideon is 28 years old, which a Once Upon a Time number; Emma was 28 when she became the Savior; Snow White was also 28 years old when she gave birth to Emma; the curse lasted for 28 years, and in this episode, the Black Fairy insisted on celebrating Gideon's 28th birthday. How differently does the time work in the Dark Realm?
Looking back to season 1 when Rumplestiltskin said those infamous words about the final battle, he said "the final battle will begin." This could mean that we would get a season 7, but if season 7 is all one epic final battle, that would be really cool. Also, if they're bringing the final battle, it would be great if they bring back the happy endings as well. But how do you think the rest of the season will end? How will the final battle go? Are we finally wrapping up the series completely? Send us all your theories and feedback and join our full-discussion of "Mother's Little Helper" this coming Wednesday!
What did you think?
Email Feedback@ONCEpodcast.com (audio files welcome)
Call (903) 231-2221
Comment on the shownotes
Visit any page on ONCEpodcast.com and click the "Send a voice message" link to record and send a message right from your computer.
Help us out!
Share this post in your social networks
Follow us
On Facebook:
On Twitter:  echo do_shortcode('[twitter follow="ONCEpodcast"]'); ?>
Daniel J. Lewis:  echo do_shortcode('[twitter follow="theDanielJLewis"]'); ?>
Jeremy Laughlin:  echo do_shortcode('[twitter follow="phlegon"]'); ?>
ErinJ:  echo do_shortcode('[twitter follow="erinjcruz"]'); ?>
Hunter Hathaway:  echo do_shortcode('[twitter follow="travelingpixie"]'); ?>
Jacquelyn / RumplesGirl:  echo do_shortcode('[twitter follow="punk_bunny_87"]'); ?>