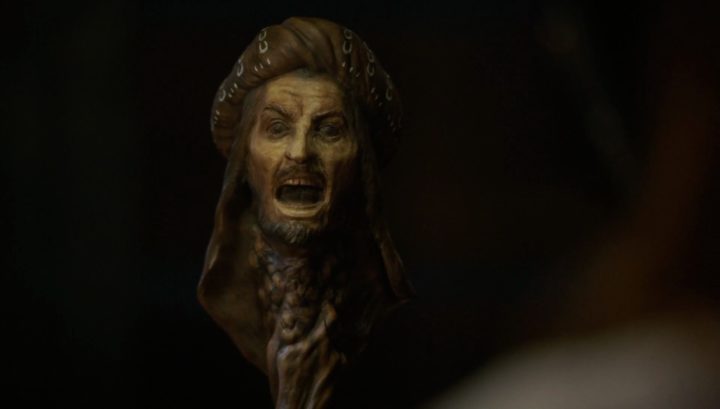 Is our world no longer the Land Without Magic? Is Aesop another author, too? All these plus Arabian Bachelorette, Ladies' night out, and tying some loose ends on our full-discussion of "A Wondrous Place."
Podcast: Play in new window | Download | Embed
Capital of Agrabah (Flashback)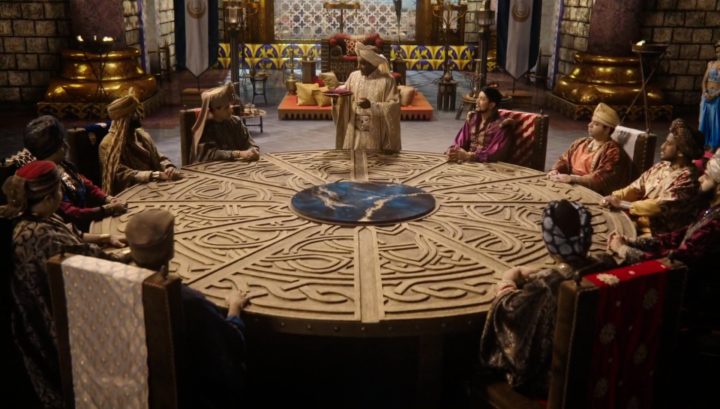 Starting off the past in the Capital of Agrabah, we were introduced to Prince Achmed, who was unfortunately turned into a stick quickly.
He was the stuffy prince who shoved Aladdin into the mud and was later attacked by Jasmine's pet tiger Rajah.  Anyway, nice touch.

— Meredith of Everett, WA
Although Linda Larkin, the original speaking voice for Princess Jasmine, wouldn't particularly play Jasmine this way, Karen David's Jasmine has a spine; sassier than its animated movie counterpart.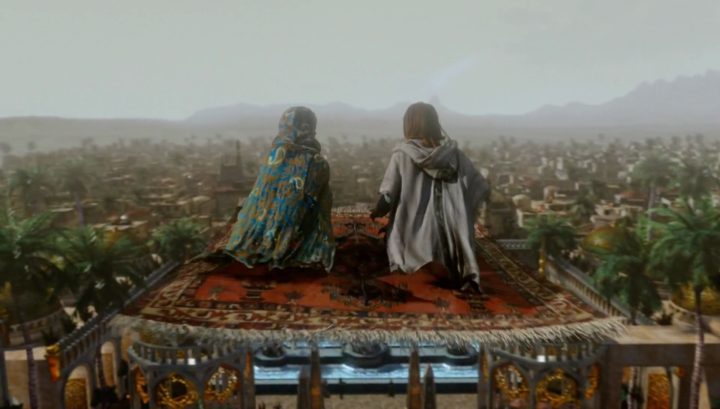 At the market, it's funny that Jasmine thinks that any thief is Aladdin, especially when the man referred to Ariel as a street rat. Ariel's necklace, however, is part of the problem. In this episode, she said that the necklace gave her the legs and her voice. According to the episode 3×06 "Ariel," on the other hand, Ariel has been without a voice from the flashbacks to present day when Regina returns her voice to send Ariel to Storybrooke from Neverland. What could be assumed in this particular flashback, what could be assumed is that Ariel could have found someone that gave her the necklace. But why still wear it in present-day Hangman's Island if Regina has already gave her voice back and the bracelet that she used to wear that gives her the ability to walk on land or use her fins?
That being said, it was a nice continuity that "Prince Eric" was found in Agrabah because in 3×06 "Ariel," Prince Eric said he was going on an expedition and mentioned the desert and even Agrabah. From Prince Eric's camp, we learned that Jafar has been bitter against Agrabah, which makes sense as well as Agrabah has been protected by ancient magic in the jewel.
Everything that happens with Jasmine facing Jafar again makes the episode a bit harder to watch. She  said that she failed her city and that she has been a coward, however, it doesn't make sense for her to say such things because she decided to marry Jafar in the past, faced him and defeated him herself. It was a brave thing for her to do to say that she will marry Jafar if that's what it takes to save her city.
I wonder if Jafar going "Oh, I never wanted to rule Agrabah after all" was in response to fans who thought that Jafar's objectives this Season didn't align enough with what we know of Jafar from Wonderland.

It felt like this time they wanted to connect things to Wonderland better than they had been lately, but there are still issues like Jafar being in the wrong bottle and how he easily broke the genie curse.

— MatthewPaul
Enchanted Forest (Present Day)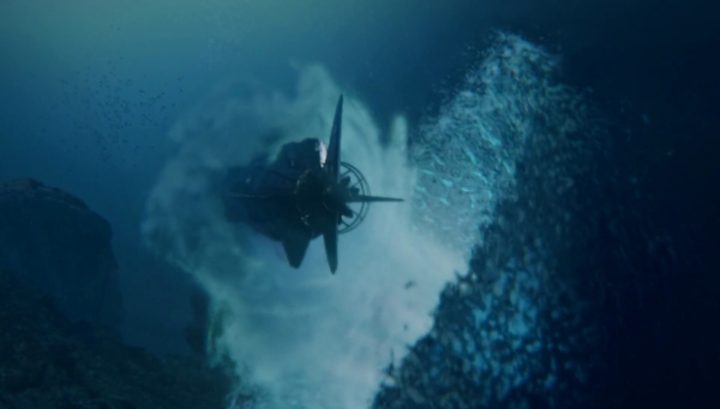 One of the coolest things ever was seeing the Nautilus getting sucked into the portal, even though it was frustrating on a multiple levels because we've never known that a Kraken's blood can portal-jump prior to this episode. Jasmine and Aladdin were taken by the wish to an empty field in the middle of the Enchanted Forest, is that where the ring was? That being said, it was nice to know that the Enchanted Forest still exist, and three main characters even wound up there in two different ways in one week.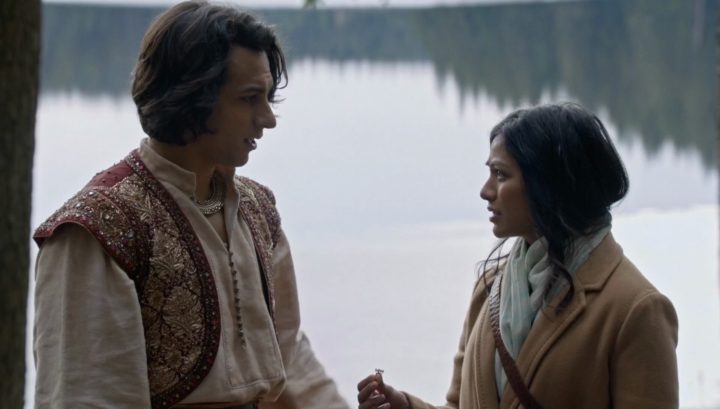 What are the odds that Hook and Jasmine and Aladdin wound up in the same lake at the same time? Can the Kraken itself jump between realms? When Hook took Jasmine and Aladdin on board, they mentioned that Jafar is handy at traveling between realms, which isn't true. The only time we saw him travel was with the white rabbit in Once Upon a Time in Wonderland. It was also a strange thing for Jasmine to say, especially in front of Aladdin, who is currently bound as a Genie to help Agrabah, that Agrabah has finally found a hero. Another thing to point out is that the harpoon was previously used by Captain Nemo in the Nautilus.
When Hook was plotting a course, they said that they have no option but to go down with the ship while diving suits are right behind them. In the book Twenty Thousand Leagues Under the Sea, Nemo goes down with the ship. Nonetheless, they eventually get into the island and found the Tiki Hut, which was funny that Nemo said he is going to salvage the ship when he was just prepared to die with it.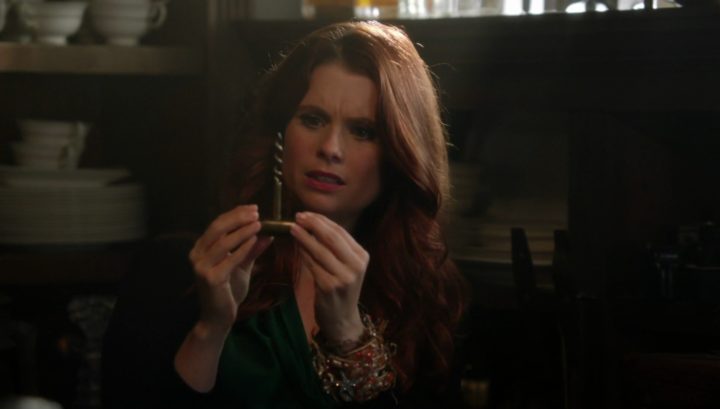 There were plenty of clues dropped in this episode that eventually pointed Ariel's whereabouts. In 3×17 "The Jolly Roger," we found that Ariel and Prince Eric are both in Hangman's island. Also, the corkscrews are a nod to 3×07 "Dark Hollow", where Rumple and Regina recruited Ariel and she was first introduced to a corkscrew that she found at Mr. Gold's shop, which she was immediately fascinated of.
On the other hand, this is the other part of the problem with this episode: Jafar's bottle. In Once Upon a Time in Wonderland episode 1×13 "And They Lived," Jafar was cursed to be a genie and placed in a black bottle and zapped away. The one they had on this episode, however, was the one Cyrus was in. The other bigger problem was how easily Jafar declawed the power of being a genie. How did Jasmine have two bottles of the magic dust? Was turning Jafar into that stick killed him? That said, at least they got Whoville back.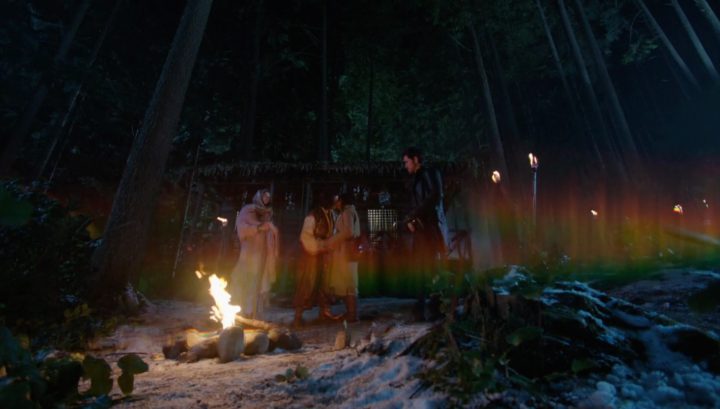 All this time, after defeating Jafar, all they have to do to get Agrabah back and free Aladdin from being a genie was with a True Love's Kiss. Does that mean that if they ever did kiss before, it would've brought Agrabah back? After they bring Agrabah, however, Jasmine just let Ariel keep the ring, which is imbued with much ancient magic and is the thing that protects Agrabah.
Storybrooke (Present Day)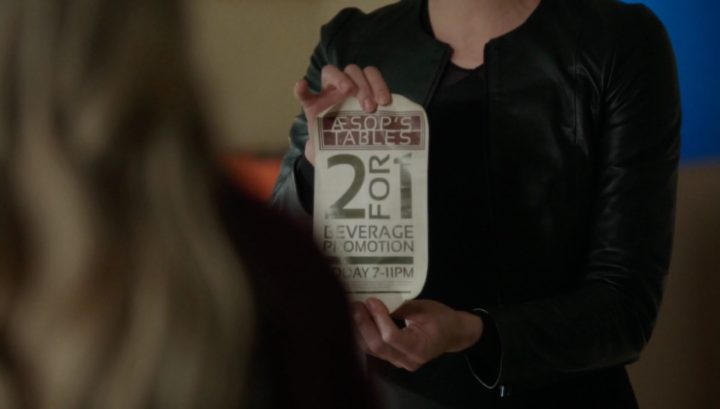 You said this was the worst episode ever and now I'm kinda agreeing. Why? Because now I'm feeling sorry for David (I thought I was Henry's grandfather) Charming. Emma lost her love—she's lost her love a few times so she should be a little bit used to it.  I'm not saying she shouldn't be hurting and good on regina and snow for helping her out but hey she has her best friend, her mom, her dad, etc. for support. David's mom? Dead. David's best friend? That was hook and he's gone. His dad? Killed by Hook. Even his wife can't be supportive because she's asleep when he is awake. He's told pretty much to go sleep it off. I'm all for girl power, but guys have feelings and need support, too.

— Doxcen
Back to the present with a very upset David in Storybrooke. Also, the way Emma put it out wasn't exactly how she told Hook before Gideon shipped him off to another realm.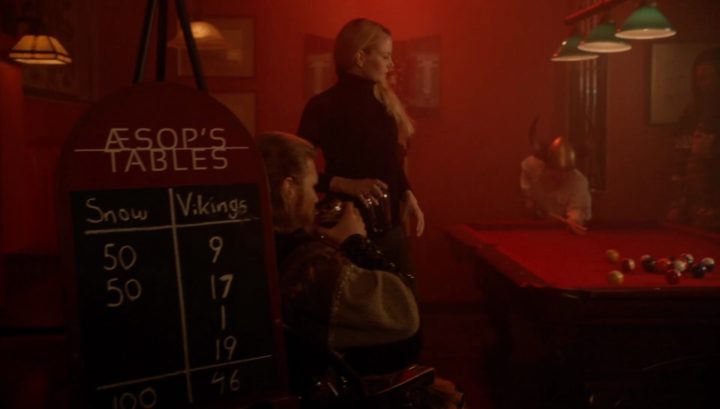 Not only was it nice that Regina suggested a ladies' night out at Aesop's Tables, but also to ask Prince Charming to wake Snow White up so they can go drinking with Emma, in the hopes of easing her mind off losing Hook. Emma, on the other hand, wants no part in drinking and instead decided to get rid of Hook's case including his chest, which was the same sea-chest he took off his ship in 6×04 "Strange Case." It was nice that they tricked Emma into going to Aesop's Table, which was reasonable that Aesop is real and really owns this place, but Gideon probably knocked him out for a little while. Is Aesop another author, too?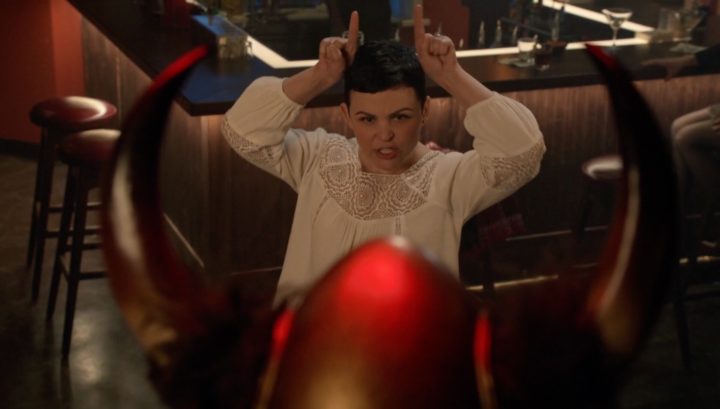 It's quite impressive that drunk Snow White, which is pretty funny in this episode, can still throw knives perfectly, beating the vikings and even plays pool with them while wearing one of their horn hats. At Aesop's Table drink menu, it includes:
The Dog and the Wolf
The Fox and the Grapes
The Ant and the Grasshopper
The Artist and His Wife
It was interesting that they have Ant and Grasshopper (undervalued artist being mistreated by the money-grubbing class) by name, which is an actual fable.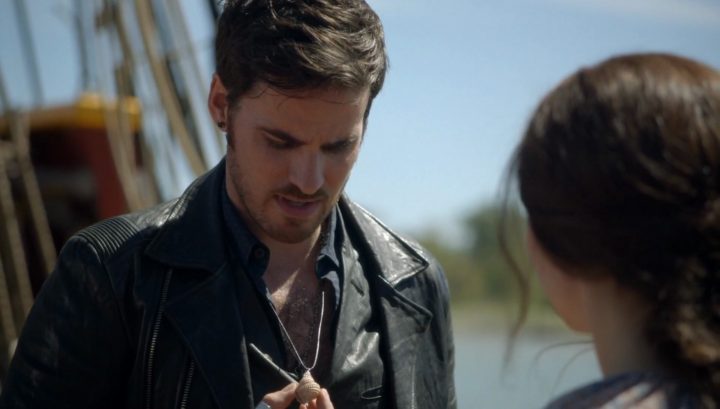 Jumping back to the Enchanted Forest with Ariel and Hook in the market, there's a cloth tiger in the background that looks like Rajah, which was Princess Jasmine's pet tiger from Aladdin. This is part of the episode that has both nice and annoying stuff. In the scene, Ariel said, "I'm sure you'll find someone here who can help you get back to Storybrooke." Can't Ariel create portals? That shell-phone, on the other hand, was not necessarily new to us. It was first introduced back in 6×04 "Strange Case" when Hook gave Belle the same kind of shell to stay in touch, where he even said that it was mermaid magic.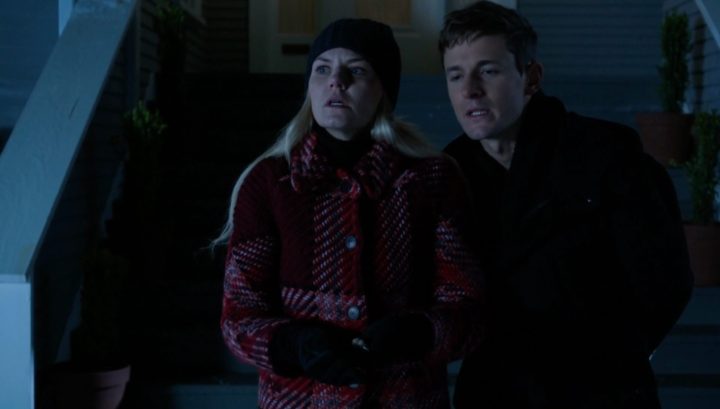 Gideon said that he can use Emma's tears to ensure Hook can't portal from the Enchanted Forest back home. How? The way he said that he wants Emma to kill the Black Fairy seems like he has some emotional attachments to the Black Fairy that's why he can't kill her himself. That being said, asking for help doesn't seem like something he would do.
Why can't Gideon kill Emma when he can easily do so many times already? Does he need the sword to take Emma out?
You want to know what kind of a pet peeve I have about this grown-up Gideon plotline?  Where's Belle in all this?  We've barely seen her since the season resumed.  Gideon is her son too, and yet she hasn't been given any kind of emotional arc.  Rumple was given his, but where is Belle in all this?  Why don't we see her reacting to all of this mess?  She sent Gideon away to avoid his turning out like Rumple.  Her worst nightmare came true.  And yet, no one can be bothered to even show her for more than 30 seconds.  And I don't think there's an episode coming that will rectify that.

— Meredith of Everett, WA
Where is Belle?
Looking back at this episode, it's probably what they had to do. We only got a couple of episodes left for the season, which could explain sudden course correction and shortcuts. This particular episode, "A Woundrous Place", wasn't necessarily the worst episode of the season, but could have still tied up some loose ends.
What did you think?
Email Feedback@ONCEpodcast.com (audio files welcome)
Call (903) 231-2221
Comment on the shownotes
Visit any page on ONCEpodcast.com and click the "Send a voice message" link to record and send a message right from your computer.
Help us out!
Share this post in your social networks
Follow us
On Facebook:
On Twitter:  echo do_shortcode('[twitter follow="ONCEpodcast"]'); ?>
Daniel J. Lewis:  echo do_shortcode('[twitter follow="theDanielJLewis"]'); ?>
Jeremy Laughlin:  echo do_shortcode('[twitter follow="phlegon"]'); ?>
ErinJ:  echo do_shortcode('[twitter follow="erinjcruz"]'); ?>
Hunter Hathaway:  echo do_shortcode('[twitter follow="travelingpixie"]'); ?>
Jacquelyn / RumplesGirl:  echo do_shortcode('[twitter follow="punk_bunny_87"]'); ?>
Spoilers
In 6×16 "Mother's Little Helper," Gold and Belle convince Emma to help Gideon, while Henry experiences a disorienting shift in his powers that forces Regina to seek counsel from the previous Author
Meanwhile, in Fairy Tale Land, Hook attempts to win the assistance of an old adversary
In the past, the Black Fairy tortures young Gideon in hopes of molding him into the perfect apprentice
"Mother's Little Helper" teleplay by Paul Karp, story by Edward Kitsis & Adam Horowitz and directed by Billy Gierhart
Guest starring are Patrick Fischler as the Author/Isaac, Giles Matthey as Gideon, Charles Mesure as Blackbeard, Jaime Murray as the Black Fairy, Ingrid Torrance as Severe Nurse, Peter Marcin as Chief, Anton Starkman as Ten-year-old Gideon, Mason McKenzie as Roderick, Grayson Gabriel as Adult Roderick, Rohan Campbell as Male Miner and Eleanor Jane as Nurse
Promo for 6×16 opens with Gideon demanding Emma to help him to kill the Black Fairy, and Emma disagreeing but ended up helping him
The promo for 6×16 also shows Hook and Blackbeard standing in a portal, as well as a bloodied Gideon, Regina visiting Isaac, and Hook finding himself in Neverland, and a giant spider.
Promo photos for 6×16 focused on two scenes: a couple of Emma, Gideon and Belle together in a scene with huge cobwebs, as well as one of Gold holding his dagger.
A couple of photos for the season finale include Zelena holding baby Robin; Emma and the bug parked on the side, kissing Henry on the forehead; Emma and Hook in the bug about to drive somewhere, with Hook wearing the deputy badge.
There were also a lot of outdoor photos of what look like a recreation of Emma's nightmare, but with everyone wearing dresses and tuxedos, but without Rumplestiltskin and Belle
There were also an image circulating of Regina taking Emma's place to fight Gideon and lying on the ground, but the next day another video surfaced showing that it was Emma lying on the ground
Another photo also shows Snow and Charming with Prince Neal.
The Snow White and Charming statue are erected in Storybrooke because Ginnifer Goodwin and Josh Dallas are slated to leave the show by the end of the season
In a Spoiler Room article by Entertainment Weekly, Jennifer Morrison said, when asked about the Black Fairy's goal, that they "don't entirely know."
Once Upon a Time is still likely to be renewed for another season
An update about the actor's contract negotiations, but should be taken with a grain of salt: Word is Lana Parrilla agreed to sign to another season with some conditions; Colin O'Donoghue signed, and Jennifer Morrison agreed to sign part-time.
Rebecca Mader might probably leave after sixth season, as well as Jared S. Gilmore, and Emilie de Ravin