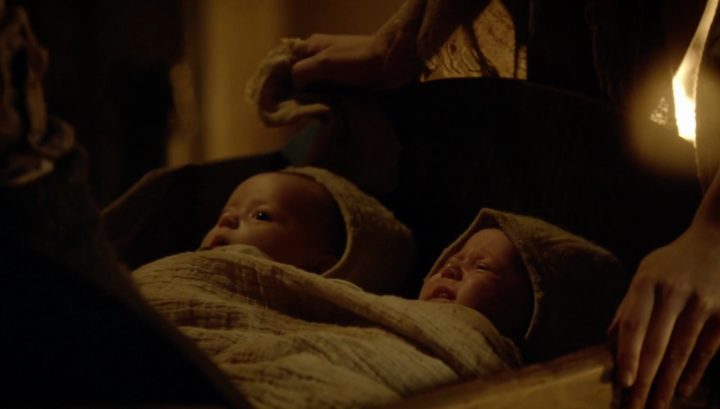 The land built from temptation, Rumple's maudlin stories, Zelena's token tantrum, and Hook's old-fashioned ways! Will David forgive and forget about the truth that it actually Hook who killed his father? And who is this Robin? All these plus a new Once Upon a Time snack on our "Murder Most Foul" full discussion!
Podcast: Play in new window | Download | Embed
"Enchanted Forest" and "Pleasure Island" (Past)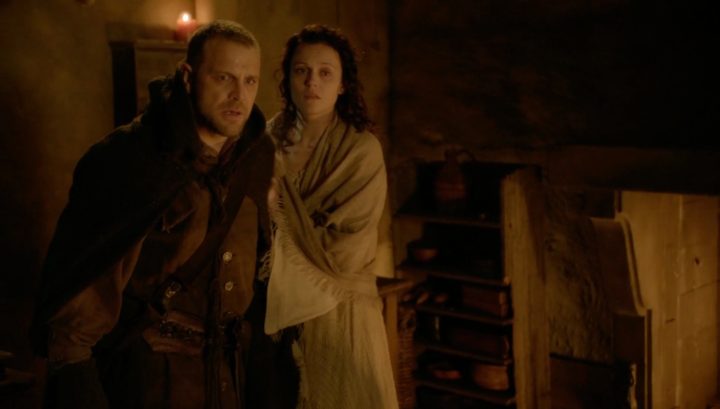 Starting out the episode with the flashbacks, we get to see the father come home, who was named Robert, and this exchange was first heard back in the episode "The Shepherd." In 1×06, Ruth tells a different story back then.
I found it interesting that the deal Ruth and Robert made with Rumple was to give up on one their sons to save their lives when the story that Ruth told David in 1×06 The Shepherd was explicitly about the farm and there was no mention of the farm at all in this episode.  I've provided a sound clip from episode 1×06.

— DeAndre
This information about why they gave Rumple one of the babies was altered from the original. Ruth told David they did it to save their farm. That could have been a writer's mistake, but it could also be that Ruth was trying to spare David the burden of knowing that he was in some way responsible.

You also realize that Ruth knew or suspected a little of the truth; of King George's involvement.  I'm glad that they showed how James knew about his brother.  We found out last season that he was envious of David.  But we didn't know why he'd know about his true origins, since it was unlikely that George told him.  So now we know, how James found out.

— Meredith of Everett, WA
And while Rumplestiltskin was quite a storyteller, it was still a mistake having to give up one of the boys. Is this the incident that pushed him to be a drunkard? Even the bartender in the tavern told Robert that he should spent the coin on his family instead. King George also at the tavern reminds us a bit of Cora, belittling everyone in the room. But knowing this is what pushed Robert to fix his broken family by finding and rescuing James. Plus, David giving Robert the lucky coin was so cute!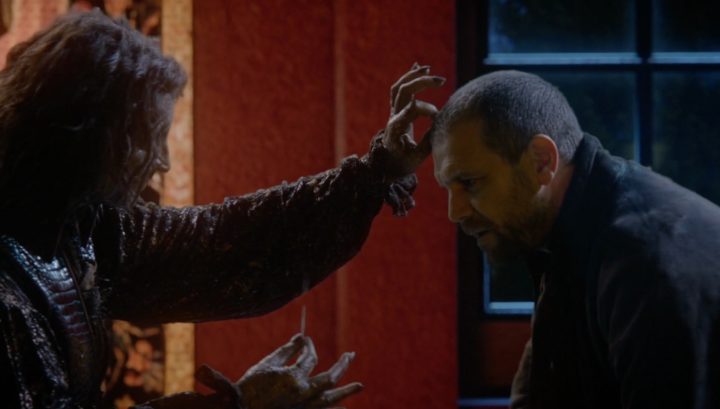 When Robert then goes to visit Rumple, it was a little confusing when he told him that Rumple owe him. Rumple paid him and gave him the gold, why does he still owe Robert then? At first, Rumple wasn't so keen about helping Robert until Robert told him that he'd do anything to see his boy and tell him he's sorry.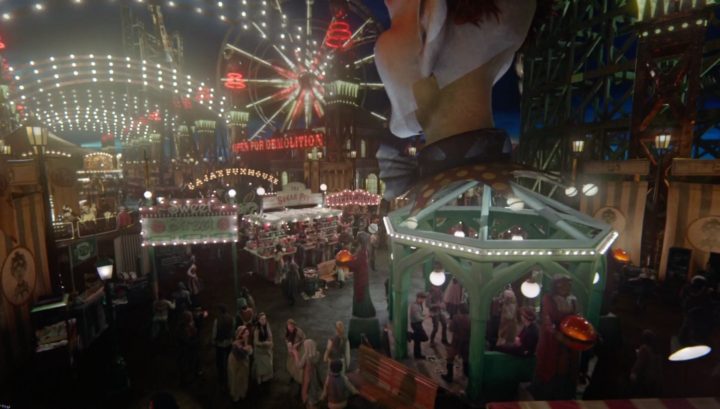 The Pleasure Island, the land built from temptation, had a demolished house of some sort, with James passed out with a chocolate in his hand. It is such a horrible dark place where children can get melted chocolate poured into their bare hands.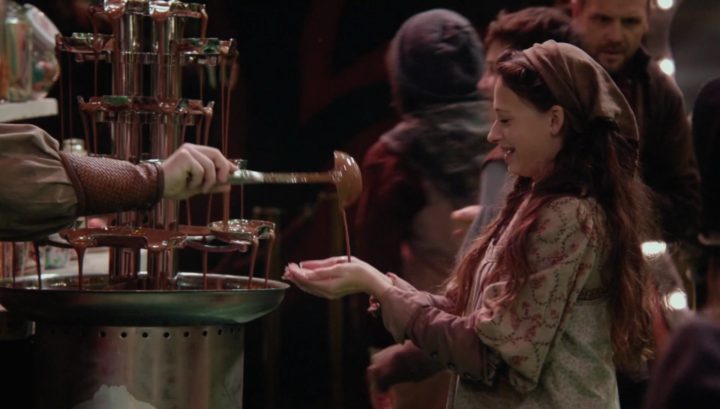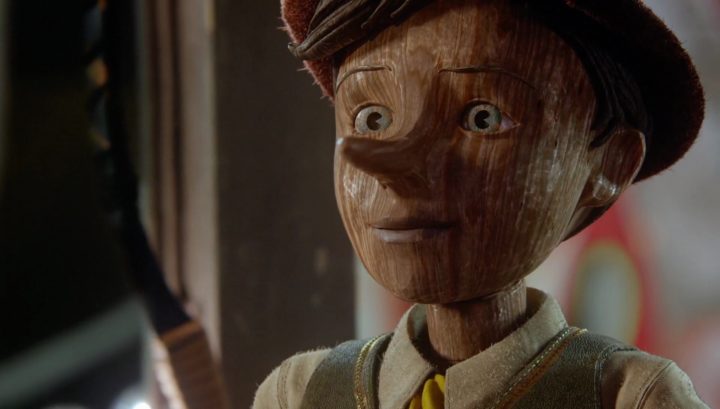 Listening to Jakob Davies voiced Pinocchio, has the perfect kid voice to play any Disney character. It was interesting that at the beginning when Robert first came into the Pleasure Island, there were younger, smaller kids around and as he goes deep into the Pleasure Island, the kids we started seeing were older, which also reminds us of the Lotus Eaters part of the Percy Jackson books/movies.
King George is very, very, VERY old and yet, he made a remark about Robert looking a lot older than he should.  I'm sure they probably didn't have the budget to hire an actor to play a younger version of King George, but you have to admit that exchange between he and Robert was rather hilarious.  I've provided that sound clip as well.

— DeAndre
The exchange between King George and Robert at the docks in the Pleasure Island was rather hilarious.
In the last scene of the past, with the reveal that it was Hook who actually ended up killing Robert and looking back on things, when Hook was in Neverland, there was a time when he served Peter Pan in some way. We've seen Hook back in the Enchanted Forest in and out of Neverland until he met with Cora. So seeing Hook at this time may not be a timeline problem because he might've already done serving Pan when this happened.
Storybrooke (Present)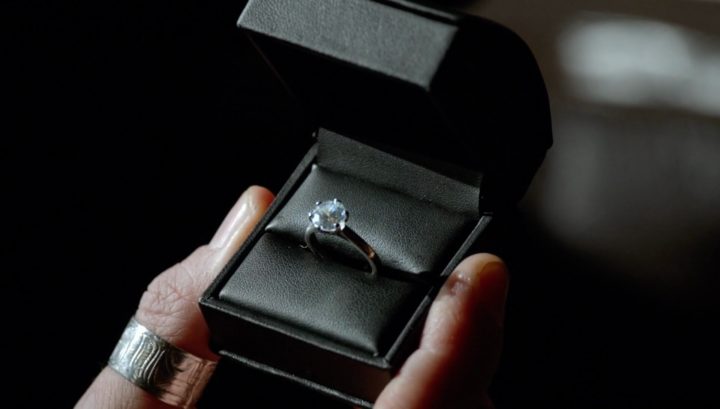 For once, they didn't celebrate after battle at Granny's! Although, it was funny that they didn't even have time to change clothes and clean up after the battle. But what started David's visions? Maybe something to do with the moon, or Venus in retrograde?
Maybe he's been in the underworld and has been using the phone booth.

— Emily Grace Lay
Down at Regina's with Wish Realm Robin and the screaming demon box, of course the alarm clock says 8:15. But Snow White came to visit and talked to Regina and made a good point that her Robin and this Robin are completely different. Planting this idea to viewers that this is not the same Robin is consistent. Snow also told Regina that she "deserves this." Is this actually what Regina deserves? To have a "picture" of Robin despite not being exactly the same man she fell in love with?
Meanwhile, Hook decides to take a trip to Archie, which is completely surprising for someone like him. It was nice that he was being honorable enough to put a ring on it, and that he need David's blessing before asking Emma's hands in marriage. Also, Hook buying a ring for Emma shows progress.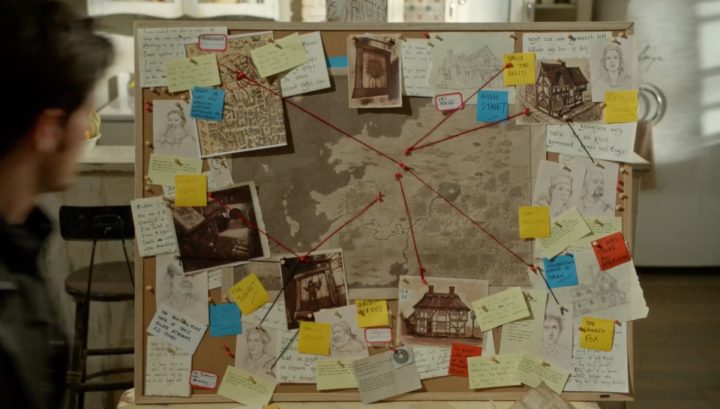 At the Charmings' loft when David is just waking up, he sees the vision again of Robert and said that he wanted truth? David then recruits Hook to help him and in his clue board, there were some interesting things written including seemingly irrelevant names, locations, or position details, a map of the Enchanted Forest, and something called "the tuffet."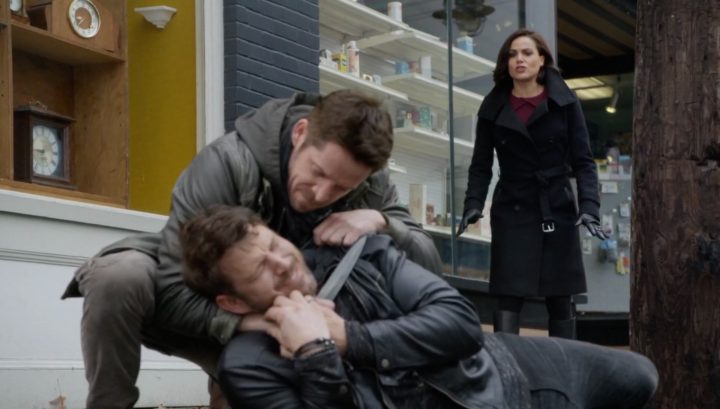 Back at Regina's, Zelena's concern are totally justified because the bay was not exactly this Robin's daughter. Are Regina and Zelena still not in good terms? And of course, the story on the opposite page in the book is "The Golden Bird." Robin then goes to hunt the Sheriff of Nottingham that, fortunately, Regina got in time before he can continue trying to kill him.
When David and Hook went to steal magic back at Emma's place, it was nice to see Hook really standing his ground and demonstrating his change while still trying to help David as best as he can. It was also clever thinking of Hook giving Emma an honest bait, which probably also got her emotions involved enough to hinder her superpower. However, why did David feel the need to hide his endeavors from Emma?
Why hasn't either Emma or Henry tried to break the sleeping curse on the Charmings? Maybe if they kissed them at the same time, it would work. But you know what I think I'd like better?  If Regina broke it on Snow.  I think she has finally grown to love her by now. Since the Evil Queen did it, it would seem fitting if Regina broke it.

— Meredith of Everett, WA
We now know that True Love's Kiss doesn't just mean romantic love, but also different kinds, so why couldn't Regina try to break the curse herself? After all, her and Snow's relationship have grown over the years.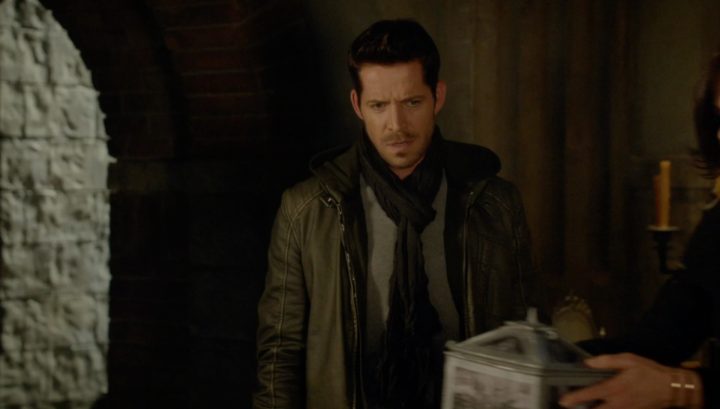 Down at the vault with Robin, and now knowing the end of the episode, you can see the power lust in Robin's face when Regina pulls away the one box. But why does Regina still have the hearts?
How can Regina truly call herself redeemed until she gives back all the hearts? I'm not suggesting that she's getting them out and forcing victims to do anything, but she shouldn't still have them at all. I think I know why she hasn't returned them though. Almost all of those people don't remember that she has them. She probably extracted each heart and told them to forget, just like she did to Belle. If she were to return them, she'd have to admit to having them and confess to making them do and say terrible things, that they think are their own doing. I suppose she could use her skeleton keys and go into peoples' homes in the evening and return them anonymously. But still.

— Meredith of Everett, WA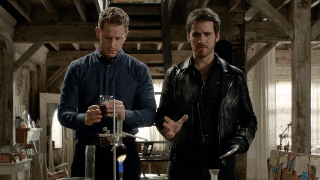 David and Hook's Hokey Pokey potion is fun to watch, as well as their bromance. It was also in this scene that Hook said that Pleasure Islands had dealings with Neverland. Is this where Peter Pan get potential lost boys who wanted to leave the place and take them to Neverland instead? When David and Hook went to August to ask him about the Pleasure Island, August pointed out that he took pages of his story out of Henry's book, as opposed to what we thought back then that he was adding stories to the book.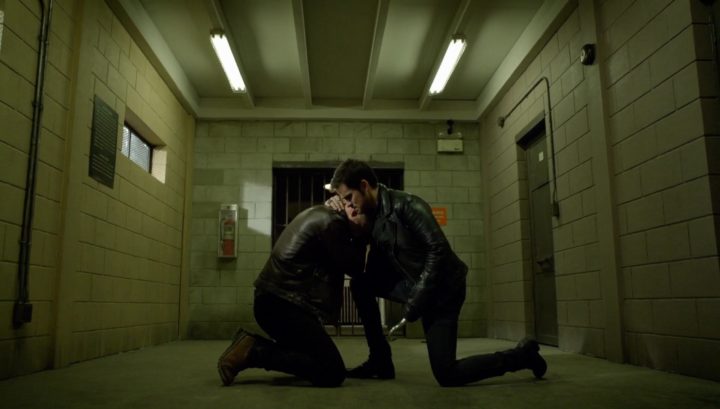 Nice knife-fight scene between David and Spencer at the hospital. They did a great job flinging themselves around. It seems that being King was not enough that he have to insult the peasant who furnished him with his kid and would rather kill him. Great writing on Jane Espenson's part when Hook jumps in to prevent David from killing Spencer. The way it was written and Josh Dallas saying the lines was commendable.
About the Charming court of justice. I'm getting a little sick of the selective justice system. Hook, Rumple and Regina have all tried to destroy the town and yet they walk around free. Will Scarlett broke into a library drunk and got to spend at least a few days in jail. King George did commit murder and framed Ruby, so yes he deserves jail, but not more than all these magical villains. If you have magic, apparently you can keep your pawn shop or even your heart collection. It's time for Emma and David to come up with a way to hold magical villains, without the use of the cuff.

— Meredith of Everett, WA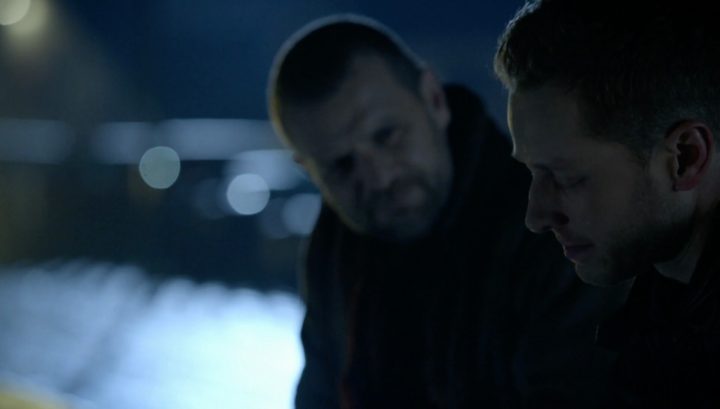 When David was down at the docks, his father last poofed away as if David's final unfinished business was to have David know the truth about how he actually died. Calling Hook's honorable actions "old-fashioned", however, was not cool.
old fashion should always be in fashion #CHIVALRY

— Ash23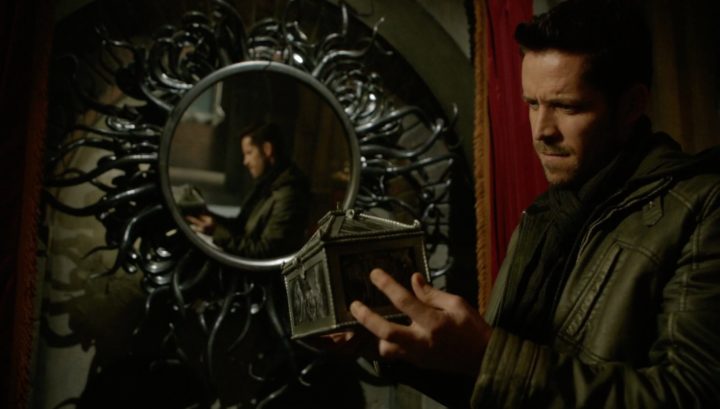 Great talk between Snow White and Regina back at the loft. This episode also emphasized so much that this is not the real Robin, which seems like they are going to sticking with this course. So who is this Robin?
Last week I speculated that the writers might be giving us a wolf in sheep's clothing with Robin. This appears to be the direction they are going. Robin, not the one we know, is interested in revenge and now dabbling in dark magic. I don't think the new Robin will be turning into the old one. The kiss did not restore his memories. In fairness, it was not true love's kiss because this Robin does not love Regina. Perhaps if he falls in love with Regina a future kiss will restore his memories, but I don't think so… I think Robin will have to go back to his world. He may even be trying to find his own way back. Perhaps he does not realize how difficult it is to travel between worlds because they found two ways out of the wish world in one day :$ Revenge seems like the most likely use for the stolen magic, but he might also be trying to do something for himself. This Robin steals from the rich to make himself rich. He might want what the other Robin had or he might just want tangible riches.

— Gareth
I love your show so much! I wish I found this sooner because I feel alone watching Once Upon a Time. I love the storylines and how complex and intertwined they can be, like Lost was.

Do we know what that item is that Regina says is very dangerous and dark? Could he be after his daughter, maybe, and we see a war between Zelena and WishRobin?

My theory is that something will happen that will cause WishRobin to disappear and be forced to go back to the Wish Realm (if it exists).

Do you think that somehow the evil queen will be broken from her curse of being a snake by wish Robin doing some dark magic and they both live happily ever after in wish realm (if it exists)?

— John-Gregory
I want to share a theory from my friend Sean about Robin. He says what if Robin is rumple from the wish realm under a glamour spell.

— Jessica Frey
I liked this episode a lot. There's definitely an improvement in the quality and I'm not at all surprised that Jane Espenson wrote it. First, let's talk about Robin. We've seen him steal magic before of course; for Rumple and from Rumple. But I don't think he was stealing for himself this time.  You remember how 3×17 "The Jolly Roger" seemed to have nothing to do with Zelena, and suddenly she was Ariel?  I think Robin is working for Gideon. I think that Gideon saw that Robin had access to Regina's vault.  She's probably got up numerous force fields to keep him out.  So what if Gideon has Robin's heart and is controlling him with it? He might not even remember, since most victims are told to forget. I'm not saying that is the case, but it could be. Next week, we'll probably have an answer to that question.

— Meredith of Everett, WA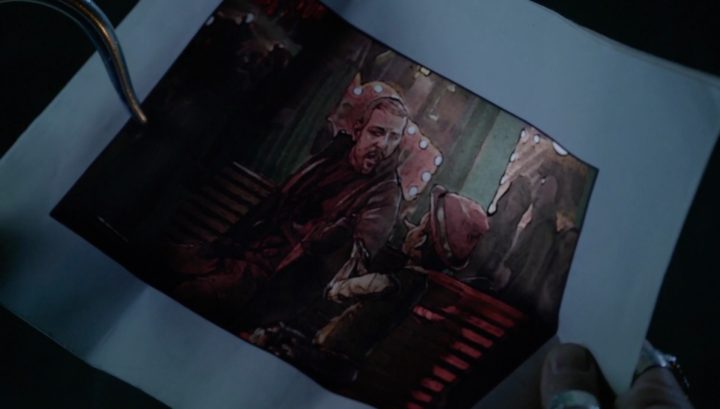 Finally, August delivering the pages to Hook and knowing the twist may seem pretty brutal, but it makes for an interesting conflict.
I personally feel that the twist toward the end with Killian being Robert's killer was ill-conceived, contrived and a little forced to execute unnecessary conflict and irony between Killian and David that will most likely be resolved later in the season and not give the proper character development this relationship and the family may need going forward.

— DeAndre
Will David forgive Hook and let it go? How will Emma take this when she finds out about it? Share your theories with us about anything we missed about this episode using the comment section below! Want to know more theories and spoilers about the upcoming episodes? Head over the forum then! Please also keep in mind that we will be doing a review of Beauty and the Beast this coming Friday (March 17) at 6:30 pm (EDT/GMT-4).
What did you think?
Help us out!
Follow us
Spoilers