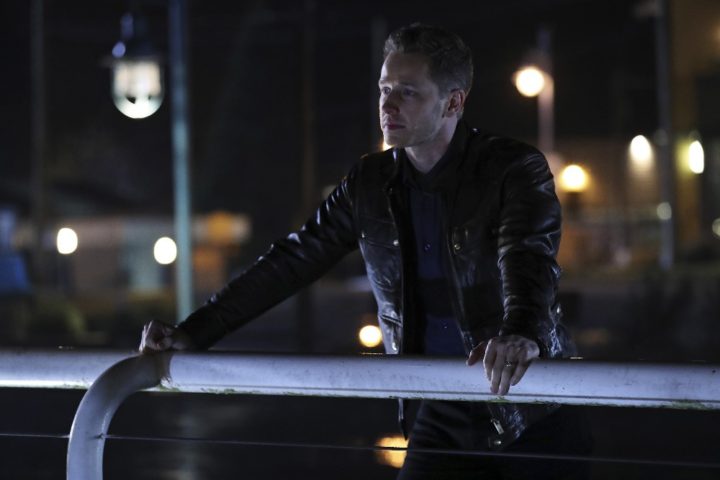 David, Hook and that lucky token, Robin's motive, and all the greatness that is this Once Upon a Time "Espensode"!
Podcast: Play in new window | Download | Embed
Before Hook takes the next step in his relationship with Emma, he wants to make sure David sees him as more than just a pirate. So when David asks Hook to help him uncover the truth about his father's death, Hook agrees. Meanwhile, Regina works to acclimate Robin to life in Storybrooke, but soon discovers he has a dark side that makes the task much more complicated than she anticipated.
These are our first thoughts about this Once Upon a Time episode. We'll share more about "Murder Most Foul" in our upcoming full discussion (usually live on Wednesdays at 7:00 p.m., USA Eastern Time).
Initial Reactions
Remember, these are only our initial reactions regarding tonight's episode so please bear with us if we're a bit all over the place. If you have your own thoughts, feedbacks, or theories regarding tonight's episode, however, send them over to us and join our upcoming full discussion!
We have just watched this fantastic episode, Murder Most Foul. Of course, this greatness was an "Espensode" as we call it, an episode written by Jane Espenson (with Jerome Schwartz). This episode was very true to the Once Upon a Time we knew back in the day. It followed a lot of the same principles and tied up one, if not a lot of, the storylines we wondered about, which is what happened to Spencer in Storybrooke. We even got little things loose ends tied up, some of which we've forgotten about or never really had quite the answer.
The other thing from season 1 that didn't make much sense back then was August adding things to Henry's story book when he stole the book. Back then, we thought he was adding his story into his story book. This episode gave a little bit of some more detail to that. August wasn't adding to it, he was rewriting it so it would sound and look better. This episode had a lot more that are really good, and leaves us with quite a hanger in the end.
From the beginning of this season, Regina was split and we have the Evil Queen giving David the token. The whole purpose of giving him the token was so he could discover the true story of his father's death and, from that, it would cause everyone to tear themselves apart. We thought that wouldn't actually happen because David seemed above that, even discovering that his father didn't die a drunkard, but was murdered sober. Where they're taking this now is amazingly clever. It was a great story, but ouch. It would've been okay before learning that Hook was actually the culprit of that crime, and it makes you question whether Hook was actually being genuine when he was talking David out of killing Spencer, or did he know that Spencer was innocent of that crime? Where did his motivations lie? Does August know now about Hook? Does Hook know that he was the one responsible for the  death of David's father? It seemed like he didn't realize until he saw the pictures in the pages that August gave him.
What's especially so painful about this revelation is that Hook and David had the awesome bonding moment, with Hook finally earning David's trust and respect, and getting his blessing to finally put a ring on it, and now, all of that is potentially going to be crushed. Hopefully, David can forgive Spencer and let him go, but it would also be nice to see more of angst-y Charming. It would be interesting to see what's going to happen with that. Will it affect Hook's relationship with Emma when she finds out?
We also liked that it's a new dynamic, something that's going to create new conflict. While it's not exactly happily ever after, it would make for a good storytelling and interesting see how they would resolve this. The Evil Queen might be enjoying this, seeing everyone rip themselves apart, like she always wanted.
Robin seems to be getting set up as the new villain, which is interesting. We loved the subtlety, which shows so much that this is an Espensode, like when Snow White told Regina about kissing James when he thought it was David, and then later Regina kissing Robin in the vault but later on realizing it was like kissing a photograph. It was both good writing and good acting.
Now, it seems like he's going to be a force to be reckoned with in the coming episodes, getting into magic and dark, scary stuff inside of Regina's vault. What is he planning to do besides getting revenge on the Sheriff of Nottingham? Does he have an ulterior motive going in to Storybrooke with Regina, or did he just figure it out after seeing the story book?
We really liked that the Robin Hood we know and love was not awoken when Regina and Robin kissed. Will they still fall in love despite Regina not feeling anything after the kiss? Story-wise, for following logic, we don't want to see it happen because of the way they've taken the story before and we don't want a beautiful death to be undermine again. Despite beautiful writings like this episode, sometimes they just do some things that hurt the beautiful writing. That being said, it's nice that they brought Zelena to cause conflict between the two, which could be part of what Wish Realm Robin is thinking. Will he steal the baby from Zelena? Where is baby Robin?
Excellent writing in the flashbacks, seeing conflict with Ruth and Robert giving up one of their sons. What we saw was a father transform by his love for his son, and his son's love for him. We even saw something in Rumplestiltskin. What was going with Rumple in the flashback? He plays it so well we didn't know if he was genuinely trying to help out Robert find young James or just setting him up for his demise.
When Rumple was asking for his hair, it was interesting because later on, he got a piece of Charming's hair. Was Rumplestiltskin simply wanting to reunite a fellow father with his own son? Maybe he felt a little bit remorse towards Robert because he can relate to that?
What did you think about this episode? Share your theories and other feedback by email or voicemail and join us unpack this episode with more details this coming Wednesday for our full-discussion of "Murder Most Foul."
[ndlmx_special]
What did you think?
Email Feedback@ONCEpodcast.com (audio files welcome)
Call (903) 231-2221
Comment on the shownotes
Visit any page on ONCEpodcast.com and click the "Send a voice message" link to record and send a message right from your computer.
Help us out!
Share this post in your social networks
Follow us
On Facebook:
On Twitter:  echo do_shortcode('[twitter follow="ONCEpodcast"]'); ?>
Daniel J. Lewis:  echo do_shortcode('[twitter follow="theDanielJLewis"]'); ?>
Jeremy Laughlin:  echo do_shortcode('[twitter follow="phlegon"]'); ?>
ErinJ:  echo do_shortcode('[twitter follow="erinjcruz"]'); ?>
Hunter Hathaway:  echo do_shortcode('[twitter follow="travelingpixie"]'); ?>
Jacquelyn / RumplesGirl:  echo do_shortcode('[twitter follow="punk_bunny_87"]'); ?>
echo do_shortcode('[ndlmx_shows]');