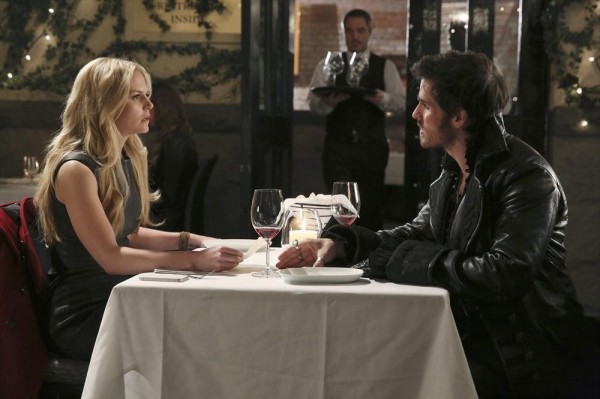 Podcast: Play in new window | Download | Embed
Emma and Henry's memory of the past has been wiped out while everyone else in Storybrooke was transported back to the Enchanted Forest. But how long will Emma and Henry's great life in New York lasts? Are the rest of the Fairytale characters going back to the way they were before the Evil Queen's curse hit or had someone else took over the Enchanted Forest while they were in Storybrooke? Listen to the podcast as we discuss our initial reactions of Once Upon a Time's Spring premier episode, New York City Serenade!
After Rumplestiltskin sacrificed his life to stop Pan from enacting another curse, Regina obliterated her original curse, which erased Storybrooke from existence and whisked its residents back to Fairy Tale Land – leaving Emma and Henry back in our world with no memories of Storybrooke. But all is not well back in the Enchanted Forest when Hook comes calling on Emma in New York City in an attempt to jog her memory so that she can once again help her fairy tale family and friends out of a desperate situation/
Remember, this is just our initial reactions so things are going to be a little bit out of place for now. We'll share more about "New York City Serenade" in our upcoming full discussion live on Wednesday March 12, 2014, at 8:00 p.m. (EDT/GMT-4).
Initial Reactions
Starting with, well, the end, we were all teased that the Wicked Witch is coming and it was really cool to see flying monkeys in the episode. It was also great how they make them fly. And just like the second season finale, we didn't get to know (and see) the Wicked Witch until the end of the episode.
Before we continue with the initial reviews, we have a bit of announcement. Jenny has bowed out of co-hosting but Erin, who also a co-host at Wonderland Podcast is joining us from now on. Jacquelyn and Hunter will join us as well from time to time.
It was great to see Emma's red leather jacket again! Although it would have been cool to see her get the book instead, it would have raised a lot of questions if that was the one she was going to get before they went back to Storybrooke. It was also funny that the potion Hook gave Emma is blue while Emma is wearing a red coat; kind of like a Matrix reference.
It was also great to see Jiminy Cricket back, despite not seeing Raphael Sbarge.
The entire scene in New York went in a whirl. It would have been nice to see more of Emma and Henry's life there, but we were transported back to Storybrooke as soon as the episode ended.
The half of the season seems more exciting. Now the roles were reversed, with everyone from the Enchanted Forest not having a memory of what happened to them in the past year. This could work well when they show us flashbacks moving forward. It would be great seeing them tell a new way of showing flashbacks, showing us two separate timelines, rather than a character-centric flashback.
Thank You for Supporting Us!
Steve Johnson (subscriber)
David Neuland (subscriber)
Lisa Slack (subscriber)
Michael & Ann Maitzen
Julia Portela (subscriber)
Laura Silva (subscriber)
DJ Firewolf (subscriber)
You can sponsor an episode or more of ONCE podcast, too! Email Daniel@ONCEpodcast.com if you would like to arrange a corporate sponsorship of our podcast for the upcoming third season.
Aurora and Philip are also back, but at to what degree? If the rest of the residents in Storybrooke was transported back from Enchanted Forest to Storybrooke, does that mean that Aurora and Philip were also in Storybrooke, Maine now?
As expected, Snow is now pregnant. With the newborn coming, is Emma going to get jealous of her new sibling?
A lot of people theorized that Walsh, Emma's boyfriend in New York, was going to be a flying monkey. Good guess! However, it seemed rather odd seeing him act so humanly, which didn't probably occur to many that he wasn't going to turn out to be one of the flying monkeys.
Rikraq in the chatroom pointed that Walsh had a scar on his neck, probably from Robin's arrow when he shot the flying monkey to rescue Snow and Regina. We'll verify this and have a screenshot for our upcoming full episode.
Now that Regina and Robin Hood has met, how would their story unfold? If Robin Hood also got shipped to Storybrooke and they were stripped off their memory, how can they be together if they were suppose to be soulmates? Can they still fall in love, just like Mary Margaret and David did, despite not having any memories of the last year?
Thank You for the iTunes Reviews!
Your reviews encourage us and help others find the podcast!
Please rate and especially write a review for us on Apple Podcasts.
What do you think about the Spring premier? Share your theories, comments and thoughts by sending us an email. All the details can be found below. You can also join our discussion in the forum or simply leave a comment in the comment section below. Also, don't forget to join us this coming Wednesday for our full discussion of this night's episode, New York City Serenade!
What did you think?
Email Feedback@ONCEpodcast.com (audio files welcome)
Call (903) 231-2221
Comment on the shownotes
Visit any page on ONCEpodcast.com and click the "Send a voice message" link to record and send a message right from your computer.
Help us out!
Share this post in your social networks
Follow us
On Facebook:
On Twitter:  echo do_shortcode('[twitter follow="ONCEpodcast"]'); ?>
Daniel J. Lewis:  echo do_shortcode('[twitter follow="theDanielJLewis"]'); ?>
Jeremy Laughlin:  echo do_shortcode('[twitter follow="phlegon"]'); ?>
ErinJ:  echo do_shortcode('[twitter follow="erinjcruz"]'); ?>
Hunter Hathaway:  echo do_shortcode('[twitter follow="travelingpixie"]'); ?>
Jacquelyn / RumplesGirl:  echo do_shortcode('[twitter follow="punk_bunny_87"]'); ?>