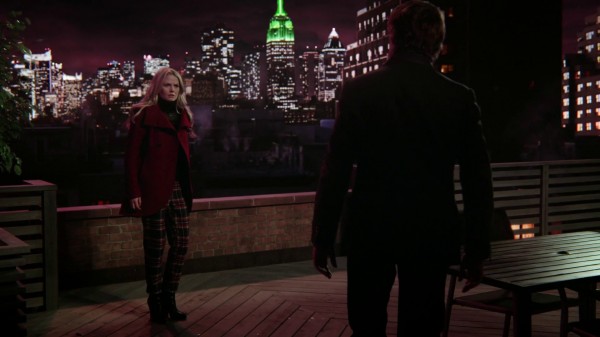 Podcast: Play in new window | Download | Embed
As Emma and Henry's new life in New York continues, their family and the rest of the residents of Storybrooke went back to the Enchanted Forest, only to find that someone else has taken over their kingdom. Can Hook convince Emma of who she really is and what she's destined to do? Join us in an in-depth discussion of the Spring premier, New York City Serenade!
This episode is sponsored by Audible. Get a free audiobook to keep and a free 30-day trial.
Starting this episode, Erin, who is also one of the hosts in WONDERLAND Podcast, joins us as a regular co-host. Hunter and Jacqueline also joins us in a while from hereon out.
This episode had a lot of similarities with the past episodes. When Hook was being taken away by the police, he told Emma that her family needs her, same thing Henry told her in the episode, "An Apple Red As Blood." Also, the song that they played when Emma walked in the restaurant was the same song they played during the Pilot episode. Everyone was also wearing the same clothes that they wore when the curse hit. Even Emma entering her apartment is very similar to the pilot. Check out the other Pilot callbacks that everyone in the forum has spotted.
Enchanted Forest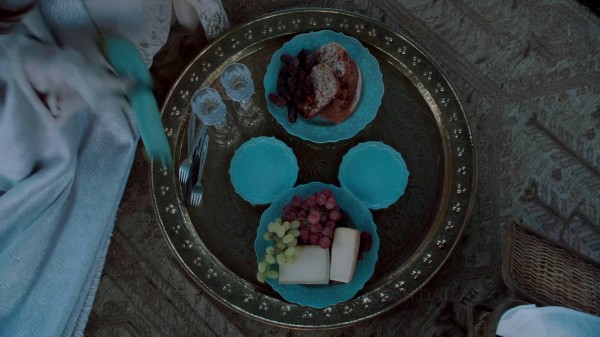 Has anyone spotted the Hidden Mickey in Aurora's plates? It was seen the gazebo as Philip rushes to his wife. Ruby was also spotted when they came back, whereas Tinkerbell was not seen when she was actually with them and Ruby wasn't in the episode, Going Home. It was also a bit hard to tell how much Aurora is showing her baby bump, although it must be just a few months since we last saw her.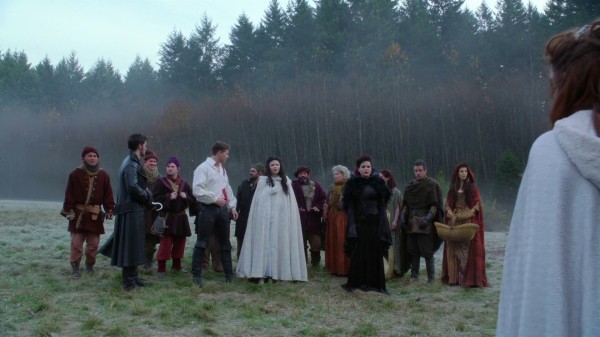 Aurora and Philip told Snow and the rest that the Ogres have been defeated. Who actually defeat the Ogres? Did the Wicked Witch help defeat them or did she take them out herself? Is that how she come to power? Why is Aurora and Philip so afraid of the Wicked Witch? Did the Wicked Witch made a deal with them in order to save their child?
It was a bit disappointing that Aurora didn't want to tell Snow and the others about the Wicked Witch invading their castle. Although it might be true that Snow and the others really can take care of themselves, Emma and Snow saved her life so the least thing she can do is inform them of the invasion.
Jiminy Cricket told Grumpy that 50 more people arrived, assuming everyone else came, too and just all over the place. Did that mean that they came back with the people they were with when the curse hit?
What is Neal hoping to find at Rumple's castle? Had Rumple foreseen what's to come and left something in his castle that could probably help Neal bring him back or find him at least? Now that they are back in the Enchanted Forest, are they also going back to their previous personalities?
I don't remember if this was already theorized, but I am thinking that if Belle and Neal are able to bring back Rumplestiltskin, it could be the same way that Aurora and Mulan resurrected Phillip. Considering that we still don't know how that event unfolded, this may be the way it will be explained to the viewers. — ILoveNeimanMarcus
Can they bring Rumpelstiltskin the same way Mulan and Aurora brought Philip back? Regina escaped the pact a while to rip her own heart and bury it in the ground. It was nice of Snow to tell Regina that she can understand what she feels, as she experienced it herself, twice.
One thing really bugged me about this episode.  In the scene where Snow caught Regina burying her heart, she tells Regina that the pain gets better and happiness eventually takes its place.  How does she know that?  She was cursed 5 minutes after giving up Emma the first time, and then it was about a whole 8 hours after the curse that sent them back to Enchanted Forrest that she was dishing out that advise!  When did she have time to learn this little piece of wisdom?  Once she remembered who Emma was, she was already with her again. Unless she was talking about losing her mom and dad, but then Regina has experience losing both Daniel and HER mother. I appreciate what the scene was trying to (and did) convey, but there are so many problems/inconsistencies with the content of that conversation that it took me out of the scene. — Sarah
Do flying monkeys have eyes on their heart? It was a good thing Regina put her heart back. If the flying monkey somehow have gotten it, who knows what the Wicked Witch would do with it?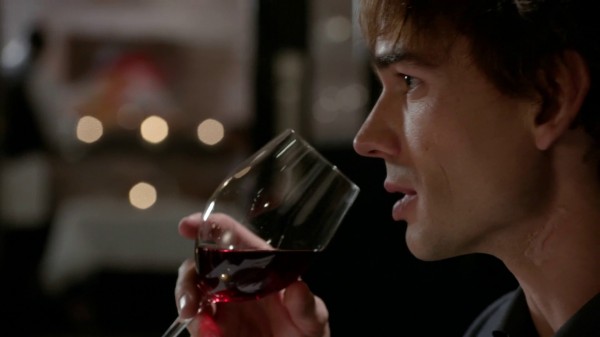 Speaking of flying monkey, it seemed definite that the flying monkey that attacked Snow and Regina was Walsh. His arrow-shaped scar can be clearly seen when he was talking with Emma during the opening.
Regina has finally met Robin Hood, although she's not probably impressed with him being a thief. We also saw Little John, but where is Mulan? Why is she not with them? We finally got a confirmation that it wasn't Robin Hood who taught Snow how to shoot arrows, only that they were next to each other in the posters. However, why does Robin seem excited to see Belle? Perhaps because Belle was there when the Dark One spared his life?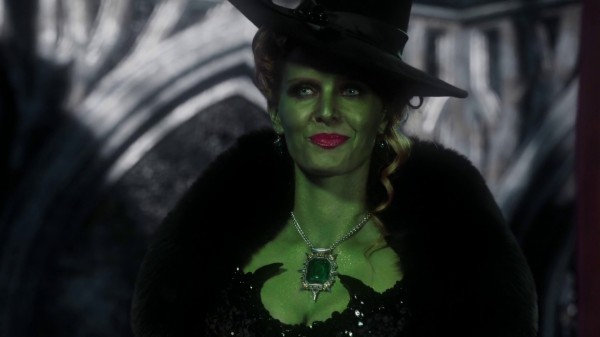 Could the Wicked Witch be Cora's daughter as well? Why else would the Wicked Witch exact revenge on Regina? What did she do with the Wicked Witch that enrage her that much? For anyone who thought that the green lady looked familiar, Rebecca Mader was actually from another show, Lost.
I am almost certain now that the Black Fairy is the Green Lady. I imagine that her wand would have been returned with everyone and everything else. It can move souls between bodies, so perhaps it can turn people into flying monkeys or vice versa. I think the world the Black Fairy was exiled to was probably Oz (or perhaps that is a world she ended up in while trying to return to the Enchanted Forest). — Gareth
Could the Wicked Witch be the Black Fairy? We haven't seen her with a wand yet, but a green necklace can be seen in her neck. Is that where she gets her powers from? Did she go to Storybrooke as well when everyone came back with the new curse? If she is, is she greenified in Storybrooke or not?
Thank You for the iTunes Reviews!
Your reviews encourage us and help others find the podcast! Please rate and especially write a review for us on Apple Podcasts.
Our World
The opening in this episode felt a lot like the Pilot episode. What with the same background music, Emma in a dress. But unlike the Pilot, Emma seemed happier now. Emma also explained that her apartment in Boston was destroyed by a fire, which explains the lack of stuff and actual home.
The forum community came up with a thread of jokes related to Emma dating a monkey, some of which are:
He tried to peel and eat her yellow car
His favorite game is "Monkey in the Middle"
He looks so sad when they're at the zoo in the primate section
He prefers tuxedos (aka monkey suits)
They ordered banana splits, but he asked for just the banana
He keeps talking about his curious friend George
His favorite band was the Monkees
He keeps asking if Henry wants to go to the park so they can play on the monkey bars
The only family he mentions is an uncle
His favorite Disney character is King Louie, and his cell phone ring is a clip of "I want to be like you"
Have you got any? Share them out in the Season Jokes (Monkey Business) topic in the forum!
If Emma can tell when someone is lying, how come she didn't feel anything about Walsh's lies? Did it not work on flying monkeys?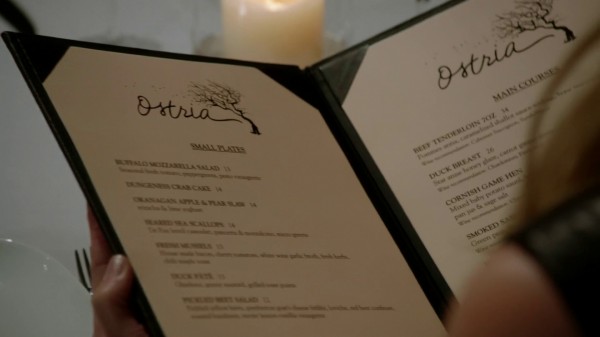 The restaurant that they went into was called Ostria. Could it be a hint because Walsh was from Oz (Oztria)? Moreover, Walsh also means 'foreigner.'
Walsh was likely named after the actor Pat Walshe, who played Nikko, the head of the flying monkeys in the film The Wizard of Oz. The name could also be a reference to the musician Steve Walsh, who was the lead singer for the band Kansas. — Matt
Is Walsh really one of the Wicked Witch's flying monkey and was just sent to spy on the Savior? Or is the Walsh-as-flying-monkey a different man than the one who owns a furniture shop?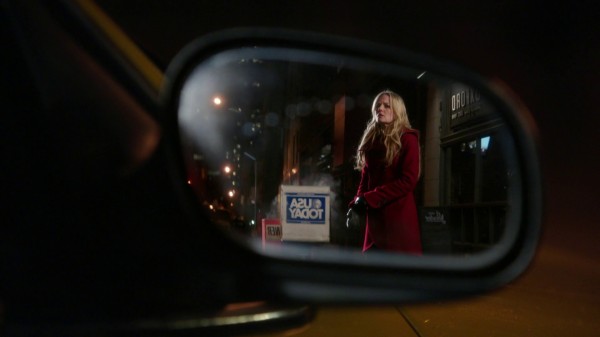 As Emma and Walsh walked out of the restaurant, there was a shot of them in a rearview mirror. Is someone watching them? August, perhaps? Or probably Hook?
When Regina gave Emma and Henry a new memory, it seemed that the original Neal story stands. Henry and Emma also seemed to have a very good relationship; Henry even gave her some great advice the day after they played Diablo, saying, "Sometimes it's okay to accept things that are good."
Emma visited Neal's apartment, which was located at 89 Wooster Street, New York, NY 10012. Inside the apartment, the dream catcher that was used before was now broken. She also found Henry's camera inside. Was Henry carrying a camera when they went to New York?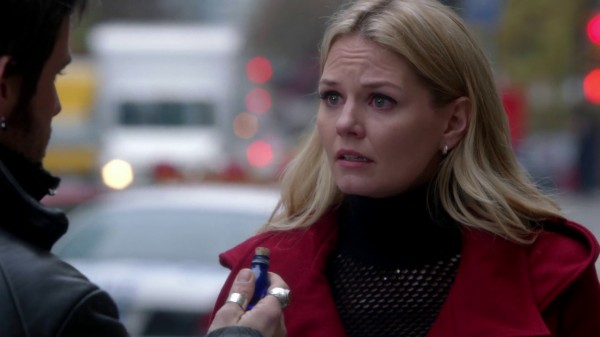 Is Emma wearing a red jacket and the blue potion some sort of a nod to Matrix? According to Wikipedia, the red pill and its opposite, the blue pill, are pop culture symbols representing the choice between embracing the sometimes painful truth of reality (red pill) and the blissful ignorance of illusion (blue pill).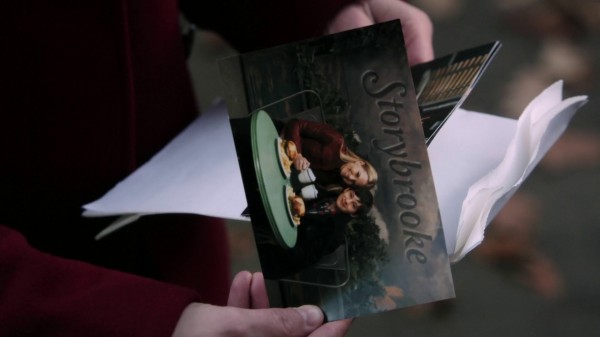 The picture that Emma have developed was of her giving Henry bunny ears in Granny's Diner. What else did the camera roll contained, though?
Slurpeez108 from the forum pointed that Hook said that he was in the Enchanted Forest until he received the message of a new curse, that Emma is their only hope. How did Hook get to New York? Who sent him the message? If Aurora and Philip was in the know of the Wicked Witch's plans, could they have tipped him off just before the new curse hit so he can go after Emma to restore her memories? Is it possible that one of her fairy godmothers helped out? Glinda? Or did Rumple sent the message himself? He also said that he could only get enough potion for one, with no hint of Rumpelstiltskin. However, it was a bit surprising and immediate how fast Emma got her memories back, when probably everyone was expecting it to drag on for a few more episodes.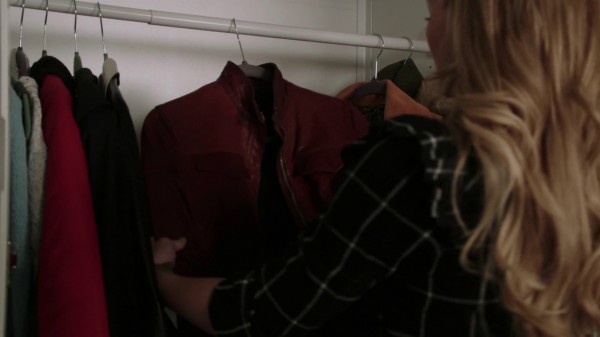 In Emma's apartment, there was a book in her bookshelf that says, "The End." It was also cool to see that she still has her red leather jacket tucked in her closet, which she grabbed just before they drive back to Storybrooke.
Thank You for Supporting Us!
Steve Johnson (subscriber)
David Neuland (subscriber)
Lisa Slack (subscriber)
Julia Portela (subscriber)
You can sponsor an episode or more of ONCE podcast, too! Email Daniel@ONCEpodcast.com if you would like to arrange a corporate sponsorship of our podcast for the upcoming third season.
Storybrooke
Back in Storybrooke, Hook said "We don't know what it did." Who is he pertaining to? The person who sent him the message? David also told Emma that all they remember is saying goodbye to her and Henry. If the last thing they remember is saying goodbye and the past year has been erased from their memories, does that mean that time was frozen in Storybrooke again? Would Snow and Regina remember that they made amends?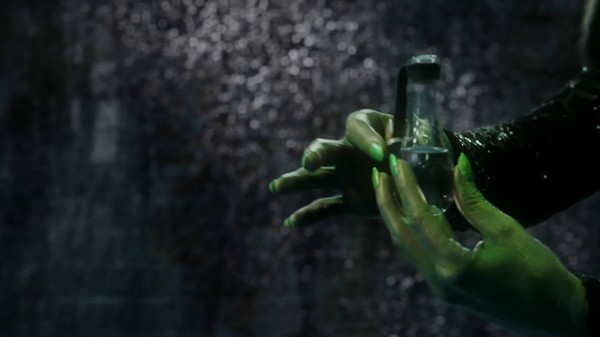 Did Regina's blood helped the Wicked Witch to re-enact the dark curse, causing them to be sent back to Storybrooke? Did everyone in the Enchanted Forest made it to Storybrooke? How did she become green? In the Oz Great and Powerful, Theodora was tricked by her sister, Evanora to believe that Oscar (the Wizard) has been courting the three witches, giving her a green apple that will apparently take all her pain away. Instead, Theodora turned green, thus becoming the Wicked Witch of the West. In the book (by Gregory McGuire) entitled Wicked, the witch's mother believed that the green skin was a punishment for her infidelity to her husband, whereas in the musical Wicked, which was based on McGuire's novel, the girl's mother had an affair with the Wizard. The Wizard offered the mother to drink in a green elixir, impregnating her, causing the baby to be born with a green skin.
If everyone was transported back to Storybrooke, what would happen now if they try to leave? What would crossing the green lady cost? Will they turn into flying monkeys as a sort of punishment for going against the Wicked Witch? Is there magic in Storybrooke or will it be a land without magic, just like in Regina's curse?
Another LOST reference for LOST fans: Level 23 and Mrs. Cuse was watching Henry (Carlton Cuse was one of the head writers and show runners of LOST) when Emma and Henry playing Diablo.
Can Regina and the green lady be actually half-sisters, who Cora had before the episode The Miller's Daughter? Perhaps she got angry knowing that Regina got all the glory, whereas she was left abandoned by their mother? Let us know your thoughts and theories using the comment section below, sending us an email, or joining us in the forum!
What did you think?
Email Feedback@ONCEpodcast.com (audio files welcome)
Call (903) 231-2221
Comment on the shownotes
Visit any page on ONCEpodcast.com and click the "Send a voice message" link to record and send a message right from your computer.
Help us out!
Share this post in your social networks
Follow us
On Facebook:
On Twitter:  echo do_shortcode('[twitter follow="ONCEpodcast"]'); ?>
Daniel J. Lewis:  echo do_shortcode('[twitter follow="theDanielJLewis"]'); ?>
Jeremy Laughlin:  echo do_shortcode('[twitter follow="phlegon"]'); ?>
ErinJ:  echo do_shortcode('[twitter follow="erinjcruz"]'); ?>
Hunter Hathaway:  echo do_shortcode('[twitter follow="travelingpixie"]'); ?>
Jacquelyn / RumplesGirl:  echo do_shortcode('[twitter follow="punk_bunny_87"]'); ?>
Spoilers
3×18 is written by Jane Espenson and Daniel T. Thomsen
Looks like Emma and Regina are going to team up AGAIN!
All of the dwarves will be back in the next episode, as well.
Hopefully, we're going to learn about what happen to Rumple in 3×14.
There is going to be a big confrontation, probably in 3×14 The Tower.
In 3×13, Zelena will be in Storybrooke as a midwife. She will be seen holding Snow's belly.
Looks like it was Little John who was taken by a flying monkey.
Wicked Witch will have a wicked magic, flying on a broomstick.
We will see some broom-flying and Regina pricking her finger.
There's a "deep-rooted issues" between Regina and Zelena, according to Lana Parrilla.
Regina must be ignorant (for now) about their possible blood relation.
Ariel and Eric will be in 3×17 "The Jolly Roger"
We MIGHT lose Ariel and Tink in the future as both have been picked as lead characters in other shows.
3×20 is entitled "Kansas", probably an Oz-related episode.
Colin O'Donoghue and Jennifer Morrison said in an interview that the story might take a while to unfold but will be creepy.