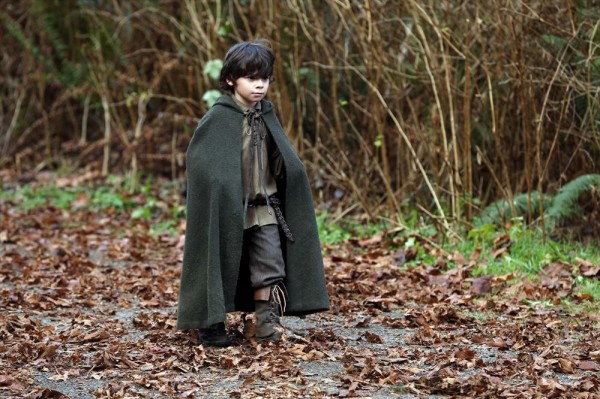 Podcast: Play in new window | Download | Embed
The search is on for the one who cast the new curse on Storybrooke but how long will it take 'til they figure it out? Now that Regina and Robin Hood have met, will she let her guard down and welcome Robin in her life, or will she remain cold-hearted as ever?
Emma arrives in Storybrooke with Henry and reunites with her friends and family, only to discover that no one remembers how they were transported back – or the past year they had spent back in Fairy Tale Land. But Emma is sure that someone in town is responsible for this new curse and teams up with Regina in an attempt to uncover their identity. Meanwhile, in the Fairy Tale Land that was during the past year, Regina, with the aid of Robin Hood, attempts to break into her castle, which has been overtaken by the Wicked Witch.
These are just our first thoughts about this Once Upon a Time episode. We'll share more about "Witch Hunt" in our upcoming full discussion live on Wednesday, March 19, at 8:00 p.m. (EDT/GMT-4).
[adrotate banner="1″]
Initial Reactions
Some stuff won't quite make it as this is just an initial review so please bear with us for now.
The whole courtroom thing was a very clever nose-dive, props for the writers of the episode. It was great how they pulled out the idea of Regina and Emma working together to find out who cast the new curse. However, it was sad that the people was too quick to pin-point everything on Regina. It was disappointing that none of them see how Regina protected them the last time, as well as everything she has done the past year. Seems like for the townspeople in Storybrooke, Regina will always be the Evil Queen.
Great job on those who theorized on people crossing the town line will be turned into a flying monkey!
It was also great to see familiar faces like Ruby. Will they make the actress, Meghan Ory, a season regular again? Archie Hopper, Dr. Whale were back too, as well as Roland, Robin Hood's son.
Thank You for Supporting Us!
Steve Johnson (subscriber)
David Neuland (subscriber)
Lisa Slack (subscriber)
You can sponsor an episode or more of ONCE podcast, too! Email Daniel@ONCEpodcast.com if you would like to arrange a corporate sponsorship of our podcast for the upcoming third season.
Was it Walsh who was turned into a teddy bear?
This episode made a big deal about blood magic. Regina even often brought up that only blood magic can end the curse. Does this whole thing about them being half-sisters false if the Wicked Witch needed Regina's blood to fulfill her plan? Even if it's not false, why did she need Regina's blood, then?
Rumple is back and is being held prison by Zelena, the Wicked Witch. Judging by how he acted, it seemed that he wasn't Mr. Gold but back as Rumple. The question now is how did Zelena brought him back and from where? If Zelena is Cora's daughter, is Rumple her father?
Why is Zelena holding Rumple captive? If he was her father, does she simply wants her father's love?
Can anyone who was turned into flying monkey be turned back to being human? Where is Neal?
It was revealed that a bird sent Hook the message about the new curse and to go get Emma in New York. Who sent it? Rumple? The Blue Fairy?
Thank You for the iTunes Reviews!
ItsAdrienne
Mind-Healer21
Your reviews encourage us and help others find the podcast!
Please rate and especially write a review for us on Apple Podcasts.
Why was the doorway to the crypt open? Did it open when Zelena was able to break through Regina's curse? Why else would Zelena want the blood if they really are half-sisters? Unless she needed her blood to make the new curse, what motive does she have for taking Regina's blood?
Why does Zelena want to help Snow and her baby?
How come Zelena and Regina didn't know about each other all these time? Her house in Storybrooke, however, looked a lot like a Kansas home. Perhaps a tornado is about to happen in Storybrooke, soon? Seems like Zelena has got a lot of hate towards Regina.
What are your thoughts about tonight's episode? Hash out your ideas by sending us an email or filling in the comment section below. You can also share your theories with fellow ONCErs over the forum, and don't forget to join us this Wednesday for our full discussion of Witch Hunt.
What did you think?
Email Feedback@ONCEpodcast.com (audio files welcome)
Call (903) 231-2221
Comment on the shownotes
Visit any page on ONCEpodcast.com and click the "Send a voice message" link to record and send a message right from your computer.
Help us out!
Share this post in your social networks
Follow us
On Facebook:
On Twitter:  echo do_shortcode('[twitter follow="ONCEpodcast"]'); ?>
Daniel J. Lewis:  echo do_shortcode('[twitter follow="theDanielJLewis"]'); ?>
Jeremy Laughlin:  echo do_shortcode('[twitter follow="phlegon"]'); ?>
ErinJ:  echo do_shortcode('[twitter follow="erinjcruz"]'); ?>
Hunter Hathaway:  echo do_shortcode('[twitter follow="travelingpixie"]'); ?>
Jacquelyn / RumplesGirl:  echo do_shortcode('[twitter follow="punk_bunny_87"]'); ?>