Podcast: Play in new window | Download | Embed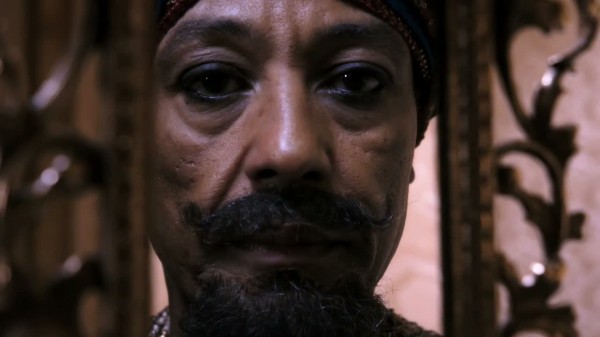 There's more story to the man who writes the stories, Emma fails at trying to fight evil, and the stranger steals stories.
Fairytale Land
We were all surprised to see Sidney as originally being the Genie.
King Leopold found the lamp, but he's probably not Aladdin.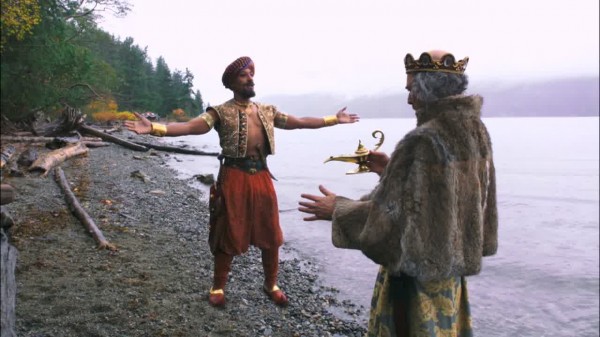 So much for our Mr. K theory! He was listed to be in this episode, but his scene was probably cut.
1,001 wishes? This could've been an actual number (999 plus the two wishes the Genie had just granted), but he also said that he had seen 1,001 bad choices.
The lamp has three green gems that turn red when the wishes have been used.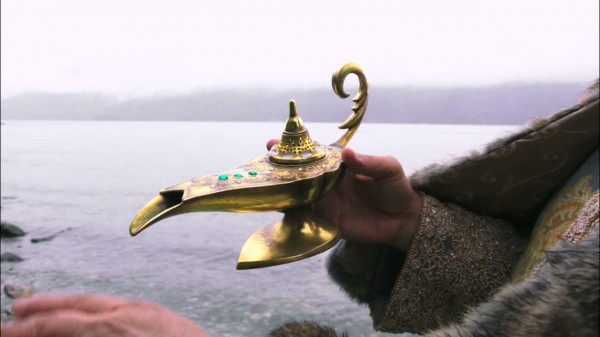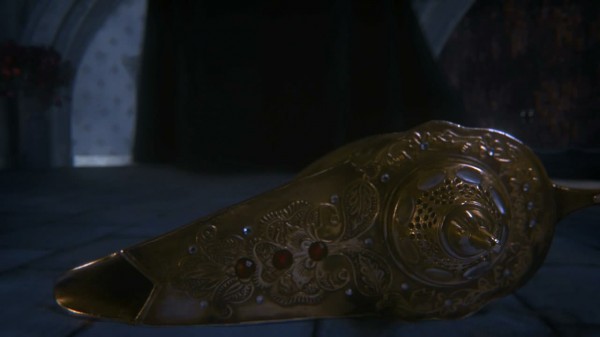 Is the lamp the actual power force? "I've been Genie of the Lamp …"
The Genie's limitations of the three wishes and of magic reminded us of Disney's Aladdin.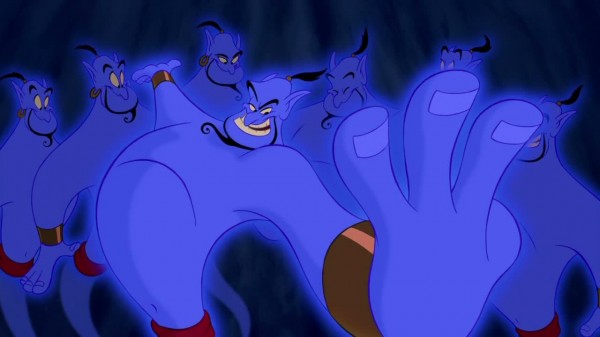 King Leopold was a happy man and had nothing he wished for. But he was also a good king.
The Genie wanted freedom and then love. King Leopold said he'd find it at the palace. Maybe the King had Snow White in mind?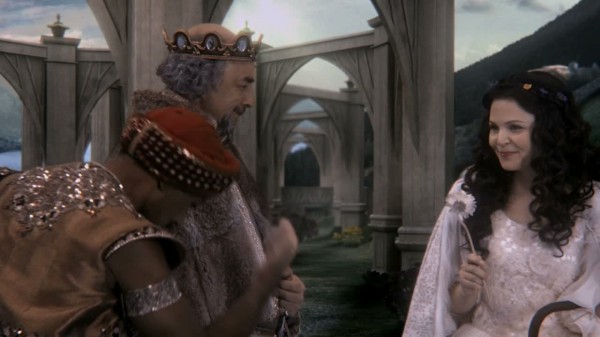 Queen Regina kept her name—understandable because she enacted the curse on others but not herself. She was deceptively nice in this episode. Thanks, Marisa, for sending this photo before the episode!
The Genie had strange golden tattoos on his wrists.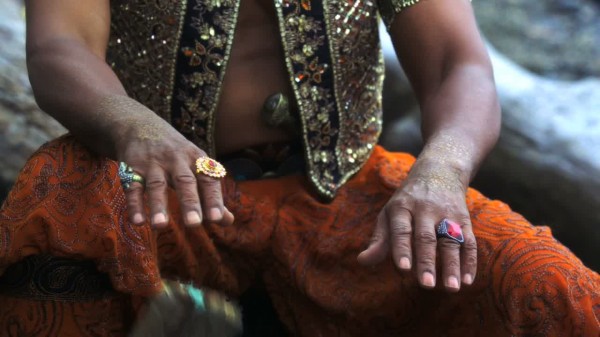 Regina's apple tree that she's tended to since her childhood and a different land. Notice that we've never seen someone eat one of these apples? Unless Snow had one of these apples in "The Heart Is a Lonely Hunter."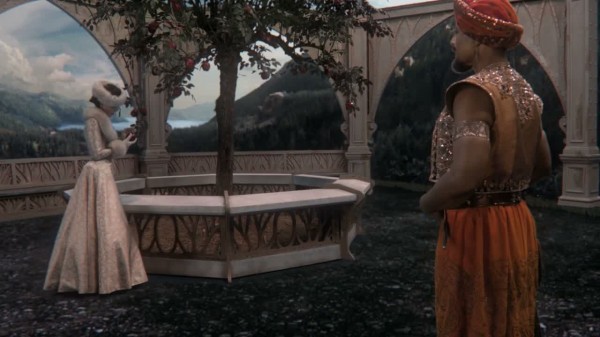 Who was King Leopold's first wife? Jasmine? Rumpelstiltskin's divorced wife? He said, "Love makes people do foolish things." Was this his regret over marrying Regina?
We all thought we would see what Snow White took from Queen Regina. But was it really just the title of "fairest of them all"? Snow did say in the Pilot that the Evil Queen had tried to kill her just because she was prettier. But Evil Queen had also said that she had told Snow White a secret that she couldn't keep. Could that secret be the queen's diary?
Regina's father was supportive of her evil.
The two-headed Agrabah viper was a nice touch.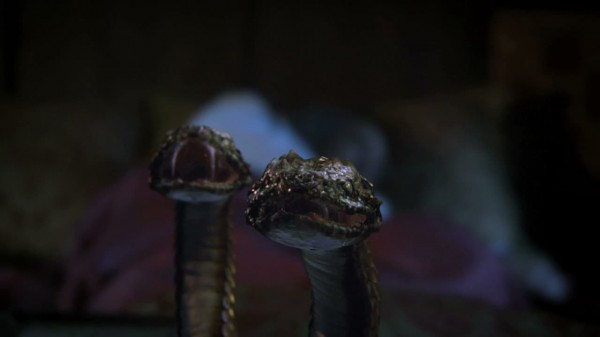 Did you notice the "lions" (actually dragons) in the floor of King Leopold's bedroom?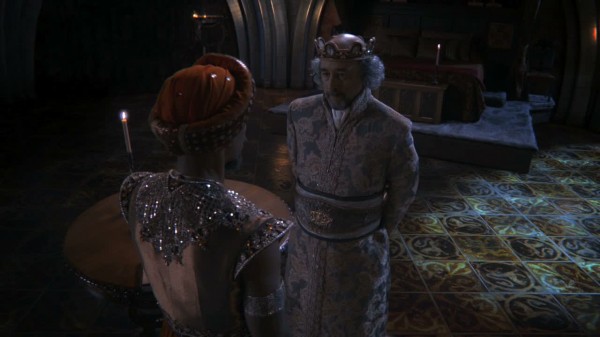 Queen Regina tells the Genie he has no more value to her, which is similar to what she said to Sidney in "The Thing You Love Most."
The granting of Genie's last wish reminds us how full Queen Regina is of herself.
Looking back to "The Thing You Love Most," the Magic Mirror reminded the Evil Queen about her trading the curse for a poisoned apple. So that trade must be yet to happen!
Storybrooke
Emma mentioned getting Marco (Geppetto) to repair the wooden playset. Marco is a handyman around Storybrooke, which is a carryover from his craftsmanship in Fairytale Land.
Mayor Regina "destroys what people loves," including Henry's castle.
Mary Margaret's phone is dated, but would have been a normal phone around 2007.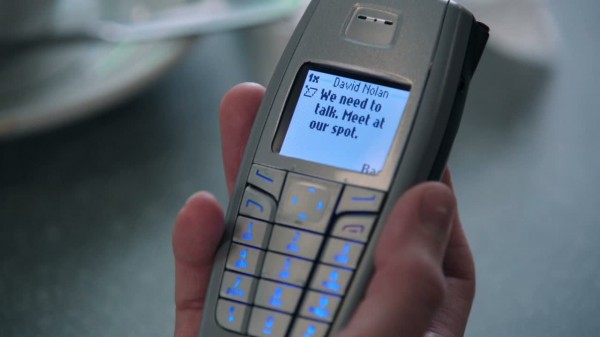 Regina's license plate is "40F5TH." Perhaps "4 of 5" or "forty-fifth." Maybe this is her fourth attempt to make Storybrooke and she was limited to five. Or maybe Storybrooke resets when things get out of hand, and this is the fourth reset out of five.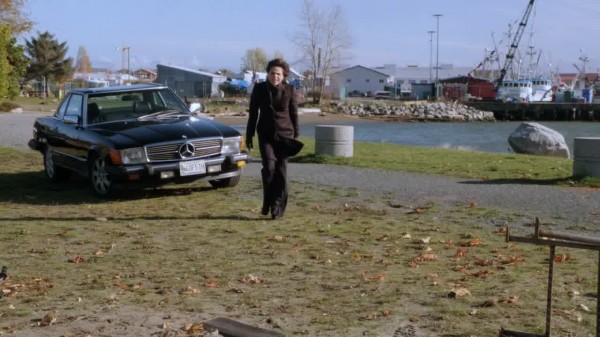 Sidney was way out of character, but that made sense at the end.
Did Emma use her superpower and see that Sidney was really lying? Or was she blinded by emotion and protective love for Henry?
Sidney still had access to his office, even though he claims he was fired from the paper.
Twice, Sidney spoke of wishes ("I can grant your wish" and "This is what you wished"), and Mr. Gold had once ("One can wish").
Did Mr. Gold know that Emma was being played? Was this a grin or a grimace?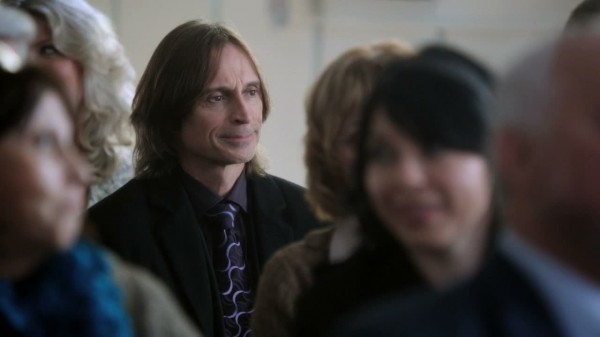 What do the skeleton keys go to? We know one went to the viper's box.
Might the Queen have removed her own heart?
David's wine bottle looks like it says "2006."
All of this evidence of Storybrooke being in 2007 lends support to an awesome idea that we'll soon jump a year and a future season will fill in the blanks.
Emma is amazing with instantly finding exactly the files she needs (on a Linux computer, too!)
Mr. Gold is legally "Mr. Gold" on paper! Look carefully at the cut-off letters.
What's with the Stranger's bracelet?
Also check out his necklaces: an ornate cross and a talon or tooth.
Mary Margaret still struggles with what's "right." But remember that David and Mary Margaret are really married.
Regina's new playground is just like her castle.
Note that dimensions (at least 4'0″) are visible on the plans.
That's a Marantz PMD 220 that Sidney uses to record the mayor's conversations.
Regina has "Magister" chiseled above her office door.
a title of the Middle Ages, given to a person in authority, or to one having a license from a university to teach philosophy and the liberal arts. [dictionary.com]
Henry and Emma start using the radios that Mr. Gold gave them. These will probably be used again later.
More crows in the background while Regina is talking outside.
The background white sculpture in King Leopold's room is similar in style to the sculptures Regina has in her mayor's office.
Sidney's awkward, intoxicated look (just after the creepy hand on the knee). Maybe Sidney is Regina's new pet?
In a sense, Regina still uses the Mirror to spy on people—except this time, it's Sidney Glass from the Storybrooke Daily Mirror.
Could the Stranger be a future Henry, coming back for the storybook? Maybe there was some kind of time loop that caused him to be the seven-year-old boy who found Emma. This could make sense why Regina has previously said, "There's something familiar about him." He knew were to get the book, too. Maybe he was trying to rescue the book from Regina's later control.
Or maybe the Stranger is Pinocchio who was sent as a test by Gepetto. He's never told a lie and seems to go out of his way to avoid telling a lie.
Why does the Stranger want Henry's book? Maybe he's a fanatic and finally has evidence to support his theories. Or maybe he's future Henry and he's been looking for the book for years and he's been a writer recording the stories from memory. We don't want time-travel!
Maybe the Stranger is Regina's own child, or her lost love.
Lost easter eggs
The police car crashes into a sign with "4" and "23" pointing in opposite directions. This is a definite symbolic Lost easter egg.
The boxes from the Hall of Records say they're from section 4, aisle 8.
Live schedule change
Starting now, our live shows will be recorded on Wednesdays at 8:30 p.m. (ET). Visit the Noodle.mx Network live-streaming page to watch and chat live.
Our next episode will be all feedback, so send in your theories and have your phone ready for live call-ins!
Please share this post!
Use the social buttons or retweet the following.
https://twitter.com/#!/ONCEpodcast/status/165343052775436289
What did you think?
Email Feedback@ONCEpodcast.com (audio files welcome)
Call (903) 231-2221
Comment on the shownotes
Visit any page on ONCEpodcast.com and click the "Send a voice message" link to record and send a message right from your computer.
Help us out!
Share this post in your social networks
Follow us
On Facebook:
On Twitter:  echo do_shortcode('[twitter follow="ONCEpodcast"]'); ?>
Daniel J. Lewis:  echo do_shortcode('[twitter follow="theDanielJLewis"]'); ?>
Jeremy Laughlin:  echo do_shortcode('[twitter follow="phlegon"]'); ?>
ErinJ:  echo do_shortcode('[twitter follow="erinjcruz"]'); ?>
Hunter Hathaway:  echo do_shortcode('[twitter follow="travelingpixie"]'); ?>
Jacquelyn / RumplesGirl:  echo do_shortcode('[twitter follow="punk_bunny_87"]'); ?>