Podcast: Play in new window | Download | Embed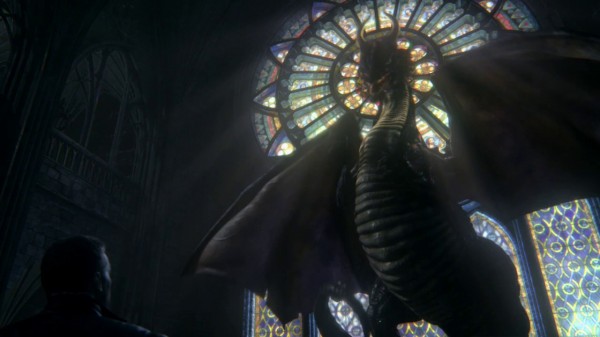 The story comes full circle as we focus on just Fairy Tale Land for this two-part discussion of the Once Upon a Time finale. Make sure you also listen to episode 39 for our Storybrooke discussion.
Big thanks to our sponsors!
You can sponsor ONCE podcast, too!
Soundtrack and season one available!
Buy the Once Upon a Time soundtrack and Complete First Season from Amazon.com. There may still be a $15-off coupon from Amazon for the DVD or Blu-ray set.
Fairy Tale Land
Daniel theorized that season 2 will be about the "final battle" to which Rumple has previously referred.
Regina didn't know about Henry's book in the pilot episode? Daniel re-watched the pilot episode recently to compare a few scenes when he noticed that a few things weren't lining up. Also he noticed that in an earlier episode, Snow tells James that the Regina tried to poison her because she thought she was prettier than her, but in later episodes we found that the story was changed. It was the secret that Snow didn't keep which made Regina want to kill her. That was a definite plot change. Which motive do you like better? Secret? Or beauty envy?
We plan to do a complete season-one rewatch during the summer hiatus, and post a few podcast episodes along the way.
Why didn't Regina think of using her magic mirror to find James instead of yelling at the huntsman to go find him? The Genie in the magic mirror appeared to take initiative and surprise Regina. We didn't actually see him even once in this episode, but there were a couple of hints that he still exists: the magic mirror in Fairytale Land, and his name plate on the door in the asylum under the hospital in Storybrooke. Why haven't we seen him?
So clearly there was a ton going on during this episode and this is a very small comment at the very beginning that struck me in regards to the queen of hearts. So when Charming is in his cell at the beginning he vows that he will "always find you." Then the two guards approach and the actual guard says "that will be hard to do without your head. The queen is looking forward to your execution." So this has a clear connection to the queen of hearts' favorite execution method, so i'm wondering what this connection maybe means. Did the writers just put it in as kind of an allusion to the queen of hearts without a deliberate connection or was there more to it?

Thanks guys, you're all awesome.

Rapunzel
Daniel did some comparing of screen shots and discovered the forest Regina sent Hansel and Gretel to looks different than the infinite forest where she sent Prince James. Are they the same forest?
Was Rumpelstiltskin being truthful about the forest being infinite? Or was he just telling him that to create a false sense of need for his help. "Bravery won't get you out of this forest, Dearie. Magic will."
Do you think Rumple's love potion depends upon Snow and James to still be in love after he made it in order for it to work?
Hi podcasters!

So, after Sunday's truly epic season finale "A Land Without Magic" I realized I was quite bothered by the final scene in which Rumplestiltskin—in a very "Dark One" sort of way—tells Belle that magic is coming and that magic is power. It seems to set up Rumple as the true villain, whereas Regina was only the villain for this season.

As a huge Rumple fan, this bothered me. So after a few more rewatchings I began to think that perhaps Rumple's line to Charming at the start of the show might serve to alleviate this conundrum. While in the "Infinite forest" Rumple holds up Charming's ring and tells him he got it : "the same way I get whatever I want: magic." At first I dismissed this line. It is true that while in FTL we see Rumple use magic for just about everything. And then I thought, what if Rumple really does think this is the only way he can get what he wants? What if he honestly believes that he NEEDS the magic in order to get what he most desires? In this case, Baelfire. I think that the loss of Bae followed by the loss of Belle, both people he truly loves who wanted him to relinquish his magic, finally made him realize that he does have to put magic aside if he wants to be happy.

It's like the Dark One we first encountered in "Desperate Souls." That Dark One was weary, tired of being controlled and wished to end it and so manipulated the situation so that Rumple would become the new Dark One. What if Rumple is doing the same thing? He needed the curse in order to come to our world, he needed it broken in order to leave SB, and he needs his magic in order to find Bae. He, like the Dark One before him, is manipulating the situation for his true end: find Bae, take all the Fairy Tale characters home to Fairy Tale Land, and live happily ever after with Belle. But he thinks that the only way to get what he wants is through magic; perhaps he's been the Dark One for so long that he's forgotten how to accomplish things without magic.

And now that he has Belle he doesn't need to be killed in order to stop being the Dark One—Belle's true love will cure him of this curse. If every fairy tale is supposed to end with "happily ever after" then maybe that's the overall aim of the show, everyone back in FTL, no dark magic, living happily ever after.

Can't believe we have to go all summer without this show! You guys are amazing.

RumplesGirl
We discussed the egg in the beast and wondered what it feels like inside her when she's not a dragon.
When Prince James is fighting Maleficent he says "I'm gonna need a smaller egg." I think this was probably a play on the line from Jaws "We're gonna need a bigger boat."

Rayvah
We compared the Disney animated version's images next to the Once Upon a Time's rendering of Maleficent the dragon and her castle and we were all very satisfied.
Hey Guys,

I had this theory after watching the Finale on Sunday and thought I would share it with you. So I was thinking that this episode could represent the story of sleeping Beauty. In the movie the girl meets her prince (not knowing that he is one) and falls in love. Later though Malificent puts her to sleep and the prince fights the dragon to reach her and wakes her up with ture loves kiss breaking the sleeping spell her and the town were all under.

In Once Upon A Time Snow meets Prince Charming without knowing he is a prince and they fall in love. Later, Snow is put into a sleep and prince charming goes to find her. With the huntsman and Rumplestiltskin's help (they could represent the help the prince gets from the 3 fairies when they give the prince a sword and shield) he gets his needed supplies to fight the dragon. He fights Malificent so that he can reach his true love and breaks the sleeping curse. In Storybrooke when Emma kisses Henry on the forehead he awakens from a sleeping curse which wakes everyone else in the town up. You can tell they all woke up like they were sleep walking the whole time because none of them seem to know what they were doing before and they just remember their fairytale place.

Well just a thought! I hope you like it! Thanks for your awesome podcast!

-Kerry
Jennifer from California called in to share her feedback about her delight in all the female role models in the show. She also shared some of her own theories.
Brittany from New York City called in to ask how about our thoughts on Prince Charming and Snow White's taking back the kingdom, and how they're going to go about teaming up against both Regina and Rumpelstiltskin's power since they don't seem to own the ability to wield magic on their own. And how did Regina get her power to become a threat to Rumpel who has lived way longer than her.
Talk more about "A Land without Magic" in our Once Upon a Time forums!
Please retweet this!
Hear "A Land without Magic," part 1: Fairy Tale Land theories and discussion oncepodcast.com/once-upon-a-ti… #OnceUponaTime

— ONCE podcast (@ONCEpodcast) May 19, 2012
//platform.twitter.com/widgets.js

What did you think?
Email Feedback@ONCEpodcast.com (audio files welcome)
Call (903) 231-2221
Comment on the shownotes
Visit any page on ONCEpodcast.com and click the "Send a voice message" link to record and send a message right from your computer.
Help us out!
Share this post in your social networks
Follow us
On Facebook:
On Twitter:  echo do_shortcode('[twitter follow="ONCEpodcast"]'); ?>
Daniel J. Lewis:  echo do_shortcode('[twitter follow="theDanielJLewis"]'); ?>
Jeremy Laughlin:  echo do_shortcode('[twitter follow="phlegon"]'); ?>
ErinJ:  echo do_shortcode('[twitter follow="erinjcruz"]'); ?>
Hunter Hathaway:  echo do_shortcode('[twitter follow="travelingpixie"]'); ?>
Jacquelyn / RumplesGirl:  echo do_shortcode('[twitter follow="punk_bunny_87"]'); ?>