Podcast: Play in new window | Download | Embed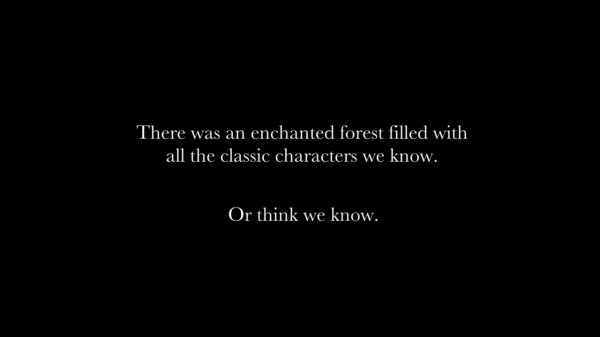 Maybe only the "enchanted forest" characters were cursed, a spin on Henry as Baelfire's son, Henry's place in schoo,  and some season two spoilers.
Big thanks to our sponsors!
Synchronized rewatch
We're having a great time rewatching the first season of Once Upon a Time! We rewatch two episodes 7–9 p.m. (EDT/GMT-4) every Sunday, July 15 through September 23.
To participate, join our live rewatch chat during the rewatch time. Have your own access to all the Once Upon a Time episodes, and we'll let you know how to synchronize with us.
Until the season one DVD/Blu-Ray set ships, your can rewatch Once Upon a Time with any of the following.
Main discussion and feedback
"The Enchanted Forest"
After rewatching the pilot, we realized the intro text specifically said that all of the characters of the "enchanted forest," not necessarily all fairy tale characters. So we think "fairy tale land" encompasses many worlds (or "realms"), and only the Enchanted Forest was cursed.
Who should be Emma's Love Interest Next Season?
Vote in the poll in our Once Upon a Time forums!
August Booth/Pinocchio
Regina/Evil Queen
Rumpelstiltskin/Mr. Gold
Jefferson/Mad Hatter
Graham/Huntsman
Baelfire/Unknown
A Normal Guy
A Fairytale Character
Mr. Gold had a different motivation for finding Henry?
Hi, ONCE podcasters,

If Baelfire is Henry's father, and Gold somehow knew that, then there would have been a double-incentive to make sure that the child Regina adopted was Henry. I had been operating under the assumption that the idea to adopt a kid came solely from Regina – still trying to fill that hole – and when she went to Gold to make a deal for a quick and possibly shady adoption, he seized the opportunity and got Henry. I figured that Gold had always had a few ideas about how to bring Emma to Storybrooke, and Henry was just the one that presented itself. But now I'm starting to reconsider; maybe Gold managed to discover Baelfire's location, and was kind of keeping tabs on him, but couldn't leave Storybrooke to go find him. Maybe after Henry was born, Gold put the idea of adopting a child into Regina's head (after all, she had been in Storybrooke for 18 years before then) so that he could bring Henry to Storybrooke. He knew the saviour would come there on her 28th birthday – he told Snow that in the dungeon – so he didn't worry about needing to make sure Emma would arrive. He got Henry because he wanted to have a link to Baelfire; something that might make Baelfire come to Storybrooke someday. Or something. I don't know.

That's my crackpot theory, and I'd love to hear your thoughts. You all do such a fabulous job with the podcast; I listen to it at work, and it makes the day go by so much faster! Thank you for all your hard work!!

Best wishes,

Molly
This is a great theory, Molly! We remember Gold saying he has travel plans after the curse is broken, so maybe he knows exactly where Baelfire is.
I was wondering about Henry and his schooling… How did that work if he was the only kid who aged in the entire town? Did he go to kindergarten, make friends, then go onto first grade by himself? Then he had to do the same thing in first grade, and second, and third… He had to know something was seriously wrong when the kids he went to his first day of school with were still in kindergarten. What explanation did Regina tell him? Did the kids he used to be in class with remember him? I can defintily see how he could so easily believe in the curse. For him it was either believe in that book or think he was going crazy.
It's no wonder the poor kid didn't have any friends.

Kasey Thacker
Kitsis and Horowitz have said that Henry didn't have many friends, since he's the mayor's son. But at some point, he started realizing his classmates weren't aging and he found answers in the storybook.
Dr. Whale episode and summer schedule
With the summer hiatus, we're adjusting our live podcast schedule. We'll record live episodes biweekly at 8:00 p.m. (EDT/GMT -4:00) on ONCEpodcast.com/live.
August 8, 2012—Dr. Whale episode!
August 22, 2012
September 5, 2012
September 19, 2012
October 3, 2012 (unless the second season starts before then)
This schedule will remain in effect unless otherwise announced or when the series returns.
We also covered some minor spoilers, but we moved these to the end of this post, in case you don't want to see them.
Preorder the complete first season
The Once Upon a Time DVD/Blu-Ray set is available for preorder from Amazon.com. Order it now and you'll get any price drop between now and when the sets ship on August 28.
Please retweet this!
Enchanted Forest, Baelfire, Henry's classmates, and season 2 spoilers – #OnceUponaTime podcast #45 http://t.co/YPL2SKrw

— ONCE podcast (@ONCEpodcast) July 26, 2012
What did you think?
Email Feedback@ONCEpodcast.com (audio files welcome)
Call (903) 231-2221
Comment on the shownotes
Visit any page on ONCEpodcast.com and click the "Send a voice message" link to record and send a message right from your computer.
Help us out!
Share this post in your social networks
Follow us
On Facebook:
On Twitter:  echo do_shortcode('[twitter follow="ONCEpodcast"]'); ?>
Daniel J. Lewis:  echo do_shortcode('[twitter follow="theDanielJLewis"]'); ?>
Jeremy Laughlin:  echo do_shortcode('[twitter follow="phlegon"]'); ?>
ErinJ:  echo do_shortcode('[twitter follow="erinjcruz"]'); ?>
Hunter Hathaway:  echo do_shortcode('[twitter follow="travelingpixie"]'); ?>
Jacquelyn / RumplesGirl:  echo do_shortcode('[twitter follow="punk_bunny_87"]'); ?>
Spoilers
Mulan and Aurora (Sleeping Beauty) have been cast
Other upcoming characters: Aladdin, Ariel, Jafar, and more