ABC just announced through the Once Upon a Time Facebook page that the hit drama will return with its second season premiere at 8/7 on Sunday, September 30, 2012.
The fairy-tale-based TV show's second season starts with the episode titled "Broken," picking up right where the first season finale ended. Our Once Upon a Time forums are already full of theories for this upcoming episode!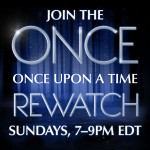 The September 30 premiere connects perfectly to ONCE podcast's rewatch and live chat on Sunday nights, 7–9 (EDT/GMT-4), scheduled with two episodes every Sunday night through September 23.
For more in-depth reviews, theories, easter eggs, and talk about ABC's Once Upon a Time TV show, subscribe to ONCE podcast for free in iTunes or your favorite podcast directory; visit the ONCE podcast website for screenshots, shownotes, and blog posts; and join the Once Upon a Time forums to talk with other fans.
Please retweet this
#OnceUponaTime returns for season two on September 30! http://t.co/Z2oDOjPb #OUaT

— ONCE podcast (@ONCEpodcast) July 26, 2012