Podcast: Play in new window | Download | Embed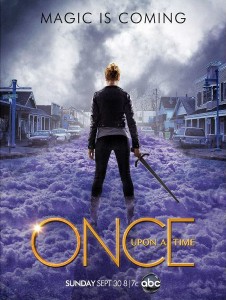 The last overall predictions and theories about what will happen in Once Upon a Time's second season.
Big thanks to our sponsors!
Sandra (long-time sponsor)
You can sponsor ONCE podcast, too!
News
Once Upon a Time returns this Sunday, September 30!
Tune in an hour before the premiere to catch a special feature.
Vote for us in the Podcast Awards!
Feedback & discussion
Here is the first one: Will the new episode start with Storybrooke or the flashback?
Also here are some things I want to see:

Of course we will see the rest of the final battle against Regina and George. We need to find out what James means by the line that she is no longer a queen.
Will Emma get a true love and if so whom? a) Henry's father (whoever he is just no) b) Graham (he is dead so I don't believe that they will bring him back) c. August (if and when he comes back he is my choice) d. Jefferson (believe it or not I have read some fics where Jefferson and emma are paired together and they creep me out)
I want to see more of Story Brooke's "kids" surely there could be more than Henry, grace, and Hansel and Gretel. Also: it could be that Henry and gretel or hansel and Grace. then it could be HG and HG. lols.

Future fairy tales: Robin Hood, the Pied Piper, whichever form the book they have published, possibly the three little pigs or the gingerbread man.

Since the Greek myths are real (e.g. Midas and Gold) then the greek gods are real. Therefore I want to see them interacting. Also possibly gods of other long forgotten faiths like the norse gods.

As to other worlds: we need to see Neverland Wonderland (obviously) did we see the chocolate factory door? the door to Narnia?

(i do not want Narnia though because I do not want them to taint Aslan)

I am planning a premiere watching party with a few of my university friends, and I hope that whatever parties the chatroom is planning go well.

Tim aka AugustWBooth in chat
Greetings, Daniel (Not the Stable Boy Daniel,the OTHER one), Jenny, Jeremy, and Dan!

I am known across the web as The Storybrooke Observer. I have been catching up on your BRILLIANT/FANTASTIC podcast ALL summer long and am finally caught up! If any of your listeners also listen to The Fringe Podcast hosted by Clint and Darrell you may remember me as The RAGGEDY Observer. Now, for my ONCE theories & Observations:

Regina's Dream

Is her dream more prophetic than nightmare? Now that everyone remembers who they are maybe they will want revenge (ie, Mother Superior telling Regina to hide at the end of  S1 Finale, World Without Magic)?

Doctor WHO?

I believe Dr. Whale is Peter Pan. Why? He has a childlike face, he was chasing all the Storybrooke women last season (Wendy anyone?), and the perfect curse for the Boy who never grows up is to grow up and become a doctor responsible for an entire town full of fairytale characters!

The Fate of August

You guys have said Dead is Dead. But, I ask you, is wood, wood? We have seen the blue fairy turn Pinocchio from wood to a real boy due to his sacrifice last season so now that MAGIC is in Storybrooke could history repeat itself?

Magic is Coming!

Will magic have a new set of rules in OUR World since OUR World is the World without Magic and will there be limitations?

The Prodigal Father

Is Henry (Jr.) 's father a fairytale character (Baelfire for instance?) and will he be making an appearance in Storybrooke this year?

There is More Than One of Everything

Will Emma travel down the rabbit hole (or Jefferson's Hat) and venture into Oz or Wonderland? I think all those nods to OZ we got last year may be paid off this year, what do you guys think??

Wibbly-Wobbly Timey-Wimey

You guys have seemed a bit against time travel being used in Once Upon a Time. I, for one, am mystified by this as I believe it would fit perfectly within the worlds of the show. What is more magical and fairy-talish than time travel and parallel worlds?

Thanks for the marvelous podcast guys and here's hoping for many, many, many, more!

The Storybrooke Observer
Hi Daniel!

Here are some of my theories for Season 2! …

Now that the Dark Curse has been broken, here are a few theories I have about Season 2:

Snow, James, and Emma are finally reunited as a family!! I think Emma could have some resentment towards her parents for giving her up, but eventually forgive them as time goes on. Emma has never had a real family before so it will be interesting to see what happens. I don't think Henry realized in Season 1 that Mary Margaret/Snow and James/David are his grandparents. I think he will get to know them and they'll become close.
My next theory involves Regina. With the curse broken and magic now coming to Storybrooke, Regina most likely already has a plan B to get her happy ending back. Based on Regina's evil grin at the end of "A Land Without Magic" upon seeing the purple cloud engulf Storybrooke, she knows all is not lost.
My last theory involves Rumple and Belle. Now that they have been reunited, admitted their love for each other, Rumple and Belle will finally have a future together. Rumple promised Belle he'd protect her in the finale so in Season 2, we could see him go back to his old Dark One ways. This will probably mean Rumple seeking revenge on Regina since she lied to him about Belle being dead, when Belle was really alive and well.

Thanks for reading my e-mail and hope to hear from you soon!

Thanks,
OnceFanErin
Hey Daniel & Once Podcast Crew,

This is obisgirl. I'm back from my two week vacation and I actually had an interesting OUAT dream while I was away. I dreamt that Dr. Whale had two identities in fairytale land: he was Dr. Jekyll and Mr. Hyde.

I don't know if Adam & Eddie ever plan to bring on monsters but it would certainly be an interesting twist to his character.

4 days now until Magic!!

obisgirl
Will we see a "pre-Emma time" this season? Like see Mr. Gold trying to get a baby for Regina or how Mary got the book?

I would love seeing that to fill in a couple of holes in the timeline.

Love your podcast! You guys are funny and insightful. And I'll try to get sleep after catching up.

~kimmibear5
Guest1 called in live to share that he thinks there will be a third villain in season two.
Mary Fairy called in with a clever idea that Dr. Whale could be from the lesser-known fairy tale of the Crystal Ball.
Mary and Emma's fan cards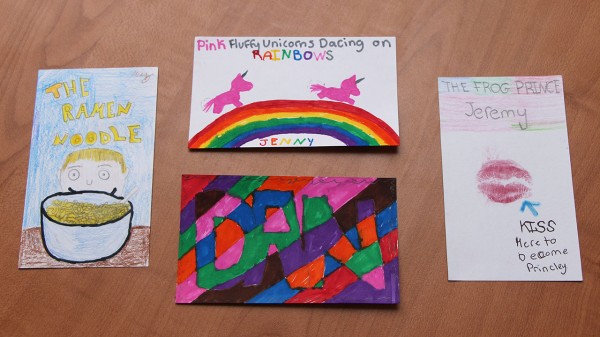 Thank you so much for these fun cards with your donation! We love stuff like this!
ONCE podcast
PO Box 739
Burlington, KY 41005
New live schedule
We're switching back to our in-season live schedule!
Initial reactions on Sundays starting September 30, at 9:15 p.m. (EDT/GMT-4)—right after the Eastern and Central episode airing.
Full discussion, feedback, and live calls on Wednesdays at 8:30 p.m. (EDT/GMT-4).
On these dates, visit ONCEpodcast.com/live to watch and chat live.
Please retweet this!
Hear some final #OnceUponaTime season-two theories! http://t.co/SREfyUrA

— ONCE podcast (@ONCEpodcast) September 27, 2012
What did you think?
Email Feedback@ONCEpodcast.com (audio files welcome)
Call (903) 231-2221
Comment on the shownotes
Visit any page on ONCEpodcast.com and click the "Send a voice message" link to record and send a message right from your computer.
Help us out!
Share this post in your social networks
Follow us
On Facebook:
On Twitter:  echo do_shortcode('[twitter follow="ONCEpodcast"]'); ?>
Daniel J. Lewis:  echo do_shortcode('[twitter follow="theDanielJLewis"]'); ?>
Jeremy Laughlin:  echo do_shortcode('[twitter follow="phlegon"]'); ?>
ErinJ:  echo do_shortcode('[twitter follow="erinjcruz"]'); ?>
Hunter Hathaway:  echo do_shortcode('[twitter follow="travelingpixie"]'); ?>
Jacquelyn / RumplesGirl:  echo do_shortcode('[twitter follow="punk_bunny_87"]'); ?>