Podcast: Play in new window | Download | Embed
Hidden clues in The Untold Stories Facebook app, hints from the new official podcast from Kitsis and Horowitz, some clever theories on Mr. Gold, Dr. Whale as a greek god, minor spoiler discussion for season two, and the synopsis for the premiere episode.
Big thanks to our sponsors!
You can sponsor ONCE podcast, too!
News
Feedback & discussion
Hello, everyone! I'm new to the podcast, so I've been catching up the last couple weeks.

Several episodes ago you were discussing if maybe Mr Gold found Henry because Baelfire is Henry's father. I don't think that works because Gold thought August was Baelfire, and he can't have thought August was Henry's father. He talked to Emma about August and there wasn't anything in their conversation or her reaction to him that would have led Gold to believe she and August had a prior relationship.

Also, I kind of don't want Bae to be Henry's father because Emma implies he's a jerk, and I don't want Bae to have turned into a jerk. Plus Henry is already related to most of the characters in some way. The Charming Family Tree doesn't need any more connections to magical evil characters.

Love the discussion! Hope you're all well! Can't wait for season 2!

Olivia
Nice observation, Olivia! The time between Gold's suspecting August as Baelfire and their nighttime conversation was very short. Perhaps not long enough for Mr. Gold to deal with his emotions and realize this connection you pointed out.
I was rewatching "The Return", and the Blue Fairy said that Rumplestiltskin's magic is not supposed to be in this world. So the Dark One came from another realm originally, I would hazard to guess. I wonder which one?

…

Also, I had an idea for how Regina might be able to one-up Mr. Gold. It probably won't happen, but I was thinking that the apple Snow/Henry ate is still around somewhere in tart form- what if somehow Regina got Belle to take a bite?

Now, the only way to save her would be for Mr. Gold to kiss her – but in doing so he'd have to accept that his own curse/power was broken as well. And if he killed Regina out of revenge before he gave up his power – well, he's said that killing for vengeance puts you on a dark path where love can't penetrate, so that could be tantamount to abandoning Belle, too.

This is all assuming that True Loves Kiss and Rumplestiltskin's curse work the same way in Storybrooke, anyways – which we can't, really.

What do you think?

Rayvah
After re-watching that scene between the Blue Fairy and Baelfire, we heard her say, "What ails your father is specific to our realm. His powers do not belong here." This seems to indicate that his magic is because of this world, but that they shouldn't be here. We're not sure about the jump to a different world for the Dark One's origin.
Clever stalemate for Rumplestiltskin!
Bekki sent these lovely pictures for Daniel and Jenny's recent anniversary: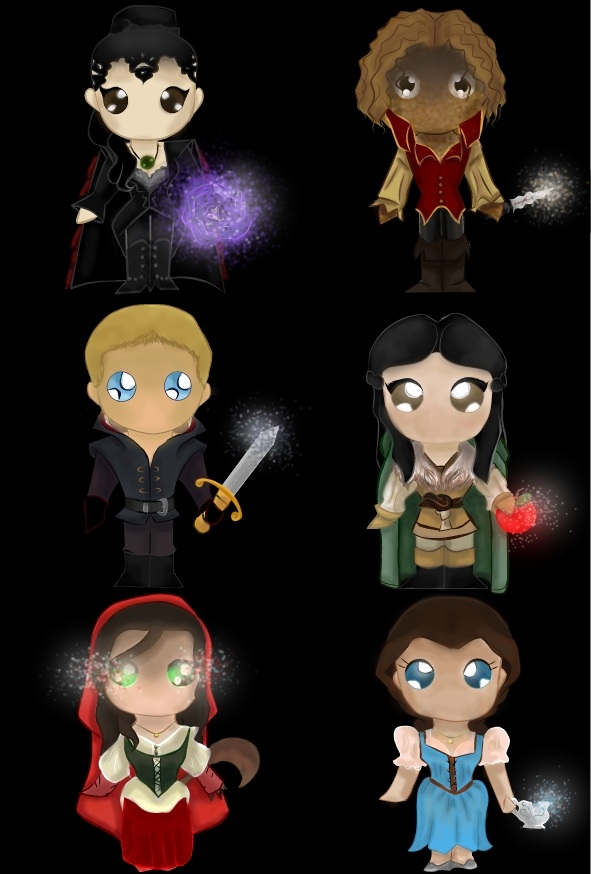 Hi, my name is April. I know I missed the in depth discussion of Dr. Whale's identity but I had a great theory. Facebook has an app for Once Upon a Time and they gave a clue to who he might be in Dr. Hopper's journal. It said he has "God-like tendencies" or something like that, so I'm guessing he's going to be Zeus or Hercules. They already introduced Greek mythology with King Midas so it may be a possibility. Zeus was also a ladies man and we saw Dr. Whale's smooth techniques with the ladies of Storybrooke.

Just my thoughts. Check out the app when you get a chance.

April
More Greek mythology would be an interesting turn. Daniel's new theory is that Dr. Whale could be Captain Nemo because of Disney's "A Whale of a Tale" song in 20,000 Leagues Under the Sea. But a listener also thinks, with good evidence, that Dr. Whale could be Frankenstein.
Or he could be Ursula: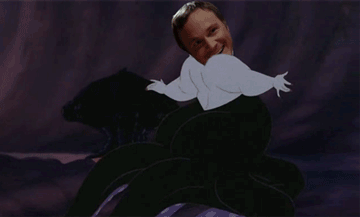 Synchronized rewatch
We're having a great time rewatching the first season of Once Upon a Time! We'll finish with the last two episodes this Sunday, September 23.
To participate, join our live rewatch chat during the rewatch time. Have your own access to all the Once Upon a Time episodes, and we'll let you know how to synchronize with us.
Until the season one DVD/Blu-Ray set ships, your can rewatch Once Upon a Time with any of the following.
Live schedule and upcoming final predictions
We're switching back to our in-season live schedule!
Final spoiler-free predictions on Wednesday, September 26, at 8:30 p.m. (EDT/GMT-4).
Initial reactions on Sundays starting September 30, at 9:15 p.m. (EDT/GMT-4)—right after the Eastern and Central episode airing.
Full discussion, feedback, and live calls on Wednesdays at 8:30 p.m. (EDT/GMT-4).
On these dates, visit ONCEpodcast.com/live to watch and chat live.
Please retweet this!
Untold Stories, Mr. Gold, Dr. Whale, and season two spoilers – #OnceUponaTime podcast #49 http://t.co/4nMPZwfB

— ONCE podcast (@ONCEpodcast) September 20, 2012
What did you think?
Email Feedback@ONCEpodcast.com (audio files welcome)
Call (903) 231-2221
Comment on the shownotes
Visit any page on ONCEpodcast.com and click the "Send a voice message" link to record and send a message right from your computer.
Help us out!
Share this post in your social networks
Follow us
On Facebook:
On Twitter:  echo do_shortcode('[twitter follow="ONCEpodcast"]'); ?>
Daniel J. Lewis:  echo do_shortcode('[twitter follow="theDanielJLewis"]'); ?>
Jeremy Laughlin:  echo do_shortcode('[twitter follow="phlegon"]'); ?>
ErinJ:  echo do_shortcode('[twitter follow="erinjcruz"]'); ?>
Hunter Hathaway:  echo do_shortcode('[twitter follow="travelingpixie"]'); ?>
Jacquelyn / RumplesGirl:  echo do_shortcode('[twitter follow="punk_bunny_87"]'); ?>
Spoilers
Hi, awesome podcasters!

I was just on ABC's new Once app and saw something… interesting.

I know we've been talking about Captain Hook- the hook's been in almost every preview. And when I was on the app, I saw it- on Rumple's desk in his shop. Is this just a place that they threw it, or is it a clue. Rumple isn't Hook (last I checked, he had two hands). But if this IS a hint, then I'd say Rumple definitely has some relation to Captan Hook.
What do you guys think?

Thanks so much for the podcasts!!!!!! I love them and they're so amazing! I can't wait to see the next one, and the Once MARATHON tonight 😀

~ Clockwatcher
We think this is just because Rumplestiltskin/Mr. Gold collects things. In the teaser from Comic-Con, we see Captain Hook break into Mr. Gold's and steal the hook:
http://www.youtube.com/watch?v=VluiV7EJkUM
Tina was at Disney Land a couple months ago and saw Kitsis, Horowitz, and several of the Once Upon a Time writing team visiting different attractions for research: Peter Pan's Flight, Alice in Wonderland and The Little Mermaid.
OuaterBox sent a voicemail with theories about sneak photos that have shown Cora holding a book. Perhaps it was a book of spells and that's how Regina learned magic and banished Cora.
Episode description for "Broken"
From ABC's press release for the season-two premiere:
REALITY AND MYTH BEGIN TO MERGE AS THE FAIRYTALE CHARACTERS AWAKEN
FROM EVIL QUEEN REGINA'S BROKEN CURSE, MAGIC IS INTRODUCED TO STORYBROOKE, AND PRINCE PHILLIP AWAKENS HIS SLEEPING BEAUTY, AURORA, BUT DISCOVERS THAT HE AND TRAVELING COMPANION MULAN WILL SOON HAVE TO FACE A DEADLY FOE, ON THE SEASON PREMIERE OF ABC'S "ONCE UPON A TIME"

…

Guest starring are Raphael Sbarge as Archie Hopper/Jiminy Cricket, Lee Arenberg as Leroy/Grumpy, David Anders as Dr. Whale, Keegan Connor Tracy as Mother Superior/Blue Fairy, Michael Raymond-Jones as mysterious man, Beverley Elliott as Granny, Sarah Bolger as Aurora, Jamie Chung as Mulan, David-Paul Grove as Doc, Gabe Khouth as Mr. Clark/Sneezy, Faustino Di Bauda as Walter/Sleepy, Jeffrey Kaiser as Dopey, Michael Coleman as Happy, Mig Macario as Bashful and Julian Morris as Prince Phillip.

"Broken" was written by Edward Kitsis & Adam Horowitz and directed by Ralph Hemecker.