Podcast: Play in new window | Download | Embed
Who is the mystery man in New York City? Baelfire, the White Rabbit, Henry's dad, or someone else? How is magic different in Storybrooke? What's left of the Enchanted Forest?
Thanks to our sponsors!
Sandra
MidgeMarly
Nasser Al Kuwari
You can sponsor ONCE podcast, too!
Daniel noted that a few of our theories about how season 2 would begin came true, such as:
-there might be an undestroyed region of Fairy Tale Land
-Emma might go back to FTL alone (though she wasn't really alone but we were close!)
Daniel predicts that in future episodes we'll be exploring some pre-curse realms in addition to Storybrooke, New York City, and post-curse Fairytale Land.
New York City
The new stranger resides in New York.
Played by Michael Raymond James
There are a lot of things around his room that could possibly clue us in on who this stranger is:
-Cleaners and Hatter's sign
-weird red hand painting
-shoes hanging up on by the window
-a lot of old cameras, radios, and microphones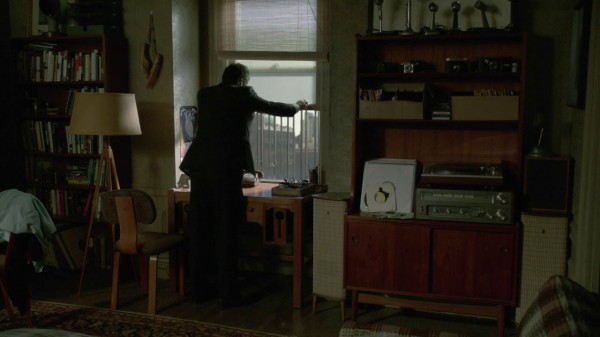 All of his stuff in his room looks old and antique, but the character himself seems to be very modern.
*Could he be the white rabbit? There are a few clues that allude to his being the white rabbit.
Charlie's Girl is the song that's playing while we're being introduced to the newest stranger.
Daniel points out a few ironies of some of the track names on a particular music album that in the stranger's bedroom
The Day Everything Became Isolated And Destroyed
Could the stranger be Bae?
Bae IN New York?! [forum thread]
The Guy in New York [forum thread]
Who could've sent the postcard? Pinocchio? Jefferson? Blue Fairy? Regina?
The clock has moved since the curse was broken and magic introduced into Storybrooke
Jeremy reads a feedback email from Katie regarding August's knowing about Rumpel's dagger, and the possibility that he met Bae outside of Storybrooke.
Daniel reads some feedback in an email from Carlie. Carlie points out that Bae's receiving a postcard from Storybrooke could possibly mean that he's been aware of it's existance all along. She states that if this were true that it would raise more questions than it would answer. She also theorizes that Bae could have met a fairytale character outside of Storybrook, such as the giant of Jack and the beanstalk, who sensed residual magic within him. Carlie states the possibility of their smuggling other characters out of Storybrook together via an underground railroad with the Blue Fairy as their inside contact. Carlie's theory also includes the meeting of Bae and Emma and their connection as well as why Emma was sent to prison.
Are there other fairytale characters outside of Storybrook, and did they get a postcard too?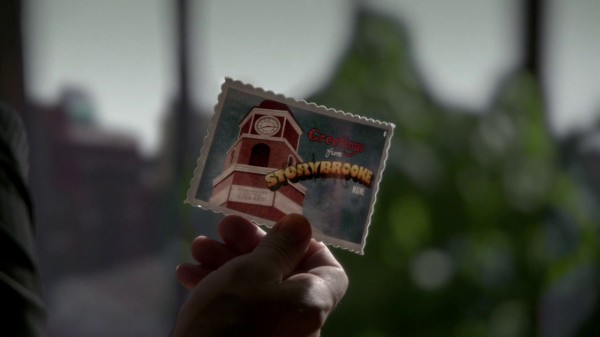 Daniel observed that the stranger seemed surprised at the dove yet seemed knowledgeable about the postcard.
*white rabbit theory as from Fr. Roderick over at onceuponatime.sqpn.com
Storybrooke
Daniel thinks that all the events of Storybrooke during the first episode happened over the course of a single day.
Jenny notices that Dopey's identity in Storybrooke must have been something like a gamer: graphic t-shirt, soft and comfy pants, socks and sandals, tobogan, … he just looks like a slob.
Does Mr. Gold have most of the magical objects that translated from FTL to SB in his pawn shop? Does he still have the fairy wand he stole from Cinderella's fairy god-mother too?
Daniel noticed that Jimminy isn't a cricket and Rumpel's skin is not golden, though the curse is broken.
Jenny noticed that Whale doesn't seem like a good guy.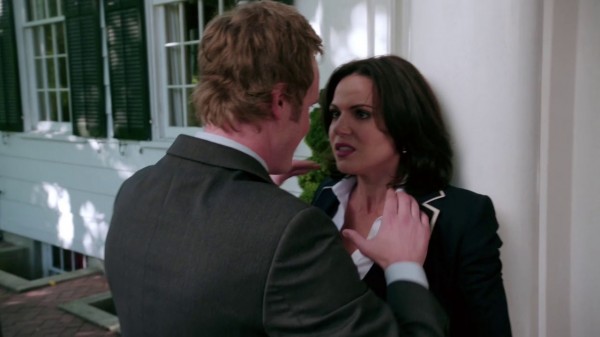 WE STILL DON'T KNOW WHO DR. WHALE IS!! AAAHHHH!
Daniel thinks Regina may know who Dr. Whale is.
Jenny theorizes that Wale could have been of King George's following since his allegiance does not seem to be toward Prince James.
Jeremy and Jenny agree that Regina is probably hiding the truth about her association with both Belle and Jefferson probably as an attempt to stay alive. She's so cunning.
Daniel notes that Regina must've felt she had her magic back because she did not hesitate or seem surprised that she could bring vines out of the wall when she pinned David up there with them.
Is this magic she got from Emma's touch temporary or permanent?
The names from both Fairytale Land and Storybrooke are currently being used for each person in SB.
The objects are magical. The people themselves seem to be void of magic… except Emma. Gold had to use his dagger to summon the wraith.
Is the teapot Gold is using in his shop significant?
Emma still owes Gold a favor.
Can people leave Storybrooke?
Jefferson's hat didn't work until Emma touched Regina.
Is the hat useless now that it's squashed. It appears to be burned somehow too, as Daniel pointed out.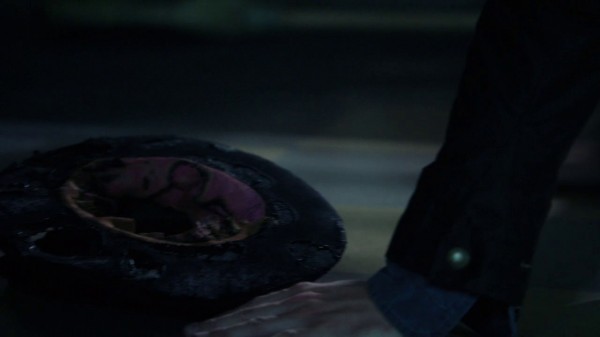 Could the hat Emma made be the only functional hat in Storybrooke now? Regina probably doesn't know about that one.
Mary Margaret used a bottle of McKutchen to set the railings of fire. That's a nod to Lost.
Daniel was spinning in Storybrooke. Daniel wonders if he's doing that to forget, as he'd told Belle in season 1.
Now that Emma is gone to Fairytale Land, Henry's father could enter Storybrooke and remain unidentified since it is assumed that no one will know him there.
Fairytale Land
Does Mulan love Prince Phillip?
What is the history of Maleficent and the queen, Aurora's mother, that caused so much enmity between them, and it was so strong that it even extended down to Aurora?
Daniel noticed the spindal beside Aurora's "bed," as you might call it, there outside the castle.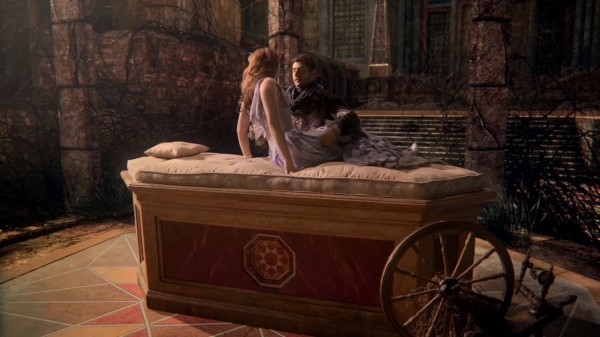 Why didn't Phillip and Mulan know to find Aurora at her castle?
How did Aurora know about how much time had passed while she was asleep?
Are there more wraiths in post-curse Fairytale Land?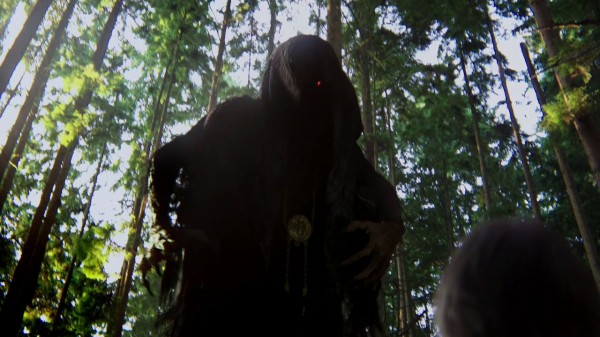 What was Mulan referring to when she told Aurora there are even more dangers that have been introduced to the land after the curse was enacted.
What protected that small portion of Fairytale land? Rumpelstiltskin? Blue Fairy? Something else?
Discuss "Broken" in our Once Upon a Time forums!
What did you think?
Email Feedback@ONCEpodcast.com (audio files welcome)
Call (903) 231-2221
Comment on the shownotes
Visit any page on ONCEpodcast.com and click the "Send a voice message" link to record and send a message right from your computer.
Help us out!
Share this post in your social networks
Follow us
On Facebook:
On Twitter:  echo do_shortcode('[twitter follow="ONCEpodcast"]'); ?>
Daniel J. Lewis:  echo do_shortcode('[twitter follow="theDanielJLewis"]'); ?>
Jeremy Laughlin:  echo do_shortcode('[twitter follow="phlegon"]'); ?>
ErinJ:  echo do_shortcode('[twitter follow="erinjcruz"]'); ?>
Hunter Hathaway:  echo do_shortcode('[twitter follow="travelingpixie"]'); ?>
Jacquelyn / RumplesGirl:  echo do_shortcode('[twitter follow="punk_bunny_87"]'); ?>
Spoilers
Next episode synopsis
Future episode titles
Coming characters
Thanks to Hunter from Bit of Pixie Dust Blog for producing this spoilers segment!