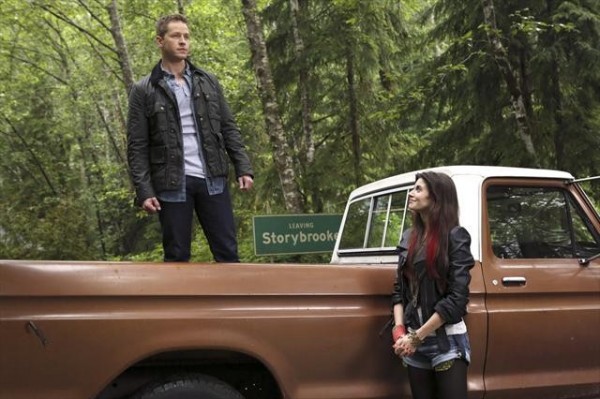 Podcast: Play in new window | Download | Embed
Storybrooke residents seem to be struggling with two realities in their minds. But we also get to see how some characters came to be the way we know them today.
These are just our first thoughts about this Once Upon a Time episode, and we'll share more in our upcoming full episode.
While Regina continues to find a way to regain her magical powers, David continues his quest to uncover the whereabouts of Mary Margaret and Emma; and the seven dwarves discover what happens when any of the townspeople try to step past the city limits of Storybrooke. Meanwhile, in the fairytale land that was, as her wedding day to King Leopold approaches, Regina is confronted by a man of magic who promises to help her become independent and break free from her mother Cora's (Barbara Hershey) clutches.
Big thanks to our sponsors!
Sandra
Nasser Al Kuwari from Qatar: "I just wanted to say that I absolutely love your podcast! You guys are awesome 🙂 keep up the good work!"
Rob Weaver
You can sponsor ONCE podcast, too!
Initial reactions
Some of our interesting discussion points (in no particular order):
Anyone who tries to leave Storybrooke will forget their real memories. Remember Mary Margaret's first line in the Pilot, "Remember what you're making is a home, not a cage."
Mr. Gold was surprised by the consequences of leaving.
Regina has her power back, or does she completely?
Regina said she forgot things twice in this episode (where she got Jefferson's hat and where she got her necklace). One of those times was clearly a lie, which makes us think the other is, too.
It was great to see Bailee Madison play young Snow White again!
Regina and Mr. Gold knew the Enchanted Forest still existed.
Cora is definitely the Queen of Hearts after being pushed to "a specific, annoying little world."
August/Pinocchio blinked and then left an empty room!
Rumplestiltskin confirmed that Regina was the baby from the original Rumpelstiltskin story.
Was Rumplestiltskin's different accent his way of appealing to young Regina?
Cora is in the Safe Haven now with Emma and Snow White. How did she get there?
We gave everything a brief overview and would love to hear your thoughts! Start talking about "We Are Both" in our Once Upon a Time forums.
Join us for the LIVE podcast!
Initial reactions on Sundays at 9:15 p.m. (EDT/GMT-4)—right after the Eastern and Central episode airing.
Full discussion, feedback, and live calls on Wednesdays at 8:30 p.m. (EDT/GMT-4).
On these dates, visit ONCEpodcast.com/live to watch and chat live.
Please retweet this!
Use the social buttons or retweet the following.
Listen to these first "We Are Both" initial reactions for #OnceUponaTime http://t.co/JY23p7v4 #OUaT

— ONCE podcast (@ONCEpodcast) October 8, 2012
What did you think?
Email Feedback@ONCEpodcast.com (audio files welcome)
Call (903) 231-2221
Comment on the shownotes
Visit any page on ONCEpodcast.com and click the "Send a voice message" link to record and send a message right from your computer.
Help us out!
Share this post in your social networks
Follow us
On Facebook:
On Twitter:  echo do_shortcode('[twitter follow="ONCEpodcast"]'); ?>
Daniel J. Lewis:  echo do_shortcode('[twitter follow="theDanielJLewis"]'); ?>
Jeremy Laughlin:  echo do_shortcode('[twitter follow="phlegon"]'); ?>
ErinJ:  echo do_shortcode('[twitter follow="erinjcruz"]'); ?>
Hunter Hathaway:  echo do_shortcode('[twitter follow="travelingpixie"]'); ?>
Jacquelyn / RumplesGirl:  echo do_shortcode('[twitter follow="punk_bunny_87"]'); ?>