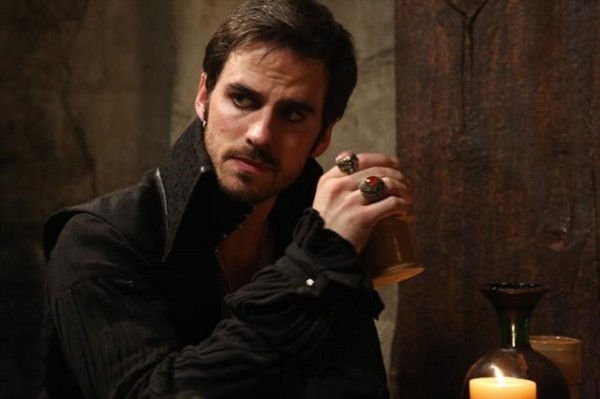 Podcast: Play in new window | Download | Embed
Sail back to learn of someone's origin and conclusion. Bid farewell to love and hello to an a vengeful alliance.
These are just our first thoughts about this Once Upon a Time episode, and we'll share more in our upcoming full episode.
Belle's disgust over Mr. Gold's continuing thirst for power comes to a head, and she threatens to leave him if he can't change his evil ways; the dwarves pick up their axes and try to find fairy dust in the Storybrooke mine; and a reunion with an old acquaintance could prove to be Belle's undoing. Meanwhile, back in the fairytale land that was, Rumplestiltskin attempts to save his wife, Milah, from being kidnapped by a band of cutthroat pirates.
Big thanks to our sponsors!
Sandra
Nasser Al Kuwari from Qatar
You can sponsor ONCE podcast, too!
Initial reactions
Some of our interesting discussion points (in no particular order):
Rumbelle fans may hate this episode, but feel hopeful yet with the ending.
Our suspicions were confirmed that Rumplestiltskin's wife ran away and that he killed her for it!
Gold is making spells, trying to figure out how to break this "new curse" keeping him in Storybrooke.
We saw how Smee and Captain Hook got to be the way we know them.
Belle gets to reopen the library, just like from Beauty and the Beast.
Rumple was the first to pull out beating hearts and crush them—this makes sense how Cora and Regina learned it.
What fairy tell was a butcher turned into a pig?
We've now seen Rumplestiltskin play major roles in four of the characters' fairy tales:

Hook's "crocodile"
Belle's "beast"
Cinderella's "fairy godmother"
Rumplestiltskin to the Miller's daughter

Hook and Cora are allied to return to Storybrooke for revenge against Regina and Rumplestiltskin, respectively.
We'll update our Fairy Tale Land Timeline with this new information, to help clarify the timing.
We gave everything a brief overview and would love to hear your thoughts! Start talking about "The Crocodile" in our Once Upon a Time forums.
Thank you for the Apple Podcasts reviews!
In PA
TpzSky
Bekki 🙂
Gesland
OreoCookiez (Canada)
danlarock
Aslan4king1st
Please rate and especially write a review for us on Apple Podcasts. It really encourages and helps us!
Upcoming costume contest!
Start working on your Once Upon a Time costumes because we're going to have a costume contest, voted on by the fans! We'll have more details soon.
Join us for the LIVE podcast!
Initial reactions on Sundays at 9:15 p.m. (EDT/GMT-4)—right after the Eastern and Central episode airing.
Full discussion, feedback, and live calls on Wednesdays at 8:30 p.m. (EDT/GMT-4).
On these dates, visit ONCEpodcast.com/live to watch and chat live.
Please retweet this!
Use the social buttons or retweet the following.
Listen to these "The Crocodile" initial theories in this #OnceUponaTime podcast! http://t.co/vQAlcTPx

— ONCE podcast (@ONCEpodcast) October 22, 2012
What did you think?
Email Feedback@ONCEpodcast.com (audio files welcome)
Call (903) 231-2221
Comment on the shownotes
Visit any page on ONCEpodcast.com and click the "Send a voice message" link to record and send a message right from your computer.
Help us out!
Share this post in your social networks
Follow us
On Facebook:
On Twitter:  echo do_shortcode('[twitter follow="ONCEpodcast"]'); ?>
Daniel J. Lewis:  echo do_shortcode('[twitter follow="theDanielJLewis"]'); ?>
Jeremy Laughlin:  echo do_shortcode('[twitter follow="phlegon"]'); ?>
ErinJ:  echo do_shortcode('[twitter follow="erinjcruz"]'); ?>
Hunter Hathaway:  echo do_shortcode('[twitter follow="travelingpixie"]'); ?>
Jacquelyn / RumplesGirl:  echo do_shortcode('[twitter follow="punk_bunny_87"]'); ?>