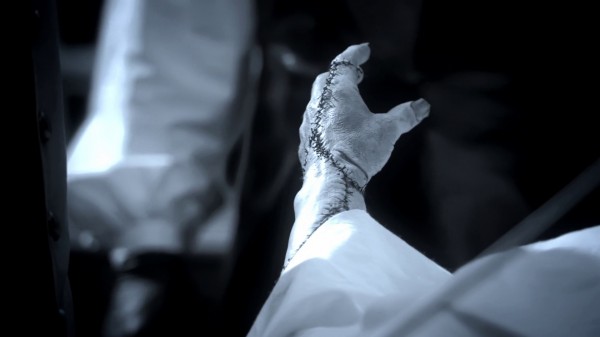 Podcast: Play in new window | Download | Embed
Is Dr. Whale really just Frankenstein, or could he or his brother also be the Wizard of Oz? What does Rumplestiltskin want with slippers? Will Regina love again and be redeemed?
Big thanks to our sponsors!
Sandra
David Neuland
Bonita Still
You can sponsor ONCE podcast, too!
Storybrooke
David became a man and punched Whale for fornicating with Mary Margeret. But Whale thought "wife" meant Kathryn. This is probably because he's from another land and had no idea about Snow and Charming.
David acknowledged it's possible that all the lands still exist.
Regina brought who she wanted with the curse, but so did Rumplestiltskin:
Seemingly from Enchanted Forest
Jefferson from Wonderland
Dr. Victor Frankenstein from whatever his land his called
Smee from Neverland (by Rumplestiltskin)
Maleficent from Enchanted Forest, but locked as a dragon
Regina preserved Daniel's body with an enchantment spell. This is hard to figure into the timeline based on when Regina actually used magic for the first time (probably a couple months after Daniel's death).
Henry's horse is in stall 8, a Lost number.
Whale's lab is MS-18, but we couldn't figure out any significance to that.
Whale brought Daniel back as a monster—maybe because they used an "evil" heart? The original story is that Frankenstein used the brain of a killer.
Snow did tell Charming about Daniel, so no lying there!
Regina said that Whale practices something more powerful than magic. She doesn't know about science?
Regina took so many hearts it was hard to keep track, similar to what Cora did. It seems like a drug.
Daniel told Regina to love again. Will this only be for Henry and the people, or will she have romance again?
Whale said resurrecting his brother the first time "ended badly."
Enchanted Forest
Rumplestiltskin called Regina his apprentice. Could this be a reference to The Sorcerer's Apprentice?
Taking a heart and enchanting gives one control over the person or animal while still keeping them alive.
Can't you see Rumplestiltskin wearing ruby slippers and saying, "There's no place like home"?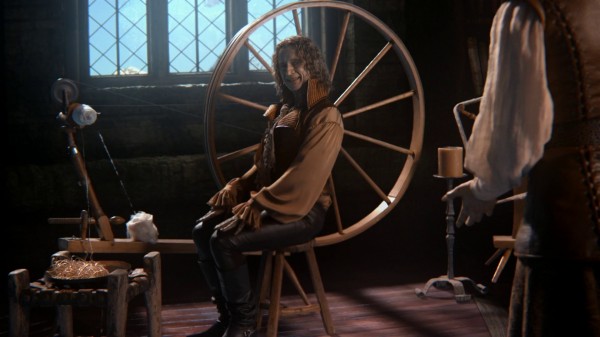 Lost reference:
Did you notice that right after rumple gave us that great LOST reference, "Dead is Dead," Regina said, "Then I am Lost." Fantastic bit of writing there for us Lost and OUAT fans.

Love the podcast – glad I found you. you make the Once Upon a Time journey so much more rich and enjoyable.

Robin Bolash
Jefferson gave Rumplestiltskin a crystal ball. Maybe this is how Rumple glimpses the future, or maybe this was the same ball that Maleficent later has the curse in. This crystal ball could have been from the Wicked Witch of the West in The Wizard of Oz (suggested by Sean).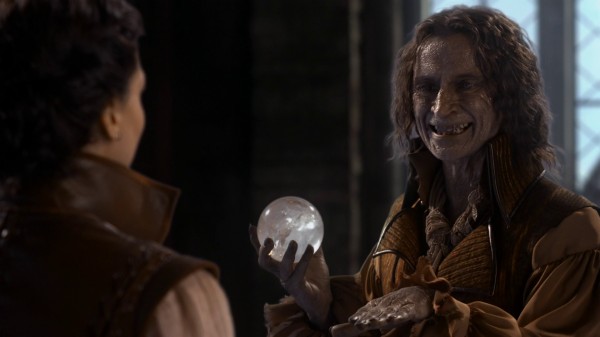 Rumplestiltskin wanted Jefferson to find some slippers, which were moved to another land. This sounds like Dorothy's Ruby Slippers, and Rumple could have used them to get to our land.
Jefferson took all of Rumplestiltskin's gold as his "fair price." Now we now how he got wealthy for a while.
There were enough Wizard of Oz references to make us think Dr. Whale was the Wizard solely or partially.
"And off we shall go to see him"
"I introduce you to the wonderful wizard"
Slippers
Crystal ball
Jefferson said that Frankenstein has never before to a world like ours, maybe because his really is "a land without color" (as Kitsis and Horowitz called it in the official podcast).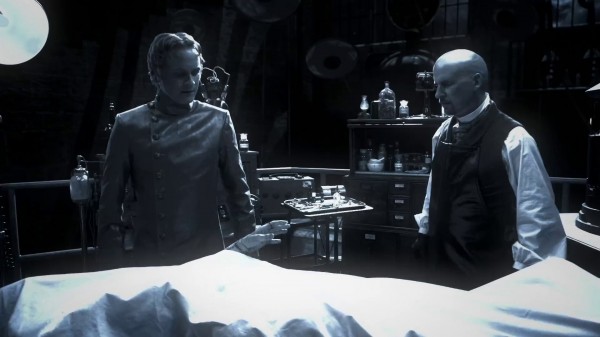 Regina called Cora a collector of hearts—maybe, you could say, the queen of hearts? That's what we think!
Now turned fully evil, Regina rips the heart out of a gypsy-looking lady training with Rumplestiltskin. Was this Esmerelda from Disney's The Hunchback of Notre Dame?
(Sidenote: Daniel know's it's "no-tra dom," not "no-ter daym." Slip of the tongue.)
Rumplestiltskin is satisfied that he made a monster of Regina.
Frankenstein seeks to accomplish what magic can't—resurrection. "It's magic, Dr. Frankestein." "No, it's science."
Present-Day FTL
Aurora said she isn't a good liar. Will this come into play later?
Cora killed the Safe Haven by ripping out people's hearts, more evidence of Queen of Hearts.
Hook had been to the Safe Haven a couple months before as a blacksmith—if Mulan can be trusted for telling the truth.
We think the beanstalk has been around for a long time, before the curse.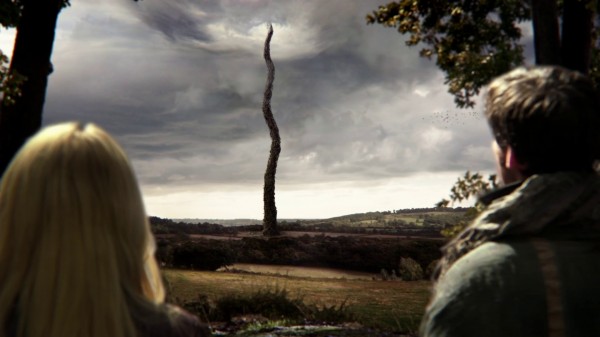 Everything we're seeing in Present-Day Fairy Tale Land is progressing in sequence with Storybrooke, but that does not necessarily mean that the time is parallel. This could still be "past" to us.
Please retweet this!
Listen to these #OnceUponaTime theories and discussion on "The Doctor"! http://t.co/8iWt6hbk

— ONCE podcast (@ONCEpodcast) November 3, 2012
Upcoming costume contest
Create or wear a Once Upon a Time costume and send us pictures by November 15 for our upcoming costume contest!
Join us for the LIVE podcast!
Initial reactions on Sundays at 9:15 p.m. (EDT/GMT-4)—right after the Eastern and Central episode airing.
Full discussion, feedback, and live calls on Wednesdays at 8:30 p.m. (EDT/GMT-4).
On these dates, visit ONCEpodcast.com/live to watch and chat live.
Thank you for the Apple Podcasts reviews!
RumplesGirl
Hannah-97
prissytvfanatic
RoseRed24
Please rate and especially write a review for us on Apple Podcasts. It really encourages and helps us!
What did you think?
Email Feedback@ONCEpodcast.com (audio files welcome)
Call (903) 231-2221
Comment on the shownotes
Visit any page on ONCEpodcast.com and click the "Send a voice message" link to record and send a message right from your computer.
Help us out!
Share this post in your social networks
Follow us
On Facebook:
On Twitter:  echo do_shortcode('[twitter follow="ONCEpodcast"]'); ?>
Daniel J. Lewis:  echo do_shortcode('[twitter follow="theDanielJLewis"]'); ?>
Jeremy Laughlin:  echo do_shortcode('[twitter follow="phlegon"]'); ?>
ErinJ:  echo do_shortcode('[twitter follow="erinjcruz"]'); ?>
Hunter Hathaway:  echo do_shortcode('[twitter follow="travelingpixie"]'); ?>
Jacquelyn / RumplesGirl:  echo do_shortcode('[twitter follow="punk_bunny_87"]'); ?>