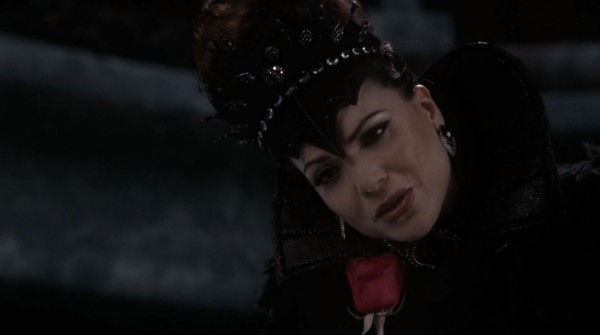 Podcast: Play in new window | Download | Embed
Answers about Wonderland, present-day fairy tale land, and so many awesome surprises from this winter, mid-season finale! This was our favorite episode so far of the second season!
These are just our first thoughts about this Once Upon a Time episode. We'll share more about "Queen of Hearts" in our upcoming full episode.
Cora and Hook face off with Mary Margaret and Emma in a race to secure the compass, which will point its holder to the portal into Storybrooke. But back on the other side, Regina and Mr. Gold, desperate to keep Cora out, put a plan into action that would kill anyone entering the portal – placing Mary Margaret's and Emma's lives in danger as well. Meanwhile, back in the fairytale land that was, Captain Hook travels to Wonderland and meets up with a vengeful Queen of Hearts.
Thanks for supporting us!
Sandra
Bonita Still
David Neuland
Tim
You can sponsor ONCE podcast, too!
Or support us by shopping on Amazon.com or getting a FREE audiobook of your choice through Audible's free 30-day trial!
Initial reactions
Some of our interesting discussion points (in no particular order):
CORA IS THE QUEEN OF HEARTS! We're quite excited that we nailed this one a long time ago.
EMMA HAS MAGIC! This was also wonderful to see!
We got so many answers to questions and even little theories in this episode.
Hook's hook was enchanted and could take just one heart, but Cora's is hidden! Where? Maybe it's hidden inside Regina?
We thought Regina was about to sacrifice her life.
Now we know that Rumplestiltskin was willingly captured and had a plan for remembering Emma's name.
How did Hook come back from Neverland and where did he hear about the weapon that could kill the Dark One?
Did Hook kill the giant to get the dead magic bean?
Aurora got her heart back and now she and Mulan can search for Prince Philip's soul.
Cora was the one who protected that corner of the enchanted forest from being cursed.
Will Regina turn evil again or redeem herself?
What will happen now that Cora and Hook are in Storybrooke? Does Cora have something other than revenge planned?
We gave everything a brief overview and would love to hear your thoughts!
Talk about "Queen of Hearts" in our Once Upon a Time forums
Please retweet this!
Hear our "Queen of Hearts" initial reactions podcast! http://t.co/sfLGjg9D #OnceUponaTime

— ONCE podcast (@ONCEpodcast) December 3, 2012
Thank you for the Apple Podcasts reviews!
Timeisnotaline
Rhythmreaver
Sezzadotmorgs from Australia
Icemanmike82
Your reviews encourage us and help others find the podcast!
Please rate and especially write a review for us on Apple Podcasts.
Preorder season-two DVD/Blu-ray set!
You can now preorder the complete second season of Once Upon a Time on Amazon.com! For a limited time, save $10 off the DVD set and $15 off the Blu-ray set!
Preorder the second season today!
Join us for the LIVE podcast!
Initial reactions on Sundays at 9:15 p.m. (EDT/GMT-4)—right after the Eastern and Central episode airing.
Full discussion, feedback, and live calls on Wednesdays at 8:30 p.m. (EDT/GMT-4).
On these days, visit ONCEpodcast.com/live to watch and chat live.
What did you think?
Email Feedback@ONCEpodcast.com (audio files welcome)
Call (903) 231-2221
Comment on the shownotes
Visit any page on ONCEpodcast.com and click the "Send a voice message" link to record and send a message right from your computer.
Help us out!
Share this post in your social networks
Follow us
On Facebook:
On Twitter:  echo do_shortcode('[twitter follow="ONCEpodcast"]'); ?>
Daniel J. Lewis:  echo do_shortcode('[twitter follow="theDanielJLewis"]'); ?>
Jeremy Laughlin:  echo do_shortcode('[twitter follow="phlegon"]'); ?>
ErinJ:  echo do_shortcode('[twitter follow="erinjcruz"]'); ?>
Hunter Hathaway:  echo do_shortcode('[twitter follow="travelingpixie"]'); ?>
Jacquelyn / RumplesGirl:  echo do_shortcode('[twitter follow="punk_bunny_87"]'); ?>