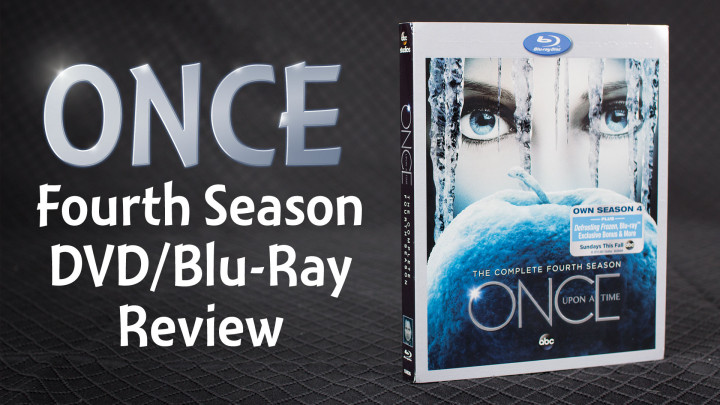 We have finally received our very own copy of the Once Upon a Time fourth season Blu-Ray/DVD and are so excited to share it with everyone! Join us as we talk about all the bonus features included in the DVD, including blooper reels, audio commentaries, deleted scenes, and more on our Once Upon a Time Season 4 Blu-Ray/DVD review!
Podcast: Play in new window | Download | Embed
The deleted scenes for this season were better compared to what we have from the past seasons; it has a lot more depth. What we also liked about this season's bonus features is that they gave us about 55-minutes of DVD extras, episode commentaries not included, compared to season 3's bonus features, where we only got about 40-minutes of  bonus features; season 2 DVD with and hour and two; and about an hour and twenty from season 1 DVD. That being said, we still think that the first season Blu-Ray-DVD has a much better bonus features than all of the preceding seasons combined.
Bloopers were definitely fun to watch. It has surpassed the past bloopers from the past seasons, and we were looking forward to seeing the audio commentaries, as well. We also think that it is much better than the season 3 DVD, although it was a little strange that they didn't include most of the ones that are already out there anymore, when they started releasing deleted scenes early on in the season. And although the blooper reel from the first season so far has the best blooper reel, the bloopers this year greatly surpassed season 2 and 3's bloopers.
In our Fourth Season Unboxing Video, we mentioned that it doesn't have its lenticular cover, unlike how they've previously done it with the last three seasons. Although we think it is a clever marketing strategy for their part that they used the Frozen apple photo for the DVD cover, we wished they had incorporated the entire season in it, somehow. Did you miss our unboxing video? Watch our Once Upon a Time Fourth Season Unboxing Video if you wanted to see the contents of the last season's Blu-Ray copy in case you want to purchase it yourself!
Audio Commentaries
4×01 "A Tale of Two Sisters" with Jennifer Morrison (Emma), Eddy Kitsis (creator), and Adam Horowitz (creator)
It was cute how they started the audio commentaries by saying they were recording live from Arendelle. During "A Tale of Two Sisters" audio commentary, they talked about being excited to Frozen to their mythology but they also wanted to make it meaningful with how they fit in to the story. They also talked about how Emma and Elsa have the same issues but Elsa has had time to learn her powers, how Emma needed someone who could help her with hers, as well as how Elsa helped shape the way Emma does her own magic.
In addition to this, Jennifer Morrison also talked about how Emma now feels included after she went to the past. They also mentioned that it would have been how the show would end and how it would make a good series finale if they didn't get renewed for another season. We also learned about the snow around Elsa and how it reflects of her emotions. The three also talked about how Rumple finally got to mourn Neal's passing and confess what he couldn't in real life. They also mentioned how that particular scene was necessary for everyone including the fans, and not just for Rumple. Jennifer Morrison also talked about how every year Emma lets down a new wall. So now that a new season is about to begin, what wall will she let down now that she's the Dark One?
It was also during this commentary that they shared how Tank Top Emma means business. They also gushed about how amazing they thought Sven was, but that it wasn't the reindeer's own voice; it was actually one of the guys on set that voiced Sven. They also revealed that from that episode on, Kitsis and Horowitz already knew that it was Zelena acting as Maid Marian.
During the episode's commentary, a few filming secrets were revealed, one of which was about the tower where the wedding dress was, which turns out was also used as Rumple's tower, Rapunzel's tower, and Snow White and Prince Charming's room. It was also revealed that the farm house was very far away, smelly and was noisy with trains and an airport. By the end of the commentary, they shared how they wanted to focus the Frozen arc to be about the sisters, not Anna's wedding, ending it with a beautiful quote from Jennifer Morrison saying, "what makes you different is what makes you special, not weird."
4×06 "Family Business" with Andrew Chambliss and Kalinda Vazquez (writers)
Long-time Once Upon a Time writers Chambliss and Vazquez talked a lot in the room about how they really wanted to bring Belle's mother to the show, but it was just a matter of looking into how she fits into the timeline. Speaking of timeline, both Chambliss and Vazques also talked about how there is a timeline outside the office that is around 25ft long that they check constantly to see where they can put in more story.
In this audio commentary for Family Business, they also shared "Group Gabs", which is a  large groups of characters standing around talking about the events. Each character needs a different point of view, even if they are agreeing with another character, like David and Snow agreeing but for different reasons. Chambliss and Vazquez said how these are always really hard to write and sometimes they refer to these sessions as "line rationing."
Furthermore, it was also revealed how they wanted to keep the mystery of what happened to Anna but without doing a big blanket memory spell like they did the season before. They also talked about Belle having a secret is intriguing because it gives her character a bit of darkness and parallels Rumple's secret that he's keeping from Belle as well.
It seems that the two writers of the show loved Elizabeth Mitchell's performance because she was so quiet and reserved instead of being loud like Zelena. However, what sold Adam an Eddy on doing an entire episode about Belle and Anna was the idea of Belle pulling the dagger out and using it on Rumple.
They also revealed that the writers had to cut an entire monologue delivered by Hook about this childhood and his father abandoning him. They keep the idea in a "scrap box of ideas" for future in case they ever want to revisit them. They also praised Emilie de Ravin for playing two different version of Belle so well: normal Belle and Mirror Belle. As for Rumple, both believed that Rumple should have come clean in the shop when Belle was asking for forgiveness because at that moment Belle probably would have forgiven him. Moreover, both Chambliss and Vazquez agreed that they would love to bring back Francis Conroy at some point to play Belle's mom again. However, the writers often feel like they are banging their heads against a wall trying to write lines that stay within the show's mythology. Eventually, they've learned that simpler is always better.
Overall, we liked how the commentary was heard this time from the writer's point of  view, instead of hearing it from the actors themselves.
4×15 "Poor Unfortunate Soul" with Steve Perlman (director) and Colin O'Donoghue (Killian "Hook" Jones)
It was an interesting commentary, but Colin O'Donoghue doesn't seem to know what to do as Steve Perlman continues to prompt him to comment about certain things. Both gentlemen give out funny commentaries, talking about how Colin O'Donoghue was upset that everyone gets to do magic except Hook. They also talked about how good the guest stars were in this episode, with O'Donoghue even admitting that had a fanboy moment when he found out that Poseidon was going to be played by Ernie Hudson.
Steve Perlman, director of the episode, also talked about what he called a crop shoot, where they do an episode focusing on a guest star—like how this episode focused on young Ursula—and not knowing where the character is going to go. He also expressed how he liked having Tiffany Boone portray the role of young Ursula, and what a great job she did portraying the role. He also shared a lot more information of how long filming some scenes took, like the 2-minute opening scene, which they spent 8 hours filming this episode, Poor Unfortunate Soul.
It was a good commentary. Once Colin O'Donoghue got comfortable to say more things it turned out to be exactly how you would imagined him being in a commentary. Steve Perlman, on the other hand, ever the pro, kept him on track, talking about things that were related to what we're watching on the screen. However, it seems like some of the actors are often probably not sure what they can say because they can't necessarily theorized what might be going on. On the other hand, some of the actors seemed to know a lot about what went in to make their character the way that they are. Jennifer Morrison, for example, who talks a lot of time about doing extensive research about her character. They also seemed to have intense conversations with the writers about why their character would a certain way.
Apparently, the bottle with the Jolly Roger in it broke. Colin O'Donoghue said that he was supposed to receive that as a Christmas present but the prop broke so he didn't get to have it anymore.
4×18 "Sympathy for the De Vil" with David H. Goodman (executive producer and writer) Jerome Schwartz (co-producer and writer)
At the start of the commentary for Sympathy for the De Vil, Goodman and Schwartz said, "4×18 or 4×19 depending" on how you're considering the two-hour episode. Schwartz also confirmed that young Cruella was the same actress as young Alice. However, we did a research and found out that it was Alice's daughter that the girl played, not young Alice.
Goodman and Schwartz also said that they purposely set up story to look like their usual MO: show the damage behind the villain, when really she was already evil. When they write, usually one takes one half and the other does the other half.
One thing that we found particularly interesting was that that Cruella's car is a Panther De Ville, and that there are only about 60 to 70 in the world. They also mentioned that it was the same car used in the animated movie. It was also interesting how Jennifer Morrison mentioned as playing with her makeup design herself in this and preceding episodes playing into her gradual transformation.
To show the mindset of the writers, they talked about Regina controlling Belle's heart, saying that they "made it as cruel and heartbreaking as humanly possible, which is always a goal of ours." There were also a lot of interesting notes in the commentary and we definitely recommend watching it.
When they got to the moment when Isaac was reading "The Great Gatsby", they said that it was a nod to "fictional jazz age time period their flashback is taking place in." The big thing that got us was when they started talking about their concerned that two non-main characters couldn't hold the audience's attention by themselves in the flashbacks. The writers also discussed the difficulty they had in finding a main character with which to link Cruella's flashbacks, which is what they usually do, and it sounds as if they decided to link her story to Isaac's only after beginning to see the actors performance. This would mean they hadn't even figured this part of the story out at the beginning of the season. Furthermore, it was revealed that the part when Isaac said, "There's no telling what would happen if that ink spilled." was a "late add" in the writing process as they got to wanting to explain Cruella's transformation in appearance.
Speaking of episode reveal, they also shared that the pen box was actually opened until Cruella kisses Isaac on the cheek, and when he looks at the napkin, the box was shown again, but this time it is now closed. This was when she stole the quill, but we didn't see until later. Both also talked about how Cruella was the exception to their rule that "evil isn't born, it's made." They also said that Isaac transformed as well, in a sense, in the same scene as Cruella's visual transformation. Unfortunately, no explanation was given of how killing Cruella in defense of Henry's life made Emma darker even though she didn't know what we knew about Cruella's bluff.
Other little episode reveals also include that Cruella's Dalmatian coat was the one that they let her get to do the thing she never got to do in the animated movie; Cruella's dress in the Murray club scene was taken from the movie, "The Artist", and Dalmatians "aren't the most trainable dogs."
4×20 "Mother" with Jane Espenson (writer) and Lana Parilla (Regina)
It was great hearing them together and it was funny how these two ladies sometimes talk about dresses in this audio commentary for the episode, Mother. It was interesting how they talked about rice during the opening scene. However, Espenson said that fairy tales aren't actually in the past, so stuff like throwing rice at a wedding is okay. We also liked hearing Lana Parilla loves seeing and working with Barbara Hershey.
One of the things that they did so well that we got wrong was that the bar Regina and Robin talked in wasn't actually the same bar that Neal and Emma had a conversation with, but was altered to make it look like it (was the same bar). Espenson also explained about the bagel moment with Isaac and Mr. Gold, was more about the believability of Granny's serving good bagels, not what a bagel is. It was also neat to see them talk about certain details like Rumple's poofing away instead of walking allowed things to happen without Rumple seeing Emma and Regina's arrival with Lily, Robin Hood and Zelena.
One of the deleted scenes that they referenced in this commentary was of the hugging scenes with the Charmings, Lily and Maleficent. Espenson said that the reason it was cut was because of the filming weather and lighting not matching the rest of the scene. They also talked about some of the nice lines that was included in the deleted scene. Espenson also admitted that she has never been to Steveston to see the actors filming.
It was also funny to hear both Jane Espenson and Lana Parilla were also trying to  figure out the timeline, when Lana asked if the scene when Cora visited Daniel's grave took place. Lana also talked about how everyone has their own "poof gesture", as well as how Regina makes the fireball, to which she explained that "it comes from the inside out, like scooping it out from the inside of your belly and pulling out the flames and the fire and holding it in your hand and throwing it at someone."
It was also during the commentary that Espenson shared how the dragon shots were very expensive and they could afford only a couple or few per episode. She also pointed out that Once Upon a Time does well with the objects, like Maleficent's baby rattler.
One of the cool things about this episode's audio commentary is that this was the first episode with the first true flashback to influence the present when Regina remembered her final interaction with Cora, and then deciding not to proceed with her original plan of having the Author writing out Zelena for good, realizing that she doesn't want to turn out like her mother. It was also revealed that the potion that Regina drank towards the end of the episode did not cause a miscarriage, unlike many viewers initially believed.
Thank you for supporting us!
David Neuland (subscriber)
Steve Johnson (subscribe)
Lisa Slack (subscriber)
Tracey Anderson (subscriber)
Daniel Clark (subscriber)
Swangot Hooked (subscriber)
Maryann Livoti (subscriber)
Jessica Olsen (subscriber)
Aimee Catellier (subscriber)
Tappnbrd (subscriber)
DJ Firewolf (subscriber)
Sara Cochran (new Patreon backer)
Laura (new Patreon backer)
Jennifer A. Treese (new Patreon backer)
18 Patreon backers ($91.25 per month)
You can sponsor an episode or more of ONCE podcast, too! Email Daniel@ONCEpodcast.com if you would like to arrange a corporate sponsorship of our podcast for the upcoming third season.
The Fairest Bloopers of Them All
This season's blooper reels were so much better than last year's. They were funnier than the last two seasons, and it clearly showed that they were having fun doing things. It was always nice to see how well the cast gets along with one another, and fun to see the actors grow acting-wise.
Were there any bloopers that actually ended up in the episode? During the audio commentary of Mother, Espenson and Parrilla revealed that there were a few lines that Regina and Zelena added while they were walking towards the room where Zelena will be detained.
Deleted Scenes
Some of the deleted scenes exclusively to Blu-Ray copies include the following:
4×05 – Mary Margaret and David talking to Belle before she babysits Baby Neal.
4×10 – Regina meeting the Snow Queen in Storybrooke circa 1999 flashback.
4×11 – Rumple interrogating Regina in a flashback, thinking she kidnapped Belle.
4×15 – Extended scene with Regina and August, where he talks about a story called "A Cow Named Nan."
4×21 – Henry looking through an abandoned Granny's, and then driving off in the yellow bug.
4×22 – Henry talking to Emma in the tower, explaining that they can fix things.
When we saw the deleted scene with Regina meeting the Snow Queen for the first time in Storybrooke in Any Given Sundae, it has us wonder if it was that the ice cream store that was not supposedly be in Storybrooke, or if it was who was running the ice cream shop that made Regina walk inside and interrogate Ingrid.
Although the deleted scene where Henry trying to drive off using Emma's yellow bug were somewhat unimportant, we were still glad to see Henry attempting to use her mom's car.
One of the best deleted scenes was the Twinkie scene. We liked seeing the awkwardness between the characters, especially Kristoff for making too much noise eating the magic cake. It was also a neat moment seeing more depth to what kind of verbal abuse Emma received from Lily's adopted parents and how much Lily tried to make things right with Emma. One of the scenes that surprised us is seeing Henry wanted to have his fake memories back. To see Henry completely struggle, as well as Rumple talking more about Henry's being the lineage of the Dark One and blood from the Savior, with a hint that something could still unfold.
The last deleted scene that stood out to us was when the Charmings were hugging. During the "Mother" episode, we questioned a few things including Roland's sake. In this particular episode, however, Regina sends Robin to her office for a forgetting potion for Roland, to which we hoped they kept. It was also during the same deleted scene where they explained more about Zelena's bracelet from Peter Pan, Emma threatening Lily, as well as Regina and the Charming's little family quip.
Thank you for the podcast reviews!
GDdotT, from the UK, said, "Great addition to the show. A wonderful podcast by people who truly seem to adore the show. Much love…"
Eglay01, from the USA, said, "I have been watching OUAT since basically the beginning! I didn't know much about podcast until earlier this year and this podcast is what made me love podcasts. I love that the podcast is very clean and they are not afraid to be open about their faith! Daniel, Jeremy, Erin, and all the others are so funny and they really dig deep into the show. Sometimes I think they dig a little too deep *cough* Daniel *cough*. They took a show that I already loved and made it even better! Keep doing an awesome job guys!!!"
Dawn Perignon said, "This show always has the best reviews! I love the initial reviews because they are definitely off the cuff. But I am most impressed with the longer reviews because the hosts do so much necessary research that makes the show that much more interesting and their opinions that much more valid. I have been listening to the podcast since season 1 and have yet to be disappointed. Thank you for this great podcast and keep up the fantastic work."
Josef Sutton, from New Zealand, said, "… i think you guys are the greatest podcasters ever all your podcasts bring me a lot of joy keep up the great work love you guys …." Read the full review
Brookie B!, from the USA, said "Seeing that Once was nominated [in the Podcast Awards] I decided to start watching OUAT and then started listening to Once soon thereafter. I am so glad I discovered this podcast. I'm still catching up on both the show and the podcast, just finished season 2 of the show and working my way through season 2 on the podcast. Love the listener involvement!"
Your reviews encourage us and help others find the podcast!
Please rate and especially write a review for us on Apple Podcasts.
Behind the Magic Tour with Josh Dallas and Ginnifer Goodwin
The Behind the Magic Tour with Josh Dallas and Ginnifer Goodwin was a little cheesy, and although it was unsurprising that there was a studio version of the Main Street, the sets simply look creepy without TV lighting. Some of the studio versions included in the set was the interior of Granny's Diner, as well as the Main Street of Storybrooke.
It was also nice seeing Mary Margaret's bathroom for the first time, because there was never a scene in Mary Margaret's bathroom before, but it does exist. Speaking of Mary Margaret's loft, it was funny how they referenced the bed as to where they make tacos, which is a nice nod to the fans.
We also got to see more of Mr. Gold's shop, and we were glad to see them referenced to hidden Mickeys. It was also surprising to see musical instruments inside Mr. Gold's shop, as well as a chess piece that looks like Mulan's.
Defrosting Frozen
During this particular bonus feature, we found out that Georgina Haig actually has an Australian accent in real life. Edward Kitsis and Adam Horowitz also admitted that Once Upon a Time wasn't intended to be a sequel to the movie, only trying to bring the characters into the show. However, it was a bit hard not to see it a sequel of the movie or expand its world, because of how often they referenced and took parts from the movie and into the show except to one particular character—Olaf.
It was also really cool that the ice cream in Any Given Sundae is real when Elizabeth Mitchell tasted one of the flavors. However, Ginnifer Goodwin revealed that she hasn't tried it yet.
Three Who Stayed
Towards the credit, it was showed that it was produced by Hart Archer and Goldie Locksley, which were actually the hosts from Good Morning Storybrooke. It was cool seeing some hidden quirks thrown back and forth.
Among the three who stayed includes Jerry Peters, who was a 40-year old accountant and who does Mr. Gold's accounting; Lara Lewis who was the blind witch's daughter, and Freida Norland, who is also the 1, 359-year-old Norse Goddess Freyja. Apparently, this particular bonus feature was first shown during the Once Upon a Time panel at San Diego Comic Con this year.
Once Upon a Time is set to come back for its fifth season starting September 27.
What did you think?
Email Feedback@ONCEpodcast.com (audio files welcome)
Call (903) 231-2221
Comment on the shownotes
Visit any page on ONCEpodcast.com and click the "Send a voice message" link to record and send a message right from your computer.
Help us out!
Share this post in your social networks
Follow us
On Facebook:
On Twitter:  echo do_shortcode('[twitter follow="ONCEpodcast"]'); ?>
Daniel J. Lewis:  echo do_shortcode('[twitter follow="theDanielJLewis"]'); ?>
Jeremy Laughlin:  echo do_shortcode('[twitter follow="phlegon"]'); ?>
ErinJ:  echo do_shortcode('[twitter follow="erinjcruz"]'); ?>
Hunter Hathaway:  echo do_shortcode('[twitter follow="travelingpixie"]'); ?>
Jacquelyn / RumplesGirl:  echo do_shortcode('[twitter follow="punk_bunny_87"]'); ?>
Spoilers
During Once Upon a Time panel at the D23 Expo, "The Evening with Snow White and the Evil Queen", in attendance includes Lana Parrilla, Ginnifer Goodwin, Adam Horowitz, Edward Kitsis, and a surprised guest panel in Josh Dallas.
Season 5 premier will pick up right where the season 4 finale ended, with Regina getting upset for what Emma did, calling Emma "stupid" and Hook "Guyliner." Henry also appeared moments after Emma got sucked up into the vortex of evil.
In 5×01, Hook tries summoning Emma by picking up the dagger, but got no response. It looks like Emma was transported to either the Enchanted Forest or Camelot.
100th Episode hasn't been written yet, but they probably already know what it's going to be about.
Some of the characters that might also be in the 100th episode includes Tinkerbell, Ruby, Aurora, and young Baelfire.
The themes for season 5 will be "Love is a dangerous weapon" and "Things aren't always as they appear"
There will be events in the premier that will make Henry wish he could rewrite things
Adam Horowitz said that, "being a Dark One is sort of a magnifying glass of who you are but then kind of twisting it a little bit."
Eddie Kitsis also quips, "Having the dagger and the power that comes with it tricks you into believing there's a freedom to lose your fears. Emma has her own take on being the Dark One."
Emma being the Dark One will directly affect Snow White, while Charming will try to get his daughter back to the light.
During the Panel, Lana Parrilla sang a line from Poor Unfortunate Soul when they were asked what their favorite Disney song was.
Josh Dallas shared that there will be serious bromance between Charming and King Arthur in Camelot, saying that their friendship could "light a fire" under Charming that reinvigorates his defining characteristics.
Merida looks exactly like that of the animated movie, and will interact with all of the characters
Lana Parrilla also said that Camelot clothes is something to look forward to.
Aside from the core characters, there will be some other characters that will go with them on an adventure, Belle and Merida included.
Where does Camelot lies? Horowitz said that it exist concurrently with our world, and that it's Enchanted Forest adjacent, with its own past and present timelines.
The Wicked Witch will remain evil and will live up to her name, even going to have in some fight with Regina this season.
A concept art shown of what looks like the Enchanted Rose from Beauty and the Beast. This could also be what Emilie De Ravin was seen holding in 5×01
This season, Regina will have to save Emma and get Emma back
The limited Snow White and Regina dolls was also released during the D23 Expo, and will be available soon starting September 29.
The synopsis for season 5 has been released and as Emma transitions into her role as the Dark One, the resident fairy tale characters cope with Emma's new role and begin the search for Merlin.
The search for Merlin is a journey that will take them from the Enchanted Forest to Camelot.
5×02 is entitled, "The Price" written by Andrew Chambliss & Dana Horgan; 5×03 is entitled "Siege Perilous" written by Jane Espenson; 5×04 is titled "The Broken Kingdom", written by David H. Goodman & Jerome Schwartz
There was a screen shot from 5×01 of a beer garden at Granny's Diner, as well as Sneezy looking exactly like Emma, and seemed to be going to turn into stone in 5×02.
Also in 5×02, Regina, Snow, Charming and Hook will be attacked by something called a mythological monster
In 5×01, Regina was seen marching into Robin, with Hook, Mary Margaret, Charming, Belle and Henry in tow, coming across Zelena who looks as if she was demanding something from Regina, having Robin into a choke-hold
Zelena wields the wand or the dagger, sending the core characters to Camelot
We've also seen a photo of Emma and Rumplestiltskin, looking as if she was seeking help from him on how to become a Dark One.
Jennifer Morrison shared in an interview with Pop Sugar how everyone takes the Darkness for a good reason. Rumple takes it because he wants to be braver for his son. Emma takes it because she's saving the whole town from being destroyed by the Darkness.
Robert Carlyle mentioned that Rumple is not is in a coma, Mr. Gold is because he has a white heart. What's the difference between having a red heart and a white heart?
There will be a ball happening in Camelot and a guest of honor is to be expected. We think it will be Snow White and Prince Charming.
We found a video from the set of Regina and Robin, with Robin on the ground and Regina is trying to help him up. Looks like Robin has been attacked.
A new photo of the Dark Swan surfaced and she's got a black tea-length dress that flairs out and a jacket with white hair, which is way better than the previous look we've seen of Emma as the Dark Swan
Emma will be brought to Storybrooke by 5×02, and will be in plain sight, even interacting with Henry and Regina, as well as with Hook, where they were seen inside a big blue house and the yellow bug outside.
Camelot comes to Storybrooke, with King Arthur on a horseback, going down Main Street. There was a video of a fight scene in the streets of Storybrooke.
For 5×04, Merlin is seen on set filming along with Lancelot.
There are also some photos with Emma and Hook in his pirate costume out in the woods.
There were also some photos of Arthur and Guinevere as 12-year-olds and a sword in a pile of stone
According to TVLine, Once Upon a Time is guest-casting the role of a medieval manservant who is devoted to his employer but harbors a deep resentment… that may lead him to do very bad things for 5×04. Young Merlin, perhaps?
TVLine also reported that for 5×05, Once is also casting the possibly recurring role of Sir Lionel, a distinguished knight who sits at King Arthur's Round Table and is a single father to his 13-year-old daughter, Violet.