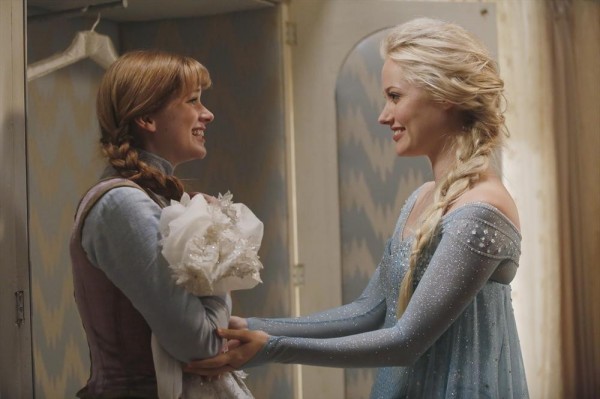 While all Oncers are "frozen" to their seats anticipating this Sunday's fourth-season premiere of Once Upon a Time, we at ONCE podcast got the privilege of screening the episode, "A Tale of Two Sisters," in advanced. We couldn't let go of our excitement and had to give you a taste of what's to come.
Without getting into too much detail, I will say not to expect a Once reinterpretation of the events from the Frozen feature film. Instead, Once Upon a Time is taking the same characters and their traits from the film, while incorporating them into the Once Upon a Time universe. We'll also see events that take place after the movie.
Perfect casting
Just from viewing the premiere, the Frozen cast are the most accurate to their animated Disney counterparts compared to any other character on the show. Elizabeth Lail and Georgina Haig are perfectly cast as the iconic sisters Anna and Elsa, respectively. Both actresses portray the same spirit as Disney voice actresses Kristen Bell and Idina Menzel. Anna is as energetic and optimistic as ever, while Elsa is still the concerned and over-worried older sister. Scott Michael Foster also makes an ideal casting decision as Kristoff, originally voiced by Jonathan Groff. Even Sven makes an appearance, and he steals the scene in which he is featured.
Picking up from OUAT's third season
Meanwhile in present-day Storybrooke, we immediately begin where the Season 3 finale left off, with Elsa emerging from Zelena's barn and venturing out into this strange new world. It remains to be seen how and why Elsa ended up in an urn and placed in Rumplestiltskin's vault. One thing is for sure, the frightened Queen of Arendelle is out on a mission of her own. Once again, the town of Storybrooke could be in danger.
A few, small teasers
Marian's reappearance continues to be dealt with, and both Robin Hood and Regina have their own thoughts on what to do concerning this situation.
Both Robin Hood and Rumplestiltskin give beautiful emotional speeches. You'll just have to see for yourself.
Witness an iconic Disney love scene reimagined to life, complete with an iconic Disney song as the underscore.
A diary is found in an attic, and no it doesn't belong to Anne Frank.
An old friend from the first season makes a return appearance.
The job Henry brought Emma to Storybrooke for is not quite done, as Emma currently sees it.
For those dying for more to do with Henry's book, the importance of that very book is brought up again.
A few notable teasing quotes
"Surprises tend to be hit or miss in this family."
"He knows what to wear. It's not like he grew up in a barn."
"Your heroism will show me the way."
"I may be thief, but I have a code."
"There is no frosting!"
Watch it this Sunday and get our podcast
Be sure to tune in to the Season 4 premiere of Once Upon A Time this Sunday, September 28, at 8/7 Central.
Our podcast will be back with live initial reactions after the Eastern and Central airing of Once Upon a Time. Chat with us during the episode and stick around for our live podcast at 9:15 pm (EDT/GMT-4), all on ONCEpodcast.com/live.
What did you think?
Email Feedback@ONCEpodcast.com (audio files welcome)
Call (903) 231-2221
Comment on the shownotes
Visit any page on ONCEpodcast.com and click the "Send a voice message" link to record and send a message right from your computer.
Help us out!
Share this post in your social networks
Follow us
On Facebook:
On Twitter:  echo do_shortcode('[twitter follow="ONCEpodcast"]'); ?>
Daniel J. Lewis:  echo do_shortcode('[twitter follow="theDanielJLewis"]'); ?>
Jeremy Laughlin:  echo do_shortcode('[twitter follow="phlegon"]'); ?>
ErinJ:  echo do_shortcode('[twitter follow="erinjcruz"]'); ?>
Hunter Hathaway:  echo do_shortcode('[twitter follow="travelingpixie"]'); ?>
Jacquelyn / RumplesGirl:  echo do_shortcode('[twitter follow="punk_bunny_87"]'); ?>