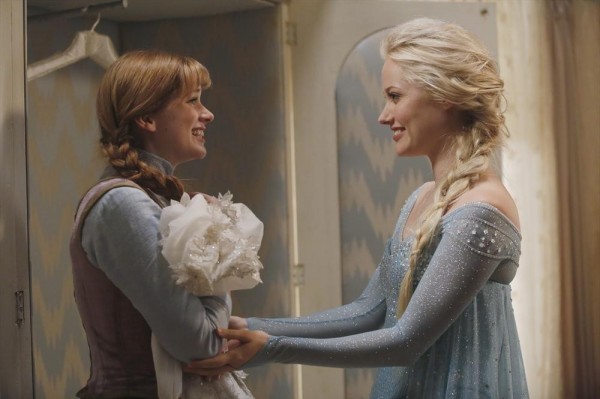 Our favorite fairytale characters are finally back but it seems that none of them are on their journey to happy ending just yet. Regina's finally let love in again but just as she was about to take her first stroll with Robin Hood and Roland, Emma took Maid Marian with her from the past. Hook may have finally won Emma's heart, but how long will Emma keep her walls down for him? Belle and Rumplestiltskin have finally tied the knot but can Rumple keep his little white lie about the dagger from his new bride? And with Queen Elsa's arrival in Storybrooke, whose heart will she freezes? Is she the new villain that's going to set the town in eternal winter? Join us as we share our initial reactions to Once Upon a Time's fourth season premiere, "A Tale of Two Sisters."
Podcast: Play in new window | Download | Embed
A scared and confused Elsa from Arendelle finds herself in Storybrooke and creates a powerful snow monster for protection, Regina wonders if her relationship with Robin Hood has been completely quashed now that Marian's back in the picture, and in Arendelle of the past, Elsa's sister Anna wants to complete their parent's fateful journey and discover if their quest may have held the secret to containing Elsa's out of control ice powers.
These are just our first thoughts about this Once Upon a Time episode. We'll share more about "A Tale of Two Sisters" in our upcoming full discussion live on Wednesday October 1, at 8:00 p.m. (EDT/GMT-4).
Initial Reactions
These are just our initial reactions so forgive us if we are a bit out of place right now.
We were pleasantly surprised with this episode. We were skeptical at first about Frozen going into the show, but we liked the direction this episode went; The casting, the way the scenes were done, were perfect and not forced. It feels like the movie Frozen picking up again right where it left off, which is nice to see. Will we get to see more flashbacks with Sven and the residents of Arendelle? Will Elsa fully learn how to control her icy powers? With whom? Maybe she needs Professor X to control her powers, too?
Speaking of Frozen, we were also pleasantly surprised with A Tale of Two Sisters' visual effects. Given the budget, they made a pretty neat effects depicting Arendelle as we've known from the Disney animated hit.
Back in Storybrooke, the story picks up immediately right where we left off. Prior to Elsa's reveal during the third season finale, Kitsis and Horowitz said in the Once Upon a Time third season DVD/Blu-Ray bonus feature that they actually filmed a different ending, and that none of the actors knew what was coming as well. The question is what is that ending? Are we ever going to see it some other time?
Aside from Anna and Elsa, it was also great to see another character from the Disney animated film such as the Marshmallow. But although they cast the Arendelle characters perfectly, the other characters like Marshmallow and the trolls seem a bit creepy.
Whose house that Rumple and Belle borrowed? Quite incidentally, the music they used were from the Sorcerer's Apprentice. And Sidney's back… temporarily! And like always, he's doing a good job being Regina's mirror.
We also love the two-door scene between Regina and Emma. But while Regina may have other plans to take Maid Marian out of the picture, we are pleased to finally find out about who wrote the book. Who WROTE the book? Merlin, perhaps? After all, Merlin has been hinted in the show since last season.
Thank you for supporting us!
Lisa Slack (subscriber)
Steve Johnson (subscriber)
David Neuland (subscriber)
Kelsey Hunt (subscriber)
Laura Silva (subscriber)
Laurie Hancock (subscriber)
Tappnbrd (subscriber)
DJ Firewolf (subscriber)
Maryann Livoti (subscriber)
Patreon backers ($16.50 per episode)
You can sponsor an episode or more of ONCE podcast, too! Email Daniel@ONCEpodcast.com if you would like to arrange a corporate sponsorship of our podcast for the upcoming third season.
Remember, these are just our initial reactions regarding tonight's episode so please bear with us if we're a bit all over the place. If you have your own thoughts, feedbacks, or theories regarding tonight's episode, however, send them over to us and join our full discussion this Wednesday!
With the direction that they've set us with, we were expecting to see more of Arendelle's past. And while everyone's favorite snowman, Olaf was not present, we were so happy to see Sven steal the scene. They were definitely doing a pretty good job including him in the one scene that he's in.
We also love seeing Leroy as the town yeller. Will we see another Leroy flashback depicting the boy who cried wolf?
Did Regina really said that the book has power? How will she go back in time to undo Emma's mistake? Jefferson's hat, maybe? After this realization, did she now accept the fact that Marian is not the enemy? How far is Regina willing to take to get her own happy ending back? It was nice to finally see Emma use her magic on her own, although it was Regina who saved the day again.
How long will they keep the afraid Elsa type? How long will she let her fears get in the way? Share us your thoughts and theories by sending us an email, joining the forum, or commenting below and join us this coming Wednesday for our full discussion of tonight's season 4 premiere episode, A Tale of Two Sisters!
What did you think?
Email Feedback@ONCEpodcast.com (audio files welcome)
Call (903) 231-2221
Comment on the shownotes
Visit any page on ONCEpodcast.com and click the "Send a voice message" link to record and send a message right from your computer.
Help us out!
Share this post in your social networks
Follow us
On Facebook:
On Twitter:  echo do_shortcode('[twitter follow="ONCEpodcast"]'); ?>
Daniel J. Lewis:  echo do_shortcode('[twitter follow="theDanielJLewis"]'); ?>
Jeremy Laughlin:  echo do_shortcode('[twitter follow="phlegon"]'); ?>
ErinJ:  echo do_shortcode('[twitter follow="erinjcruz"]'); ?>
Hunter Hathaway:  echo do_shortcode('[twitter follow="travelingpixie"]'); ?>
Jacquelyn / RumplesGirl:  echo do_shortcode('[twitter follow="punk_bunny_87"]'); ?>