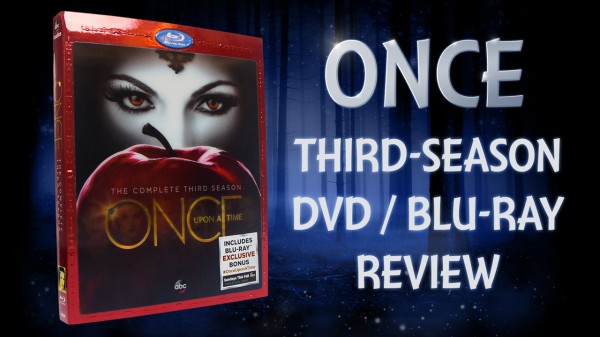 We've finally got our hands on the Once Upon a Time third season disc and we're here to share you about its contents. Listen and read as we divulge into the season three DVD/Blu-Ray box set, discussing bloopers, deleted scenes, wicked villains, and other bonus features!
By the way, check out oncepodcast.com/season3 if you haven't got your own copy. Also, get a preview of the Once Upon a Time third season disc box set by watching our unboxing video.
Podcast: Play in new window | Download | Embed
Commentaries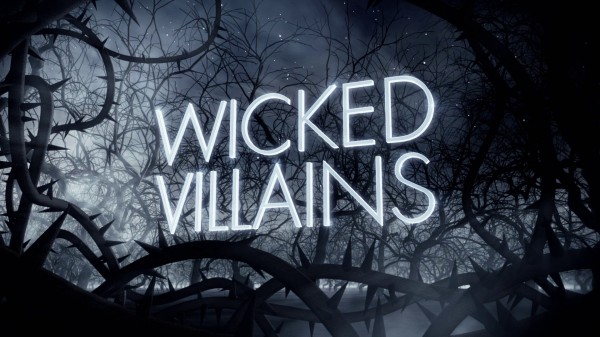 There were only four episode with the commentaries but we do love the commentary for "Lovely Thoughts". The said commentary was by Robert Carlyle, David H. Goodman (writer), and Robert Hull (producer). The other commentaries were from episode 3×02 "Lost Girl" with Andrew Chambliss and Kalinda Vazquez (writers for this episode, their first of three together); 3×17 "The Jolly Roger" featuring Colin O'Donoghue and David H. Goodman (writer); and 3×22 "There's No Place Like Home" with Edward Kitsis and Adam Horowitz (creators and writers).
Although we got a lot from the commentaries, there seems to be something that's lacking. Perhaps they do not realize how people love hearing the commentaries. Hearing stories straight from the actors themselves were always pleasant, but it was a bit disappointing not to see the actor's point of view; JoAnna Garcia Swisher playing Ariel, for example. Maybe the actor's schedule didn't permit at the time it was taken?
Speaking of disappointments, one of the biggest disappointments is the actual case to the DVD/Blu-Ray box set is that it sweeps off the entire Neverland arc. In all of the extras, Peter Pan was not even mentioned. Although Rebecca Mader did a great job playing the Zelena, there's no doubt that Robbie Kay did an exceptional job portraying Peter Pan, as well. Why did they move on so far, emitting the Neverland story altogether and jump ship so far in the season? Rebecca Mader was even in the commentaries, JoAnna Garcia Swisher even made an appearance when she first shot her scene in Neverland, so why is Robbie Kay not included?
It was also a bit sad that we didn't even see a behind the scenes look from the past season. In The Jolly Roger, when Emma saved herself from falling off the bridge, the script originally called for her to create a dragon. Kitsis and Horowitz also said  they'd never do time travel after Lost, but they wanted to do this and THEN decided that they would never do it again. These, among other scenes, are two of the things that would have been nice to be seen, but was unfortunately didn't make the final cut.
Thank you for supporting us!
Lisa Slack (subscriber)
Steve Johnson (subscriber)
David Neuland (subscriber)
Kelsey Hunt (subscriber)
Laura Silva (subscriber)
Laurie Hancock (subscriber)
Tappnbrd (subscriber)
DJ Firewolf (subscriber)
Maryann Livoti (subscriber)
Patreon backers ($16.50 per episode)
You can sponsor an episode or more of ONCE podcast, too! Email Daniel@ONCEpodcast.com if you would like to arrange a corporate sponsorship of our podcast for the upcoming third season.
The Writer's Room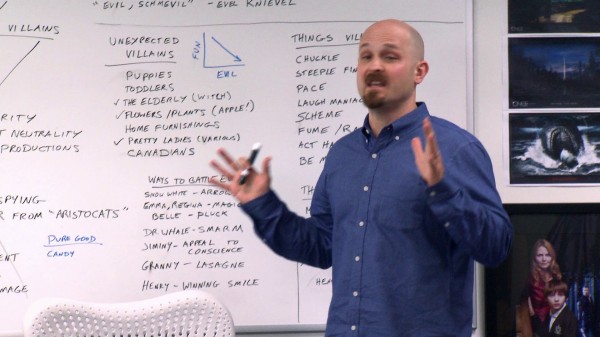 Another bonus feature included in the Once Upon a Time third season disc box set is The Writer's Room, where the shows writers gather in a mini-camp to discuss who the next big bad for the upcoming season. We took time pausing the whiteboard and discovered the following on The Evil Whiteboard:
Villains already died:
Evil queen
Rumplestiltskin
Maleficent (hard to spell)
Peter Pan
Wicket Witch (of west)
     + Monkeys Monkey Monkeys
Not really villains:
Frankenstein (misunderstood)
Wolf (earns minimum wage as waitress)
Hook (sexy)
Billy Goats (merely gross)
Personal Nemeses:
Snow white – apple
Red riding hood/wolf = mange
Granny – health inspector
Jiminy cricket – pesticide
Faires/nuns – spread
Belle – illiteracy (crossed out and replaced with …
Cinderella – shattered f
Dwarfs – tall shelves
Sleeping beauty – caffeine
Prin … -sword
E…
Rejected/potential villains:
Gozilla
Loki
Racism
T-Rex
Wage disparity
Loss of net neutrality
Non-connon productions
Ebola
Witches
Domestic Spying
The butler from "Aristocats"
Meteor!
Sharks (connected with previous)
Unemployment (connected with wage disparity and line saying "Connection?")
The devil
Poor body image
Pure good: candy
Ways to Battle Evil
Snow white – Arrows
Emma, Regina – Magic
Belle – Pluck
Dr. Whale – swarm
Jiminy – Appeal to conscience
Granny – lasagne
Henry – winning smile
Things Villains Do
Chuckle
Steeple fingers
Pace
Laugh maniacally
Scheme
Fume/Rant
Act Harshly re: henchmen* [henchpeople or henchpersons]
Be Mean
Things villains like
Themes
"It is a man's own mind, not his enemy or foe, that lures him to evil ways." – Buddha
"When choosing between two evils, I always like to try the one I've never tried before." – Mae West
"Evil, Schmevile" Evil Knievel
The Good Whiteboard, meanwhile, showed:
Diagram
Act 1
    Problem
Act 2
    Escalation
Act 3
    Henry in danger
Act 4
    Fight
    Resolution
    Codapalooza
Act 5
Act 6
    Six acts is too long for really effective story telling
There was also a list of characteristics, perhaps for the characters, in the said board:
Slinky
Chipper
Peppy
Preppy
Suspicious
whimsical
Optimistic
Hip
Perky
Terrified
Unmotivated
Castles
Gothic
Romanesque
Nathan Fillion
Evil places
Hell
Hades
Airplane (babies)
The valley
Pit of Despair
Sarlacc Pit
Detroit (recovering)
New fairy tales
The tallest dwarf (AKA "The Normal-sized guy")
Peg, the princess with the wooden leg
The final board was a list of foods, including:
Sushi
Burgers
Tacos
Falafel
-Fondue-
There was also a list for rules on time travel:
Don't kill ancestors (descendants okay)
No butterfly death
STAR Kill Hitler okay
Bring gifts to robot overloads (future only)
Avoid false popes (14th century only)
Going back to the Once Upon a Time third season DVD/Blu-Ray cover, it was interesting that before its release, the official Once Upon a Time Facebook page asked fans to choose one of the three pictures without telling where it was for, where Regina and the apple was one of the choices. Lo and behold, the same photo ended up being the cover photo for the DVD/Blu-Ray cover. In addition, neither Zelena nor Peter Pan were not included in any of the images on the DVD/Blu-Ray covers.
It also seems like the DVD/Blu-Ray exclusive have become less and less important. For the last two season DVD/Blu-Ray box-sets have its own exclusive contents. This season, it seems the price is higher, the contents shorter and not that much extras.
And if you are thinking about looking for Easter Eggs, don't, because there aren't any. However, there is another bonus feature called, Wicked Villains, where they talk about the show's top villains and their motives. The villains involved Rumpelstiltskin, Regina, Zelena, and Captain Hook but again, Peter Pan was not included in the list. Rumple's father, Malcolm, was shown, but Peter Pan wasn't there.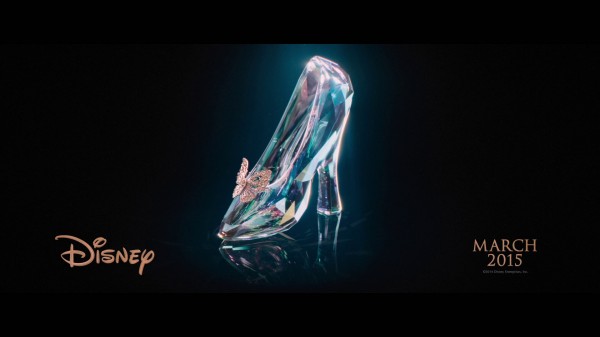 We also got an awesome little teaser for Cinderella, where they show the glass slipper. The Disney movie adaptation of Cinderella is set to be released on March 2015.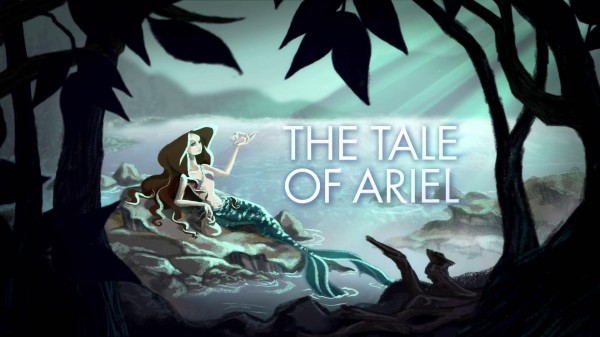 Another piece on the DVD/Blu-Ray is The Tale of Ariel. In the bonus feature, JoAnna shared that she just had a baby and loved how they made her look with the costume. She also revealed that she couldn't swim.
By the way, we are going to be doing a Frozen review before the season four premier, which we will record live on September 17. If you have thoughts about Frozen, send it over to us and join us as we discuss Frozen.
Deleted Scenes
For this season, we got about nine deleted scenes from different episode. In 3×16 "It's Not Easy Being Green", Emma was seen talking with Henry where she showed him her swan necklace, the one Neal gave her, to make him feel connected to his father. One of the other deleted scene we got to see was of with Mr. Van Winkle that Rumpelstiltskin put him to sleep for a very long time. From the episode "Good Form", Hook offers his hook to David as they're trying to climb Dead Man's Peak. In 3×11 "Going Home", Regina was shown crying about losing the love of her life. Regina also told her father, "My dream was to love, Daddy. True love. And now it's gone." But despite the king's kindness and fairness, Regina believes that she can never love again and that no one will ever love her.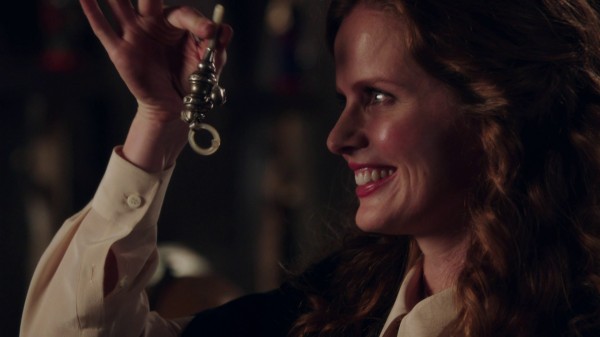 Furthermore, in 3×13 "Witch Hunt", Regina left a note to Snow, saying, "The day we met, I save your life. Thank you for trying to save mine." There was also the almost-four minute long scene at 3×14 "The Tower" with Zelena and Belle, when Zelena was looking for a baby gift for Mary Margaret's unborn child. We also got a deleted scene from 3×16 "It's Not Easy Being Green", where Zelena forced-fed Rumple with meat pie.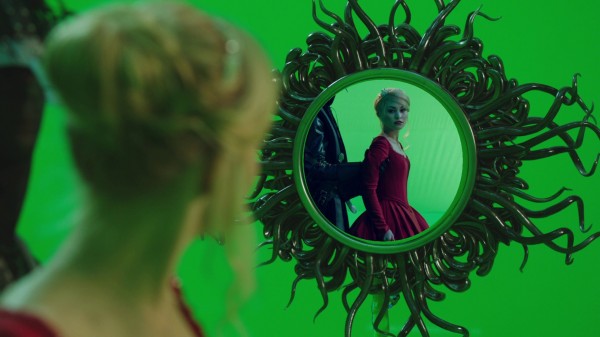 In 3×22 "There's No Place Like Home", Emma as Princess Leia was captured and taken to the Evil Queen forcing her to kneel before the Queen, but Regina "smells" that she was no princess, calls her a dirty street rat, and throwing Emma into the dungeon. And finally, in 3×22 "There's No Place Like Home" with Red, Charming, Emma, Robin Hood and Marian. Emma asked for Snow, but when Red said that Snow was Snow was probably just a little behind and they don't need to wait, Emma sensed that Red was probably lying.
The bloopers has always been fun to watch and despite its shortcomings, it is still something that is a-must to own.
Here are my thoughts.  I just got the ordinary DVD, not the Bluray.  I wish there'd been commentary on "Quiet Minds."  To me Neal's death was such a big event that it needed addressing.

Thank you for contacting me,
— Meredith Peckta of Everett, WA
What do you think about the Once Upon a Time third season disc? Share us your comments below and don't forget to send us your thoughts about Frozen and join us when we talk about the movie before the season four premier!
What did you think?
Email Feedback@ONCEpodcast.com (audio files welcome)
Call (903) 231-2221
Comment on the shownotes
Visit any page on ONCEpodcast.com and click the "Send a voice message" link to record and send a message right from your computer.
Help us out!
Share this post in your social networks
Follow us
On Facebook:
On Twitter:  echo do_shortcode('[twitter follow="ONCEpodcast"]'); ?>
Daniel J. Lewis:  echo do_shortcode('[twitter follow="theDanielJLewis"]'); ?>
Jeremy Laughlin:  echo do_shortcode('[twitter follow="phlegon"]'); ?>
ErinJ:  echo do_shortcode('[twitter follow="erinjcruz"]'); ?>
Hunter Hathaway:  echo do_shortcode('[twitter follow="travelingpixie"]'); ?>
Jacquelyn / RumplesGirl:  echo do_shortcode('[twitter follow="punk_bunny_87"]'); ?>
Spoilers
Episode 4×04 is entitled, "The Apprentice" and is written by Andrew Chambliss & Dana Horgan; 4×05 "Breaking Glass" is penned by Kalinda Vazquez & Scott Nimerfro; 4×06 "Family Business" is written by Kalinda Vazquez & Andrew Chambliss
"You do not give up on the people you love" seems to be the theme for the first half of the fourth season
Will Scarlet is going to have a bit of a backstory with Hook. The way he will be introduced to the show will not confused non-Wonderland viewers, but Anastascia will not be coming to Storybrooke as it will be revealed that she died in an accident.
It almost seems confirmed that Elizabeth Mitchell is going to play the original Snow Queen. However, it was still unclear whether she will be Anna and Elsa's mother.
She was also seen chasing Emma and in one scene, Emma was holding a gun, asking "why the hell are you following me?"
Another set photo was with Hook, where he was seen in a leather jacket, pants, and two hands.
It seems that it's going to be Hook vs Rumple again and Hook looks like he's blackmailing Rumple.
Hook and Emma are off to another kissing scene, which will apparently last up to ten seconds.
Belle was scene in a gorgeous ballgown in a dancing scene.
Speaking of Belle, it was announced that we will be meeting her mother in 4×06. They have yet to cast the actress that will play Belle's mother.
As for casting news, Kristin Bauer van Straten is set to come back and reprise her role as Maleficent on the second half of the season.
Brad Dourif, the original Dark One, will also be back to reprise his role as Zoso
Henry might get herself a girlfriend named Lily, but there hasn't been any news as to who will play the role.
The story will take place after Frozen's story
There won't be any more surprise whether Anna and Elsa are someone else's relative
Prince Hans has not been redeemed and will continue being a sociopath