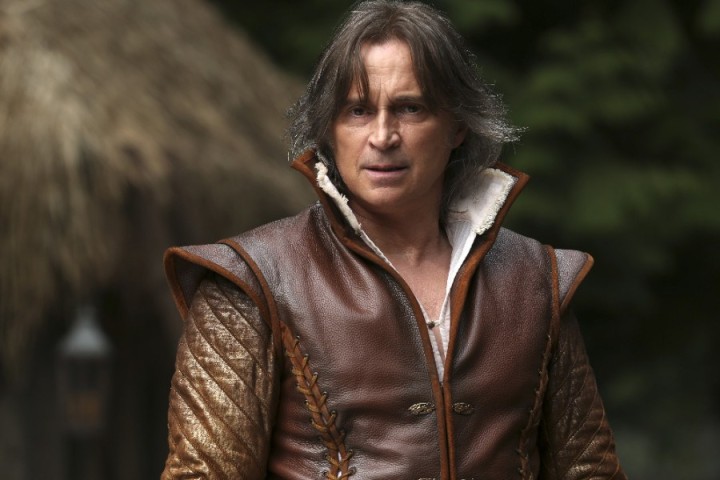 With the Author finally writing as instructed by the Dark One, Henry was put in front and center, and started running around to try and change things back to the way they were. In an alternate reality, however, Isaac Keller was offered to stop selling televisions and start taking the most important job in all the realms. Join us for our initial reaction as we share our thoughts about this chilling episode, Operation Mongoose!
Podcast: Play in new window | Download | Embed
The Author proves to be a formidable wild card and forges an alliance with Gold. Emma, her parents, Hook and Regina scramble to stop them, but when Gold and the Author turn the tables on heroes and villains alike, the prospect of any happy outcome appears worlds away. Henry discovers he has big shoes to fill as he steps up to save his family before the story's final page is turned. It's a race to the finish, and everything culminates with a shocking twist that will leave the residents of Storybrooke reeling.
These are just our first thoughts about this Once Upon a Time episode. We'll share more about "Operation Mongoose" in our upcoming full discussion (usually live on Wednesdays at 7:00 p.m., USA Eastern Time).
Initial Reactions
What an awesome finale! Best season finale so far; it's right up there with season one finale and maybe even better. Although, as a completer package, season one finale is still be the best, there are so many parts in this episode that just got us really excited! We were getting chills seeing Henry picking up the pen!
We were really excited to see how this one will pan out. It was very much of a heroes and villains kind of story, only in reverse form. Wasn't it so cool to see the heroes as villains and the villains as heroes and to see that parallel with a season one kind of content?
There's some really interesting things about Isaac being a salesman in our world. Was it actually Walt Disney that the Apprentice was talking about when he said that the previous Author just died?
The choosing of the pens with Isaac and the Apprentice reminds us a little bit of Harry Potter, where the wand chooses the wizard. It also reminds us of a scene from Lost, where the sky comes to another character and brings multiple objects and he is supposed to choose one of the objects, which is supposed to represent in some way that the character is ready, only in this case, it was the pen who chooses the Author. But what if Isaac didn't choose the ballpoint?
Emma is the new Dark One, we know that. Is Emma the new villain in season five? Nobody picked up the dagger, so who gets to pick it up? With Emma possessing both the lightest and darkest of magic, does that mean that she's unstoppable? Rumple now has a solid white glowing heart, is that how Emma's heart looks like? Is Rumple still alive?
We were happy that they got out of the book, eventually. It would have been a bit like the end of season 3 all over again, with stories that ultimately kind of didn't matter. On the other hand, seeing the alternate realities was fun and such!
Thank you for supporting us!
David Neuland (subscriber)
Steve Johnson (subscriber)
Lisa Slack (subscriber)
Tracey Anderson (subscriber)
Daniel Clark (subscriber)
DJ Firewolf (subscriber)
15 Patreon backers ($61.25 per episode)
You can sponsor an episode or more of ONCE podcast, too! Email Daniel@ONCEpodcast.com if you would like to arrange a corporate sponsorship of our podcast for the upcoming third season.
Operation Mongoose also reminds us of Total Recall, where everyone can got a fake memory implanted so you can feel like you had a wonderful vacation when you didn't really, which what the Author is basically doing in this episode. We were glad they called it an alternate really, since they were contained in the book, which begs the question: could they travel to a different realm from there? We were also worried when we first saw Hook back in Storybrooke. For a while there, we thought some of the Hook from this fake world actually carried over, but we were glad to see that it was really the Hook we know.
We're so excited to see the Sorcerer next season, which quite possibly, is named Merlin in the Enchanted Forest. Is he Yen Sid in Storybrooke? And is it just us or was Jane Espenson one of the audiences when Isaac was signing books?
We know Zelena is definitely pregnant, according to Regina, anyway. Still locked up, but still very pregnant. Will Regina and Robin Hood adopt Zelena's baby eventually?
Snow White as the Evil Queen freaks us out a bit! We were waiting for her to rip someone's heart out back in Storybrooke! We didn't except the heroes to be villains, just that the villains would just get their happy endings and the heroes would not, but still be heroes and villains. It was a story where it seems no one gets a happy ending. In season one, we saw the characters be very opposite from their Enchanted Forest counterparts. This time, there is more opposite where the heroes are the villains and the villains are the heroes.
Who is Lily's father? Is he and the Sorcerer one and the same? Is the Dragon in season two actually IS Merlin and/or Lily's father? He told Tamara, "You haven't met me yet. Not the real me", anyway. Plus, Tamara killed him with a Taser, meaning he was a magical being.
We didn't expect to see Emma as the new Dark One! How come she got a last name on the dagger? Was it because everybody else didn't have last names and her first name was just so short?
For every character that we saw in the fake world, we were thinking whether they remembered or not, so it was cool that Emma remembers. How long was she perceived having been locked up in the tower? She seemed pretty messed up; we even thought she was crazy for a minute, but in a way, fitting if they made her one. For a moment there we also thought that she was going to be the Dark One in this fake world. It was great seeing Regina and Snow's old hunting garb! Also, during the Emma scene in the Enchanted Forest, we thought she was going to be Rapunzel because of her being in the tower and blonde, but of course, it didn't turn out that way.
Remember, these are just our initial reactions regarding tonight's episode so please bear with us if we're a bit all over the place. If you have your own thoughts, feedbacks, or theories regarding tonight's episode, however, send them over to us and join our upcoming full discussion!
What did you think?
Email Feedback@ONCEpodcast.com (audio files welcome)
Call (903) 231-2221
Comment on the shownotes
Visit any page on ONCEpodcast.com and click the "Send a voice message" link to record and send a message right from your computer.
Help us out!
Share this post in your social networks
Follow us
On Facebook:
On Twitter:  echo do_shortcode('[twitter follow="ONCEpodcast"]'); ?>
Daniel J. Lewis:  echo do_shortcode('[twitter follow="theDanielJLewis"]'); ?>
Jeremy Laughlin:  echo do_shortcode('[twitter follow="phlegon"]'); ?>
ErinJ:  echo do_shortcode('[twitter follow="erinjcruz"]'); ?>
Hunter Hathaway:  echo do_shortcode('[twitter follow="travelingpixie"]'); ?>
Jacquelyn / RumplesGirl:  echo do_shortcode('[twitter follow="punk_bunny_87"]'); ?>