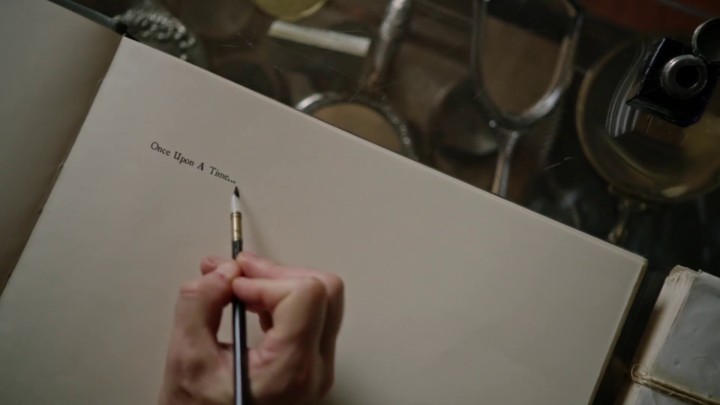 Now back in Storybrooke, Maleficent and Lily have finally been reunited. But as Regina tried to welcome Lily into town and didn't get her way, Regina cut to the chase, angering Lily who turned into a fire-breathing dragon. At Mr. Gold's shop, Regina took Gold's quill and the Author in order to have the Author write her heart's desire. In the past, however, Cora traveled back to the Enchanted Forest from Wonderland to help her daughter, until Regina realized that her mother might have been there simply to rub salt in the wound.
Podcast: Play in new window | Download | Embed
Re-watching the episode was like a fun ride into the Once Upon a Time amusement park; entertaining, couple of major developments, fast-paced, punchy, emotionally dense, a lot of weight on what was being discussed; answered a couple of questions we've been waiting for, wrapped up big emotional moments that we were waiting for that Once Upon a Time and Once Upon a Time in Wonderland have been waiting for. This episode also wrapped up a lot of big emotional parts of the plot like Emma and her relationship with her parents, as well as Regina's whole quest all wrapped up in a single episode before the season finale even hits next week. Emma's relationship problem with her parents was dragged on quite a bit longer this past couple of episodes, so it was nice to finally seeing it wrap up in this episode. Will they make the season finale a completely different story?
This episode was written by Jane Espenson, but did not have the usual Espenson trademarks like "gods" or "Game of Thrones" references. Still, there certainly were some great dialogues exchanged in this episode.
Enchanted Forest (Past)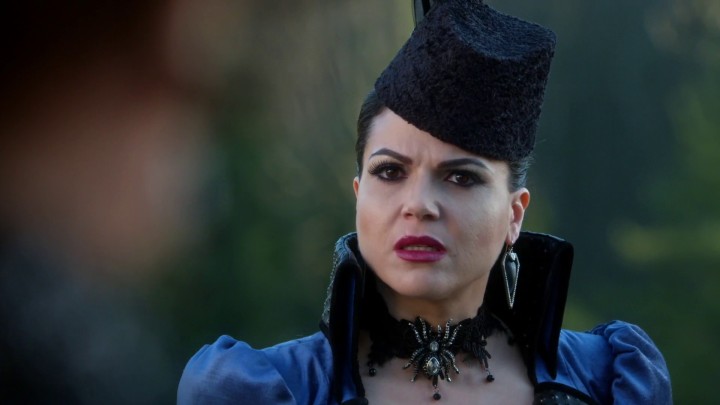 What is the whole point of Regina visiting Daniel's grave? To maybe just to show us how bitter Regina is and remind us of her Evil Queen days? Regina has a tarantula necklace. Why? Has she done a lot of evil-doing when this happened? We tried placing this episode with the timeline but couldn't quite place it yet.
Cora mentioned that she borrowed a rabbit to get out of Wonderland, and in our "Mother" initial reaction, we thought it was a bad continuity.
Alice and Will were getting the White Rabbit from Cora's guards in the episode To Catch a Thief, so Cora captured the rabbit and went to the Enchanted Forest but then went back to Wonderland before the rabbit is stolen in the maze. Cora's idea of building a dynasty must have been inspired by her grooming of Anastasia so she can take over Wonderland when Cora leaves for good. But when Regina drank that potion, Cora angrily went back to Wonderland and she probably kidnapped Henry Sr. on the way out of the palace just to spite Regina, and to show her how much alone she really wasn't until that moment. The White Rabbit must have laid low after Alice and Cyrus freed him in the maze in Trust Me. So then Jefferson was later tricked into going to Wonderland with Regina and Cora wanted him to make a hat because the White Rabbit wasn't anywhere to be found.

—Steve
Cora said that she also met Tinkerbell, but how? When? Where? Did Tink go to Wonderland at some point before she went to Neverland? When did she go to Neverland? Did Tinkerbell go to Wonderland for a while after her wings was clipped and met Cora somehow?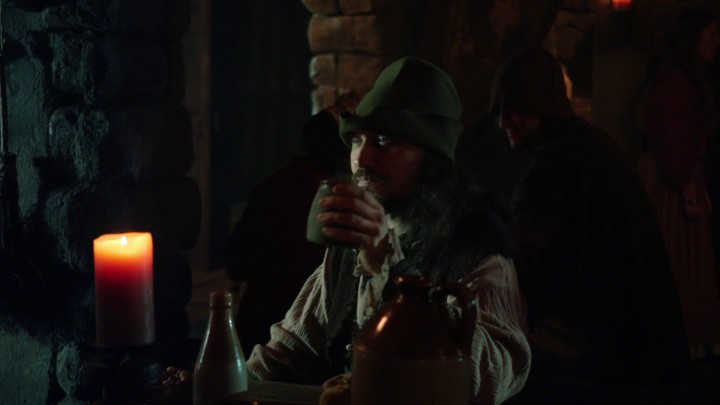 When Cora went to the tavern, we wondered if it's the same tavern where Cora met Jonathan in "Bleeding Through"? Nottingham seems to be preying on Cora because of her appearance of wealth, probably not for physical appeal. It's also funny that Cora momentarily fixates on a guy wearing a green hat similar to the many images of Robin Hood.
Nottingham also refers to Marian as a "Sickly little tart", which helped us placed this particular event to when Marian was sick and Robin Hood break into the Dark One's castle to stole the wand and heal Maid Marian. It was also the same episode when the Dark One was looking for Robin, found the Sheriff of Nottingham, and took his tongue out.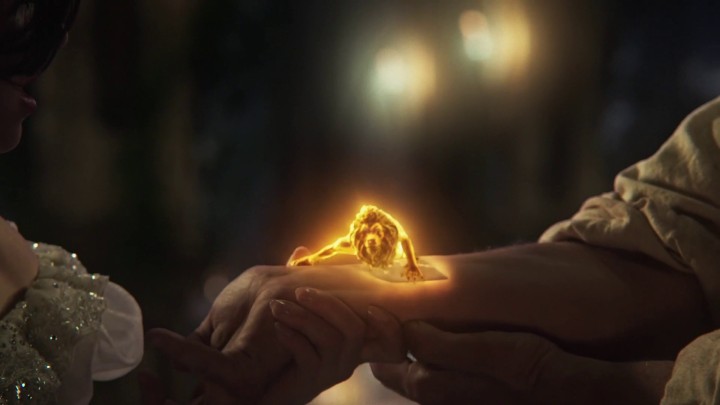 Back in Regina's bed chamber and Cora telling her she has found her soul mate, it was a nice gesture there to nonchalantly show the scar of the person who's supposedly Regina's soul mate. But that lion sure was pretty mean for being such a little guy.
Jane Espenson was really good with continuity but given the beginning of the episode, it was really strange to hear Regina say "there was a Stable Boy I once loved", as if she was downplaying it. Then again, what do you say to the person who is supposed to be your soul mate when you're talking about someone you formerly loved?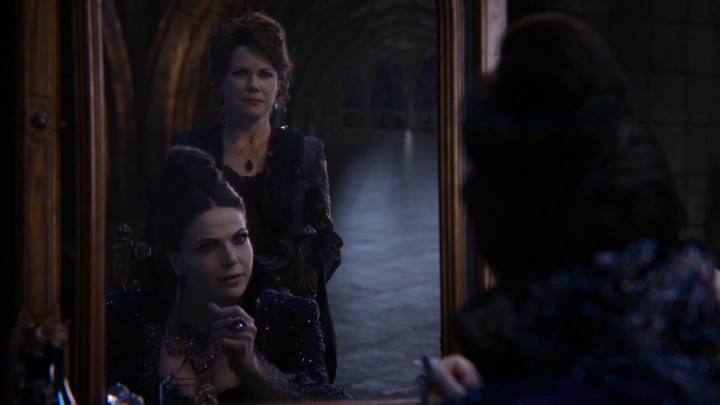 When Cora revisits Regina, did Cora admit that love isn't weakness? It doesn't seem consistent with everything else. Was she simply playing her daughter? Was she back pedaling what Regina did? What was with Regina's look of realization? Did Cora maybe manipulate this whole situation to make Regina drink the potion? Cora has always been focused on Regina's being queen, after all.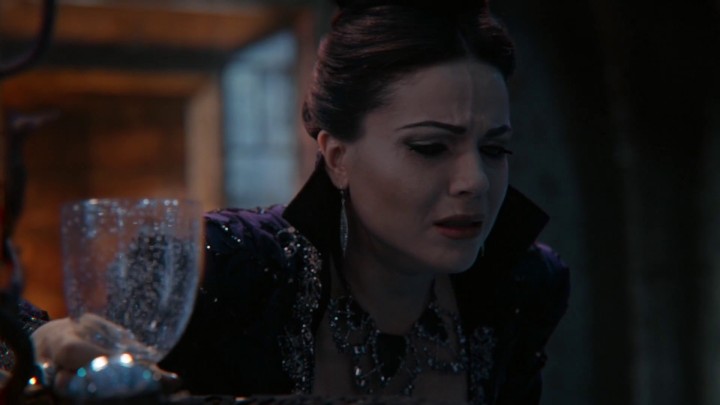 Why didn't she just come out and say all the things she said to Regina in the end before her daughter drink that potion and save all the trouble of Regina losing the ability to bear a child? Perhaps she thought Regina wouldn't actually drink the potion?
Cora also said that, "the only one standing in the way of your happiness is you," while it's very true, it also sounded a lot like she was still manipulating her daughter into doing what she wants.
The forum have been speculating about Regina's incapability to bear a child, so a pat on the back to everyone that theorized that Regina's barren by choice!
I think Cora coming back was to remind us how much we (both the audience and Regina) don't like her (although it was kind of fun to see her)! Showing that Regina took that potion in order to spite her mother was interesting, and quite drastic. But Regina has been known to act rashly and let her emotions get the best of her, especially when trying to get back at someone. It was nice to see Regina NOT have the author write Zelena away (after creatively finding a solution to getting the "Dark Savior blood" without turning Emma dark). I thought the Regina background was more interesting than what was going on with Lily for the most part, but there seemed to be a general theme of weighing the benefits of getting revenge (or being angry) versus moving forward and choosing to be happy. Side note: Was Regina's favorite color a light green? I couldn't quite tell what the color was on my screen.

— Jessica Olsen
Thank you for supporting us!
David Neuland (subscriber)
Steve Johnson (subscriber)
Lisa Slack (subscriber)
Tracey Anderson (subscriber)
Daniel Clark (subscriber)
Laura Silva (subscriber)
15 Patreon backers ($61.25 per episode)
You can sponsor an episode or more of ONCE podcast, too! Email Daniel@ONCEpodcast.com if you would like to arrange a corporate sponsorship of our podcast for the upcoming third season.
Storybrooke (Present)
On to the present day with Regina and Robin Hood sitting and talking in the bar, apparently, forgetting potion fixes everything. But is it right to give a forgetting potion to a child? If they make Roland drink a forgetting potion, how will it help the child to deal with difficult and confusing situations that will arise in his life? Will they use a forgetting potion to Roland?
This whole conversation as they talk about the baby and the whole situation, in a world that had magic this would be considered a crime, what she did. Yes, there's a baby, and Robin should care about the baby, but shouldn't it mean nothing for his relationship with Regina or Zelena? She is, after all, an unfit mother, and is going to a place where she will be locked away. Are they making too much of it?
Is Zelena really just milking her pregnancy? She seems to be totally exaggerating her being pregnant, especially when they referenced Neal and she told Emma how she wouldn't hurt an expectant mother.
Speaking of Neal, Neal's death is still a sore spot for a lot of ONCErs, not necessarily for the shippers but just for the storyline.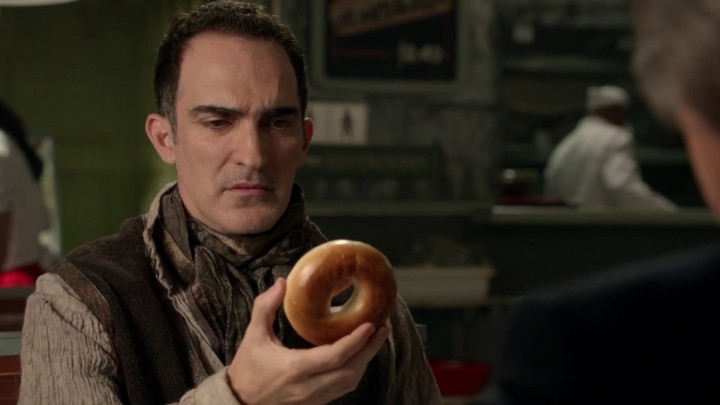 In addition to potentially rationing the bagels, it looks like Rumple is rationing his magic, too; Rumple can't use more magic without darkening his heart further. Another thing we didn't understand is why  does the ink need to "be governed by Emma's dark impulses"? Why Emma?  Why the savior? Why not cut Isaac's hand open and put it into ink? After all, he is the Author. Was it because Emma is the bringer of the happy endings, as Henry mentioned in the Pilot episode?
So Zelena and Robin have a minivan and Zelena's all confident driving it, now. Was it theirs or did they just rent it?
When they arrived at Storybrooke, Emma almost snarled at her parents. Although, for a while there we thought that she was going to hug her parents. We half expected she'd be over it by now, or give them a grumpy embrace, at the very least.
Can anyone help me out and explain why Zelena didn't freeze when they took her back over SB town border? I don't remember the Snow Queen's spell completely dissipating….

— @Onceaholic
Perhaps because Zelena's second freeze was all fake?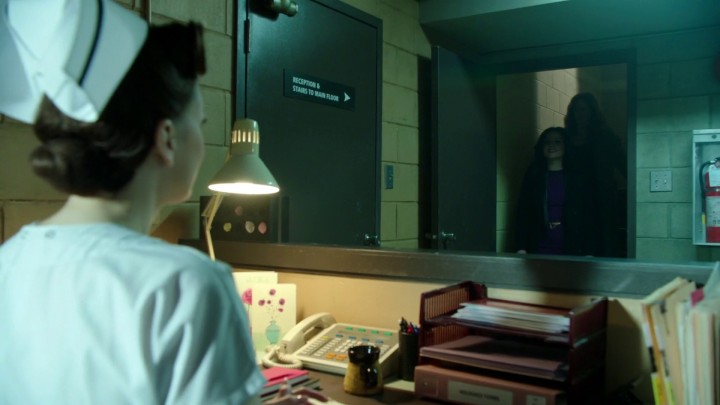 It was cool to see the harsh nurse down at the hospital basement, and it looks like the harsh nurse is apparently loved by someone! She has nice greeting cards on her desk but no, we didn't get to read what was written on the card. Is she someone actually equally important?
Now that Zelena's back in Storybrooke, does she have powers despite her necklace gone? Is that why the cuff was put on her wrist?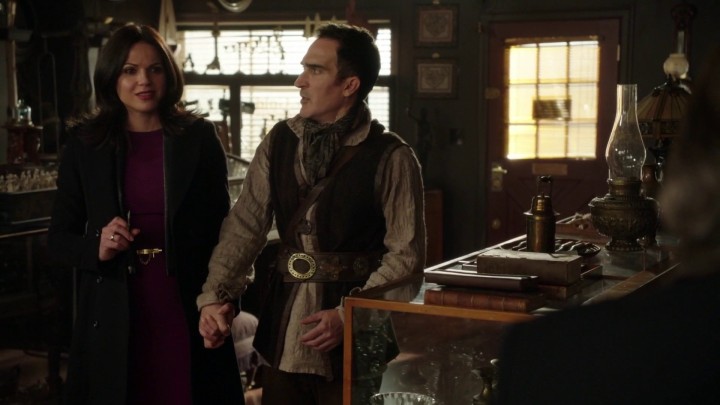 Back at Mr. Gold's shop as Isaac and Rumple were looking for blood magic solutions, it was said that if his heart is dead, then he will lose the ability to love, but just become pure Dark One, which will definitely be scary. When this happened, is Gold going to go all gold again?
We've previously mentioned about the poll that was done over the forum whether Rumple will die. Here is a quick poll update:
Yes, he will die and stay dead: 36.51%
Yes, he will die, but be revived yet again: 22.22%
No, he will not die at all: 41.27%
Look at this from two perspectives. About 58.75% think Rumplestiltskin will die in some way. Combine the stats differently and you'll see that about 63.5% think Rumple will continue on the show.
I'm thinking that the dark one force will actually leave his body and create a destructive black hole which sucks in all light and goodness.

— @Slurpeez
I wonder if the name on the dagger would change if all of Rumple's humanity is gone.

— @Sweets
If Snow can split her heart to save Rumple, wouldn't it be logical that Belle could do the same to save her husband?

— Peevesie
Will Belle split her own heart to keep Rumple alive? Was her heart even strong enough for both of them? Will Rumple accept it and risk darkening Belle's heart?
Thank you for the podcast reviews!
SKC_KC, from India, said, "Love love love this podcast!!!! It is an absolute delight to listen to Daniel, Jeremy and Erin discuss the overall episode along with several fun insights, easter eggs and character analysis. Of all the Once podcasts I listen to, you guys have the best opening music sequence. FYI: Big fan of Jeremy's laughter and chuckles."
Your reviews encourage us and help others find the podcast!
Please rate and especially write a review for us on Apple Podcasts.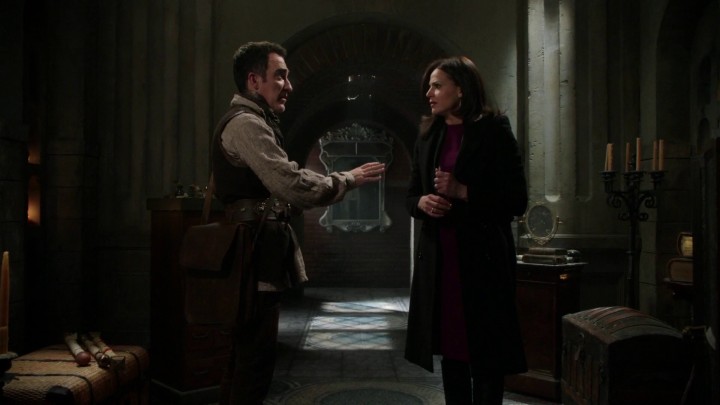 Down at Regina's vault with Isaac, he said that the only reason he was working with Gold was because he can protect him so she can trust him. He also said that "the energy of Emma's darkest potential has to charge the ink." If that is so, why turn Emma dark when all of her darkness was in Lily's? Does Rumple know that Lily and Emma know each other? It's super-defined, but still super consistent.
What is something that's apparently looking for Regina? The Sorcerer, maybe? Her ghost mother? And this another book that Isaac has done some experimental writing, could it be something else? How does the Sorcerer, with the help of the Apprentice, pick the next Author? Was that experimental writing something that Isaac passed on to the Sorcerer and the Apprentice before he became the Author? When did he write it?
Isaac's description of Regina goes, "very clear goals, plus totally damaged personality with a self-destructive streak, a recipe for compelling." It seems Isaac's little love fest to Regina about why he loves to write her was basically Adam and Eddy inserting their words into Isaac's mouth.
Isaac said page 23 was something he'd actually been working on. So Isaac must've been wanting to give villains like Regina her happy ending for quite some time (until the Apprentice put a stop to it). No wonder Isaac jumped at the chance to write a happy ending for the villains. I think he's just wanting to be creative, deviate from the norm, tell a better story.

— @Slurpeez
Back at Granny's Diner with Maleficent and Lily catching up, Lily basically compared her mother to Annie Hall. We did some digging on Annie Hall and found that Annie Hall was a 1977 movie that heavily influenced ladies' fashion in that era to more traditionally masculine items: ties, sports jackets, vests, etc. Although we still don't know why Maleficent chose to dress that way, it was still a nice nod.
Maleficent asking Lily to stay for one week reminds us of Henry begging Emma to stay for just one week in the Pilot episode. There were also a lot of similar dialogues back in a couple of episodes, especially right after when the curse was broken and Emma didn't want to talk to her mother at all. In addition, Lily sounded exactly like Emma in We Are Both. Also, it reminded us of when Emma told Snow how she was angry of her for making a bad choice in the episode, Lady of the Lake.
I have to disagree with Jeremy's opinion in the Initial Reactions about Maleficent's reaction to Lilly. I don't think this was too passive for her. Actually, it reminded me of her in Season 1. Maleficent was done being a villain and all she wanted was to settle down with her pet unicorn. I think he non-vendetta stance goes back all the way to that first appearance with the purple indoors outfit.

— Geovanny Pena
Now that her daughter is with her, Maleficent seems to be willing to change things, that she even goes to the Charming's which, in a way, was an act of illustrating some kind of forgiveness; she was going to them and not holding anything against them, just asking them for their help. Awesome move on her part.
We liked how desperate Snow was to help; gives us a warm feeling. It was also nice to get nods to previous seasons like when Snow White cast the curse and not having control over it or know how to influence it; Emma's past relationship with her parents in previous seasons, and how it's come to fruition.
As Regina talked to Lily at the bus stop, Regina told her, "I bet the mouth got you lots of attention back at the group home, but it doesn't work here." Was Lily ever in a group home?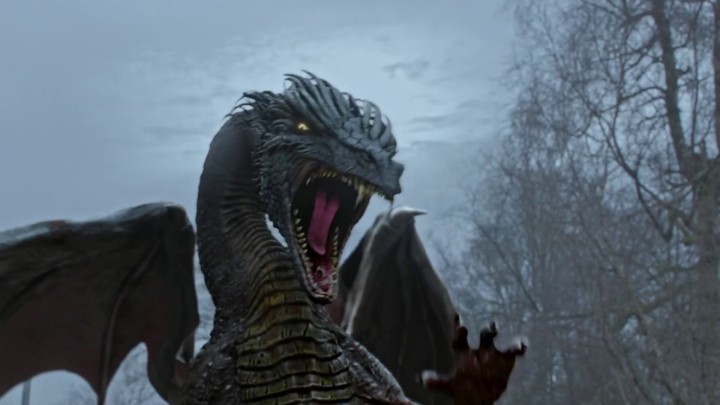 At the town line when Snow and Charming, together with Maleficent, we thought that Lily might be thinking, "You wanna tell me I'm 'so beautiful' now?" Then again, Maleficent may still think she is beautiful since she was a dragon herself.
As all these is happening, Regina revisits Zelena down at the hospital basement. How much of Zelena's story did Isaac write? Are rules of magic still relevant when the Author has his squid ink? One of the rules we learned is that one can't change the past, after all.
Zelena looked disappointed that Regina chose not to go with her original plan of removing her sister from existing, despite Zelena throwing all her stones on Regina, which basically means that, at that moment, Regina conquered Zelena yet again.
When Hook and Emma are watching the horizon, it was nice that someone finally gets through to Emma, but funny to see Emma turning to rum like Hook used to.
In the forest with Snow, Charming, Maleficent and dragon Lily stuck in the bush somewhere, we think there was a deleted scene because it was weird how Emma just showed up. On the other hand, is this the end of the "Emma going dark" idea? Is Emma really on the edge (of going dark) at all?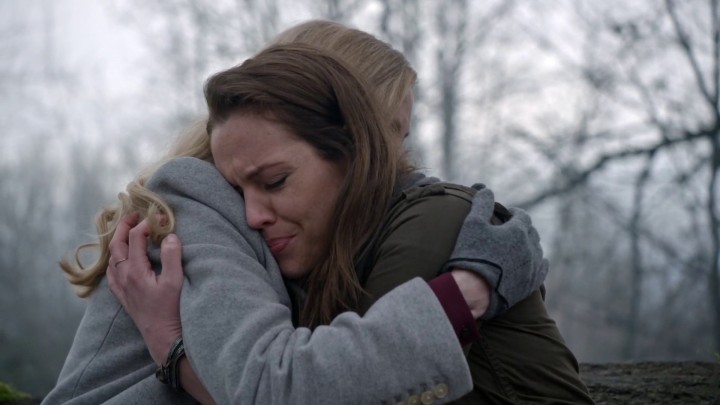 For them to having just met that morning, and to be sharing a moment that easily like when Maleficent showed Lily the rattler is showing a lot of progress about their relationship. Is Lily playing some kind of anti-savior part? Is she really going to bring unhappy endings to the heroes? Will she be the one to break the curse to this new story that the Author started to just writing?
Now that we see Lily and Maleficent kinda mending things, does that mean that they will die together in the finale? Has any light taken out of Lily and put into Emma? She said she has tried to do the right thing but everything blown up in her face at the last episode, Lily, anyway.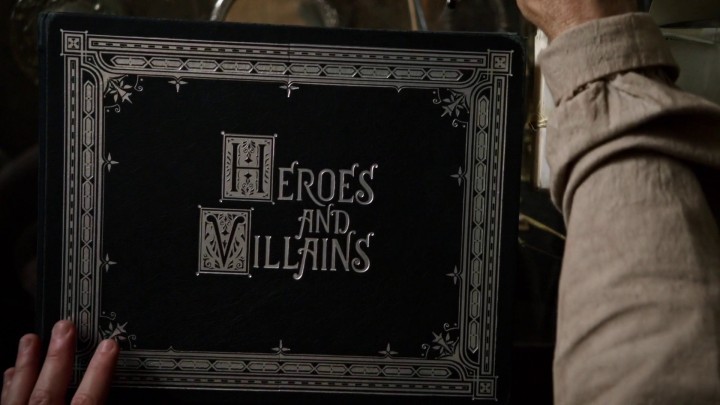 Back at Mr. Gold's shop working together again, and Gold said, "How … no, I don't care how. I don't want to waste time," feels like it's a word being said inside the writer's room. Furthermore, the first book was called, "Once Upon a Time" but this new book was called, "Heroes and Villains." If it's a different book, how can it be different from the existing stories? Shouldn't it be written on the other book?
When they say "villains" and "heroes," whose POV is it? Do they all agree on who the villains/heroes are? Are Rumple and Isaac on the same page, so to speak? For example, what happens to Hook? What's in it for Isaac? So he first went with Regina, realized that she wouldn't use his abilities — she'd do "nothing" as she said — and then at that point skipped back to Rumple. Technically, that scene where Rumple is focusing on the inkwell gave me the impression that without the author's intervention Rump was essentially a goner. I think the author wrote him back into consciousness with his line "where Rumplestiltskin waits.

— @Nevermore
Because the "Heroes and Villains" book is designed to give the villains their happy endings, i think it is safe to assume that it will take the happy endings AWAY from the heroes. The best way to do this? By completely flipping the dynamic – making the villains heroic and vice versa.

Emma is the savior in the original "story", so I think that in Heroes and Villains, she will be written as the Dark One. It is possible that, because Lily has the most "potential for darkness" she will be written as the savior.

I would also like to make a point that we have not seen August since Isaac was released from the book  (unless I missed something) – why bring him back for a few episodes and then forget about him? (Just food for thought)

— Aurora
What if August somehow has some influence on the Author? If two stories exist, how does one supersede the other? Parallel universe? Who's to say that the villains will not continue choosing the wrong decisions once they were turned into a hero?
I love the idea of Henry having to rewrite the stories and that making him the new author! Maybe the Apprentice/Sorcerer realizes what Issac has done and gives Henry a new enchanted quill?

— @AshleyHardee
It made sense if Henry becomes the next Author. After all, when his story book was taken, he started writing a version of his book, pictures and all.
Season Finale Predictions
Where could the season finale go?
So, way back when, Rumple was told that 'the boy' would be his undoing. Could we be moving forward, finally, with a little more of a story with Henry involved? Will he truly be Rumple's undoing?

Everyone seems to think he will be the next author…but maybe, just maybe, he will become the next Dark One to save Rumple.

This could take us into Season 5 with unlikely forces banding together to try and save Henry. Wouldn't that be a twist.

— Kristina
At the beginning of the season we had two mystery characters, now we know more about one: Isaac. We have yet to see the Authors full backstory (I don't think what we saw with Cruella was), so we need to learn about his motives to "disappear in a puff of smoke to meet Gold". I'm thinking we might see flashbacks to the author's origin in the finale since it might be the last time we see the author (he might not die, but I think he will go away). This will give way for season 5 to focus on the second mystery character: Yen Si– I mean, The Sorcerer.

— Geovanny Pena
Isaac may do a lot of writing that will to some consequences that feel not as grave as we believe is at stake, and that it will all ultimately sort of corrected, with few permanent alterations.
If Emma become the Dark One, will it neutralize the power source and make the Dark One non-existent since she possess the lightest of magic?
I have a few predictions for how the season will tie up:

I think we will see the sorcerer in physical form, and I think he will level the playing field for heroes and villains.  Maybe change the rules of fate (get rid of the author).

Zelena will get rid of the cuff and become magical again.

Rumples heart will go completely black, and only the dark one will be left.  (Maybe someone will stab the dark one and become the new dark, which would be great).

Lily and maleficent will stay in Storybrooke.

Anastasia (red queen) will show up.

— Oncewizard
This whole season with Will being in Storybrooke, we've never heard much about him. Are we going to be finally meeting Anastasia?
There are a lot of speculation about Rumple's death, and I also think that he's going to die by the end of the season. I just don't think that Robert Carlyle will stop appearing. In order to stop the Author Rumple/Gold needs to die, but in this episode it was said that "The Dark One" can't die. I'm guessing Carlyle will be the main baddie of Season 5 which will be enough incentive for The Sorcerer to reveal himself to the OUAT cast. Has it ever occurred to anyone that if there is a "Dark One" maybe the Sorcerer is the "Light One"? (A little Star Wars-y, I know.)

— Geovanny Pena
Will we finally see the Sorcerer in the season finale? They have teased us about him all season, and the hat played a big role earlier in the season, so are we finally going to meet the Sorcerer?
We sure can count on an epic battle between Emma and Lily, as well as lots of questions about fate and freewill, but will it be answered by the end of the season finale?
What did you think?
Email Feedback@ONCEpodcast.com (audio files welcome)
Call (903) 231-2221
Comment on the shownotes
Visit any page on ONCEpodcast.com and click the "Send a voice message" link to record and send a message right from your computer.
Help us out!
Share this post in your social networks
Follow us
On Facebook:
On Twitter:  echo do_shortcode('[twitter follow="ONCEpodcast"]'); ?>
Daniel J. Lewis:  echo do_shortcode('[twitter follow="theDanielJLewis"]'); ?>
Jeremy Laughlin:  echo do_shortcode('[twitter follow="phlegon"]'); ?>
ErinJ:  echo do_shortcode('[twitter follow="erinjcruz"]'); ?>
Hunter Hathaway:  echo do_shortcode('[twitter follow="travelingpixie"]'); ?>
Jacquelyn / RumplesGirl:  echo do_shortcode('[twitter follow="punk_bunny_87"]'); ?>
Spoilers
The Author forges an alliance with Gold
Emma, her parents, Hook and Regina scramble to stop Gold and Isaac
Henry discovers he has big shoes to fill, steps up to save his family before the story's final page is turned
Everything culminates with a shocking twist that will leave the residents of Storybrooke reeling
"Operation Mongoose Part 1" was written by Edward Kitsis and Adam Horowitz, and directed by Romeo Tirone.
"Operation Mongoose Part 2" was written by Edward Kitsis and Adam Horowitz, and directed by Ralph Hemecker.
Guest stars are to be announced, but a lot of supporting characters will be present like most of the dwarves, the Blue Fairy, Zelena, to name a few
Promo focuses on alternate universe, with Rumple as a knight and dressed as Prince Charming
Henry might be in the Enchanted Forest, and could be spying on everybody
Henry is seen holding a book called Heroes and Villains written by Isaac
Promo also showed a total reversal of roles with Snow as the Evil Queen, controlling Charming's heart a la Regina on Graham
Emma was also seen in the promo screaming, very much like the photo that Mark Isham shared on his  Instagram account
One of the promo photos showed everybody wearing someone else's clothes, like Regina wearing bandit Snow's outfit
Another promo photo also showed Charming dressed in all black
In another promotional photo, Grumpy is also standing as a guard
There were lots of photos of Emma and Regina together in the Enchanted Forest, with Emma wearing a mix of black and white like a combination of Charming and Hook. Is she some sort of a warrior princess? Is she a true love daughter or Snow and Charming, Regina and Daniel, or Snow and James?
Sneak peek showed Snow and Regina telling Regina how she told a secret of Snow's, causing her true love's life, James
Snow is also looking for a boy. Henry?
Sneak peek also showed Snow White throwing a fireball.
A bunch of Author in our world in the 1960s working at some store, selling televisions, with ABC on the screen. How does it fit on the plot?
Last set of photos showed Robin Hood and Zelena getting married, with Zelena wearing all white. Will it push through?
Adam Horowitz shared a script tease of a conversation between Hook and Emma
In an EW hotseat, Adam Horowitz and Eddie Kitsis was asked if there's way to balance out Lily's darkness and Emma's goodness and both said it will be discussed next season.
Lily's father will be brought up in the season finale.
We will also be learning the identity of the Sorcerer by the end of the season
Kitsis and Horowitz also revealed that Will is Belle's rebound.
We will not learn why Will is in Storybrooke by the end of the season finale
There will be one temporary death and one permanent death. Theories are temporary death could be Emma, while the permanent one could either be Maleficent or Rumple.
Page 23 will be featured in the season finale
Henry plays the role of a hero on the season finale
Once Upon a Time will reveal how Emma "really feels" about Hook.
There will be some kissing, but not necessarily a true love's kiss to break the curse
Someone will be labeled as an "Ogre-slayer"