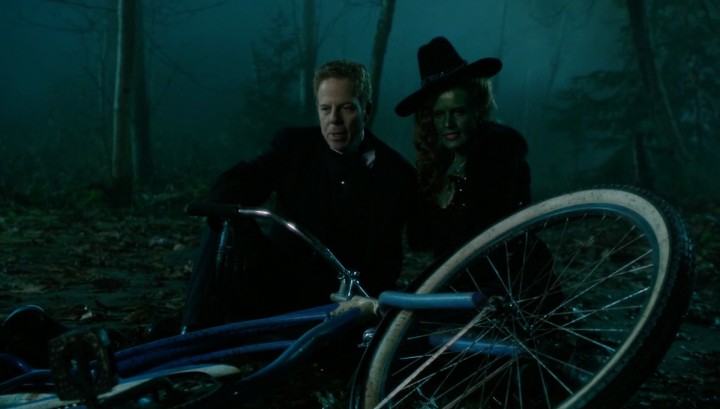 For this episode, we talked about Zelena celebrating Abandonment Day, Belle and Rumple's very honest conversation, Hades flirting with Zelena, as well as the farm girl with the most powerful weapon of all—the love of the people. Plus, our resident Greek Mythology expert, Jacquelyn, educate us more about the Greek Mythology on the show. Did they get it right? Is Rumplestiltskin really a better man? Is Hades sincere about his love for Zelena? All these and one fearless forecast on our full discussion of the episode, "Our Decay."
Podcast: Play in new window | Download | Embed
We have watched and re-watched "Our Decay" and this episode is certainly going up there as one of the best episodes this season. It's definitely one of our favorites not only of this arc, but all seasons as a whole. It almost seem it got better with each re-watch. When we watched it live, we weren't quite sure if we enjoyed it that much, but after watching it several times after it aired, it simply got better and better; the dialogue, the acting, the one thing that we mentioned in our initial episode that didn't quite work in this episode was who got the parts. It was surprising to hear such beautiful lines from the most unexpected characters.
Oz (Many Years Ago)
As Zelena is celebrating Abandonment Day, which is a lot like when Emma was celebrating her birthday back in the Pilot episode, we don't know quite when this happened. They used a different actress for Dorothy this time, a much older Dorothy, but it seems like maybe a few years have passed since the last time we saw her. However, we did get one date from this episode, which is Zelena's birthday—April 15.
Dorothy could travel back to Oz, did the slippers help Zelena get back to Oz? Adam Horowitz tweeted after the episode aired that Dorothy is from Fictional Kansas, so how many Fictional Lands are there? Is Dorothy really from Kansas?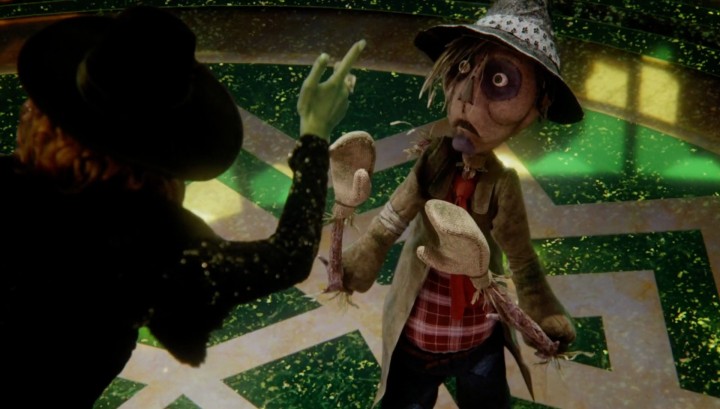 How does Zelena know about the Scarecrow if Dorothy didn't have that traditional Oz story? Because when we saw Dorothy back in the episode "Kansas", nothing resembling your traditional Oz story took place. How does she even know about the Scarecrow if a. the Wizard is a monkey; b. if the Scarecrow never ventured to the Emerald City to get a brain with Dorothy? When did Dorothy win the love of the people? She never met any of those munchkins in the episode Kansas.
As we go through, there's a lot of stuff that appears they are setting up for future episodes, such as the keyword phrase that they kept repeating in this episode, which is the "love of the people." Will Hades and Zelena rule the Underworld side by side in the future, with Zelena finally winning the love of the people down in the Underworld?
In trying to figure out this Dorothy's connection, we did get the clarification that Hades is not the Devil, yet they give him so devilish characteristics. Does this mean that the devil is now canon in the show? So far on the show, we've seen Hades, the Burning Bush, Holy Grail, and have heard of Zeus, are they also going to be introducing the Devil anytime soon?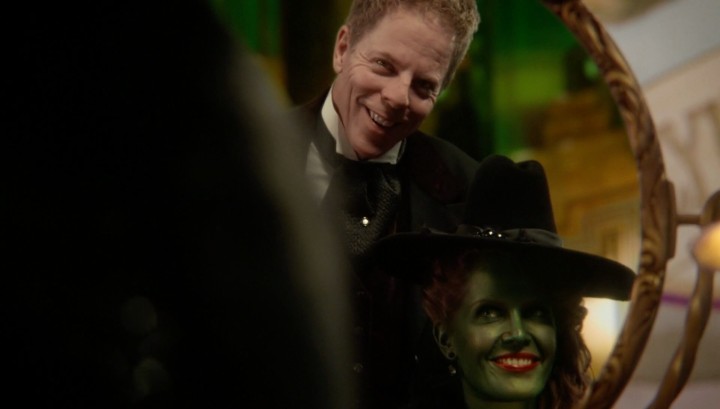 We do love the flirtatious banter between Hades and Zelena. It's funny, even the romantic moments are funny when you remember that this is the Wicked Witch of the West and the Lord of the Underworld.
When Hades visits Zelena in her throne room, they decided to make Zeus the older brother, which isn't true. While it depends on the story you were reading, here's the real story:
Cronus and Rhea (two Titans before the Olympians took over) had six children. While the list of children can differ depending on the source there is one widely accepted list of birth order. It comes from Hesiod's "Theogony." Hesiod was roughly contemporaneous with Homer and together the two are the "big" mythology Greek writers. Line 453 of the "Theogony": "But Rhea was subject in love to Cronos and bore splendid children, Hestia, Demeter, and gold-shod Hera and strong Hades, pitiless in heart, who dwells under the earth, and the loud-crashing Earth-Shaker, and wise Zeus, father of gods and men, by whose thunder the wide earth is shaken."

So the real birth order is: Hestia, Demeter, Hera, Hades, Poseidon, Zeus
That being said, there is a way that Zeus could be the eldest if they follow the traditional Cronus story in which he eats all this children except Zeus, who was hidden away by Rhea. When Cronus regurgitated his children, he did it in reverse order, making Hestia both the oldest and the youngest, and making Zeus both the youngest and the eldest.
Hades said that he's got a frozen heart. Was it stopped by Zeus or because of Hades' resentment of Zeus? He also said that True Love's Kiss can restart his heart and make him a man again. What if Hades just gave up revenge and his resentment? Would that work? Furthermore, when he said that "no one is more hated than the Lord of the Underworld", which reminds us of a rhetorical question Agamemnon asks in the Iliad "why do we hate Hades more than any other immortal?" The answer is because he so unyielding.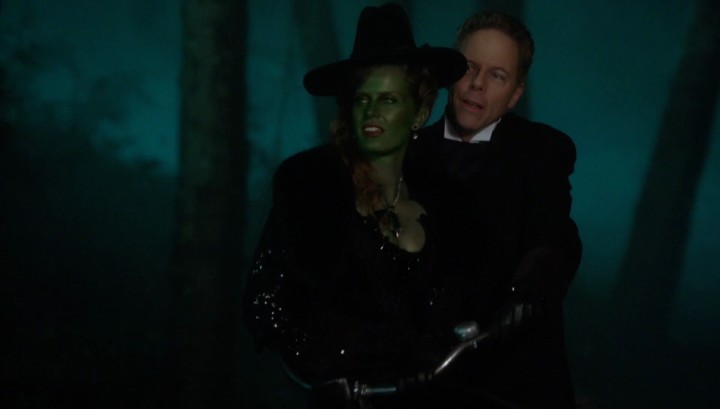 Then we get to see the beautiful bicycle ride together with Hades and Zelena. this was another one of those things that are beautiful, but again it was Wicked Witch of the West and Hades. Plus, for a while, we thought that, when Zelena enchanted the bike, it would fly. That being said, it was exciting knowing that Hades' heart flutter for a moment, as if there was a little bit of life left in him. They may be two really wicked villains, but they certainly do make a great couple.
When Zelena then talked to Dorothy, she asked what happened to her in Kansas, which makes us want to know what exactly did happen to her back home. Will there be a spinoff? On the other hand, it was especially depressing to see the Scarecrow die right then and there. Will we see him get his brain back? After all, she didn't even get to use it. Did Dorothy, at some point, get it back?
All victorious, Zelena went back to her throne where Hades made a dinner date for her, falling in love with her so quickly. But Zelena's whole suspicion is illogical. If Hades was being that selfish, then it wouldn't be true love and wouldn't work. If the kiss worked, it would mean he wasn't simply using her. It was even interesting when Hades said that Zelena was going to regret what she did. Did he mean that she was going to regret not kissing him back? Did he mean it in a menacing way? Is Hades telling the truth like we said on our "Our Decay" Initial Reactions, or is he playing Zelena? If he gets his true love's kiss, Hades will be free. What does Hades being free mean?
While the Hades and Zelena falling in love is beautiful, it also feels rushed.
To rationalize it, this is a man who has spent millenniums waging war against love and life, and to suddenly feel an ounce of it, it just overcame him. Hades is someone who loves hard, but I think it initially started out as a lust for the darkness Zelena possessed… but after the bike ride, it clicked that hey, this is what I've seen other mortals do and this is how they fall in love, so I think Hades convinced himself that he was in love with Zelena.

— @WickedRegal
Underworld (Present Day)
Starting out the present day with Hades walking by the clock where he got this emotional look, making us think that all of what he was saying was done for love. That being said, it could still be a twist even though Zelena maybe changing her mind again by the end of the episode.
It was the first time we see Storybrooke again since the show came back and it was really need to see this back and forth and how they ties into each other. That being said, it would have been nice if they played up Sneaky Fairy a little bit longer.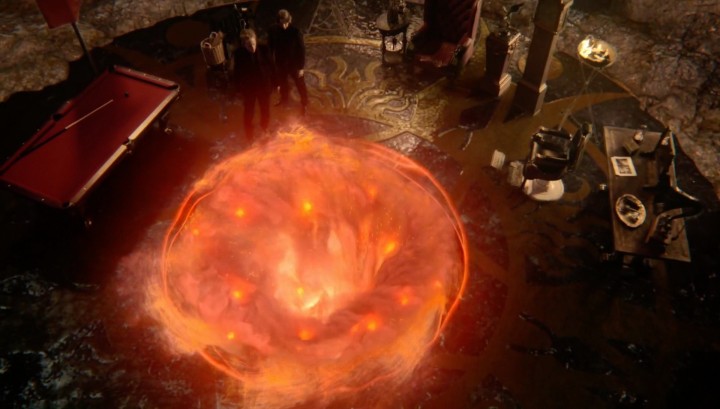 So portal-opening is now easy, thanks to the blood of the Dark One? Or is that simply the catalyst for Hades to bring someone back alive? Can Rumple open a portal just to Storybrooke or anywhere else? How did Zelena get to Storybrooke? She wasn't wearing Dorothy's slippers in this episode. And what was Belle thinking, jumping into a fiery portal literally from hell with a baby in hand? Zelena jumping, as least, made sense.
While the Charmings are at Granny's and talking about Neal, we initially thought that they were talking about Neal, as in Baelfire, and not baby Neal. Plus, the breath of the living is valuable, for what? There's a black market? Where? What do they trade? Why the breath of the living so valuable? And if the Underworld have Level 1 Haunting booth, what is Level 2 and 3?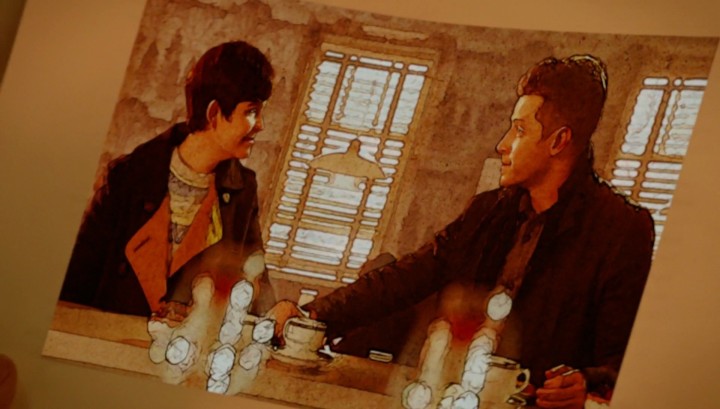 Henry has finally written his first story, where we learned more about how he writes the story on the page.
In the episode, Henry says that he doesn't remember writing the pages he shows the Storybrooke gang.  (Early on: "I don't even remember writing this, I just woke up and had it done.", and later in the episode: "It's like I said before, I didn't, or I just don't remember.  It just wrote itself…")  Daniel touches on this in the Initial Reactions podcast, saying, "And maybe this is the way the authors are supposed to be doing it,  where they're not really aware of what they're writing, they are being the instrument to enable the pen to write the story, kind of unconsciously writing the story in some kind of trance."

"Sleeping on the job" jokes aside (lol Jenny), this is essentially the definition of an alleged form of spirit communication called Automatic Writing.  I recognize this might sound a bit kooky, but please hear me out.

"Automatic writing is the process, or product, of writing material that does not come from the conscious thoughts of the writer. The writer's hand forms the message, and the person is unaware of what will be written. It is sometimes done in a trance state. Other times the writer is aware (not in a trance) of their surroundings but not of the actions of their writing hand."

This method appeared in the mid 1800s during the Spiritualism movement.  The person wishing to speak with a spirit (such as deceased loved one) sits with pen and paper, and goes into an alternative or meditative state of consciousness.  The spirit uses them as a conduit, and the person writes channeled messages and information onto the paper.  The person often does not remember what they've written.
(Psychology attributes this to the Ideomotor Phenomenon.  Also attributed are movements of the planchette on a Ouija board, which are viewed to be unconscious movements made by the game players.)

I certainly don't know if OUAT's writers used the concept of automatic writing as inspiration for Henry's current experiences as The Author.  I just noticed a few similarities that made me wonder if in fact they did.

Thanks to Cruella, we now know The Pen / Bob to be a living "thing".  Henry intends to recreate Hades' story with The Pen, thus relaying information to the Storybrooke gang.  He says he woke up (being asleep is an alternative state of consciousness) and does not remember writing those pages, but there they are. (The automatic writing concept could be extended to drawing, explaining how Henry produced those lovely illustrations of Baby Neal, Snow, and Charming.)

Season 5B involves the themes of death and an afterlife.  Our heroes are in the Underworld.  They are literally communicating with the dead each time they chat up some poor unfortunate soul at the Underworld diner.  Additionally, Season 5 already has examples of talking to the dead.  We've seen Merida, Regina, and Emma each use the Ale of Seonaidh to communicate with their loved ones.  Conversely, Snow and Charming use a telephone booth to contact baby Prince Neal from the realm of the dead ("It's a simple level one haunting!").

I'm not saying I think Henry gets possessed by a ghost each time he decides to pick up The Pen.  However, I wonder if it's like Daniel said – the Author is actually the instrument needed by The Pen to write, not the other way around.  We didn't see this happen to Isaac when he was The Author.  I'm curious to see how OUAT's writers explain this new facet of Henry and Bob's partnership, and where they take it from here.

— Sapphire
We didn't see Isaac writing that well, we see him use the pen and simply saw the pen flowing to the page. Did Isaac also have blackouts when he was a newbie himself? And can anyone back off Henry? Henry was trying to help the best way he can.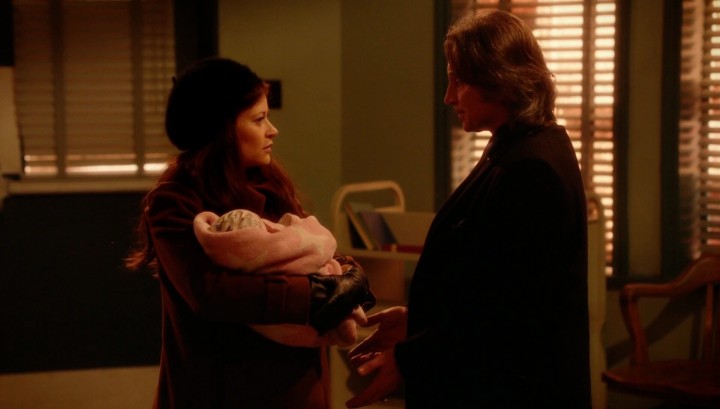 Meanwhile, at the Library, Rumple and Belle was finally having an honest conversation. However, there was a lot of conflict over this scene, as well as other people from the forums about this said conversation whether Rumple is truly a better man now. Rumple is right about Belle, at least. The problem is what the darkness makes him do. He also said that Belle "fell in love with me because I was a man and a beast; neither exists without the other" but is this really true? Was he a beast when Bae was a baby? Did he crave power or the ability to change his life—and is there a difference? Is there a side of Belle that truly enjoy the beast? After all, she fell in love with Mr. Gold in the episode Lacey because of his dark side.
Rumple is right that Belle needs to accept him, as is, and stop trying to change him. He's right that she's attracted to the beast as much as the man. But Belle is also right that she cannot condone his worst behaviors, no matter how much she loves him. Her principles are perfectly valid. She doesn't want to have to compete with power for his affection, a contest she's lost more than once, and she doesn't want to be an enabler for murder or slightly lesser cruelties. She may find the darkness and power attractive (I think Rumple was absolutely right about that), but it is also at odds with her principles about heroism. I think they could come to a reasonably healthy middle ground though. Rumple is going to have to acknowledge that Belle's  concerns about him abusing his powers and hurting people are completely valid, and demonstrate that he is capable of using the darkness for good (as Emma and Merlin suggest someone could) without harming innocents. Belle, meanwhile, is going to have to accept the things she's been denying–like that when Rumple was trying his hardest to be good, even as herself and not as Lacey, she was actually more willing to reject him. She does NOT have to accept his continuing to hurt people to do this. But I'm thinking of the Tale as Old as Time song now. "Then somebody bends, unexpectedly." If they both do, there's hope. If Rumple sticks to his line of "This is who I am," Belle will never be able to accept that, as it includes deceit, murder, and kidnapping babies for potentially nefarious purposes.

— @Keb
When we first meet Rumple, he's poor and a peasant who doesn't have control of his own life, which could explain the lure of power and the dagger. But are Belle and Rumple both willing to compromise? If he uses his magic for good, is he still a monster just because he uses dark magic?
Moving on a little bit on the Level 1 Haunting Booth, there was a guy in line saying that he's been trying for 30 years to reach out, and ending it with "I hope so."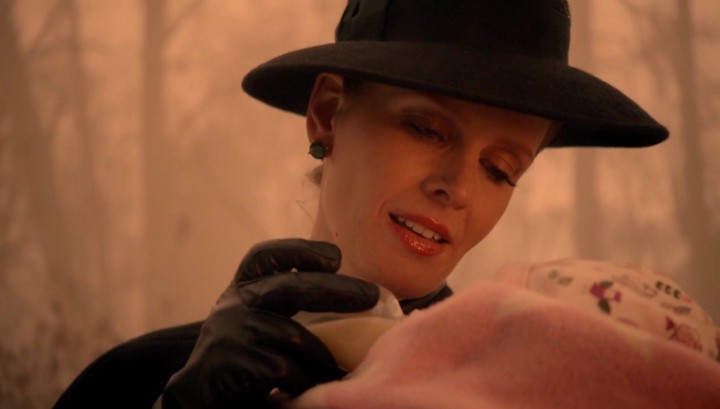 Our sympathies to the Brittanys, Nancys, and Marians of the world! Your names are not horrible. Did anyone else think that Robin's rationalization is a little bit bizarre? How long is he going to wait 'til he names his child? It's understandable they don't want to name his baby while they were in the Underworld, but why won't he just name baby Pistachio? On the other side, Regina has really changed about family. It was definitely our favorite moment between Regina and Zelena because this was the first time that Regina was being a sister to Zelena.
What a tender moment between Zelena and baby Pistachio; the expressions on everyone's faces looking at Zelena holding her baby, that is until Zelena uses her magic, proving that she can't be trusted with her baby. Was seeing the baby stirred something in her to decide to hand away her baby and let Robin and Regina protect her instead? What reignited her magic? Was it her love for her baby? Did the harm she cause rattled her enough to lose that hope when she ran away with the baby? When they do confront Zelena at her home, did Zelena finally mean what she said? Hook and Regina do seem to believe her.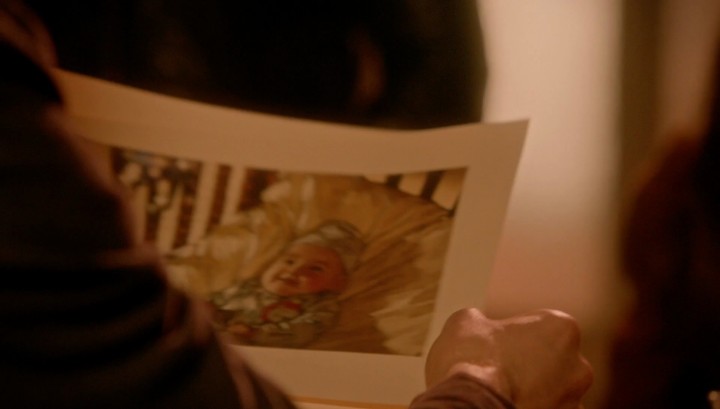 Back at the Charming's with everyone there and Henry revealing that baby Neal heard Snow and Charming's call, we expected some funny little quip like, "but they didn't sing very well." But something bothers us a bit about this because Henry has been writing that is currently happening, can he write only the present? Can Zelena dictate to Henry what happened to her and Hades so Henry can write their story? Can Henry not write what happened in the past?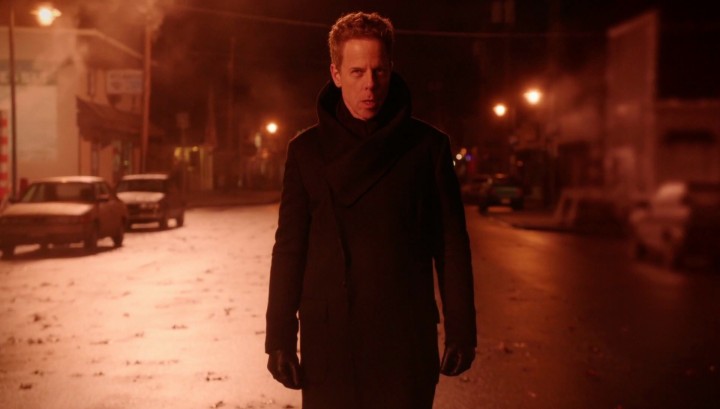 Is Hades really trying to protect Baby Pistachio? After all, he explained that everything he did—making Zelena her very own Storybrooke—was for her. Why build things for Zelena in the Underworld when if true love means they can leave?
You know, it's just also the way Greg Germann is acting that makes it tough to tell.  He's playing the part well, and at this point, it's too difficult to know for sure what his true intentions are.  In one sense, his heart did seem to flicker.  And he did seem to be enjoying himself with her on that bike.  And then he did make the UW look like storybrooke for her (allegedly).  But, he also disappeared when Zelena took the Scarecrow's brain, then was fairly persistent and quick to declare it true love and try and get that kiss.  And then he was very menacing when he told her she would regret what she had done before poofing out of Oz.  My guess, he does care about her, but cares more about his revenge on Zeus.  And in the UW now, he still wants to be buddy buddy with Zelena, not only because he likes her, but also because he may need her baby for the time travel curse.  I think his first plan will be to take Belle's baby, but he needs a backup plan, and I think he would burn her for baby pistaccio if he had to.  It's sad because finally Zelena is putting love for her baby over revenge on her sister, but Hades isn't there yet I don't think.  It's complicated and I love it.

— @thedarkonedearie
Is Hades sincere about his love for Zelena, protecting the baby and wanting a life of love with her? Or is Zelena right to not trust him completely? Hades seems to get that trust takes time, like when he told Zelena that he'll be waiting at home in case she changed her mind.
Zelena said that she'll get her baby back without his help. Did she mean using her magic back nefariously, or did she mean doing the right thing? Our fearless forecast: Zelena will reject Hades' love, and he will go ballistic for losing love and ultimately become the devil by the end of the season.
As of right now, we have no real backstory of Hades, except of a glimpse that he fell in love with Zelena and what he said about him and his brother, Zeus. Will we get his own backstory when they defeat Hades? Will he win?
What did you think?
Help us out!
Follow us
Spoilers