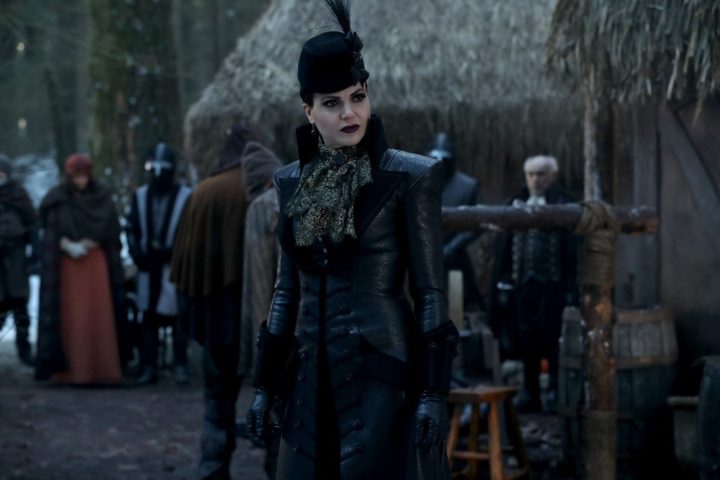 Will the Evil Queen really get a fresh start at the Wish Realm, where she is known as the Evil Queen? Listen to our initial reaction of this episode "Page 23" as we discuss a mixed bag of thoughts about Regina loving the darkest pieces of herself, using Hook on a hook as bait, and more!
Podcast: Play in new window | Download | Embed
Believing there isn't room in Storybrooke for both her and Regina, the Evil Queen sets out to eliminate her other half using Robin to bait the trap. Hook, determined to make things work with Emma, turns to his old friend Capt. Nemo for advice, but Gideon torpedoes his plan before he's able to set things right. In a flashback to the Enchanted Forest, the Evil Queen learns a surprising lesson about the true source of her misery.
These are our first thoughts about this Once Upon a Time episode. We'll share more about "Page 23" in our upcoming full discussion (usually live on Wednesdays at 7:00 p.m., USA Eastern Time).
Initial Reactions
Remember, these are only our initial reactions regarding tonight's episode so please bear with us if we're a bit all over the place. If you have your own thoughts, feedbacks, or theories regarding tonight's episode, however, send them over to us and join our upcoming full discussion!
The Evil Queen has been literally written off the show, and this is not the direction we thought it would go. Even when Regina had the Evil Queen's heart, we thought that she would stick it back to herself and will finally have reintegration. But then she pulls out her own heart and thought she would merge them before putting it back in, but we never got a Regina-Evil Queen reintegration, at least not literally. In a roundabout sort of way, there was an reintegration because now all of the good and the bad were re-mashed together, making them the same person now; same memories, same goodness, same darkness. Now, the Evil Queen has all of Regina's good characteristics so she can run off and live her destiny.
This episode is labeled "Page 23," which is all about that page where Robin and Regina kissing and the whole premise of this episode is to make that page a reality. Not in a sense of 'this is an alternate reality' but a new reality that is yet to come but probably won't. What's the nature of the Wish Realm? Will the Evil Queen really get a fresh start at the Wish Realm, where she is known as the Evil Queen? Wouldn't she get a better chance at a fresh start with literally another world like our world rather than an alternate world who knows who she is and what she's done?
It's really cool to see Rose McIver again in this episode, however, her appearance was total retcon. Looking back at the episode "Quite A Common Fairy," we saw Tinkerbell taking Regina into the tavern to point her to the man with the lion tattoo and in that same episode, it wasn't until Regina and Tinkerbell met again that Tinkerbell learned Regina never went in to meet Robin at the tavern.
The beginning part of this episode was kind of "meh" but the later scenes were really nice. It was beautiful in certain ways, even the conclusion of Regina vs the Evil Queen is nice. It's certainly a Once Upon a Time approach to happy ending, not someone is no more and that's the happy ending of it. The way "love yourself" kind of thing was implemented was good because it reveals that it's herself that Regina hated the most and that's damaging her, causing her to damage other people around her. We liked that it wasn't too predictable; it left more for surprise to learn that the person she hated most is herself and that's why she's acting that way toward other people. It was really deep for the show.
It was great to see Zelena going girly when she saw Emma's engagement ring, and in a good mood! She was more involved in the conversations and interested with what's going on with people. David and Snow White will probably get their curse broken soon because the Evil Queen had apparently gave Regina everything that she knew as a means of starting place to figure out to help them break the second sleeping curse Snow White and Charming is currently under in. It wasn't the exact solution, but it's a lot more information than they apparently had.
Really glad with how Emma reacted with a sense of saying how it was dumb for Hook not to tell his secret despite being with them for so long and have fought the good fight with them. What an interesting twist that this situation has been set up like this and now Gideon is using Hook on a hook as bait for Emma out on the sea. Is Gideon trying to get Emma to go there or is he worried that Hook is going to stop him from killing Emma? Why send Hook away to fulfill his plans? Is Hook being used as bait or is Gideon trying to use the situation to somehow weakened Emma?
or just the fact that hook gives emma hope, maybe shes easier to defeat if shes hopeless?

— ozgrl
Something this episode seemed to confirmed is that the Wish Realm is, indeed, an actual other realm when the Evil Queen said that she created it when she made that wish, and that it was Robin's land that she send him back to. This means that there is an actual version of Robin out there in another realm. Finally, it was cool to see the Nautilus and Captain Nemo again, which tells us that we will probably be seeing him again in the next episode. Great advice of him saying that he should confess and seek forgiveness. Where did Gideon send the Nautilus to? Is the submarine just on autopilot somewhere far away? Are they going to get control of it back? How long will it take? Maybe mermaids can help them get control back of the Nautilus and see Ariel again.
What do you think is going on this episode? Please share your feedback and join us for our full-discussion of "Page 23" this coming Wednesday!
What did you think?
Email Feedback@ONCEpodcast.com (audio files welcome)
Call (903) 231-2221
Comment on the shownotes
Visit any page on ONCEpodcast.com and click the "Send a voice message" link to record and send a message right from your computer.
Help us out!
Share this post in your social networks
Follow us
On Facebook:
On Twitter:  echo do_shortcode('[twitter follow="ONCEpodcast"]'); ?>
Daniel J. Lewis:  echo do_shortcode('[twitter follow="theDanielJLewis"]'); ?>
Jeremy Laughlin:  echo do_shortcode('[twitter follow="phlegon"]'); ?>
ErinJ:  echo do_shortcode('[twitter follow="erinjcruz"]'); ?>
Hunter Hathaway:  echo do_shortcode('[twitter follow="travelingpixie"]'); ?>
Jacquelyn / RumplesGirl:  echo do_shortcode('[twitter follow="punk_bunny_87"]'); ?>