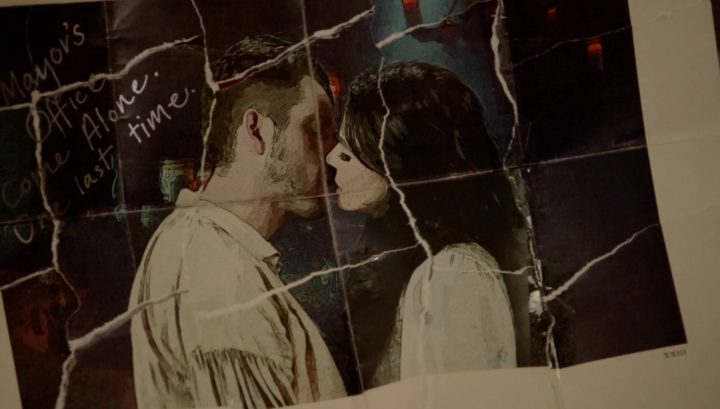 The backstory to page 23, writing the Rhonda off the show, finding (Captain) Nemo, and old-school Regina, plus, why did Gideon remove Hook from the picture? All these and more on our full-discussion of "Page 23."
Podcast: Play in new window | Download | Embed
Enchanted Forest (Past)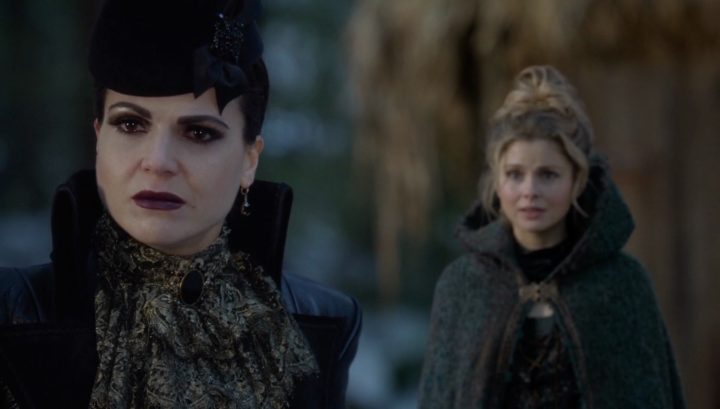 Does Snow White leave every bed this way, putting some straws under the sheets? Although it was great to see Rose McIver back on the show again, Tinkerbell simply doesn't fit in this timeline because she was supposed to still be in Neverland, as explained in the episode "Quite a Common Fairy." Unless Hook and Emma caused the butterfly effect at end of third season, this and a lot of other retcon could make sense.
Re-watching this episode and knowing how the episode ends, it seemed so out of character for Henry Sr. until we know the truth. The story writing was not necessarily the best, nor the worst, but the dialogues were so good. The dialogues and the characters were so on-point. Lana Parrilla nailed the acting on both the Evil Queen and Regina. Fantastic job with how she showed emotion and character growth on both characters.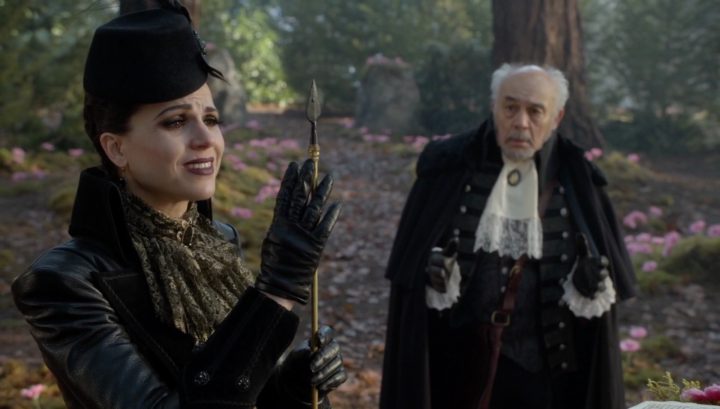 Henry Sr. has always been the voice of reason for Regina and while in the beginning it seemed so out of character, it was later revealed that he had to lead her to a light-magic door that reminds us a lot of Glinda's archway, which seems like a great place for weddings. Interesting wording on the phrase referring to the arrow on the statue of cupid, "Leads you to gaze on the person you love most." It doesn't create love, it merely guides you to where you can see someone you already love. We didn't really get a good look at the bow, but the arrow looked a lot like Robin Hood's arrow that never misses its target.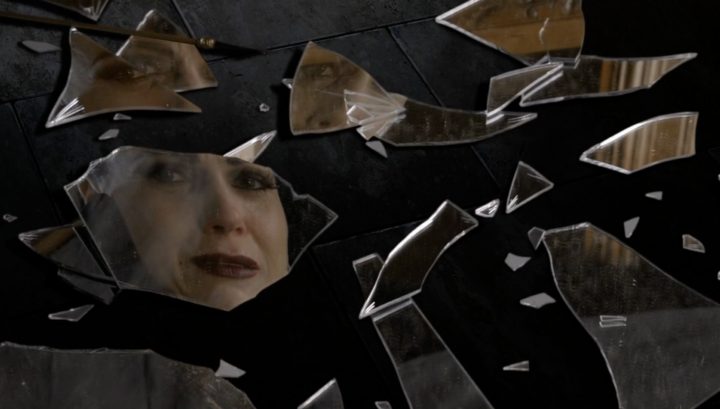 The reveal that the person the Evil Queen hates the most is herself is pretty much consistent with all of what we see with Regina. When you hate yourself, that pretty much spills into everything else in life. Although the very whole topic is one of the most gray area fine line topics there is, it doesn't seem inconsistent with her character because of who she was. It makes sense that while she's filling herself with darkness, there is also some element of self-loathing. It makes sense but, at the same time, humans don't have too much trouble putting themselves first.
Storybrooke (Present)
<IMG – Evil Queen and Robin at the graveyard>
When the Evil Queen and Wish Realm Robin were at the graveyard, the Evil Queen said that she created the realm with her wish. It's not entirely out of the bounds of things we've seen happen on the show. After all, it was the Dark Curse that created Storybrooke.
Back to the graveyard when the Evil Queen was asking Robin to dig, it almost seems that she was checking out Robin while he uses his manliness to dig up the grave.
The Evil Queen managed to get the magical sheers and steal a wand.  Was neither protected?  It could be that the reason she asked Robin to dig, is that it was under a protection spell–that keeps out magical people, but does nothing to keep out ordinary people.

— Meredith of Everett, WA
Back at the Charming's loft, it was nice seeing Zelena glow with smile and go all girly upon seeing the ring on Emma's finger. Emma, on the other hand, has to explain that they're waiting on the wedding planning because Gideon is still out there. We really like the focus on forgiveness that Captain Nemo talked about with sad Hook on the dock, which has not been discussed so often in a TV show until Once Upon a Time.
<IMG – Henry and the Evil Queen at Regina's house>
With the way that Henry is talking to the Evil Queen back at Regina's house, there seems to be a little bit of season 1 Mayor Regina that he sees in the Evil Queen, which is who his mother was for years before Emma came into picture. Yes, she was the Evil Queen and he suspected that but there was still some level of love. Now that Henry is more mature, he recognizes it even more and realizes that she is still her Mom. However, there seems like more affection than they allowed her when the concept was originally set up. It seemed strange and fake since they said the Evil Queen is incapable of love.
Especially the part where Evil Queen said something like "whatever they say, I DO love you," It reminded me of when Regina said that in the finale of season 1.

— Reese Billings
This part of the season, the Evil Queen has really been old-school Regina, not nearly created, separate Evil Queen, which she was in the beginning of the season. She's been different and was a part of Regina that was ripped out and made into a second person.
At the Sheriff's office when Henry brought page 23, we were reminded of the significance of the page. We've always wondered why did the page even exist and it's still not a story that has actually happened so, in a way, it was an acknowledgement of what could be possible and that Regina could still have a happy ending. It was also a bit of a prophecy because what is on page 23 will still happen in the Wish Realm.
When Robin was tied up at the Mayor's office, Robin seems to have a little attraction for the Evil Queen, too, in his seeming suggestion for a town hall meeting. Robin also said that, perhaps, he was here to save the Evil Queen and not Regina. Could this be a part of giving the Evil Queen what she "deserves?"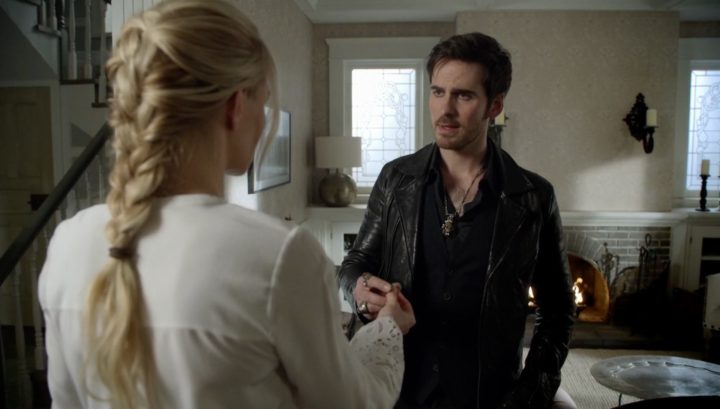 Back at Emma's place, Hook is there about to burn he memories, which is when everything went to garbage. How can Hook even use the dreamcatcher?
Previously, Emma had to learn how to use her magic (at Rumple's guidance) to get the dog's memories. Here, Hook does it without problems.

— Terri
How does Emma know what David's father look like? The pages in the book? How come his killing David's father was not in the book?
Emma is totally justified in being more angry about Hook trying to cover up the crime that he did than the crime itself. Hook's reasons for wanting to destroy the memory made sense, but Emma has a point too.
… he's worried about the wrong person. Emma didn't know Robert. She didn't love him. So the actual crime wouldn't mean that much to her. Charming is the one he should be agonizing over telling, yet he doesn't even seem to care about him. And I don't think he does have much to worry about. The Charmings have the patience of saints. Regina killed Snow's father Leopold. Does she ever bring it up? No.

— Meredith of Everett, WA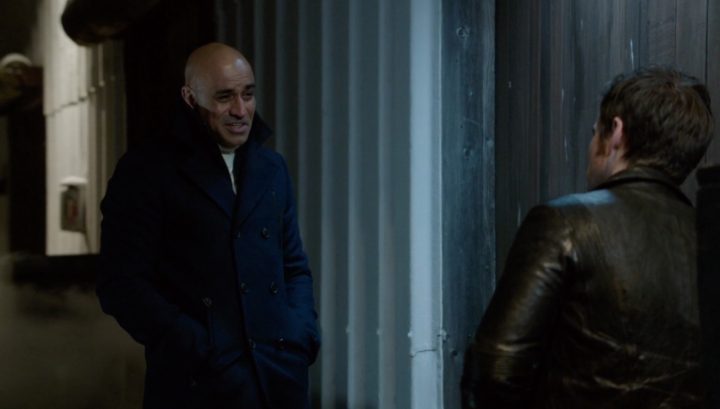 The dialogue was fantastic when Hook then goes to find Nemo. Even if you didn't enjoy the storyline, the dialogues in this episode are respectable. The guy they cast as Captain Nemo is also perfect. He plays the wise guide who has been there before and gone through the same journey very well. Thankfully, Hook realized later that leaving is a very bad idea.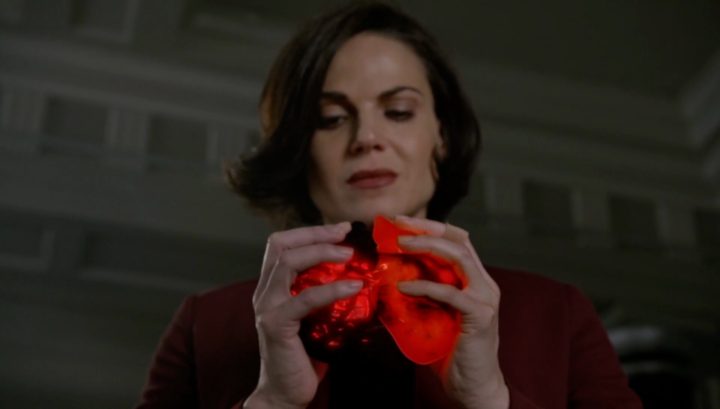 It was really cool to see Regina and the Evil Queen dueling each other in the Mayor's office. It was also great to see Regina use the apples as weapons, as well as the vines, which was last used in her office wallpaper was in 2×01 "Broken." However, the merging of the two hearts was beautiful but it didn't have the foundation from the story to make it deeply meaningful. As cool as it was and as well as Lana Parrilla can pull it off they give her to do, why did it ended up with the Evil Queen culminating in a second accelerated Regina redemption story arc? It was too easy. All that darkness Regina struggled was a real thing and just like that, the Evil Queen just inherited it all. That said, we liked the symbolism in seeing them both clean up the Mayor's office together when they've calmed down and the hearts are now shared.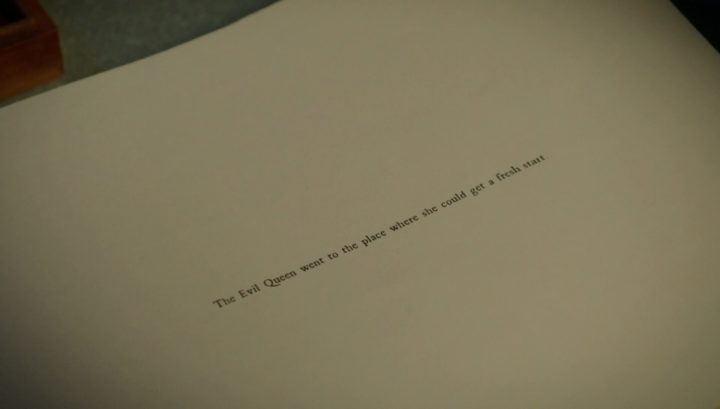 Henry is a lazy author. He has the ability to shape the Evil Queen's fresh start for her. If he's the author, why isn't he always writing? Furthermore, it was nice when Regina pointed out that the Evil Queen is redeemable, just like her. It was also a cool moment that you could see in Snow's reaction the genuine repentance in the Evil Queen. Now, Henry has three moms!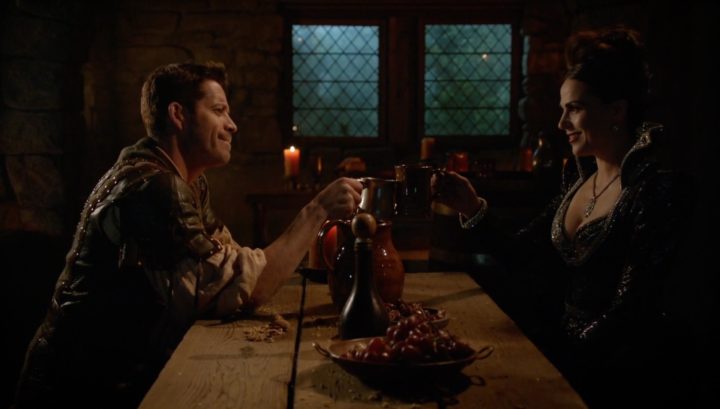 Now, a part of Regina gets to spend a part of her life with a part of Robin in a partial realm. On the other hand, wouldn't King Henry be there any minute to kill the Evil Queen and, by the rules of this show, become a dark-hearted tyrant; perhaps the Evil King?
I do think it's a cop-out that the Evil Queen gets Robin to herself, but at least this one suits her. And thanks to Regina's visit, Snow and Charming are already dead there. So she's got no one to chase.

— Meredith of Everett, WA
Problems aside with the storyline, it was lovely how they did this. It would've been more magical had they ended the scene after the Evil Queen enters the tavern.
Back on the dock, Hook and Snow were there and it was great because we've never seen the two of them in a scene together. Ginnifer Goodwin and Josh Dallas did great acting of being parental despite being the same age with their daughter and everyone else. It was also nice that Hook wasn't too thick-headed to get it. Why did Gideon remove Hook from the picture? Does Gideon intend something only True Love can overcome?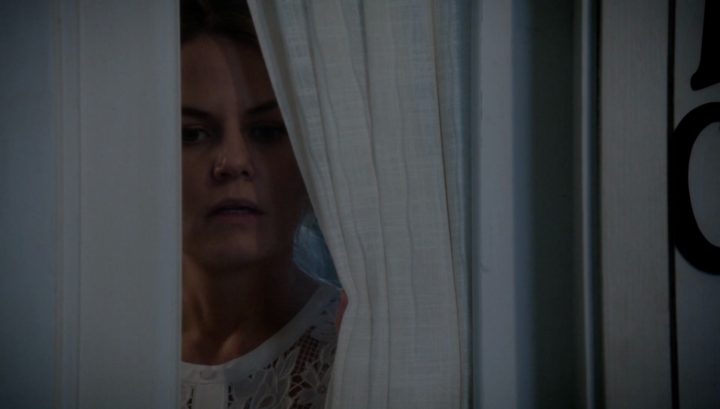 Finally, when Emma was waiting for Hook, the way that they portrayed Emma in this scene seems that they are setting up Emma to sacrifice herself in some way. Knowing how stories sometimes go, that's the kind of feeling we get this could go. Emma could get into the final battle half-heartedly, saving everyone she loves in the end by sacrificing herself in the process.
EMMA IS THE MAIN CHARACTER. There is no way they are killing a main character.

— Jared Pono
If they do, it would be a death that would not be undermine, unless there's a season 7.
What did you think?
Help us out!
Follow us
Spoilers